Abstract
Tuta absoluta Meyrick (Lepidoptera: Gelechiidae) is considered one of the main pests threatening tomato production worldwide. In the Mediterranean, the use of predatory mirids is widespread, and although several larval parasitoid species have been recorded in the area, their contribution to the biological control of the pest is often neglected. With the general objective of improving the biological control of T. absoluta, our field study aimed to determine the relative abundance of natural enemies associated with T. absoluta in tomato fields and to assess whether insectary plants placed in the vicinity of vegetable crops would help to improve functional biodiversity in the farms. The study was conducted during two years in six commercial tomato fields in Northeast Spain that were managed using an integrated pest management program based on predatory mirid conservation. Our results indicated that Necremnus tutae Ribes & Bernardo (Hymenoptera: Eulophidae) was by far the main natural enemy responsible for larval parasitism of T. absoluta. The flowering plants used in the present study were attractive to several natural enemies that are of interest not only for tomato but also for other vegetable crops coexisting at the farm level, including parasitoid wasps, hoverflies, and other important beneficials, such as Orius spp., ladybeetles and predatory thrips.
Access options
Buy single article
Instant access to the full article PDF.
US$ 39.95
Tax calculation will be finalised during checkout.
Subscribe to journal
Immediate online access to all issues from 2019. Subscription will auto renew annually.
US$ 79
Tax calculation will be finalised during checkout.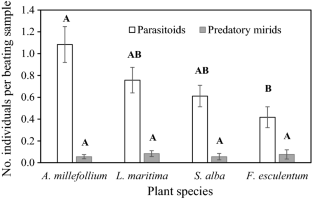 Availability of data and material
The datasets generated during and/or analyzed during the current study are available from the corresponding author upon reasonable request.
References
Abbes K, Biondi A, Zappalà L, Chermiti B (2014) Fortuitous parasitoids of the invasive tomato leafminer Tuta absoluta in Tunisia. Phytoparasitica 42:85–92

Agustí N, Castañé C, Fraile I, Alomar O (2020) Development of a PCR-based method to monitor arthropod dispersal in agroecosystems: Macrolophus pygmaeus (Hemiptera: Miridae) from banker plants to tomato crops. Insect Sci 27:1125–1134

Ambrosino MD, Luna JM, Jepson PC, Wratten SD (2006) Relative frequencies of visits to selected insectary plants by predatory hoverflies (Diptera: Syrphidae), other beneficial insects, and herbivores. Environ Entomol 35:394–400

Aparicio Y, Riudavets J, Gabarra R, Agustí N, Rodríguez-Gasol N, Alins G, Blasco-Moreno A, Arnó J (2021) Can insectary plants enhance the presence of natural enemies of the Green Peach Aphid (Hemiptera: Aphididae) in Mediterranean Peach Orchards? J Econ Entomol 114:784–793

Ardanuy A, Figueras M, Matas M, Madeira F, Arnó J, Alomar O, Albajes R, Gabarra R (2021) Banker plants and landscape composition influence colonisation precocity of tomato greenhouses by mirid predators. J Pest Sci. https://doi.org/10.1007/s10340-021-01387-y

Arnó J, Castañé C, Alomar O, Riudavets J, Agustí N, Gabarra R, Albajes R (2018a) Forty years of biological control in Mediterranean tomato greenhouses: the story of success. Isr J Entomol 48:209–226

Arnó J, Gabarra R, Alomar O (2012) Hymenoptera abundance on candidate plants for conservation biological control. IOBC/WPRS Bull 75:13–16

Arnó J, Oveja MF, Gabarra R (2018b) Selection of flowering plants to enhance the biological control of Tuta absoluta using parasitoids. Biol Control 122:41–50

Arnó J, Sorribas R, Prat M, Matas M, Pozo C, Rodríguez D, Garreta A, Gómez A, Gabarra R (2009) Tuta absoluta, a new pest in IPM tomatoes in the northeast of Spain. IOBC/WPRS Bull 9:203–208

Askew RR (1968) Handbooks for the identification of British insects. Vol. VIII. Hymenoptera 2. Chalcidoidea section (b). Royal Entomological Society of London. London

Badenes-Pérez FR (2019) Trap crops and insectary plants in the order Brassicales. Ann Entomol Soc Am 112:318–329

Badenes-Pérez FR, Márquez BP, Petitpierre E (2017) Can flowering Barbarea spp. (Brassicaceae) be used simultaneously as a trap crop and in conservation biological control? J Pest Sci 90:623–633

Balzan MV, Wäckers FL (2013) Flowers to selectively enhance the fitness of a host-feeding parasitoid: adult feeding by Tuta absoluta and its parasitoid Necremnus artynes. Biol Control 67:21–31

Bates D, Maechler M, Bolker B, Walker S (2015) Fitting linear mixed-effects models using lme4. J Stat Softw 67:1–48

Biondi A, Guedes RNC, Wan FH, Desneux N (2018) Ecology, worldwide spread, and management of the invasive South American tomato pinworm, Tuta absoluta: past, present, and future. Ann Rev Entomol 63:239–258

Blaauw BR, Isaacs R (2012) Larger wildflower plantings increase natural enemy density, diversity, and biological control of sentinel prey, without increasing herbivore density. Ecol Entomol 37:386–394

Bodino N, Ferracini C, Tavella L (2016) Is host selection influenced by natal and adult experience in the parasitoid Necremnus tutae (Hymenoptera: Eulophidae)? Anim Behav 112:221–228

Calvo FJ, Soriano JD, Bolckmans K, Belda JE (2013) Host instar suitability and life-history parameters under different temperature regimes of Necremnus artynes on Tuta absoluta Biocontrol. Sci Technol 23:803–815

Calvo FJ, Soriano JD, Stansly PA, Belda JE (2016) Can the parasitoid Necremnus tutae (Hymenoptera: Eulophidae) improve existing biological control of the tomato leafminer Tuta aboluta (Lepidoptera: Gelechiidae)? Bull Entomol Res 106:502–511

Carreck NL, Williams IH (1997) Observations on two commercial flower mixtures as food sources for beneficial insects in the UK. J Agric Sci Camb 128:397–403

Chailleux A, Desneux N, Arnó J, Gabarra R (2014) Biology of two key Palearctic larval ectoparasitoids when parasitizing the invasive pest Tuta absoluta. J Pest Sci 87:441–448

Crisol-Martínez E, van der Blom J (2019) Necremnus tutae (Hymenoptera, Eulophidae) is widespread and efficiently controls Tuta absoluta in tomato greenhouses in SE Spain. IOBC/WPRS Bull 147:22–29

Damien M, Le Lann C, Desneux N, Alford L, Al Hassana D, Georges R, van Baaren J (2017) Flowering cover crops in winter increase pest control but not trophic link diversity. Agric Ecosyst Environ 247:418–425

de Campos MR, Monticelli LS, Béarez P, Amiens-Desneux E, Wang Y, Lavoir AV, Zappalà L, Biondi A, Desneux N (2020) Impact of a shared sugar food source on biological control of Tuta absoluta by the parasitoid Necremnus tutae. J Pest Sci 93:207–218

Desneux N, Wajnberg E, Wyckhuys KAG, Burgio G, Arpaia S, Narváez-Vasquez C, González-Cabrera J, Catalán Ruescas D, Tabone E, Frandon J, Pizzol J, Poncet C, Cabello T, Urbaneja A (2010) Biological invasion of European tomato crops by Tuta absoluta: Ecology, geographic expansion and prospects for biological control. J Pest Sci 83:197–215

Desneux N, Luna MG, Guillemaud T, Urbaneja A (2011) The invasive South American tomato pinworm, Tuta absoluta, continues to spread in Afro-Eurasia and beyond: the new threat to tomato world production. J Pest Sci 84:403–408

Dib H, Libourel G, Warlop F (2012) Entomological and functional role of floral strips in an organic apple orchard: Hymenopteran parasitoids as a case study. J Insect Conserv 16:315–318

El-Nabawy EM, Tsuda K, Sakamaki Y (2015) Attractiveness of spiders and insect predators and parasitoids to flowering plants. Egypt J Biol Pest Cont 25:245–250

Ferracini C, Ingegno BL, Navone P, Ferrari E, Mosti M, Tavella L, Alma A (2012) Adaptation of indigenous larval parasitoids to Tuta absoluta (Lepidoptera: Gelechiidae) in Italy. J Econ Entomol 105:1311–1319

Fiedler AK, Landis DA, Wratten SD (2008) Maximizing ecosystem services from conservation biological control: the role of habitat management. Biol Control 45:254–271

Fox J, Weisberg S (2019) An R companion to applied regression, 3rd edn. Sage, Thousand Oaks. https://socialsciences.mcmaster.ca/jfox/Books/Companion

Gabarra R, Arnó J, Lara L, Verdú MJ, Ribes A, Beitia F, Urbaneja A, Téllez MM, Mollá O, Riudavets J (2014) Native parasitoids associated with Tuta absoluta in the tomato production areas of the Spanish Mediterranean Coast. BioControl 59:45–54

Gebiola M, Bernardo U, Ribes A, Gibson GAP (2015) An integrative study of Necremnus Thomson (Hymenoptera: Eulophidae) associated with invasive pests in Europe and North America: Taxonomic and ecological implications. Zool J Linn Soc-Lond 173:352–423

Gibson DR, Rowe K, Isaacs R, Landis DA (2019) Screening drought-tolerant native plants for attractiveness to arthropod natural enemies in the U.S. Great Lakes Region. Environ Entomol 48:1469–1480

Grissell EE, Schauff ME (1990) A handbook of the families of Nearctic Chalcidoidea (Hymenoptera). Entomol. Soc. Wash, Washington, DC

Han P, Bayram Y, Shaltiel-Harpaz L, Sohrabi F, Saji A, Tair Esenali U, Jalilov A, Ali A, Shashank PR, Ismoilov K, Lu ZZ, Wang S, Zhang GF, Wan FH, Biondi A, Desneux N (2019) Tuta absoluta continues to disperse in Asia: Damage, ongoing management and future challenges. J Pest Sci 92:1317–1327

Hanson PE, Gauld ID (2006) Hymenoptera de la región Neotropical. Memoirs of the American Entomological Institute 77. The American Entomological Institute. Gainesville

Heimpel GE (2019) Linking parasitoid nectar feeding and dispersal in conservation biological control. Biol Control 132:36–41

Ingegno BL, Messelink GJ, Bodino N, Iliadou A, Driss L, Woelke JB, Leman A, Tavella L (2019) Functional response of the mirid predators Dicyphus bolivari and Dicyphus errans and their efficacy as biological control agents of Tuta absoluta on tomato. J Pest Sci 92:1457–1466

Lundin O, Ward KL, Williams NM (2019) Identifying native plants for coordinated habitat management of arthropod pollinators, herbivores and natural enemies. J Appl Ecol 56:665–676

Manojlovic B, Zabel A, Kostic M, Stankovic S (2000) Effect of nutrition of parasites with nectar of melliferous plants on parasitism of the elm bark beetles (Col., Scolytidae). J Appl Entomol 124:155–161

Mansour R, Brévault T, Chailleux A, Cherif A, Grissa-Lebdi K, Haddi K, Mohamed SA, Nofemela RS, Oke A, Sylla S, Tonnang HE (2018) Occurrence, biology, natural enemies and management of Tuta absoluta in Africa. Entomol Gen 38:83–112

Matas M (2014) Control biológico en el tomate en el Maresme. Conservación de enemigos naturales y gestión de infraestructuras ecológicas. Phytoma-España 262:56

Portillo N, Alomar O, Wäckers FL (2012) Nectarivory by the plant-tissue feeding predator Macrolophus pygmaeus Rambur (Heteroptera: Miridae): nutritional redundancy or nutritional benefit? J Insect Physiol 58:397–401

Put K, Bollens T, Wäckers FL, Pekas A (2012) Type and spatial distribution of food supplements impact population development and dispersal of the omnivore predator Macrolophus pygmaeus (Rambur) (Hemiptera: Miridae). Biol Control 63:172–180

R Core Team (2020) R: a language and environment for statistical computing. R Foundation for Statistical Computing, Vienna. https://www.r-project.org/

Riudavets J, Moerman E, Vila E (2020) Implementation of integrated pest and disease management in greenhouses: from research to the consumer. In: Gullino ML, Albajes R, Nicot P (eds) Integrated pest and disease management in greenhouse crops. Plant pathology in the 21st Century, vol 9. Springer, Cham, pp 457–485

Rodríguez-Gasol N, Avilla J, Aparicio Y, Arnó J, Gabarra R, Riudavets J, Alegre S, Lordán J, Alins G (2019) The contribution of surrounding margins in the promotion of natural enemies in Mediterranean apple orchards. Insects 10:148

Russell Lenth (2020) emmeans: estimated marginal means, aka least-squares means. R package version 1.5.1. https://cran.r-project.org/web/packages/emmeans/index.html.

Sáez-Bastante J, Fernández-García P, Saavedra M, López-Bellido L, Dorado MP, Pinzi S (2016) Evaluation of Sinapis alba as feedstock for biodiesel production in Mediterranean climate. Fuel 184:656–664

Salas Gervassio NG, Aquino D, Vallina C, Biondi A, Luna MG (2019) A re-examination of Tuta absoluta parasitoids in South America for optimized biological control. J Pest Sci 92:1343–1357

Sanchez JA, Lacasa A, Arnó J, Castañé C, Alomar O (2009) Life history parameters for Nesidiocoris tenuis (Reuter) (Het., Miridae) under different temperature regimes. J Appl Entomol 133:125–132

Urbaneja A, Montón H, Mollá O (2009) Suitability of the tomato borer Tuta absoluta as prey for Macrolophus pygmaeus and Nesidiocoris tenuis. J Appl Entomol 133:292–296

Urbaneja-Bernat P, Mollá O, Alonso M, Bolkcmans K, Urbaneja A, Tena A (2015) Sugars as complementary alternative food for the establishment of Nesidiocoris tenuis in greenhouse tomato. J Appl Entomol 139:161–167

Urbaneja A, González-Cabrera J, Arnó J, Gabarra R (2012) Prospects for the biological control of Tuta absoluta in tomatoes of the Mediterranean basin. Pest Manag Sci 68:1215–1222

van Rijn PCJ, Wäckers FL (2016) Nectar accessibility determines fitness, flower choice and abundance of hoverflies that provide natural pest control. J Appl Ecol 53:925–933

Vandekerkhove B, De Clercq P (2010) Pollen as an alternative or supplementary food for the mirid predator Macrolophus pygmaeus. Biol Control 53:238–242

Venables WN, Ripley BD (2002) Modern applied statistics with S, 4th edn. Springer, New York

Wäckers FL (2004) Assessing the suitability of flowering herbs as parasitoid food sources: flower attractiveness and nectar accessibility. Biol Control 29:307–314

Wäckers FL, van Rijn PCJ (2005) Food for protection: an introduction. In: Wäckers FL, van Rijn PCJ, Bruin J (eds) Plant-provided food for carnivorous insects: a protective mutualism and its applications. Cambridge University Press, Cambridge, pp 1–14

Wickham H (2016) ggplot2: elegant graphics for data analysis. Springer, New York

Winkler K, Wäckers FL, Kaufman LV, Larraz V, van Lenteren JC (2009) Nectar exploitation by herbivores and their parasitoids is a function of flower species and relative humidity. Biol Control 50:299–306

Zappalà L, Biondi A, Alma A, Al-Jboory IJ, Arnó J, Bayram A, Chailleux A, El-Arnaouty A, Gerling D, Guenaoui Y, Shaltiel-Harpaz L, Siscaro G, Stavrinides M, Tavella L, Vercher-Aznar R, Urbaneja A, Desneux N (2013) Natural enemies of the South American moth, Tuta absoluta, in Europe, North Africa and Middle East, and their potential use in pest control strategies. J Pest Sci 86:635–647
Acknowledgements
We thank the technical staff of the Sustainable Plant Protection Programme (IRTA) for their help with the experiments, and Anabel Blasco-Moreno from the Servei d'Estadística Aplicada (Universitat Autònoma de Barcelona) for her support in the statistical analysis. The present research was supported by the Spanish Ministry of Economy and Competitiveness (Projects AGL2013-49164-C2-2-R and AGL2016-77373-C2-1-R) and the CERCA Programme/Generalitat de Catalunya. Yahana Aparicio was supported by a grant provided by CONACyT (Mexico) and Carmen Denis by a PhD grant of BECAL-PY. We are in debt to the farmers that kindly allowed us to conduct the experiments in their fields and the pest advisors of ADV Baix Maresme and Selmar, who provided us with technical support. We also appreciated the insightful comments of anonymous reviewers and the editor that clearly improved the quality of the manuscript.
Ethics declarations
Conflict of interest
The authors declare that they have no conflicts of interest.
Ethical approval
This article does not contain any study with human participants or vertebrate animals.
Additional information
Handling Editor: Dirk Babendreier
About this article
Cite this article
Arnó, J., Molina, P., Aparicio, Y. et al. Natural enemies associated with Tuta absoluta and functional biodiversity in vegetable crops. BioControl (2021). https://doi.org/10.1007/s10526-021-10097-4
Received:

Accepted:

Published:
Keywords
Conservation biological control

Tomato

Lobularia maritima
Sinapis alba
Achillea millefolium
Fagopyrum esculentum