Abstract
Breeding natural enemies to generate populations with improved characteristics is an attractive idea, particularly nowadays with the increase in use of biological control and the availability of modern molecular and genetic tools. A first step in the process is to characterize traits which can be important for biological control and their intraspecific variation. In this study we characterized fecundity, longevity and dispersal-related traits of four endogamic and three exogamic laboratory populations (lines) of Mastrus ridens, an important parasitoid of the codling moth (Cydia pomonella (L.)). We found that several traits were positively correlated and that there was variability among lines and between endogamic and exogamic lines. Exogamic lines presented a better combination of trait values than endogamic lines. The absence of trade-offs among the traits studied in M. ridens would be advantageous for a breeding program. Nevertheless, it would be important not to lose genetic variability in the process, because of the presence of complementary sex determination (CSD) and negative effects of inbreeding on other traits. The results of this study could be useful for the selection of M. ridens lines with better traits and as preliminary information for breeding programs.
Access options
Buy single article
Instant access to the full article PDF.
US$ 39.95
Tax calculation will be finalised during checkout.
Subscribe to journal
Immediate online access to all issues from 2019. Subscription will auto renew annually.
US$ 79
Tax calculation will be finalised during checkout.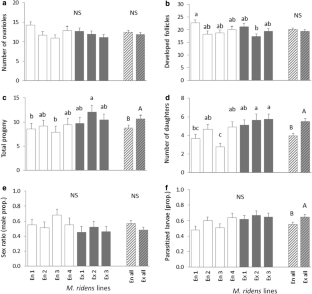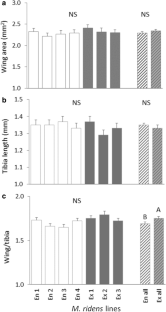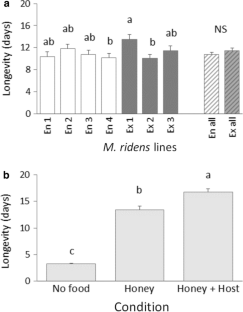 Data availability
Data is available upon request.
References
Baker BP, Green TA, Loker AJ (2020) Biological control and integrated pest management in organic and conventional systems. Biol Control 140:104095

Benjamini Y, Hochberg Y (1995) Controlling the false discovery rate: a practical and powerful approach to multiple hypothesis testing. J R Stat Soc Series B 57:289–300

Bezemer TM, Mills NJ (2001) Host density responses of Mastrus ridibundus, a parasitoid of the codling moth, Cydia pomonella. Biol Control 22:169–175

Bezemer TM, Mills NJ (2003) Clutch size decisions of a gregarious parasitoid under laboratory and field conditions. Anim Behav 66:1119–1128

Bezemer TM, Harvey JA, Mills NJ (2005) Influence of adult nutrition on the relationship between body size and reproductive parameters in a parasitoid wasp. Ecol Entomol 30:571–580

Bielza P, Balanza V, Cifuentes D, Mendoza JE (2020) Challenges facing arthropod biological control: identifying traits for genetic improvement of predators in protected crops. Pest Manag Sci 76:3517–3526

Boivin G, Lagacé M (1999) Effet de la taille sur la fitness de Trichogramma evanescens (Hymenoptera: Trichogrammatidae). Ann Soc Entomol Fr 35:371–378

Cuthbert RN, Dick JT, Callaghan A, Dickey JW (2018) Biological control agent selection under environmental change using functional responses, abundances and fecundities; the Relative Control Potential (RCP) metric. Biol Control 121:50–57

Devotto L, del Valle C, Ceballos R, Gerding M (2010) Biology of Mastrus ridibundus (Gravenhorst), a potential biological control agent for area-wide management of Cydia pomonella (Linneaus) (Lepidoptera: Tortricidae). J Appl Entomol 134:243–250

Di Rienzo JA, Valdano SG, Fernández P (2011) How to group genes according to expression profiles? Int J Plant Genom. 2011:261975

Di Rienzo JA, Casanoves F, Balzarini MG, Gonzalez L, Tablada M, Robledo CW (2019) InfoStat 2019 version. Centro de Transferencia InfoStat, FCA, Universidad Nacional de Córdoba, Argentina. http://www.infostat.com.ar. Accessed 7 May 2021

Duthie AB, Abbott KC, Nason JD (2015) Trade-offs and coexistence in fluctuating environments: evidence for a key dispersal-fecundity trade-off in five nonpollinating fig wasps. Am Nat 186:151–158

Ferran A, Giuge L, Tourniaire R, Gambier J, Fournier D (1998) An artificial non-flying mutation to improve the efficiency of the ladybird Harmonia axyridis in biological control of aphids. BioControl 43:53–64

Gao S, Tang Y, Wei K, Wang X, Yang Z, Zhang Y (2016) Relationships between body size and parasitic fitness and offspring performance of Sclerodermus pupariae Yang et Yao (Hymenoptera: Bethylidae). PLoS ONE 11(7):e0156831

Guerra PA (2011) Evaluating the life-history trade-off between dispersal capability and reproduction in wing dimorphic insects: a meta-analysis. Biol Rev Camb Philos Soc 86:813–835

Henry LM, Ma BO, Roitberg BD (2009) Size-mediated adaptive foraging: a host-selection strategy for insect parasitoids. Oecologia 161:433–445

Hoelmer KA, Kirk AA (2005) Selecting arthropod biological control agents against arthropod pests: can the science be improved to decrease the risk of releasing ineffective agents? Biol Control 34:255–264

Honek A (1993) Intraspecific variation in body size and fecundity in insects: a general relationship. Oikos 66:483–492

Hopper KR, Roush RT, Powell W (1993) Management of genetics of biological-control introductions. Annu Rev Entomol 38:27–51

Hougardy E, Mills NJ (2006) The influence of host deprivation and egg expenditure on the rate of dispersal of a parasitoid following field release. Biol Control 37:206–213

Hougardy E, Mills NJ (2007) Influence of host deprivation and egg expenditure on the patch and host-finding behavior of the parasitoid wasp Mastrus ridibundus. J Insect Behav 20:229–246

Hougardy E, Bezemer TM, Mills NJ (2005) Effects of host deprivation and egg expenditure on the reproductive capacity of Mastrus ridibundus, an introduced parasitoid for the biological control of codling moth in California. Biol Control 33:96–106

Hoy MA (1986) Use of genetic improvement in biological control. Agric Ecosyst Environ 15:109–119

Jervis MA, Ellers J, Harvey JA (2008) Resource acquisition, allocation, and utilization in parasitoid reproductive strategies. Ann Rev Entomol 53:361–385

Kruitwagen A, Beukeboom L, Wertheim B (2018) Optimization of native biocontrol agents, with parasitoids of the invasive pest Drosophila suzukii as an example. Evol Appl 11:1473–1497

Leung K, Ras E, Ferguson KB, Ariëns S, Babendreier D, Bijma P, Bourtzis K, Brodeur J, Bruins MA, Centurión A, Chattington SR, Chinchilla-Ramírez M, Dicke M, Fatouros NE, González-Cabrera J, Groot TVM, Haye T, Knapp M, Koskinioti P, Le Hesran S, Lyrakis M, Paspati A, Pérez-Hedo M, Plouvier WN, Schlötterer C, Stahl JM, Thiel A, Urbaneja A, van de Zande L, Verhulst EC, Vet LEM, Visser S, Werren JH, Xia S, Zwaan BJ, Magalhães S, Beukeboom LW, Pannebakker BA (2020) Next-generation biological control: the need for integrating genetics and genomics. Biol Rev 95:1838–1854

Lirakis M, Magalhães S (2019) Does experimental evolution produce better biological control agents? A critical review of the evidence. Entomol Exp Appl 167:584–597

Lommen TE, de Jong PW, Pannebakker BA (2017) It is time to bridge the gap between exploring and exploiting: prospects for utilizing intraspecific genetic variation to optimize arthropods for augmentative pest control—a review. Entomol Exp Appl 162:108–123

Mills NJ (2005) Selecting effective parasitoids for biological control introductions: codling moth as a case study. Biol Control 34:274–282

Pimentel D, Burgess M (2014) Environmental and economic costs of the application of pesticides primarily in the United States. In: Pimentel D, Peshin R (eds) Integrated pest management: innovation-development process. Springer, Dordrecht, pp 47–71

Plouvier WN, Wajnberg E (2018) Improving the efficiency of augmentative biological control with arthropod natural enemies: a modeling approach. Biol Control 125:121–130

Retamal R, Zaviezo T, Malausa T, Fauvergue X, Le Goff I, Toleubayev K (2016) Genetic analyses and occurrence of diploid males in field and laboratory populations of Mastrus ridens (Hymenoptera: Ichneumonidae), a parasitoid of the codling moth. Biol Control 101:69–77

Roitberg BD, Boivin G, Vet LEM (2001) Fitness, parasitoids, and biological control: an opinion. Can Entomol 133:429–438

Routray S, Dey D, Baral S, Das AP, Mahantheshwara B (2016) Genetic improvement of natural enemies: a review. Agric Rev 37:325–332

Sandanayaka WRM, Chhagan A, Page-Weir NEM, Charles JG (2011) Colony optimisation of Mastrus ridens (Hymenoptera Ichneumonidae) a potential biological control agent of codling moth in New Zealand. N Z Plant Prot 64:227–234

Sandanayaka WRM, Chhagan A, Page-Weir NEM, de Silva HN, Charles JG (2011) The effect of mating behaviour on progeny sex ratio of Mastrus ridens (Hymenoptera: Ichneumonidae), a biological control agent of codling moth. Biocontrol Sci Techn 21:485–496

Schneider CA, Rasband WS, Eliceiri KW (2012) NIH Image to ImageJ: 25 years of image analysis. Nat Methods 9:671–675

Shingleton AW, Frankino WA (2018) The (ongoing) problem of relative growth. Curr Opin Insect Sci 25:9–19

Smith SM (1996) Biological control with Trichogramma: advances, successes, and potential of their use. Ann Rev Entomol 41:375–406

Stern DL, Emlen DJ (1999) The developmental basis for allometry in insects. Development 126:1091–1101

Therry L, Bonte D, Stoks R (2015) Higher investment in flight morphology does not trade off with fecundity estimates in a poleward range-expanding damselfly. Ecol Entomol 40:133–142

Tigreros N, Davidowitz G (2019) Flight-fecundity tradeoffs in wing-monomorphic insects. Adv Insect Phys 56:1–41

van Lenteren JC, Bolckmans K, Köhl J, Ravensberg WJ, Urbaneja A (2018) Biological control using invertebrates and microorganisms: plenty of new opportunities. BioControl 63:39–59

Wajnberg E (2004) Measuring genetic variation in natural enemies used for biological control: why and how? In: Ehler LE, Sforza R, Mateille T (eds) Genetics, evolution and biological control. CAB International, Wallingford, pp 19–37

Wajnberg E (2010) Genetics of the behavioral ecology of egg parasitoids. In: Cônsoli FL, Parra JRP, Zucchi RA (eds) Egg parasitoids in agroecosystems with emphasis on Trichogramma. Springer, Dordrecht, pp 149–165

White EB, DeBach P, Garber MJ (1970) Artificial selection for genetic adaptation to temperature extremes in Aphytis linganensis compere (Hymenoptera: Aphelinidae). Hilgardia 40:161–192

Willer H, Schlatter B, Trávnícek J, Kemper L, Lernoud J (2020) The world of organic agriculture. Statistics and emerging trends 2020. Research Institute of Organic Agriculture (FiBL), Frick and IFOAM-Organics International, Bonn

Zaviezo T, Mills NJ (1999) Aspects of the biology of Hyssopus pallidus (Askew) (Hymenoptera: Eulophidae), a parasitoid of the codling moth (Lepidoptera: Olethreutidae). Environ Entomol 28:748–754

Zaviezo T, Retamal R, Urvois T, Fauvergue X, Blin A, Malausa T (2018) Effects of inbreeding on a gregarious parasitoid wasp with complementary sex determination. Evol Appl 11:243–253

Zera AJ, Denno RF (1997) Physiology and ecology of dispersal polymorphism in insects. Annu Rev Entomol 42:207–230

Zhang Y, Wu K, Wyckhuys KA, Heimpel G (2009) Trade-offs between flight and fecundity in the soybean aphid (Hemiptera: Aphididae). J Econ Entomol 102:133–138
Acknowledgements
This research was supported by Agencia Nacional de Investigación y Desarrollo - Chile, through the Project FONDECYT N 1181256.
Funding
Agencia Nacional de Investigación y Desarrollo, FONDECYT N°1181256
Ethics declarations
Conflict of interest
Authors indicate no conflict of interest.
Additional information
Handling Editor: Dirk Babendreier.
Supplementary Information
Below is the link to the electronic supplementary material.
About this article
Cite this article
Zaviezo, T., Romero, A., Calleja, F. et al. Intraspecific variation in biocontrol traits in Mastrus ridens (Hymenoptera: Ichneumonidae) laboratory populations. BioControl 66, 475–485 (2021). https://doi.org/10.1007/s10526-021-10094-7
Received:

Accepted:

Published:

Issue Date:
Keywords
Fecundity

Dispersal

Intraspecific variability

Longevity

Parasitoid