Abstract
Diaphorina citri Kuwayama (Hemiptera: Liviidae) is a vector of the bacteria that cause Huanglongbing, the fatal disease threatening citriculture worldwide. One of the most important management methods is the control of D. citri with pesticides, but their intensive use causes development of resistance and pollution. An alternative method is therefore necessary to manage this vector-pathogen system. The generalist predatory mite Amblyseius herbicolus Chant (Acari: Phytoseiidae) can be found on citrus and orange jasmine plants, important hosts of D. citri in Brazil. Here we show that this phytoseiid can reproduce and develop on D. citri eggs. The predation rate was higher on D. citri eggs collected from plants in the field than on eggs from small plants from a laboratory rearing. Yet the predator preferred eggs from the laboratory. This may indicate that the higher predation rate of eggs from the field served to compensate for these eggs being of lower nutritional quality. This was confirmed with a series of experiments with limited numbers of eggs. We conclude that Amblyseius herbicolus is a potential biological control agent of D. citri, and its performance and control may be affected by the quality of the host plant.
Access options
Buy single article
Instant access to the full article PDF.
US$ 39.95
Tax calculation will be finalised during checkout.
Subscribe to journal
Immediate online access to all issues from 2019. Subscription will auto renew annually.
US$ 79
Tax calculation will be finalised during checkout.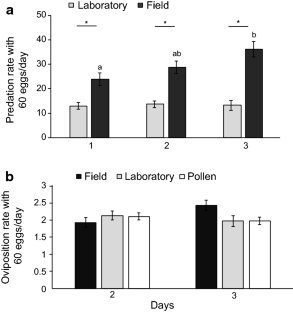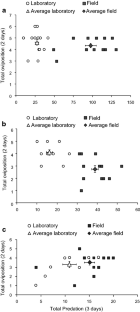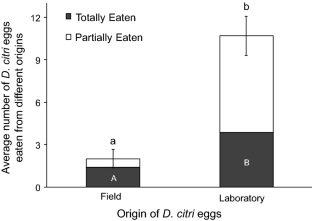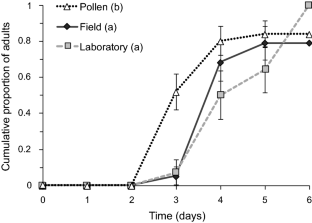 Data availability
The authors provided a supplementary material for publication.
References
Alvarez S, Rohrig E, Solís D, Thomas MH (2016) Citrus greening disease (Huanglongbing) in Florida: economic impact, management and the potential for biological control. Agric Res 5:109–118

Alves GR, Diniz AJF, Parra JRP (2014) Biology of the Huanglongbing vector Diaphorina citri (Hemiptera: Liviidae) on different host plants. J Econ Entomol 107:691–696

Arnosti A, Delalibera Junior I, Conceschi MR, D'Alessandro CP, Travaglini RV, Camargo-Mathias MI (2019) Interactions of adjuvants on adhesion and germination of Isaria fumosorosea on adults of Diaphorina citri. Sci Agric 76:487–493

Bale JS, van Lenteren JC, Bigler F (2008) Biological control and sustainable food production. Philos Trans R Soc Lond B Biol Sci 363:761–776

Bassanezi RB, Lopes SA, Miranda MP, Wulff NA, Volpe HXL, Ayres AJ (2020) Overview of citrus huanglongbing spread and management strategies in Brazil. Trop Plant Pathol 45:251–264

Bates D, Mächler M, Bolker B, Walker S (2015) Fitting linear mixed-effects models using lme4. J Stat Softw 67:1–48

Batool A, Iftikhar Y, Mughal SM, Khan MM, Jaskani MJ, Abbas M, Khan IA (2008) Citrus greening disease—a major cause of citrus decline in the world—a review. Hort Sci (Prague) 34:159–166

Boege K, Marquis RJ (2005) Facing herbivory as you grow up: the ontogeny of resistance in plants. Trends Ecol Evol 20:441–448

Bové JM (2006) Huanglongbing: a destructive, newly-emerging, century-old disease of citrus. J Plant Pathol 88:7–37

Catling HD (1970) Distribution of the psyllid vectors of citrus greening disease, with notes on the biology and bionomics of Diaphorina citri. FAO Plant Prot Bull 18:8–15

Cavalcante ACC, dos Santos VLV, Rossi LC, Moraes GJD (2015) Potential of five Brazilian populations of Phytoseiidae (Acari) for the biological control of Bemisia tabaci (Insecta: Hemiptera). J Econ Entomol 108:29–33

Cen Y, Yang C, Holford P, Beattie GAC, Spooner-Hart RN, Liang G, Deng X (2012) Feeding behaviour of the Asiatic citrus psyllid, Diaphorina citri, on healthy and huanglongbing-infected citrus. Entomol Exp Appl 143:13–22

Chant DA, McMurtry JA (2007) Illustrated keys and diagnoses for the genera and subgenera of the Phytoseiidae of the world (Acari: Mesostigmata). Indira Publishing House, West Bloomfield

Chant DA, McMurtry JA (1994) A review of the subfamilies Phytoseiinae and Typhlodrominae (Acari: Phytoseiidae). Int J Acarol 20:223–310

Chen X, Stansly PA (2014) Biology of Tamarixia radiata (Hymenoptera: Eulophidae), parasitoid of the citrus greening disease vector Diaphorina citri (Hemiptera: Psylloidea): a mini review. Fla Entomol 97:1404–1413

Chen XD, Ebert TA, Pelz-Stelinski KS, Stelinski LL (2020) Fitness costs associated with thiamethoxam and imidacloprid resistance in three field populations of Diaphorina citri (Hemiptera: Liviidae) from Florida. Bull Entomol Res 110:512–520

Cifuentes-Arenas JC, Goes A, Miranda MP, Beattie GAC, Lopes SA (2018) Citrus flush shoot ontogeny modulates biotic potential of Diaphorina citri. PLoS ONE 13(1):e0190563

Cruz-Rivera E, Hay ME (2000) Can quantity replace quality? Food choice, compensatory feeding, and fitness of marine mesograzers. Ecology 81:201–219

Cunha JP, Chueca P, Garcerá C, Moltó E (2012) Risk assessment of pesticide spray drift from citrus applications with air-blast sprayers in Spain. Crop Prot 42:116–123

Dowd PF, Smith CM, Sparks TC (1983) Detoxification of plant toxins by insects. Insect Biochem 13:453–468

Demite PR, McMurtry JA, de Moraes GJ (2014) Phytoseiidae database: a website for taxonomic and distributional information on phytoseiid mites (Acari). Zootaxa 3795:571–577

Dicke M, Sabelis MW, De Jong M, Alers MPT (1990) Do phytoseiid mites select the best prey species in terms of reproductive success? Exp Appl Acarol 8:161–173

Duarte MVA, Venzon M, de Bittencourt MC, S, Rodríguez-Cruz FA, Pallini A, Janssen A, (2015) Alternative food promotes broad mite control on chilli pepper plants. BioControl 60:817–825

Fang X, Lu H, Ouyang G, Xia Y, Guo M, Wu W (2013) Effectiveness of two predatory mite species (Acari: Phytoseiidae) in controlling Diaphorina citri (Hemiptera: Liviidae). Fla Entomol 96:1325–1333

Ferguson KI, Stiling P (1996) Non-additive effects of multiple natural enemies on aphid populations. Oecologia 108:375–379

Garnier M, Danel N, Bové JM (1984) The greening organism is a gram negative bacterium. In: Garnsey SM, Timmer LW, Dodds JA (eds) International organization of citrus virologists conference proceedings. University of California, Riverside, pp 115–124

Gasparoto MCG, Hau B, Bassanezi RB, Rodrigues JC, Amorim L (2018) Spatiotemporal dynamics of citrus huanglongbing spread: a case study. Plant Pathol 67:1621–1628

Gottwald TR, da Graça JV, Bassanezi RB (2007) Citrus huanglongbing: the pathogen and its impact. Plant Health Prog 8:31–67

Gottwald T, Poole G, McCollum T, Hall D, Hartun J, Bai J, Luo W, Posny D, Duan YP, Taylor E, da Graça J, Polek M, Louws F, Schneiderf W (2020) Canine olfactory detection of a vectored phytobacterial pathogen, Liberibacter asiaticus, and integration with disease control. PNAS 117:3492–3501

Grafton-Cardwell EE, Stelinski LL, Stansly PA (2013) Biology and management of Asian citrus psyllid, vector of the huanglongbing pathogens. Annu Rev Entomol 58:413–432

Guidolin AS, Cônsoli FL (2020) Influence of host plant on oligophagous and polyphagous aphids, and on their obligate symbiont titers. Biologia 75:71–81

Hall DG, Hentz MG, Meyer JM, Kriss AB, Gottwald TR, Boucias DG (2012) Observations on the entomopathogenic fungus Hirsutella citriformis attacking adult Diaphorina citri (Hemiptera: Psyllidae) in a managed citrus grove. BioControl 57:663–675

Hothorn T, Bretz F, Westfall P (2008) Simultaneous inference in general parametric models. Biom J 50:346–363

Janssen A, Sabelis MW (2015) Alternative food and biological control by generalist predatory mites: the case of Amblyseius swirskii. Exp Appl Acarol 65:413–418

Juan-Blasco M, Qureshi JA, Urbaneja A, Stansly PA (2012) Predatory mite, Amblyseius swirskii (Acari: Phytoseiidae), for biological control of Asian citrus psyllid, Diaphorina citri (Hemiptera: Psyllidae). Fla Entomol 95:543–551

Kistner EJ, Melhem N, Carpenter E, Castillo M, Hoddle MS (2016) Abiotic and biotic mortality factors affecting Asian citrus psyllid (Hemiptera: Liviidae) demographics in southern California. Ann Entomol Soc Am 109:860–871

Lee JA, Halbert SE, Dawson WO, Robertson CJ, Keesling JE, Singer BH (2015) Asymptomatic spread of huanglongbing and implications for disease control. PNAS 112:7605–7610

Lenth R (2019) emmeans: estimated marginal means, aka least-squares means. https://cran.r-project.org/package=emmeans

Li J, Li L, Pang Z, Kolbasov VG, Ehsani R, Carter EW, Wang N (2019) Developing citrus huanglongbing (HLB) management strategies based on the severity of symptoms in HLB-endemic citrus-producing regions. Phytopathology 109:582–592

Lopes SA, Frare GF, Camargo LEA, Wulff NA, Teixeira DC, Bassanezi RB, Beattie GAC, Ayres AJ (2010) Liberibacters associated with orange jasmine in Brazil: incidence in urban areas and relatedness to citrus liberibacters. Plant Pathol 59:1044–1053

Lu H, Li L, Yu LC, He LM, Ouyang GC, Liang GW, Lu YY (2019) Ectoparasitic mite, Pyemotes zhonghuajia (Prostigmata: Pyemotidae), for biological control of Asian Citrus Psyllid, Diaphorina citri (Hemiptera: Liviidae). Syst Appl Acarol 24:520–524

Maris PC, Joosten NN, Goldbach RW, Peters P (2004) Tomato spotted wilt virus improves host suitability for its vector Frankliniella occidentalis. Phytopathology 94:706–711

Mauck KE, De Moraes CM, Mescher MC (2010) Deceptive chemical signals induced by a plant virus attract insect vectors to inferior hosts. PNAS 107:3600–3605

Mayntz D, Raubenheimer D, Salomon M, Toft S, Simpson SJ (2005) Nutrient-specific foraging in invertebrate predators. Science 307:111–113

McClean APD, Oberholzer PCJ (1965) Citrus psylla, a vector of the greening disease of sweet orange. S Afr J Agric Sci 8:297–298

McMurtry JA, Scriven GT (1965) Insectary production of phytoseiid mites. J Econ Entomol 58:282–284

Michaud JP (2004) Natural mortality of Asian citrus psyllid (Homoptera: Psyllidae) in central Florida. Biol Control 29:260–269

Miranda MP, Dos Santos FL, Bassanezi RB, Montesino LH, Barbosa JC, Sétamou M (2018) Monitoring methods for Diaphorina citri Kuwayama (Hemiptera: Liviidae) on citrus groves with different insecticide application programmes. J Appl Entomol 142:89–96

Monzo C, Qureshi JA, Stansly PA (2014) Insecticide sprays, natural enemy assemblages and predation on Asian citrus psyllid, Diaphorina citri (Hemiptera: Psyllidae). Bull Entomol Res 104:576–585

Nomikou M, Janssen A, Sabelis MW (2003) Phytoseiid predators of whiteflies feed and reproduce on non-prey food sources. Exp Appl Acarol 31:15–26

Parra JRP (2014) Biological control in Brazil: an overview. Sci Agric 71:420–429

Pérez-Otero R, Mansilla JP, del Estal P (2015) Detección de la psila africana de los cítricos, Trioza erytreae (Del Guercio, 1918) (Hemiptera: Psylloidea: Triozidae), en la Península Ibérica. Arq Entomol 13:119–122

Price PW, Bouton CE, Gross P, McPheron BA, Thompson JN, Weis AE (1980) Interactions among three trophic levels: influence of plants on interactions between insect herbivores and natural enemies. Annu Rev Ecol Syst 1:41–65

Quintero C, Bowers MD (2011) Plant induced defenses depend more on plant age than previous history of damage: implications for plant-herbivore interactions. J Chem Ecol 37:992–1001

R Core Team (2019). R: a language and environment for statistical computing. R foundation for statistical computing, Vienna, Austria. https://www.r-project.org/

Rovenská GZ, Zemek R, Schmidt JEU, Hilbeck A (2005) Altered host plant preference of Tetranychus urticae and prey preference of its predator Phytoseiulus persimilis (Acari: Tetranychidae, Phytoseiidae) on transgenic Cry3Bb-eggplants. Biol Control 33:293–300

Rueda AA, Slansky F, Wheeler GS (1991) Compensatory feeding response of the slug Sarasinula plebeia to dietary dilution. Oecologia 88:181–188

Sabelis MW (1990) How to analyse prey preference when prey density varies? A new method to discriminate between effects of gut fullness and prey type composition. Oecologia 82:289–298

Siegel S, Castellan NJ (1988) Nonparametric statistics for the behavioral sciences. McGraw-Hill, New York, NY

Symondson WOC, Sunderland KD, Greenstone MH (2002) Can generalist predators be effective biocontrol agents? Annu Rev Entomol 47:561–594

Teder T, Tammaru T (2002) Cascading effects of variation in plant vigour on the relative performance of insect herbivores and their parasitoids. Ecol Entomol 27:94–104

Therneau T (2020) A package for survival analysis in R. R package version 3.1-12. https://cran.r-project.org/package=survival

van Rijn PCJ, van Houten YM, Sabelis MW (2002) How plants benefit from providing food to predators even when it is also edible to herbivores. Ecology 83:2664–2679

Walling LL (2000) The myriad plant responses to herbivores. J Plant Growth Regul 19:195–216

Zou X, Bai X, Wen Q, Xie Z, Wu L, Peng A, He Y, Xu L, Chen S (2019) Comparative analysis of tolerant and susceptible citrus reveals the role of methyl salicylate signaling in the response to huanglongbing. J Plant Growth Regul 38:1516–1528
Acknowledgements
This study was financed in part by the Coordenação de Aperfeiçoamento de Pessoal de Nível Superior—Brasil (CAPES)—Finance Code 001, Conselho Nacional de Desenvolvimento Científico e Tecnológico (CNPq) and Fundação de Amparo à Pesquisa do Estado de Minas Gerais (FAPEMIG). Dr. João Roberto Spotti Lopes and Dr Michele Sousa Timossi from Esalq—USP and Dr. Nelson Arno Wulff from Fundecitrus are acknowledged for providing material and help with technical procedures for greening diagnosis. We thank Tom Groot of Koppert Biological Systems for his comments. We also thank Júlia Jantsch Ferla for taxonomic identification, Dr. Madelaine Venzon, Dr. André Lage Perez and colleagues from the Laboratory of Acarology of the Universidade Federal de Viçosa for suggestions and discussions. Constructive comments of two anonymous reviewers were highly appreciated.
Ethics declarations
Conflicts of interest
The authors declare that they have no conflict of interest.
Ethics approval
All applicable international, national, and/or institutional guidelines for the care and use of animals were followed.
Informed consent
All authors read and approved the final version of the manuscript for publication.
Additional information
Handling Editor: Eric Riddick.
Electronic supplementary material
Below is the link to the electronic supplementary material.
About this article
Cite this article
Kalile, M.O., Cardoso, A.C., Pallini, A. et al. A predatory mite as potential biological control agent of Diaphorina citri. BioControl 66, 237–248 (2021). https://doi.org/10.1007/s10526-020-10061-8
Received:

Accepted:

Published:

Issue Date:
Keywords
Asian citrus psyllid

Nutritional quality

Compensatory predation

Huanglongbing

Citrus