Abstract
Pantoea ananatis is a plant pathogenic bacterium that severely impacts rice. In spite of its worldwide prevalence, limited studies have been conducted so far on the control of P. ananatis. Bacitracin A is a non-ribosomal peptide antibiotic with strong antibacterial activity produced by Bacillus licheniformis strain HN-5. We investigated the mechanisms of action underlying the biocontrol and bactericidal efficacy of bacitracin A against P. ananatis. Fluorescence microscopy and bacterial cell viability analyses revealed that the median effective concentration of bacitracin A against P. ananatis was 9.10 μg ml−1. Scanning and transmission electron microscopy showed that bacitracin A damaged the cell wall and membrane of P. ananatis. Quantitative real-time PCR indicated that the transcriptional expression of ftsZ, glmS, and gumD, which are involved in cell division, cell-wall biosynthesis, and extracellular polymeric substance biosynthesis, respectively, was upregulated at 12 h and significantly downregulated at 24 h after bacitracin A treatment in P. ananatis. Bacitracin A caused cell leakage and changes to membrane permeability in P. ananatis, supporting its use as a natural biocontrol agent for P. ananatis.
Access options
Buy single article
Instant access to the full article PDF.
US$ 39.95
Tax calculation will be finalised during checkout.
Subscribe to journal
Immediate online access to all issues from 2019. Subscription will auto renew annually.
US$ 79
Tax calculation will be finalised during checkout.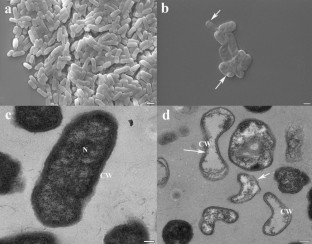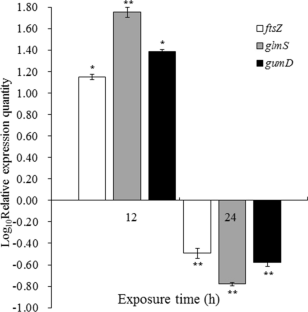 References
Borshchevskaya L, Kalinina A, Sineokii S (2013) Design of a PCR test based on the gyrA gene sequence for the identification of closely related species of the Bacillus subtilis group. Appl Biochem Microbiol 49(7):646–655

Carrillo C, Teruel JA, Aranda FJ, Ortiz A (2003) Molecular mechanism of membrane permeabilization by the peptide antibiotic surfactin. Biochim Biophys Acta 1611(1–2):91–97

Choi O, Kim H, Lee Y, Kim J, Moon JS, Hwang I (2012) First report of sheath rot of rice caused by Pantoea ananatis in Korea. Plant Pathol J 28(3):331–332

Choi Y, Cho S, Simkhada J, Rahman M, Choi Y, Kim C, Yoo J (2017) A novel multifunctional peptide oligomer of bacitracin with possible bioindustrial and therapeutic applications from a Korean food-source Bacillus strain. PLoS ONE 12(5):e0176971

Ciesiołka J, Jeżowska-Bojczuk M, Wrzesiński J, Stokowa-Sołtys J, Nagaj J, Kasprowicz A, Błaszczyk L, Szczepanik W (2014) Antibiotic bacitracin induces hydrolytic degradation of nucleic acids. BBA-Gen Subj 1840(6):1782–1789

Cother E, Reinke R, Mckenzie C, Lanoiselet V, Noble D (2004) An unusual stem necrosis of rice caused by Pantoea ananas and the first record of this pathogen on rice in Australia. Plant Path 33(4):495–503

Coutinho T, Venter S (2009) Pantoea ananatis: an unconventional plant pathogen. Mol Plant Pathol 10(3):325–335

Drablos F, Nicholson D, Ronning M (1999) EXAFS study of zinc coordination in bacitracin A. BBA-Protern. Struct M 1431(2):433–442

Fravel D (2005) Commercialization and implementation of biocontrol. Annu Rev Phytopathol 43:337–359

Hancock R (2005) Mechanisms of action of newer antibiotics for Grampositive pathogens. Lancet Infect Dis 5(4):209–218

Jin P, Wang H, Liu W, Zhang S, Lin C, Zheng F, Guo M (2017) Bactericidal metabolites from Phellinus noxius HN-1 against Microcystis aeruginosa. Sci Rep 7(1):3132–3141

Jin P, Wang H, Tan Z, Xuan Z, Dahar G, Li Q, Miao W, Liu W (2020) Antifungal mechanism of bacillomycin D from Bacillus velezensis HN-2 against Colletotrichum gloeosporioides Penz. Pestic Biochem Phys 163:102–107

Kido K, Hasegawa M, Hioyuki M, Kobayashi M, Yuichi T (2010) Pantoea ananatis strains are differentiated into three groups based on reactions of tobacco and welsh onion and on genetic characteristics. J Gen Plant Pathol 76(3):208–218

Kim J, Kim B, Lee C (2007) Alga-lytic of Pseudomonas fluorescens against the red tide causing marine alga Heterosigma akashiwo (Raphidophyceae). Biol Control 41(3):296–303

Konz D, Klens A, Schorgendorfer K, Marahiel M (1997) The bacitracin biosynthesis operon of Bacillus licheniformis ATCC 10716: molecular characterization of three multi-modular peptide synthetases. Chem Biol 4(12):927–937

Li J, Wang N (2011) The wxacO gene of Xanthomonas citri ssp. citri encodes a protein with a role in lipopolysaccharide biosynthesis, biofilm formation, stress tolerance and virulence. Mol Plant Pathol 12(4):381–396

Livak K, Schmittgen T (2001) Analysis of relative gene expression data using real-time quantitative PCR and the 2-DDC (T) method. Methods 25(4):402–408

Maayer P, Chan W, Rubagotti E, Venter S, Toth I, Birch P, Coutinho T (2014) Analysis of the Pantoea ananatis pan-genome reveals factors underlying its ability to colonize and interact with plant, insect and vertebrate hosts. BMC Genomics 15(1):404–417

Magnet-Dana R, Peypoux F (1994) Iturins, a special class of poreforming lipopeptides: biological and physiological properties. Toxicology 87(1–3):151–174

Makovitzki A, Avrahami D, Shai Y (2006) Ultrashort antibacterial and antifungal lipopeptides. Proc Natl Acad Sci USA 103(43):15997–16002

Mondal K, Mani C, Singh J, Kim J, Mudgett M (2011) A new leaf blight of rice caused by Pantoea ananatis in India. Plant Dis 95(12):1582–1583

Morris M (1994) Primary structural confirmation of components of the bacitracin complex. Biol Mass Spectrom 23(2):61–70

Moyne A, Shelby R, Cleveland T, Tuzun S (2001) Bacillomycin D: an iturin with antifungal activity against Aspergillus flavus. J Appl Microbiol 90(4):622–629

Nasir M, Besson F (2012) Conformational analyses of bacillomycin D, a natural antimicrobial lipopeptide, alone or in interaction with lipid monolayers at the air-water interface. J Colloid Interf Sci 387(1):187–193

Oh E, Bae J, Kumar A, Choi H, Jeon B (2018) Antioxidant-based synergistic eradication of methicillin-resistant Staphylococcus aureus (MRSA) biofilms with bacitracin. Int J Antimicrob Ag. 52(1):96–99

Ongena M, Jacques P (2008) Bacillus lipopeptides: versatile weapons for plant disease biocontrol. Trends Microbiol 16(3):115–125

Ongena M, Jacques P, Touré Y, Destain J, Jabrane A, Thonart P (2005) Involvement of fengycin-type lipopeptides in the multifaceted biocontrol potential of Bacillus subtilis. Appl Microbiol Biot 69(1):29–38

Pavli V, Kmetec V (2001) Optimization of HPLC method for stability testing of bacitracin. J Pharmaceut Biomed 24(5–6):977–982

Pollock T, Thorne L, Yamazaki M, Mikolajczak M, Armentrout R (1994) Mechanism of bacitracin resistance in gram-negative bacteria that synthesize exopolysaccharides. J Bacteriol 176(20):6229–6237

Qian G, Zhou Y, Zhao Y, Song Z, Wang S, Fan J, Hu B, Venturi V, Liu F (2013) Proteomic analysis reveals novel extracellular virulence-associated proteins and functions regulated by the diffusible signal factor (DSF) in Xanthomonas oryzae pv. oryzicola. J Proteome Res 12(7):3327–3341

Romero D, de Vicente A, Olmos J, Dávila J, Pérez-García A (2007) Effect of lipopeptides of antagonistic strains of Bacillus subtilis on the morphology and ultrastructure of the cucurbit fungal pathogen Podosphaera fusca. J Appl Microbiol 103(4):969–976

Schallmey M, Singh A, Ward O (2004) Developments in the use of Bacillus species for industrial production. Can J Microbiol 50(1):1–17

Shyntum D, Theron J, Venter S, Moleleki L, Toth I, Coutinho T (2015) Pantoea ananatis utilizes a type VI secretion system for pathogenesis and bacterial competition. Mol Plant-Microbe Interact 28(4):420–431

Silva I, Regasini L, Petrônio M, Silva D, Bolzani V, Belasque J, Sacramento L, Ferreira H (2012) Antibacterial activity of alkyl gallates against Xanthomonas citri subsp citri. J Bacteriol 195(1):85–94

Skamnioti P, Gurr S (2009) Against the grain: safeguarding rice from rice blast disease. Trends Biotechnol 27(3):141–150

Stein T (2005) Bacillus subtilis antibiotics: Structures, syntheses and specific functions. Mol Microbiol 56(4):845–857

Stone K, Strominger J (1971) Mechanism of action of bacitracin: complexation with metalion and C55-isoprenyl pyrophosphate. P Natl Acad Sci 68(12):3223–3227

Storm D, Strominger J (1973) Complex formation between bacitracin peptides and isoprenyl pyrophosphates. The specificity of lipid-peptide interactions. J Biol Chem 248(11):3940–3945

Straus S, Hancock R (2006) Mode of action of the new antibiotic for Gram-positive pathogens daptomycin: comparison with cationic antimicrobial peptides and lipopeptides. Biochim Biophys Acta Biomembr 1758(9):1215–1223

Suleiman S, Song F, Su M, Hang T, Song M (2017) Analysis of bacitracin and its related substances by liquid chromatography tandem mass spectrometry. J Pharm Anal 7(1):48–55

Torres M, Jones J, Dangl J (2006) Reactive oxygen species signaling in response to pathogens. Plant Physiol 141(2):373–378

Wang L, Lee F, Tai C, Kasai H (2007) Comparison of gyrB gene sequences, 16SrRNA gene sequences and DNA-DNA hybridization in the Bacillus subtilis group. Int J Syst Evol Microbiol 57(8):1846–1850

Wang Q, Zheng H, Wan X, Huang H, Li J, Christopher T, Wang C, Chen S (2017) Optimization of inexpensive agricultural by-products as raw materials for bacitracin production in Bacillus licheniformis DW2. Appl Biochem Biotechnol 183(4):1146–1157

Wu L, Wu H, Chen L, Yu X, Borriss R, Gao X (2015) Difficidin and bacilysin from Bacillus amyloliquefaciens FZB42 have antibacterial activity against Xanthomonas oryzae rice pathogens. Sci Rep 5:12975–12983

Yun M, Torres P, Oirdi M, Rigano L, Gonzalez-Lamothe R, Marano M, Castagnaro A, Dankert M, Bouarab K, Vojnov A (2006) Xanthan induces plant susceptibility by suppressing callose deposition. Plant Physiol 141(1):178–187

Zeriouh H, Romero D, García-Gutiérrez L, Cazorla F, de Vicente A, Perez-Garcia A (2011) The iturin-like lipopeptides are essential components in the biological control arsenal of Bacillus subtilis against bacterial diseases of cucurbits. Mol Plant-Microbe Interact 24(12):1540–1552

Zuo W, Jin P, Dong W, Dai H, Mei W (2014) Metabolites from the endophytic fungus HP-1 of Chinese eaglewood. Chin J Nat Med 12(2):151–153
Acknowledgements
We thank Xuewen Gao (College of Plant Protection, Nanjing Agricultural University, Key Laboratory of Integrated Management of Crop Diseases and Pests, Ministry of Education, Nanjing, China) for a kind support. The authors declare no competing financial interests.
Funding
The funding was provided by the National Natural Science Foundation of China (Grant No. 31960552), the Scientific Research Foundation for Advanced Talents (Grant No. KYQD(ZR)1842) and Hainan Provincial Science and Technology Foundation Youth Talent Innovation Program (Grant No. QCXM201903).
Ethics declarations
Conflict of interest
All authors declare that there is no conflict of interest in this work.
Ethical approval
This article does not contain any studies with human participants performed by any of the authors.
Additional information
Handling Editor: Jane Debode.
About this article
Cite this article
Jin, P., Tan, Z., Wang, H. et al. Antimicrobial effect of Bacillus licheniformis HN-5 bacitracin A on rice pathogen Pantoea ananatis. BioControl 66, 249–257 (2021). https://doi.org/10.1007/s10526-020-10052-9
Received:

Accepted:

Published:

Issue Date:
Keywords
Antimicrobial activity

Biocontrol

Bacitracin A

Pantoea ananatis

Rice