Abstract
Documentation of fine-scale plant genetic identity in order to match weed genotypes between native and invasive ranges can be used to identify potential biological control agents from target genotypes in the hopes that they will be better adapted and thus more effective once introduced into the exotic range. However, the utility of this information for directing future exploration, for example upon introduction of a new weed genotype, is rarely considered. A cryptic introduction of the submersed aquatic weed, Hydrilla verticillata (L.f.) Royle (Alismatales: Hydrocharitaceae), was recently identified in the Connecticut River, which represents a new hydrilla haplotype not previously recorded in the USA. Because we have instituted concurrent plant genetic studies and biological control agent surveys during overseas exploration, potential herbivores of the cryptic introduction may already be known, requiring less resources if a biological control program of this haplotype is instigated. For the newly introduced haplotype and its closest relatives, we identified 22 herbivore taxa from China and Korea, including Bagous spp., Hydrellia spp., and a number of chironomids. This information may now be used to pursue agent development on the cryptic introduction without additional years and resources required to survey native hydrilla populations for new potential agents.
Access options
Buy single article
Instant access to the full article PDF.
US$ 39.95
Tax calculation will be finalised during checkout.
Subscribe to journal
Immediate online access to all issues from 2019. Subscription will auto renew annually.
US$ 79
Tax calculation will be finalised during checkout.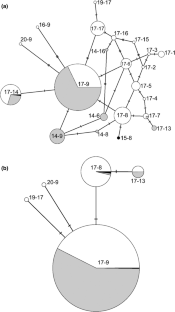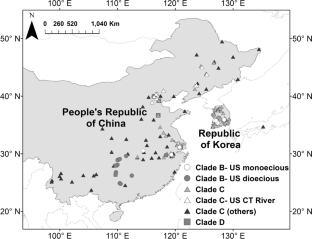 Data availability
Data are available upon reasonable request to the corresponding author.
References
Andersen T, Gonzalez OCB, Baars J-R, Earle W (2015) A new invasive weed-feeding species of Polypedilum (Pentapedilum) Kieffer from South Africa (Diptera: Chironomidae, Chironominae). Zootaxa 4000:559–570

Andres L (1977) The economics of biological control of weeds. Aquat Bot 3:111–123

Balciunas J, Grodowitz M, Cofrancesco A, Shearer J (2002) Hydrilla. In: van Driesche R, Blossey B, Hoddle M, Lyon S, Reardon R (eds) Biological control of invasive plants in the eastern United States. USDA Forest Service Publication FHTET-2002-04, Morgantown, pp 91–114

Bandelt H-J, Forster P, Röhl A (1999) Median-joining networks for inferring intraspecific phylogenies. Mol Biol Evol 16:37–48

Benoit LK (2011) Cryptic speciation, genetic diversity and herbicide resistance in the invasive aquatic plant Hydrilla verticillata (L.f.) Royle (Hydrocharitaceae). Dissertation, University of Connecticut, AAI3492149

Benoit LK, Les DH, King UM, Na HR, Chen L, Tippery NP (2019) Extensive interlineage hybridization in the predominantly clonal Hydrilla verticillata. Am J Bot 106:1622–1637

Bownes A (2015) A comparison of host range and performance of congeneric leaf-mining flies, Hydrellia pakistanae (Diptera: Ephydridae) and Hydrellia sp., two candidate biological control agents for the South African biotype of Hydrilla verticillata (Hydrocharitaceae). Biol Control 84:44–52

Buckingham GR (1994) Biological control of aquatic weeds. In: Rosen D, Bennett FD, Capinera JL (eds) Pest management in the subtropics: biological control-a Florida perspective. Intercept Limited, Andover, pp 413–480

Buckingham GR, Grodowitz MJ (2004) Hydrilla. In: Coombs EM, Clark JK, Piper GL, Cofrancesco A (eds) Biological control of invasive plants in the United States. Oregon State University Press, Corvallis, pp 184–186

Coombs EM, Clark JK, Piper GL, Cofrancesco AF Jr (2004) Biological control of invasive plants in the United States. Oregon State University Press, Corvallis

Coulson JR (1977) Biological control of alligatorweed, 1959–1972: a review and evaluation. US Department of Agriculture Agricultural Research Service, Hyattsville

Cuda J, Coon B, Dao Y, Center T (2002) Biology and laboratory rearing of Cricotopus lebetis (Diptera: Chironomidae), a natural enemy of the aquatic weed hydrilla (Hydrocharitaceae). Ann Entomol Soc Am 95:587–596

Delfosse ES, Perkins BD, Steward KK (1976) A new US record for Parapoynx diminutalis (Lepidoptera: Pyralidae), a possible biological control agent for Hydrilla verticillata. Florida Entomol 59:19–20

Edgar RC (2004) MUSCLE: multiple sequence alignment with high accuracy and high throughput. Nucleic Acids Res 32:1792–1797

Flores D, Wendel LE (2001) Proposed field release of the salvinia weevil, Cyrtobagous salviniae Calder and Sands (Curculionidae: Coleoptera), a host-specific biological control agent of giant salvinia, Salvinia molesta DS Mitchell (Salviniaceae: Polypodiophyta) a Federal Noxious Weed Indigenous to Southeast Brazil. USDA APHIS PPQ Technical Advisory Group Petitions TAG:27

Gaskin JF, Bon M-C, Cock MJW, Cristofaro M, De Biase A, De Clerck-Floate R, Ellison CA, Hinz HL, Hufbauer RA, Julien MH (2011) Applying molecular-based approaches to classical biological control of weeds. Biol Control 58:1–21

Goolsby JA, De Barro PJ, Makinson JR, Pemberton RW, Hartley DM, Frolich DR (2006) Matching the origin of an invasive weed for selection of a herbivore haplotype for a biological control programme. Mol Ecol 15:287–297

Grodowitz MJ, Smart M, Doyle RD, Owens CS, Bare R, Snell C, Freedman J, Jones H (2004) Hydrellia pakistanae and H. balciunasi, insect biological control agents of hydrilla: boon or bust? In: Proceedings of the XI international symposium on biological control of weeds, pp 529–538

Grodowitz M, Nachtrieb J, Harms N, Freedman J (2010) Suitability of using introduced Hydrellia spp. for management of monoecious Hydrilla verticillata (L.f.) Royle. US Army Engineer Research and Development Center, Vicksburg

Harms NE, Williams DA, Grodowitz MJ (2014) Genetic relationships among invasive hydrilla (Hydrilla verticillata Lf Royle) biotypes in the US and their implications for management. US Army Engineer Research and Development, Center Vicksburg

Hufbauer RA, Roderick GK (2005) Microevolution in biological control: mechanisms, patterns, and processes. Biol Control 35:227–239

Joye G (1990) Biocontrol of Hydrilla verticillata with the endemic fungus Macrophomina phaseolina. Plant Dis 74:1035–1036

Kondo S, Hamashima S (1985) Chironomid midges emerged from aquatic macrophytes in reservoirs. Jpn J Limnol (Rikusuigaku Zasshi) 46:50–55

Kumar S, Stecher G, Li M, Knyaz C, Tamura K (2018) MEGA X: molecular evolutionary genetics analysis across computing platforms. Mol Biol Evol 35:1547–1549

Leigh JW, Bryant D (2015) POPART: full-feature software for haplotype network construction. Methods Ecol Evol 6:1110–1116

Madeira PT, Coetzee JA, Center TD, White EE, Tipping PW (2007) The origin of Hydrilla verticillata recently discovered at a South African dam. Aquat Bot 87:176–180

Madeira PT, Jacono CC, Van TK (2000) Monitoring hydrilla using two RAPD procedures and the nonindigenous aquatic species database. J Aquat Plant Manage 38:33–40

Madeira PT, Van TK, Steward KK, Schnell RJ (1997) Random amplified polymorphic DNA analysis of the phenetic relationships among world-wide accessions of Hydrilla verticillata. Aquat Bot 59:217–236

Manrique V, Cuda JP, Overholt WA, Williams DA, Wheeler GS (2008) Effect of host-plant genotypes on the performance of three candidate biological control agents of Schinus terebinthifolius in Florida. Biol Control 47:167–171

McCulloch GA, Purcell MF, Harms NE, Grodowitz MJ, Zhang J, Sun-Hee H, Walter GH (2019) Molecular screening of herbivorous flies collected from Hydrilla verticillata across China and Korea—setting up hypotheses for further exploratory surveys and tests. Biol Control 138:104051

Overholt WA, Copeland R, Williams D, Cuda J, Nzigidahera B, Nkubaye E, Wanda F, Gidudu B (2008) Exploration for natural enemies of Hydrilla verticillata in East/Central Africa and genetic characterization of worldwide populations. Report to the Florida Department of Environmental Protection. Bureau of Invasive Plant Management, Tallahassee

Purcell M, Harms N, Grodowitz M, Zhang J, Ding J, Wheeler G, Zonneveld R, de Chenon RD (2019) Exploration for candidate biological control agents of the submerged aquatic weed Hydrilla verticillata, in Asia and Australia 1996–2013. BioControl 64:233–247

Robertson MP, Kriticos DJ, Zachariades C (2008) Climate matching techniques to narrow the search for biological control agents. Biol Control 46:442–452

Shearer JF (1996) Field and laboratory studies of the fungus Mycoleptodiscus terrestris as a potential agent for management of the submersed aquatic macrophyte Hydrilla verticillata. Army Engineer Waterways Experiment Station, Vicksburg

Tippery NP, Bugbee GJ, Stebbins SE (2020) Evidence for a genetically distinct strain of introduced Hydrilla verticillata (Hydrocharitaceae) in North America. J Aquat Plant Manage 58:1–6

van Driesche R, Hoddle M, Center T (2009) Control of pests and weeds by natural enemies: an introduction to biological control. Blackwell Publishing, Oxford

Ward SM, Gaskin JF, Wilson LM (2008) Ecological genetics of plant invasion: what do we know? Invas Plant Sci Manage 1:98–109

Wardill TJ, Graham GC, Zalucki M, Palmer WA, Playford J, Scott KD (2005) The importance of species identity in the biocontrol process: identifying the subspecies of Acacia nilotica (Leguminosae: Mimosoideae) by genetic distance and the implications for biological control. J Biogeogr 32:2145–2159

Williams DA, Harms NE, Dodd L, Grodowitz MJ, Dick GO (2017) Do the US dioecious and monoecious biotypes of Hydrilla verticillata hybridize? J Aquat Plant Manage 55:35–38

Williams DA, Harms NE, Grodowitz MJ, Purcell M (2018) Genetic structure of Hydrilla verticillata L.f. Royle in eastern China and the Republic of Korea: implications for surveys of biological control agents for the invasive monoecious biotype. Aquat Bot 149:17–27

Zhu J, Yu D, Xu X (2015) The phylogeographic structure of Hydrilla verticillata (Hydrocharitaceae) in China and its implications for the biogeographic history of this worldwide-distributed submerged macrophyte. BMC Evol Biol 15:95
Acknowledgements
We would like to thank James Straub, Tom Flannery, Mike Greer, Jialiang Zhang, Jianqing Ding, and Sun-hee Hong for their assistance in the field. We also thank Bradley Sartain and Ian Knight for review of an early version of the manuscript.
Funding
Funding for this work was provided by the US Army Engineer Aquatic Plant Control Research Program.
Ethics declarations
Conflict of interest
The authors declare no conflict of interest.
Additional information
Handling Editor: S. Raghu.
About this article
Cite this article
Harms, N.E., Williams, D.A. & Purcell, M.F. The role of overseas genetic surveys to potentially accelerate biological control development for a new Hydrilla verticillata introduction in the USA. BioControl 66, 271–280 (2021). https://doi.org/10.1007/s10526-020-10050-x
Received:

Accepted:

Published:

Issue Date:
Keywords
Aquatic invasions

Biological control

Cryptic introduction

Alismatales

Hydrocharitaceae

Rapid response