Abstract
A catalogue of classical biological control introductions of entomopathogens (fungi, microsporidia, viruses, bacteria, and one oomycete) and nematodes attacking arthropod pests, updated from a 2005 first edition, was published in 2016. This paper summarizes and discusses the 2016 catalogue. Classical biological control with pathogens or nematodes has been used to target insect or mite pests in 55 countries. A total of 164 release programs using 49 species or isolates of entomopathogens and nematodes for control of more than 85 target pest species were included in the analysis. For the 119 programs where results after release were reported, 71% of agents became established, and of those that established 51% resulted in successful control of the target pest and an additional 36% provided partial control. The most frequent pathogen groups used have been fungi, viruses, and nematodes, and the most frequent target hosts have been Coleoptera and Hemiptera. Releases of viruses were most successful at establishing (97%). The great success of some programs using pathogens highly specific to pest species suggests that this strategy should be further explored.
Access options
Buy single article
Instant access to the full article PDF.
US$ 39.95
Tax calculation will be finalised during checkout.
Subscribe to journal
Immediate online access to all issues from 2019. Subscription will auto renew annually.
US$ 79
Tax calculation will be finalised during checkout.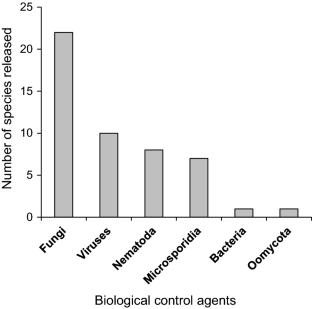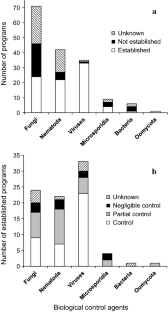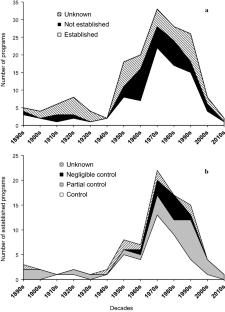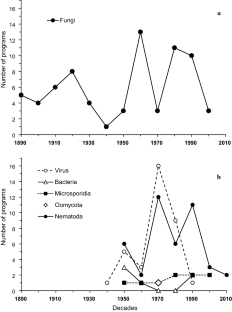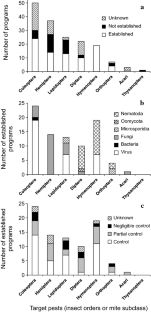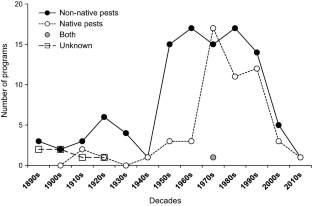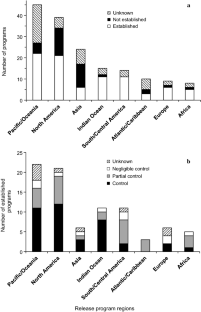 References
Bebber DP, Holmes T, Gurr SJ (2014) The global spread of crop pests and pathogens. Glob Ecol Biogeogr 23:1398–1407

Bedford GO (1980) Biology, ecology, and control of palm rhinoceros beetles. Annu Rev Entomol 25:309–339

Bedford GO (2013) Biology and management of palm dynastic beetles: recent advances. Annu Rev Entomol 58:353–372

Barandun J, Hunziker M, Vossbrinck CR, Klinge S (2019) Evolutionary compaction and adaptation visualized by the structure of the dormant microsporidian ribosome. Nat Microbiol Lett 4:1798–1804

Carnegie AJ, Bashford R (2012) Sirex woodwasp in Australia: Current management strategies, research and emerging issues. In: Slippers B, de Groot P, Wingfield MJ (eds) The sirex woodwasp and its fungal symbiont: research and management of a worldwide invasive pest. Springer, Dordrecht, pp 175–201

Carnegie AJ, Elderidge RH, Waterson DG (2005) History and management of Sirex wood wasp in pine plantations in New South Wales, Australia. NZ J For Sci 35:3–24

Carruthers RI, Ramos ME, Larkin TS, Hostetter DL, Soper RS (1996) The Entomophaga grylli (Fresenius) Batko species complex: its biology, ecology, and use for biological control of pest grasshoppers. Mem Entomol Soc Can 171:329–353

Cock MJW, Murphy ST, Kairo MTK, Thompson E, Murphy RJ, Francis AW (2016) Trends in the classical biological control of insect pests by insects: an update of the BIOCAT database. BioControl 61:349–363

Greathead DJ, Greathead AH (1992) Biological control of insect pests by insect parasitoids and predators: the BIOCAT database. Biocontrol News Inform 13:61N–67N

Hajek AE, Eilenberg J (2018) Natural enemies: an introduction to biological control, 2nd edn. Cambridge University Press, Cambridge

Hajek AE, Delalibera I Jr, McManus ML (2007a) Introduction of exotic pathogens and documentation of their establishment and impact. In: Lacey LA, Kaya HK (eds) Field manual of techniques in invertebrate pathology, 2nd edn. Springer, Dordrecht, pp 299–325

Hajek AE, Gardescu S, Delalibera I Jr (2016) Classical biological control of insects and mites: a worldwide catalogue of pathogen and nematode introductions. USDA Forest Service, FHTET-2016-06, p 57. https://bugwoodcloud.org/resource/pdf/BiocontrolCatalog.pdf

Hajek AE, McManus ML, Delalibera I Jr (2005). Catalogue of introductions of pathogens and nematodes for classical biological control of insects and mites. USDA Forest Service, FHTET-2005-05, p 59

Hajek AE, McManus ML, Delalibera I Jr (2007b) A review of introductions of pathogens and nematodes for classical biological control of insects and mites. Biol Control 41:1–13

Hall RW, Ehler LE (1979) Rate of establishment of natural enemies in classical biological control. Bull Entomol Soc Am 25:280–282

Heimpel GE, Cock MJW (2018) Shifting paradigms in the history of classical biological control. BioControl 63:27–37

Heimpel GE, Mills NJ (2017) Biological control: Ecology and applications. Cambridge University Press, Cambridge

Hunter-Fujita FR, Entwistle PF, Evans HF, Crook NE (1998) Insect viruses and pest management. Wiley, Chichester

Iede ET, Penteado SRC, Wilson Filho R (2012) The woodwasp Sirex noctilio in Brazil: monitoring and control. In: Slippers B, de Groot P, Wingfield MJ (eds) The Sirex woodwasp and its fungal symbiont: research and management of a worldwide invasive pest. Springer, Dordrecht, pp 216–228

Kenis M, Auger-Rozenberg MA, Roques A, Timms L, Péré C, Cock MJW, Settele J, Augustin S, Lopez-Vaamonde C (2009) Ecological effects of invasive alien insects. Biol Invasions 11:21–45

Marshall SDG, Moore A, Vaqalo M, Noble A, Jackson TA (2017) A new haplotype of the coconut rhinoceros beetle, Oryctes rhinoceros, has escaped biological control by Oryctes rhinoceros nudivirus and is invading Pacific Islands. J Invertebr Pathol 149:127–134

Mazza G, Tricarico E (2018) Invasive species and human health. CABI International, Wallingford

McCoy CW, Samson RA, Boucias DG (1988) Entomogenous fungi. In: Ignoffo CM (ed) Handbook of natural pesticides, vol. 5 Microbial pesticides, part A, Entomogenous protozoa and fungi. CRC Press, Boca Raton, FL, pp 151–236

Ponomarenko NG, Prilepskaya HA, Murvanidze M, Stolyarova LA (1975) Aschersonia against whiteflies. Zashchita Rastenii 1975(6):44–45

Prasad GS, Jayakumar V, Ranganath HR, Bhagwat VR (2008) Bio-suppression of coconut rhinoceros beetle, Oryctes rhinoceros L. (Coleoptera: Scarabaeidae) by Oryctes baculovirus (Kerala isolate) in South Andaman. India Crop Prot 27:959–964

Roy BA, Alexander HM, Davidson J, Campbell FT, Burdon JJ, Sniezko R, Brasier C (2014) Increasing forest loss worldwide from invasive pests requires new trade regulations. Front Ecol Environ 12:457–465

Schwarzländer M, Hinz HL, Winston RL, Day MD (2018) Biological control of weeds: an analysis of introductions, rates of establishment and estimates of success, worldwide. BioControl 63:319–331

Seebens H, Blackburn TM, Dyer EE, Genovesi P, Hulm PE, Jeschke JM, Pagad S, Pyšek P, Winter M, Arianoutsou M, Bacher S, Blasius B, Brundu G, Capinha C, Celesti-Grapow L, Dawson W, Dullinger S, Fuentes N, Jäger H, Kartesz J, Kenis M, Kreft H, Kühn I, Lenzner B, Liebhold A, Mosena A, Moser D, Nishino M, Pearman D, Pergl J, Rabitsch W, Rojas-Sandoval J, Roques A, Rorke S, Rossinelli S, Roy HE, Scalera R, Schindler S, Štajerova K, Tokarska-Guzik B, van Kleunen M, Walker K, Weigelt P, Yamanaka T, Essl F (2017) No saturation in the accumulation of alien species worldwide. Nat Commun 8:14435

Shi W-P, Wang Y-Y, Lu F, Guo C, Cheng X (2009) Persistence of Paranosema (Nosema) locustae (Microsporidia: Nosematidae) among grasshopper (Orthoptera: Acrididae) populations in the Inner Mongolia Rangeland, China. BioControl 54:77–84

Tanada Y, Kaya HK (1993) Insect pathology. Academic Press, San Diego, CA

Tokarev YS, Huang W-F, Solter LF, Malysh JM, Becnel JJ, Vossbrinck CR (2020) A formal redefinition of the genera Nosema and Vairimorpha (Microsporidia: Nosematidae) and reassignment of species based on molecular phylogenetics. J Invertebr Pathol 169:107279

Wilson F (1960) A review of the biological control of insects and weeds in Australia and Australian New Guinea. Commonw Inst Biol Control, Tech Comm No 1

Winston RL, Schwarzländer M, Hinz HL, Day MD, Cock MJW, Julien MH (2014) Biological control of weeds: a world catalogue of agents and their target weeds, 5th edn, FHTET-2014-04, p 838
Acknowledgements
We thank Travis Glare for sharing the fungal releases by 'Old Farmer' in 1894–1895. We thank Jørgen Eilenberg and Eric Clifton for their assistance with this manuscript and reviewers and the editor for their helpful comments. We thank Dick Reardon and the USDA Forest Service for support of this project.
Funding
The 2016 catalogue that is reviewed in this paper was not created with specific funding. The catalogue was published by the USDA Forest Service. Dr. Richard Reardon agreed to publishing this catalogue and a lovely job was done. So, the USDA Forest Service and Dr. Reardon supported creating the catalogue and this paper would not have been possible without the catalogue. However, this review paper was written without specific funding that supported the analyses and writing of this paper.
Ethics declarations
Conflict of interest
The authors declare that they have no conflicts of interest.
Informed consent
This paper is a review and not primary research so no animals/humans were participants and informed consent is not at issue.
Additional information
Handling Editor: Nicolai Meyling.
About this article
Cite this article
Hajek, A.E., Gardescu, S. & Delalibera, I. Summary of classical biological control introductions of entomopathogens and nematodes for insect control. BioControl 66, 167–180 (2021). https://doi.org/10.1007/s10526-020-10046-7
Received:

Accepted:

Published:

Issue Date:
Keywords
Microbial control

Introduction biological control

Importation biological control

Invasive species

Pest management