Abstract
Chaetosiphon fragaefolii Cockerell (Hemiptera: Aphididae) is a worldwide strawberry pest with scarce records of parasitoids for its control. The parasitization rate of two generalist parasitoids, Aphidius colemani Viereck and Aphidius matricariae Haliday, their behavior and aphid defensive behaviors were evaluated with Aphis gossypii Glover (Hemiptera: Aphididae) as a comparative host. Defensive endosymbionts were also surveyed. C. fragaefolii was never parasitized in simple-choice tests, whereas in preference tests both parasitoids chose A. gossypii over C. fragaefolii. No contacts of A. matricariae with C. fragaefolii were observed while A. colemani made more antennal contacts and "stings" on A. gossypii than on C. fragaefolii with the latter exhibiting less defensive behaviors against the parasitoid. The bacterium Acinetobacter sp. was detected in all samples of C. fragaefolii, but with an unknown function. Further research on the possible defensive role of the glandular hairs covering the body of this aphid, the role of chemical signals and the existence of defensive internal mechanisms against parasitoids could provide plausible explanations for the absence of parasitism found.
This is a preview of subscription content, log in to check access.
Access options
Buy single article
Instant access to the full article PDF.
US$ 39.95
Tax calculation will be finalised during checkout.
Subscribe to journal
Immediate online access to all issues from 2019. Subscription will auto renew annually.
US$ 99
Tax calculation will be finalised during checkout.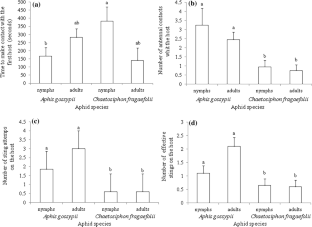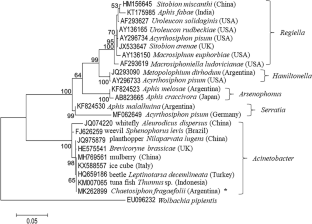 References
Agresti A (2015) Foundations of linear and generalized linear models. Wiley, Hoboken

Arneodo JD, Ortego J (2014) Exploring the bacterial microbiota associated with native South-American species of Aphis (Hemiptera: Aphididae). Environ Entomol 43:589–594

Bernardi D, Araujo ES, Zawadneak MA, Botton M, Mogor AF, Garcia MS (2013) Aphid species and population dynamics associated with strawberry. Neotrop Entomol 42:628–633

Cédola C, Greco N (2010) Presence of the aphid, Chaetosiphon fragaefolii, on strawberry in Argentina. J Insect Sci 10:9

Chesson J (1983) The estimation and analysis of preference and its relationship to foraging models. Ecology 64(5):1297–1304

Cingolani MF, Greco N (2018) Spatio-temporal variation of strawberry aphid populations and their parasitoid. Appl Entomol Zool 53:205–214

Cross JV, Easterbrook MA, Crook AM, Crook D, Fitzgerald JD, Innocenzi PJ, Jay CN, Solomon MG (2001) Review: natural enemies and biocontrol of pests of strawberry in Northern and Central Europe. Biocontrol Sci Tech 11:165–216

Dai B, Yang H, Dai X, Wang W, Wu S, Zhao X, Xiao Y (2019) Microbial composition changes on the surface of strawberries from the field and market by 16SrDNA sequencing. J Food Saf 39:e12630

Dassonville N, Thielemans T, Gosset V (2013) FresaProtect and BerryProtect: mixes of parasitoids to control all common aphid species on protected soft fruit crops Product development and case studies from three years of experience. Asp Appl Biol 119:79–87

Degnan PH, Yu Y, Sisneros N, Wing RA, Moran NA (2009) Hamiltonella defensa, genome evolution of protective bacterial endosymbiont from pathogenic ancestors. Proc Natl Acad Sci USA 106:9063–9068

Desneux N, O'neil RJ (2008) Potential of an alternative prey to disrupt predation of the generalist predator, Orius insidiosus, on the pest aphid, Aphis glycines, via short-term indirect interactions. Bull Entomol Res 98:631–639

Desneux N, Barta RJ, Hoelmer KA, Hopper KR, Heimpel GE (2009) Multifaceted determinants of host specificity in an aphid parasitoid. Oecologia 160:387–398

Doyle JJ, Doyle JL (1990) Isolation of DNA from fresh plant tissue. Focus 12:13–15

Dughetti AC, Kirschbaum DS, Conci VC (2017) Especies de virus y pulgones encontrados en cultivos de frutilla en Argentina. RIA 43:36–50

Fakhour S, Ambroise J, Renoz F, Foray V, Gala J, Hance T (2018) A large-scale field study of bacterial communities in cereal aphid populations across morocco. FEMS Microbiol Ecol 94(3):fiy003

Francesena F, Rocca M, Rizzo E, Arneodo JD, Greco N (2019) Potential of predatory Neotropical ladybirds and minute pirate bug on strawberry aphid. An Acad Bras Ciênc 91(4):e20181001

Gómez-Marco F, Tena A, Jacas J, Urbaneja A (2015) Early arrival of predators controls Aphis spiraecola colonies in citrus clementines. J Pest Sci 5:189–203

Gross P (1993) Insect behavioral and morphological defenses against parasitoids. Annu Rev Entomol 38:251–273

Hall ME, Wilcox WF (2019) Identification and frequencies of endophytic microbes within healthy grape berries. Am J Enol Vitic 70:212–219

Hatano E, Kunert G, Michaud JP, Weisser WW (2008) Chemical cues mediating aphid location by natural enemies. Eur J Entomol 105:797–806

Khan A, Shah M (2017) Records of aphids and their natural enemies in agro-ecosystem with special reference to horticultural ecosystem of Kashmir. J Entomol Zool Stud 5:189–203

Kumar S, Stecher G, Tamura K (2016) MEGA7: molecular evolutionary genetics analysis version 7.0 for bigger datasets. Mol Biol Evol 33:1870–1874

Larocca A, Fanti P, Romano VA, Marsicovetere E, Isodoro N, Romani R, Ruschioni S, Pennacchio F, Battaglia D (2007) Functional bases of host-acceptance behaviour in the aphid parasitoid Aphidius ervi. Physiol Entomol 32:305–312

Latham D, Mills N (2012) Host instar preference and functional response of Aphidius transcaspicus, a parasitoid of mealy aphids (Hyalopterus species). BioControl 57:603–610

Mackauer M, Michaud JP, Völkl W (1996) Host choice by aphid parasitoids (Hymenoptera: Aphidiidae): Host recognition, host quality and host value. Can Entomol 128:959–980

Manly BFJ (1974) A model for certain types of selection experiments. Biometrics 30:281–294

Michaud JP (1996) The oviposition behavior of Aphidius ervi and Monoctonus paulensis (Hymenoptera: Aphidiidae) encountering different host species (Homoptera: Aphididae) in sequential patches. J Insect Behav 9:683–694

Milenkovic S (1994) Bioecology of the strawberry aphid, Chaetosiphon fragaefolii Cockerell (Homoptera: Aphididae). Rev Res Work Fac Agr 39:21–27

Moran NA, Baumann P (2000) Bacterial endosymbionts in animals. Curr Opin Microbiol 3:270–275

Oatman ER, Trumble JT, Voth V (1983) Composition and relative abundance of parasites associated with aphid populations on strawberry in Southern California. Environ Entomol 12:1714–1717

Ode PJ (2006) Plant chemistry and natural enemy fitness: effects on herbivore and natural enemy interactions. Annu Rev Entomol 51:163–185

Oliver KM, Russell JA, Moran NA, Hunter MS (2003) Facultative bacterial symbionts in aphids confer resistance to parasitic wasps. Proc Natl Acad Sci USA 100:1803–1807

Oliver KM, Moran NA, Hunter MS (2005) Variation in resistance to parasitism in aphids is due to symbionts not host genotype. Proc Natl Acad Sci USA 102:12795–12800

Oliver KM, Degnan PH, Burke GR, Moran NA (2010) Facultative symbionts in aphids and the horizontal transfer of ecologically important traits. Annu Rev Entomol 55:247–266

Perdikis DCH, Lykouressis DP, Garantonakis NG, Iatrou SA (2004) Instar preference and parasitisation of Aphis gossypii and Myzus persicae (Hemiptera: Aphididae) by the parasitoid Aphidius colemani (Hymenoptera: Aphidiidae). Eur J Entomol 101:333–336

Powell W (1986) Enhancing parasitoid activity in crops. In: Waage J, Greathead D (eds) Insect parasitoids. Acad. Press, London, pp 319–340

R Core Team (2018) R: a language and environment for statistical computing. R foundation for statistical computing, Vienna. https://www.r-project.org

Rabasse JM, Trouve C, Geria AM, Quignou A (2001) Aphid pests of strawberry crops and their parasitoids in France. Mededelingen Faculteit Landbouwkundige en Toegepaste Biologische Wetenschappen Universiteit Gent 66:293–301

Rehman A, Powell W (2010) Host selection behaviour of aphid parasitoids (Aphidiidae: Hymenoptera). J Plant Breed Crop Sci 2:299–311

Rondon SI, Cantliffe DJ (2004) Chaetosiphon fragaefolii (Homoptera: Aphididae): a potential new pest in Florida? Fla Entomol 87:612–615

Rondon S, Cantliffe D, Price J (2005) Population dynamics of the cotton aphid, Aphis gossypii (Homoptera: Aphididae), on strawberries grown under protected structure. Fla Entomol 88:152–158

Sampaio MV, Bueno VHP, van Lenteren JC (2001) Preferência de Aphidius colemani Viereck (Hymenoptera: Aphidiidae) por Myzus persicae (Sulzer) e Aphis gossypii Glover (Hemiptera: Aphididae). Neotrop Entomol 30:655–660

Tahiriri S, Talebi AA, Fathipour Y, Zamani AA (2007) Host stage preference, functional response and mutual interference of Aphidius matricariae (Hym.: Braconidae: Aphidiinae) on Aphis fabae (Hom.: Aphididae). Entomol Sci 10:323–331

Talebi AA, Zamani AA, Fathipour Y, Baniameri V, Kheradmand K, Haghani M (2006) Host stage preference by Aphidius colemani and Aphidius matricariae (Hymenoptera: Aphidiidae) as parasitoids of Aphis gossypii (Hemiptera: Aphididae) on greenhouse cucumber. IOBC/WPRS Bull 29:173–177

Underwood N (2009) Effect of genetic variance in plant quality on the population dynamics of a herbivorous insect. J Animal Ecol 78:839–847

van Steenis MJ (1993) Suitability of Aphis gossypii Glov., Macrosiphum euphorbiae (Thom.) and Myzus persicae Sulz. (Hom.: Aphididae) as host for several aphid parasitoid species (Hym.: Braconidae). Bull IOBC/WPRS 26:157–160

van Steenis MJ (1995) Evaluation of four aphidiine parasitoids for biological control of Aphis gossypii. Entomol Exp Appl 75:151–157

van Driesche RG, Hauschild K (1987) Potential for increased use of biological control agents in small fruit crops in Massachusetts. Bull Mass Agric Exp Stn 718:22–34

Vorburger C, Gehrer L, Rodriguez P (2010) A strain of the bacterial symbiont Regiella insecticola protects aphids against parasitoids. Biol Lett 6:109–111

Weldon SR, Strand MR, Oliver KM (2013) Phage loss and the breakdown of a defensive symbiosis in aphids. Proc R Soc B 280:2012103

Zamani AA, Talebi A, Fathipour Y, Baniameri V (2007) Effect of temperature on life history of Aphidius colemani and Aphidius matricariae (Hymenoptera: Braconidae), two parasitoids of Aphis gossypii and Myzus persicae (Homoptera: Aphididae). Environ Entomol 36:263–271

Zamani AA, Haghani M, Kheradmand K (2012) Effect of temperature on reproductive parameters of Aphidius colemani and Aphidius matricariae (Hymenoptera: Braconidae) on Aphis gossypii (Hemiptera: Aphididae) in laboratory conditions. J Crop Prot 1:35–40

Zumoffen L, Rodriguez M, Gerding M, Salto CE, Salvo A (2015) Plantas, áfidos y parasitoides: interacciones tróficas en agroecosistemas de la provincia de Santa Fe, Argentina y clave para la identificación de los Aphidiinae y Aphelinidae (Hymenoptera) conocidos de la región. Rev Soc Entomol Arg 74:133–144
Acknowledgements
This study was supported by the National Agency for Promotion of Science and Technology of Argentina, grant PICT 2015-1427, the Program of Incentives for Professors-Researchers of the National Ministry of Culture and Education of Argentina, grant N834, and the National Institute of Agricultural Technology of Argentina (INTA), through project PNBIO 1131044. We thank Dr. Juan José Martínez, from Departamento de Ciencias Naturales—Facultad de Ciencias Exactas y Naturales—Universidad Nacional de la Pampa, Argentina (UNLPAM) for their kind assistance in the determination of parasitoid species, Dr. Andrea Andorno, from Instituto de Microbiología y Zoología Agrícola (IMyZA, INTA Castelar, Argentina) for providing parasitoid adult individuals of A. colemani, and Graciela Minardi for the assistance in the statistical analyses. Dr. Donald F. Haggerty, a retired academic career investigator from University of California, USA edited an earlier draft version of the manuscript.
Ethics declarations
Conflict of interest
On behalf of all authors, the corresponding author states that there is no conflict of interest.
Informed consent
All authors informed their consent.
Research involving human participants and/or animals
Not Applicable.
Additional information
Handling Editor: Josep Anton Jaques Miret.
Electronic supplementary material
Below is the link to the electronic supplementary material.
About this article
Cite this article
Francesena, N., Arneodo, J.D., Rocca, M. et al. Exploring the factors involved in the absence of parasitism of Chaetosiphon fragaefolii by generalist parasitoids in strawberry. BioControl 65, 681–692 (2020). https://doi.org/10.1007/s10526-020-10044-9
Received:

Accepted:

Published:

Issue Date:
Keywords
Aphidius matricariae
Aphidius colemani
Fragaria × ananassa

Host preference

Secondary symbionts