Abstract
Dalmatian toadflax has been a target for biological control in North America since the 1960s. The stem-mining weevil Mecinus janthiniformis was first released in Canada and the western United States in the mid-1990s. Since 2007, a citizen-based monitoring program in Idaho, USA has supplemented data collection to help evaluate the impact of M. janthiniformis on Dalmatian toadflax abundance and assess changes in the surrounding plant community. We monitored and analysed trends in toadflax, weevil, and the plant community abundance following weevil releases at the regional and site level (34 sites) across the state of Idaho, USA. Significant declines in toadflax cover and stem density were recorded across the majority of sites. Weevil populations have established at all release sites. The mechanistic model indicated that the population dynamics of toadflax at our sites are negatively affected by M. janthiniformis abundance. When averaged across the region, 15 years after weevil release, Dalmatian toadflax stem density and cover declined by 93 and 84%, respectively. We observed significant declines in toadflax abundance in over 75% of the sites. Changes to the surrounding plant community following weevil releases were less consistent among sites. At the regional scale we found evidence for an overall increase in average cover of native perennial grasses and other exotic weeds (primarily annual grasses and exotic forbs) but a decline in native forbs.
This is a preview of subscription content, log in to check access.
Access options
Buy single article
Instant access to the full article PDF.
US$ 39.95
Price includes VAT for USA
Subscribe to journal
Immediate online access to all issues from 2019. Subscription will auto renew annually.
US$ 99
This is the net price. Taxes to be calculated in checkout.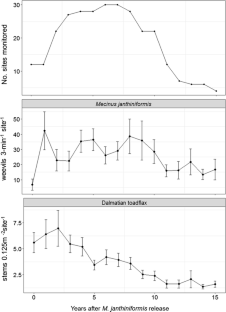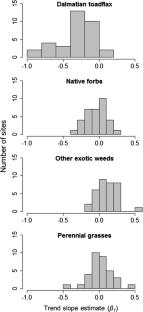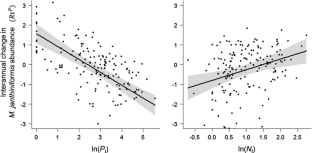 References
Alex J (1962) The taxonomy, history, and distribution of Linaria dalmatica. Can J Bot 40:295–307

Barton K (2012) MuMIn: Multi-Model Inference. R package version 1.15.6. https://CRAN.R-project.org/package=MuMIn. Accessed 3 Oct 2017

Berryman AA (2003) On principles, laws and theory in population ecology. Oikos 103:695–701

Blumenthal DM, Norton AP, Cox SE, Hardy EM, Liston GE, Kennaway L, Booth DT, Derner JD (2012) Linaria dalmatica invades south-facing slopes and less grazed areas in grazing-tolerant mixed-grass prairie. Biol Invasions 14:395–404

Briese D, Pettit W, Walker A (2004) Evaluation of the biological control agent, Lixus cardui, on Onopordum thistles: experimental studies on agent demography and impact. Biol Control 31:165–171

Buckley YM, Hinz HL, Matthies D, Rees M (2001) Interactions between density-dependent processes, population dynamics and control of an invasive plant species, Tripleurospermum perforatum (scentless chamomile). Ecol Lett 4:551–558

Burnham KP, Anderson DR (2002) Model selection and multimodel inference: a practical information-theoretic approach, 2nd edn. Springer, New York

Carney VA (2003) Ecological interactions of biological control agent, Mecinus janthinus Germar, and its target host, Linaria dalmatica (L.) Mill., MS Thesis, University of Lethbridge

Crawley MJ (1989) Insect herbivores and plant population dynamics. Annu Rev Entomol 34:531–562

De Clerck-Floate R, Harris P (2002) Linaria dalmatica (L.) Miller, broad-leaved Dalmatian toadflax (Scrophulariaceae). In: Mason P, Huber J (eds) Biological control programmes in Canada 1981–2000. CABI Publishing, Wallingford, pp 368–374

De Clerck-Floate R, Miller V (2002) Overwintering mortality of and host attack by the stem-boring weevil, Mecinus janthinus Germar, on Dalmatian toadflax (Linaria dalmatica (L.) Mill.) in western Canada. Biol Control 24:65–74

Goulet EJ, Thaler J, DiTommaso A, Schwarzländer M, Shields EJ (2013) Impact of Mecinus janthinus (Coleoptera: Curculionidae) on the growth and reproduction of Linaria dalmatica (Scrophulariaceae). Great Lakes Entomol 46:90–98

Jamieson MA, Knochel D, Manrique A, Seastedt TR (2011) Top-down and bottom-up controls on Dalmatian toadflax (Linaria dalmatica) performance along the Colorado Front Range, USA. Plant Ecol 213:185–195

Jeanneret P, Schroeder D (1992) Biology and host specificity of Mecinus janthinus Germar (Col.: Curculionidae), a candidate for the biological control of yellow and Dalmatian toadflax, Linaria vulgaris (L.) Mill. and Linaria dalmatica (L.) Mill. (Scrophulariaceae) in North America. Biocontrol Sci Technol 2:25–34

Nowierski RM (2004) Mecinus janthinus. In: Coombs EM, Clark JK, Piper GL, Cofrancesco AF (eds) Biological control of invasive plants in the United States. Oregon State University Press, Corvallis, pp 392–394

Peterson RKD, Sing SE, Weaver DK (2005) Differential physiological responses of Dalmatian toadflax, Linaria dalmatica L. Miller, to injury from two insect biological control agents: implications for decision-making in biological control. Environ Entomol 34:899–905

Pinheiro J, Bates D, DebRoy S, Sarkar D (2011) nlme: Linear and nonlinear mixed effects models. R package version 3.1-127. http://CRAN.R-project.org/package=nlme. Accessed 3 Oct 2017

Price PW, Denno RF, Eubanks MD, Finke DL, Kaplan I (2011) Insect ecology: behavior, populations and communities. Cambridge University Press, Cambridge

Robocker W (1974) Life history, ecology and control of Dalmatian toadflax. Tech Bull Wash Agric Exp Stn 79:1–20

Schat M, Sing S, Peterson R, Menalled F (2011) Growth inhibition of Dalmatian toadflax, Linaria dalmatica (L.) Miller, in response to herbivory by the biological control agent Mecinus janthinus Germar. J Entomol Sci 46:232–246

Sing S, Weaver D, Nowierski RM, Markin GP (2008) Long-term field evaluation of Mecinus janthinus releases against Dalmatian toadflax in Montana (USA). In: Julien MH, Sforza R, Bon MC, Evans HC, Hatcher PE, Hinz HL, Rector BG (eds) Proceedings of the XII international symposium on biological control of weeds, La Grande Motte, France, 22–27 April, 2007. CABI Publishing, Wallingford, UK, pp 620–624

Sing SE, De Clerck-Floate R, Hansen RW, Pearce H, Randall CB, Tosevski I, Ward SM (2016) Biology and biological control of Dalmatian and yellow toadflax. USDA Forest Service, Forest Health Technology Enterprise Team. FHTET-2015-03, Morgantown, West Virginia

Toševski I, Caldara R, Jović J, Hernández-Vera G, Baviera C, Gassmann A, Emerson BC (2011) Morphological, molecular and biological evidence reveal two cryptic species in Mecinus janthinus Germar (Coleoptera, Curculionidae), a successful biological control agent of Dalmatian toadflax, Linaria dalmatica (Lamiales, Plantaginaceae). Syst Entomol 36:741–753

USDA-NRCS (2017) The PLANTS Database (http://plants.usda.gov, 31 March 2017). National Plant Data Team, Greensboro, NC 27401-4901 USA

van Hezewijk BH, Bourchier R, De Clerck-Floate R (2010) Regional-scale impact of the weed biocontrol agent Mecinus janthinus on Dalmatian toadflax (Linaria dalmatica). Biol Control 55:197–202

Vujnovic K, Wein RW (1997) The biology of Canadian weeds. 106. Linaria dalmatica (L.) Mill. Can J Plant Sci 77:483–491

Weed AS, Schwarzländer M (2014) Density dependence, precipitation and biological control agent herbivory influence landscape-scale dynamics of the invasive Eurasian plant Linaria dalmatica. J Appl Ecol 51:825–834

Wilson L, Sing SE, Piper GL, Hansen RW, De Clerck-Floate R, MacKinnon DK, Randall CB (2005) Biology and biological control of Dalmatian and yellow toadflax. FHTET-05-13, USDA Forest Service, Morgantown, West Virginia
Acknowledgements
We thank the monitoring personnel, Carol Randall, and Paul Brusven for their instrumental role in data collection and anonymous reviewers for the valuable suggestions to the manuscript. We also would like to thank Richard Reardon for his continued support of our research. This research was funded by USDA USFS Special Technology Development Project (STDP) Grant 10-CA-11010000-013 to M.S.
Additional information
Handling Editors: Mark Schwarzländer, Cliff Moran and S. Raghu.
Electronic supplementary material
Below is the link to the electronic supplementary material.
About this article
Cite this article
Weed, A.S., Milan, J. & Schwarzlaender, M. Analyses of nine years of citizen-based biological control monitoring of Dalmatian toadflax, Linaria dalmatica (Plantaginaceae) in Idaho, USA. BioControl 63, 449–460 (2018). https://doi.org/10.1007/s10526-017-9848-2
Received:

Accepted:

Published:

Issue Date:
Keywords
Post-release assessment

Weed population dynamics

Stem-miner

Curculionidae