Abstract
Vascular wilt pathogens, like Fusarium oxysporum and Verticillium dahliae, cause heavy economic loses to a range of crops. The lack of chemical control intensifies the problem. In the present study, the initial in vitro activity of 134 bacterial isolates, originating from various stages of the composting process of cotton residues, against F. oxysporum f. sp. melonis (FOM) and V. dahliae was evaluated. The most efficient strains, named SP10 and C20 M, belong to Bacillus sp. Both strains significantly reduced Fusarium and Vertilicillium wilt in melon and aubergine respectively. Furthermore, zeolite was tested alone or in combination with SP10 against V. dahliae and FOM. It was shown that the combination of zeolite and SP10 in the transplant soil plug was the most disease suppressive treatment. Interestingly the single application of zeolite was also plant-protective. The positive effect of zeolite on plant health could be linked with the recorded up-regulation of plant defense genes.
Access options
Buy single article
Instant access to the full article PDF.
US$ 39.95
Tax calculation will be finalised during checkout.
Subscribe to journal
Immediate online access to all issues from 2019. Subscription will auto renew annually.
US$ 79
Tax calculation will be finalised during checkout.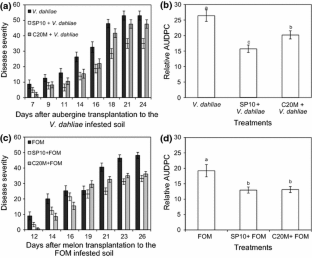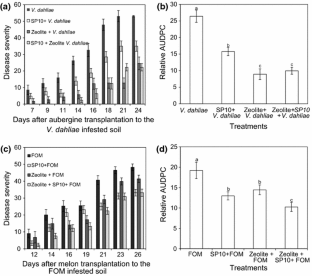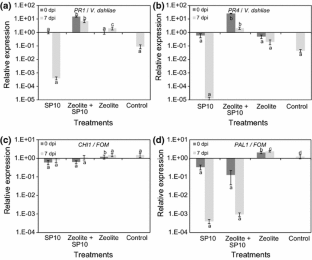 References
Angelopoulou DJ, Naska EJ, Paplomatas EJ, Tjamos SE (2014) Biological control agents (BCAs) of verticillium wilt: influence of application rates and delivery method on plant protection, triggering of host defence mechanisms and rhizosphere populations of BCAs. Plant Pathol 63:1062–1069

Berrocal-Lobo M, Molina A (2008) Arabidopsis defense response against Fusarium oxysporum. Trends Plant Sci 13:145–150

Cafri D, Katan J, Katan T (2005) Cross-pathogenicity between formae speciales of Fusarium oxysporum, the pathogens of cucumber and melon. J Phytopathol 153:615–622

Campbell CL, Madden LV (1990) Introduction to plant disease epidemiology. Wiley, New York

Cattelan ME, Hartel PG, Fuhrmann JJ (1999) Screening of plant growth-promoting rhizobacteria to promote early soybean growth. Soil Sci Soc Am 63:1670–1680

Charalambous A, Tjamos SE, Domazakis E, Paplomatas EJ (2013) Incorporation into the transplant soil plug of the plant protective agent Paenibacillus alvei strain K165 confers protection to melon against Fusarium wilt. BioControl 58:685–692

De Cal A, Pascual S, Melgarejo P (1997) Infectivity of chlamydospores vs microconidia of Fusarium oxysporum f. sp. lycopersici on tomato. J Phytopathol 145:231–233

Duffy BK, Defago G (1999) Environmental factors modulating antibiotic and siderophore biosynthesis by Pseudomonas fluorescens biocontrol strains. Appl Environ Microbiol 65:2429–2438

Edgar CI, McGrath KC, Dombrecht B, Manners JM, Maclean DC, Schenk PM, Kazan K (2006) Salicylic acid mediates resistance to the vascular wilt pathogen Fusarium oxysporum in the model host Arabidopsis thaliana. Australas Plant Pathol 35:581–591

Emmert EAB, Handelsman J (1999) Biocontrol of plant disease: a (gram-) positive perspective. FEMS Microbiol Lett 171:1–9

Fourie G, Steenkamp ET, Ploetz RC, Gordon TR, Viljoen A (2011) Current status of the taxonomic position of Fusarium oxysporum formae specialis cubense within the Fusarium oxysporum complex. Infect Genet Evol 11:533–542

Fravel DR (1988) Role of antibiosis in the biocontrol of plant diseases. Annu Rev Phytopathol 26:75–91

Fravel DR (2005) Commercialization and implementation of biocontrol. Annu Rev Phytopathol 43:337–359

Gagne S, Dehbi L, Le Quere D, Cayer F, Morin JL, Lemay R, Fournier N (1993) Increase of greenhouse tomato fruit yields by plant growth-promoting rhizobacteria (pgpr) inoculated into the peat-based growing media. Soil Biol Biochem 25:269–272

Gao H, Beckman CH, Mueller WC (1995) The rate of vascular colonization as a measure of the genotypic interaction between various cultivars of tomato and various formae or races of Fusarium oxysporum. Physiol Mol Plant Pathol 46:29–43

Hadar Y, Papadopoulou K (2012) Suppressive composts: microbial ecology links between abiotic environments and healthy plants. Annu Rev Phytopathol 50:133–153

Hamdam H, Weller DM, Thomashow LS (1991) Relative importance of fluorescent siderophores and other factors in biological control of Gaeumannomyces graminis var. tritici by Pseudomonas fluorescens 2-79 and M4-80. Appl Environ Microbiol 57:3270–3277

Hawke MA, Lazarovits G (1994) Production and manipulation of individual microsclerotia of Verticillium dahliae for use in studies of survival. Phytopathology 84:883–890

Kamilova F, Validov S, Azarova T, Mulders I, Lugtenberg BJJ (2005) Enrichment for enhanced competitive plant root tip colonizers selects for a new class of biocontrol bacteria. Environ Microbiol 7:1809–1817

Kiba A, Takata O, Ohnishi K, Hikichi Y (2006) Comparative analysis of induction pattern of programmed cell death and defense-related responses during hypersensitive cell death and development of bacterial necrotic leaf spots in eggplant. Planta 224:981–994

Kloepper JW, Reddy MS, Kenney DS, Vavrina C, Kokalis-Burelle N, Martinez-Ochoa N (2004) Applications for rhizobacteria in transplant production and yield enhancement. Acta Hortic 631:219–229

Kokalis-Burelle N, Kloepper JW, Reddy MS (2006) Plant growth-promoting rhizobacteria as transplant amendments and their effects on indigenous rhizosphere microorganisms. Appl Soil Ecol 31:91–100

Larena I, Sabuquillo P, Melgarejo P, De Cal A (2003) Biocontrol of Fusarium and Verticillium wilt of tomato by Penicillium oxalicum under greenhouse and field conditions. J Phytopathol 151:507–512

Leslie JF, Summerell BA (2006) The Fusarium laboratory manual. Blackwell, Hoboken

Lugtenberg BJJ, Kamilova F (2009) Plant-growth promoting rhizobacteria. Annu Rev Microbiol 63:541–556

Malandraki I, Tjamos SE, Pantelides I, Paplomatas EJ (2008) Thermal inactivation of compost suppressiveness implicates possible biological factors in disease management. Biol Control 44:180–187

Marten P, Smalla K, Berg G (2000) Genotypic and phenotypic differentiation of an antifungal biocontrol strain belonging to Bacillus subtilis. J Appl Microbiol 89:463–471

Michielse CB, Rep M (2009) Pathogen profile update: Fusarium oxysporum. Mol Plant Pathol 10:311–324

O'Donnell K, Kistler HC, Cigelnik E, Ploetz RC (1998) Multiple evolutionary origins of the fungus causing Panama disease of banana: concordant evidence from the nuclear and mitochondrial gene genealogies. Proc Natl Acad Sci USA 95:2044–2049

Ongena M, Jacques P (2007) Bacillus lipopeptides: versatile weapons for plant disease biocontrol. Trends Microbiol 16:115–125

Pliego C, Ramos C, de Vicente A, Cazorla FM (2011) Screening for candidate bacterial biocontrol agents against soilborne fungal plant pathogens. Plant Soil 340:505–520

Porsby CH, Nielsen KF, Gram L (2008) Phaeobacter and Ruegeria species of the Roseobacter clade colonize separate niches in a Danish turbot (Scophthalmus maximus)—rearing farm and antagonize Vibrio anguillarum under different growth conditions. Appl Environ Microbiol 74:7356–7364

Rehakova M, Čuvanová S, Dzivak M, Rimár J, Gaval'ova Z (2004) Agricultural and agrochemical uses of natural zeolite of the clinoptilolite type. Curr Opin Solid State Mater Sci 8:397–404

Rennie RJ (1981) A single medium for the isolation of acetylene-reducing (nitrogen-fixing) bacteria from soils. Can J Microbiol 27:8–14

Renwick A, Campbell R, Coe S (1991) Assessment of in vivo screening systems for potential biocontrol agents of Gaeumannomyces graminis. Plant Pathol 40:524–532

Robb J, Lee B, Nazar RN (2007) Gene suppression in a tolerant tomato–vascular pathogen interaction. Planta 226:299–309

Schaeffer AB, Fulton M (1993) A simplified method of staining endospores. Science 77:194

Shoresh M, Yedidia I, Chet I (2005) Involvement of jasmonic acid/ethylene signalling pathway in the systemic resistance induced in cucumber by Trichoderma asperellum T203. Phytopathology 95:76–84

Singh PP, Shin YC, Park CS, Chung YR (1999) Biological control of Fusarium wilt of cucumber by chitinolytic bacteria. Phytopathology 89:92–99

Stamatakis MG, Regueiro M, Calvo JP, Fragoulis D, Stamatakis G (2010) A study of zeolitic tuffs associated with bentonite deposits from Almeria, Spain and Kimolos Island, Greece and their industrial potential as pozzolanas in the cement industry. Hell J Geosci 45:283–292

Stein T (2005) Bacillus subtilis antibiotics: structures, syntheses and specific functions. Mol Microbiol 56:845–857

Suarez-Estrella F, Vargas-Garcia C, Lopez MJ, Capel C, Moreno J (2007) Antagonistic activity of bacteria and fungi from horticultural compost against Fusarium oxysporum f. sp. melonis. Crop Prot 26:46–53

Suarez-Estrella F, Jurado MM, Vargas-Garcia C, Lopez MJ, Capel C, Moreno J (2013) Isolation of bio-protective microbial agents from eco-composts. Biol Control 67:66–74

Thatcher LF, Manners JM, Kazan K (2009) Fusarium oxysporum hijacks COI1-mediated jasmonate signaling to promote disease development in Arabidopsis. Plant J 58:927–939

Tjamos EC, Tsitsigiannis DI, Tjamos SE, Antoniou PP, Katinakis P (2004) Selection and screening of endorhizosphere bacteria from solarized soils as biocontrol agents against Verticillium dahliae of solanaceous hosts. Eur J Plant Pathol 110:35–44

Tjamos SE, Flemetakis E, Paplomatas EJ, Katinakis P (2005) Induction of resistance to Verticillium dahliae in Arabidopsis thaliana by the biocontrol agent K-165 and pathogenesis-related proteins gene expression. Mol Plant Microb Interact 18:555–561

Trusov Y, Sewelam N, Rookes JE, Kunkel M, Nowak E, Schenk PM, Ramon Botella J (2009) Heterotrimeric G proteins-mediated resistance to necrotrophic pathogens includes mechanisms independent of salicylic acid-, jasmonic acid/ethylene- and abscisic acid-mediated defense signaling. Plant J 58:69–81

van Rij ET, Wesselink M, Chin-A-Woeng TFC, Bloemberg GV, Lugtenberg BJJ (2004) Influence of environmental conditions on the production of phenazine-1-carboxamide by Pseudomonas chlororaphis PCL1391. Mol Plant Microb Interact 17:557–566

van Rij ET, Girard G, Lugtenberg BJJ, Bloemberg GV (2005) Influence of fusaric acid on phenazine-1-carboxamide synthesis and gene expression of Pseudomonas chlororaphis PCL1391. Microbiology 151:2805–2814

Vaneechoutte M, Dijkshoorn L, Tjernberg I, Elaichouni A, De Vos P, Claeys G, Verschraegen G (1995) Identification of acinetobacter genomic species by amplified ribosomal DNA restriction analysis. J Clin Microbiol 33:11–15

Veloso J, Dıaz J (2012) Fusarium oxysporum Fo47 confers protection to pepper plants against Verticillium dahliae and Phytophthora capsici, and induces the expression of defence genes. Plant Pathol 61:281–288

Virta RL (1999) Zeolites. US Geological Survey Minerals Yearbook, United States

Xu X-M, Jeffries P, Pautasso M, Jeger MJ (2011) Combined use of biocontrol agents to manage plant diseases in theory and practice. Phytopathology 101:1024–1031

Yadeta KA, Thomma BPHJ (2013) The xylem as battleground for plant hosts and vascular wilt pathogens. Front Plant Sci 4:97

Zvirin T, Herman R, Brotman Y, Denisov Y, Belausov E, Freeman S, Perl-Treves R (2010) Differential colonization and defence responses of resistant and susceptible melon lines infected by Fusarium oxysporum race 1.2. Plant Pathol 59:576–585
Acknowledgements
We thank Panagiotis Oikonomou for zeolite and information about the mineral.
Additional information
Handling Editor: Fouad Daayf
About this article
Cite this article
Kefalogianni, I., Gkizi, D., Pappa, E. et al. Combined use of biocontrol agents and zeolite as a management strategy against Fusarium and Verticillium wilt. BioControl 62, 139–150 (2017). https://doi.org/10.1007/s10526-016-9778-4
Received:

Accepted:

Published:

Issue Date:
Keywords
Biological control

Bacillus sp.
Fusarium oxysporum f. sp. melonis
Verticillium dahliae