Abstract
Over the past decade, the number of biological records submitted by members of the public have increased dramatically. However, this may result in reduced record quality, depending on how species are promoted in the media. Here we examined the two main promotional approaches for citizen science recording schemes: flagship-species, using one charismatic species as an umbrella for the entire group (here, Harmonia axyridis (Pallas) for Coleoptera: Coccinellidae), and general-group, where the group is promoted as a whole and no particular prominence is given to any one species (here, bumblebees, genus Bombus (Hymenoptera: Apidae)). Of the two approaches, the general-group approach produced data that was not biased towards any one species, but far fewer records per year overall. In contrast, the flagship-species approach generated a much larger annual dataset, but heavily biased towards the flagship itself. Therefore, we recommend that the approach for species promotion is fitted to the result desired.
Access options
Buy single article
Instant access to the full article PDF.
USD 39.95
Price excludes VAT (USA)
Tax calculation will be finalised during checkout.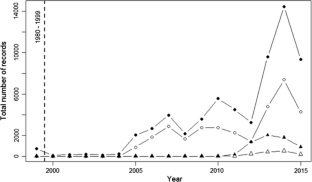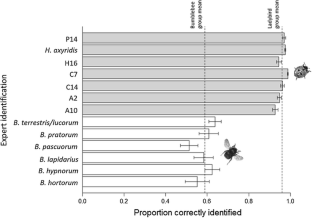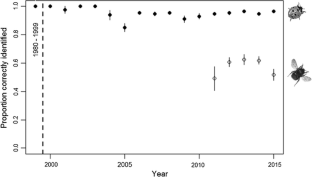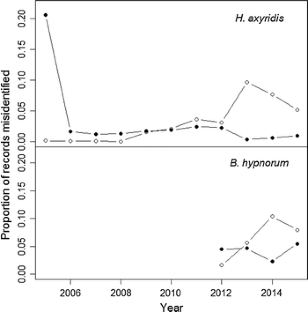 References
Agapow MP, Isaac BNJ (2002) MacroCAIC: revealing correlates of species richness by comparative analysis. Divers Distrib 8:41–43

August T, Harvey M, Lightfoot P, Kilbey D, Papadopoulos T, Jepson P (2015) Emerging technology for biological recording. Biol J Linn Soc 115:731–749

Barnosky AD, Matzke N, Tomiya S, Wogan GOU, Swartz B, Quental TB, Marshall C, McGuire JL, Lindsey LE, Maguire CK, Mersey B, Ferrer AE (2011) Has the earth's sixth mass extinction already arrived? Nature 471:51–57

Bolker BM (2008) Ecological models and data in R. Princeton University Press, Princeton

Bolker BM, Brooks ME, Clark CJ, Geange SW, Poulson JR, Stevens MHH, White J-SS (2009) Generalized linear mixed models: a practical guide for ecology and evolution. Trends Ecol Evol 24:127–135

Burnham PK, Anderson RD (2002) Model selection and multi-model inference: a practical information-theoretic approach. Springer, New York

Comont RF, Roy HE, Lewis OT, Harrington R, Shortall CR, Purse BV (2012) Using biological traits to explain ladybird distribution patterns. J Biogeogr 39:1772–1781

Comont RF, Roy HE, Harrington R, Shortall CR, Purse BV (2014) Ecological correlates of local extinction and colonisation in the British ladybird beetles (Coleoptera: coccinellidae). Biol Invasions 16:1805–1817

Conrad CC, Hilchey KG (2011) A review of citizen science and community-based environmental monitoring: issues and opportunities. Environ Monit Assess 176:273–291

Conrad KF, Warren MS, Fox R, Parsons MS, Woiwod IP (2006) Rapid declines of common, widespread British moths provide evidence of an insect biodiversity crisis. Biol Conserv 132:279–291

Crall WA, Newman JG, Stohlgren JT, Holfelder AK, Graham J, Waller MD (2011) Assessing citizen science data quality: an invasive species case study. Conserv Lett 4:433–442

Dunn RR (2005) Modern insect extinctions, the neglected majority. Conserv Biol 19:1030–1036

Edwards M, Jenner M (2009) Field guide to the bumblebees of Great Britain and Ireland, 2nd edn. Ocelli, Eastbourne

Foster GN (2015) Taking the oldest insect recording scheme into the 21st century. Biol J Linn Soc 115:494–504

Gardiner MM, Allee LL, Brown PMJ, Losey JE, Roy HE, Smyth RR (2012) Lessons from lady beetles: accuracy of monitoring data from US and UK citizen-science programs. Front Ecol Environ 10:471–476

Isaac BNJ, Pocock OMJ (2015) Bias and information in biological records. Biol J Linn Soc 115:522–531

Isaac NJB, van Strien AJ, August TA, de Zeeuw MP, Roy DB (2014) Statistics for citizen science: extracting signals of change from noisy ecological data. Methods Ecol Evol 10:1052–1060

JNCC (2014) Fifth national report to the United Nations convention on biological diversity: United Kingdom, Peterborough

Kremen C, Ullman KS, Thorp RW (2011) Evaluating the quality of citizen-science data on pollinator communities. Conserv Biol 25:607–617

Lawson Handley L (2015) How will the molecular revolution contribute to biological recording? Biol J Linn Soc 115:750–766

Maes D, Isaac NJB, Harrower CA, Collen B, van Strien AJ, Roy DB (2015) The use of opportunistic data for IUCN Red List assessments. Biol J Linn Soc 115:690–706

Pescott OL, Walker KJ, Pocock MJ, Jitlal M, Outhwaite CL, Cheffings CM, Harris F, Roy DB (2015) Ecological monitoring with citizen science: the design and implementation of schemes for recording plants in Britain and Ireland. Biol J Linn Soc 115:505–521

Pocock MJO, Roy HE, Preston CD, Roy DB (2015) The biological records centre: a pioneer of citizen science. Biol J Linn Soc 115:475–493

Powney GD, Isaac NJB (2015) Beyond maps: a review of the applications of biological records. Biol J Linn Soc 115:532–542

Prendergast JR, Wood SN, Lawton JH, Eversham BC (1993) Correcting for variation in recording effort in analyses of diversity hotspots. Biodivers Lett 1:39–53

Preston CD, Roy DB, Roy HE (2012) What have we learnt from 50 years of biological recording? Br Wildl 24:97–106

Purse BV, Comont RF, Butler A, Brown PMJ, Kessel C, Roy HE (2015) Landscape and climate determine patterns of spread for all colour morphs of the alien ladybird Harmonia axyridis. J Biogeogr 42:575–588

R Development Core Team (2015) R: a language and environment for statistical computing. R foundation for statistical computing, Vienna. http://www.R-project.org/

Ricciardi A (2004) Assessing species invasions as a cause of extinction. Trends Ecol Evol 19:619

Roy HE, Brown PMJ, Comont RF, Lawson Handley L-J, Poland R (2012a) UK ladybird survey: engaging people in recording ladybirds. Antenna 36:186–193

Roy HE, Adriaens T, Isaac NJB, Kenis M, Onkelinx T, san Martin G, Brown PMJ, Hautier L, Poland R, Roy DB, Comont RF, Eschen R, Frost R, Zindel R, van Vlaenderen J, Nedvěd O, Ravn HP, Grégoire JC, de Biseau JC, Maes D (2012b) Invasive alien predator causes rapid declines of native European ladybirds. Divers Distrib 18:717–725

Roy HE, Brown PMJ, Frost R, Poland R (2012c) Ladybirds (coccinellidae) of Britain and Ireland. CEH, Wallingford

Roy HE, Rorke SL, Beckmann B, Booy O, Botham MS, Brown PMJ, Harrower CA, Noble D, Sewell J, Walker K (2015) The contribution of volunteer recorders to our understanding of biological invasions. Biol J Linn Soc 115:678–689

Roy HE, Baxter E, Saunders A, Pocock MJO (2016) Focal plant observations as a standardised method for pollinator monitoring: opportunities and limitations for mass-participation citizen science. PLoS ONE 11(3):e0150794

Sandhu SH, Wratten DS, Cullen R, Case B (2008) The future of farming: the value of ecosystem services in conventional and organic arable land. An experimental approach. Ecol Econ 64:835–848

Silvertown J (2009) A new dawn for citizen science. Trends Ecol Evol 24:467–471

Straub L, Williams GR, Pettis J, Fries I, Neumann P (2015) Superorganism resilience: eusociality and susceptibility of ecosystem service providing insects to stressors. Curr Opin Insect Sci 12:109–112

Sutherland JW, Roy BD, Amano T (2015) An agenda for the future of biological recording for ecological monitoring and citizen science. Biol J Linn Soc 115:779–784

Telfer MG, Preston CD, Rothery P (2002) A general method for measuring relative change in range size from biological atlas data. Biol Conserv 107:99–109

Thomas JA, Telfer MG, Roy DB, Preston CD, Greenwood JJD, Asher J, Fox R, Clarke RT, Lawton JH (2004) Comparative losses of British butterflies, birds, and plants and the global extinction crisis. Science 303:1879–1881

van Lenteren JC (2006) Ecosystem services to biological control of pests: why are they ignored? Proc Neth Entomol Soc Meet 17:103–111

Vanbergen AJ, Heard MS, Breeze TD, Potts SG, Hanley N (2014) Status and value of pollinators and pollination services. DEFRA, London

Watson R, Albon S, Aspinall R, Austen M, Bardgett R, Bateman I, Berry P, Bird W, Bradbury R, Brown C, Bullock J, Burgess J, Church A, Christie S, Crute I, Davies L, Edwards-Jones G, Emmett B, Firbank L, Fitter A, Gibson C, Hails R, Haines-Young R, Heathwaite L, Hopkins J, Jenkins M, Jones L, Mace G, Malcolm S, Maltby E, Maskell L, Norris K, Ormerod S, Osborne J, Pretty J, Quine C, Russell S, Simpson L, Smith P, Tierney M, Turner K, van der Wal R, Vira B, Walpole M, Watkinson A, Weighell T, Winn J, Winter M (2011) UK National Ecosystem Assessment: synthesis of the key findings. Unep-Wcmc, Lwec, Cambridge

Wilson RJ, Thomas CD, Fox R, Roy DB, Kunin WE (2004) Spatial patterns in species distributions reveal biodiversity change. Nature 432:393–396
Acknowledgments
We would like to thank all the volunteer recorders who have submitted the records that made this paper possible, and both David and Helen Roy of the Biological Records Centre who allowed us to use the ladybird dataset. We would also like to thank the many verifiers for both BeeWatch and the UK Ladybird Survey, and the technical support teams for both surveys at BRC and Aberdeen University.
Additional information
Handling Editor: Patrick De Clercq
About this article
Cite this article
Comont, R.F., Ashbrook, K. Evaluating promotional approaches for citizen science biological recording: bumblebees as a group versus Harmonia axyridis as a flagship for ladybirds. BioControl 62, 309–318 (2017). https://doi.org/10.1007/s10526-016-9771-y
Received:

Accepted:

Published:

Issue Date:

DOI: https://doi.org/10.1007/s10526-016-9771-y
Keywords
Biological recording

Citizen science

Verification

Bombus hypnorum

Bumblebee

Ladybird