Abstract
Armored scales (Hemiptera: Diaspididae) are important pests in citrus orchards worldwide. Augmentative releases of Aphelinidae wasps (Hymenoptera) have been performed in Corsica, France to control the California Red Scale (Aonidiella aurantii (Maskell, 1879)) and the arrowhead scale (Unaspis yanonensis (Kuwana, 1923)), but biological control of armored scales requires the identification of their parasitoids to evaluate their potential as biological control agents. In order to circumvent this issue, parasitoids emerging from four armored scale species were characterized through DNA barcoding. All the parasitoids identified belong to the Aphelinidae (Hymenoptera) and included a total of five Aphytis (including A. melinus), four Encarsia (including cryptic species) and one Ablerus (hyperparasitoid) species. Host-specificity was found to be strong among primary parasitoids, with Encarsia inquirenda Silvestri, 1930 and an unidentified Encarsia being the sole taxa able to parasitize the two subfamilies (Aspidiotinae and Diaspidinae).
Access options
Buy single article
Instant access to the full article PDF.
US$ 39.95
Tax calculation will be finalised during checkout.
Subscribe to journal
Immediate online access to all issues from 2019. Subscription will auto renew annually.
US$ 79
Tax calculation will be finalised during checkout.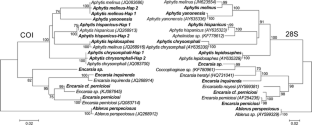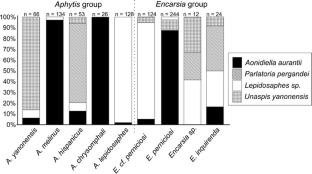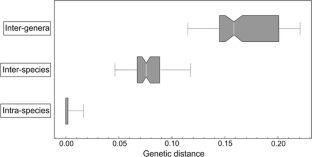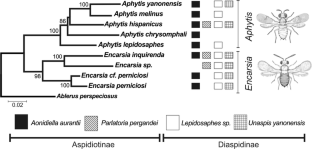 References
Abd-Rabou S, Shalaby H, Germain J, Ris N, Kreiter P, Malausa T (2012) Identification of mealybug pest species (Hemiptera: Pseudococcidae) in Egypt and France, using a DNA barcoding approach. Bull Entomol Res 102:1–9

Agreste (2015) Agreste, statistique agricole annuelle. Retrieved from http://www.agreste.agriculture.gouv.fr/enquetes/statistique-agricole-annuelle-saa/

Babcock CS, Heraty JM (2000) Molecular markers distinguishing Encarsia formosa and Encarsia luteola (Hymenoptera: Aphelinidae). Ann Entomol Soc Am 93:738–744

Beardsley JW, Gonzalez RH (1975) The biology and ecology of armored scales. Annu Rev Entomol 20:47–73

Beltrà A, Addison P, Ávalos JA, Crochard D, Garcia-Marí F, Guerrieri E, Giliomee JH, Malausa T, Navarro-Campos C, Palero F, Soto A (2015) Guiding classical biological control of an invasive mealybug using integrative taxonomy. PLoS ONE 10(6):e0128685

Ben-Dov Y, Miller DR, Gibson GAP (2010) Scale Net. Retrieved from http://scalenet.info/

Boyero JR, Vela JM, Wong E, Garcia-Ripoll C, Verdu MJ, Urbaneja A, Vanaclocha P (2014) Displacement of Aphytis chrysomphali by Aphytis melinus, parasitoids of the California Red Scale, in the Iberian Peninsula. Span J Agric Res 12:244–251

De León JH, Neumann G, Follett P, Hollingsworth RG (2010) Molecular markers discriminate closely related species Encarsia diaspidicola and Encarsia berlesei (Hymenoptera: Aphelinidae): biocontrol candidate agents for white peach scale in Hawaii. J Econ Entomol 103:908–916

Ebrahimi E (2014) Parasitoid and hyperparasitoid wasps of scale insects in Hayk Mirzayans Insect Museum, Iran. J Entomol Soc Iran 34:73–83

Etienne L, Jaloux B (2014) Incidence de lâchers inondatifs du parasitoïde Aphytis melinus sur la biodiversité en vergers d'agrumes en Corse. Université d'Angers, France

Flint M, Kobbe B, Clark J, Dreistadt S, Pehrson J, Flaherty D, O'Connell NV, Phillips PA, Morse J (1991) Integrated pest management for citrus, 2nd edn. University of California, Oakland

Gariepy TD, Haye T, Zhang J (2014) A molecular diagnostic tool for the preliminary assessment of host-parasitoid associations in biological control programmes for a new invasive pest. Mol Ecol 23:3912–3924

Gómez-Marco F, Urbaneja A, Jaques JA, Rugman-Jones PF, Stouthamer R, Tena A (2015) Untangling the aphid-parasitoid food web in citrus: can hyperparasitoids disrupt biological control? Biol Control 81:111–121

Grafton-Cardwell EE, Ouyang Y, Striggow R, Vehrs S (2004) Role of esterase enzymes in monitoring for resistance of California Red Scale, Aonidiella aurantii (Homoptera: Diaspididae), to organophosphate and carbamate insecticides. J Econ Entomol 97:606–613

Grafton-Cardwell EE, Lee JE, Stewart JR, Olsen KD (2006) Role of two insect growth regulators in integrated pest management of citrus scales. J Econ Entomol 99:733–744

Grafton-Cardwell E, Ouyang Y, Striggow R, Vehrs S (2008) Armored scale insecticide resistance challenges San Joaquin Valley citrus growers. Calif Agric 55:20–25

Hardy NB (2008) Systematic studies of scale insects (Hemiptera: Coccoidea). University of California, Davis, USA

Hebert PDN, Cywinska A, Ball SL, DeWaard JR (2003) Biological identifications through DNA barcodes. Proc Biol Sci 270:313–321

Heraty J, Woolley J, Polaszek A (2007) Catalog of the Encarsia of the World (2007). http://cache.ucr.edu/~heraty/Encarsia.cat.pdf

Kattari D, Heimpel GE, Ode P, Rosenheim J (1999) Hyperparasitism by Ablerus clisiocampae Ashmead (Hymenoptera: Aphelinidae). Proc Entomol Soc Wash 101:640–644

Liang W, Meats A, Beattie GAC, Spooner-Hart R, Jiang L (2010) Conservation of natural enemy fauna in citrus canopies by horticultural mineral oil: comparison with effects of carbaryl and methidathion treatments for control of armored scales. Insect Sci 17:414–426

Malausa JC, Rabasse JM, Kreiter P (2008) Les insectes entomophages d'interet agricole acclimates en France metropolitaine depuis le debut du 20ème siecle. Bull OEPP/EPPO 38:136–146

Malausa T, Fenis A, Warot S, Germain JF, Ris N, Prado E, Botton M, Vanlerberghe-Masutti F, Sforza R, Cruaud C, Couloux A, Kreiter P (2011) DNA markers to disentangle complexes of cryptic taxa in mealybugs (Hemiptera: Pseudococcidae). J Appl Entomol 135:142–155

Monti MM, Nappo AG, Giorgini M (2005) Molecular characterization of closely related species in the parasitic genus Encarsia (Hymenoptera: Aphelinidae) based on the mitochondrial cytochrome oxidase subunit I gene. Bull Entomol Res 95:401–408

Munro JB, Heraty JM, Burks R, Hawks D, Mottern J, Cruaud A, Rasplus JY, Jansta P (2011) A molecular phylogeny of the Chalcidoidea (Hymenoptera). PLoS ONE 6(11):e27023

Murdoch WW, Swarbrick SL, Briggs CJ (2006) Biological control: lessons from a study of California Red Scale. Popul Ecol 48:297–305

Pina T, Verdú MJ, Urbaneja A, Sabater-Muñoz B (2012) The use of integrative taxonomy in determining species limits in the convergent pupa coloration pattern of Aphytis species. Biol Control 61:64–70

Rosen D (1994) Advances in the study of Aphytis (Hymenoptera: Aphelinidae). Intercept Limited, Andover

Rosen D, DeBach P (1979) Species of Aphytis of the world. Springer, Netherlands

Rugman-Jones PF, Forster LD, Guerrieri E, Luck RF, Morse JG, Monti MM, Stouthamer R (2011) Taxon-specific multiplex-PCR for quick, easy, and accurate identification of encyrtid and aphelinid parasitoid species attacking soft scale insects in California citrus groves. BioControl 56:265–275

Schmidt S, Polaszek A (2007) Encarsia or Encarsiella?—redefining generic limits based on morphological and molecular evidence (Hymenoptera, Aphelinidae). Syst Entomol 32:81–94

Sorribas J, Garcia-Marí F (2010) Comparative efficacy of different combinations of natural enemies for the biological control of California Red Scale in citrus groves. Biol Control 55:42–48

Tamura K, Nei M, Kumar S (2004) Prospects for inferring very large phylogenies by using the neighbor-joining method. Proc Natl Acad Sci USA 101:11030–11035

Tamura K, Stecher G, Peterson D, Filipski A, Kumar S (2013) MEGA6: molecular evolutionary genetics analysis version 6.0. Mol Biol Evol 30:2725–2729

Tena A, Garcia-Marí F (2011) Current situation of citrus pests and diseases in the Mediterranean basin. IOBC/WPRS Bull 62:365–378

Tison G, Kreiter P, Giuge L, Thaon M, Jeanne Y, Lemay V, Daoux F, Bénaouf G, Balajas J, Duval X, Borelli JG (2007) Pou rouge de Californie et agrumiculture corse. Phytoma-La Défense des végétaux 606:18–21

Zaldívar-Riverón A, Martínez JJ, Ceccarelli FS, De Jesús-Bonilla VS, Rodríguez-Pérez AC, Reséndiz-Flores A, Smith MA (2010) DNA barcoding a highly diverse group of parasitoid wasps (Braconidae: Doryctinae) from a Mexican nature reserve. Mitochondrial DNA 21(Suppl 1):18–23
Acknowledgments
Thanks are due to the AREFLEC and INRA colleagues that helped with sampling, and to the producers and technical advisors in Plant Protection that gave access to their orchards. Special thanks are due to the INRA-BPI team for their patience and support. This work was funded by the ONEMA through the ECOPHYTO program of the Cors'Aphy Project. MC and FP received financial support from the Marie Curie FP7 IAPP Project "Colbics" #324475. FP also acknowledges support by the project CHALLENGEN (CTM2013-48163) of the Spanish Government.
Additional information
Handling Editor: Josep Anton Jaques Miret
Margarita C. G. Correa and Ferran Palero contributed equally to this work.
Electronic supplementary material
Below is the link to the electronic supplementary material.
About this article
Cite this article
Correa, M.C.G., Palero, F., Dubreuil, N. et al. Molecular characterization of parasitoids from armored scales infesting citrus orchards in Corsica, France. BioControl 61, 639–647 (2016). https://doi.org/10.1007/s10526-016-9752-1
Received:

Accepted:

Published:

Issue Date:
Keywords
Diaspididae

Armored scale

Parasitoid

DNA barcoding

Cryptic species