Abstract
Many adult parasitic Hymenoptera consume floral nectar and honeydew, although the latter is in most cases a 'bad meal' compared to floral nectars. Parasitoids of aphids, however, may be well-adapted to consuming honeydew when it is produced by their hosts. The nutritional value of honeydew for this group of parasitoids has often been tested against that of synthetic feeding solutions, but rarely against floral nectar. In the present work, the relative nutritional values of honeydew from the aphid Myzus persicae (Sulzer), nectar from two cultivars of oilseed rape (OSR) and nectars from four 'companion' plant species were assessed by testing their effect on the longevity of Diaeretiella rapae (McIntosh) [Hymenoptera: Braconidae]. Parasitoids fed on nectar from OSR lived longer than those fed on nectars of companion plants, or on water only. Diaeretiella rapae also lived longer when fed OSR nectar than when fed honeydew from M. persicae.
Access options
Buy single article
Instant access to the full article PDF.
US$ 39.95
Tax calculation will be finalised during checkout.
Subscribe to journal
Immediate online access to all issues from 2019. Subscription will auto renew annually.
US$ 79
Tax calculation will be finalised during checkout.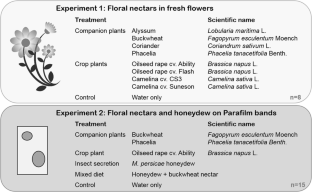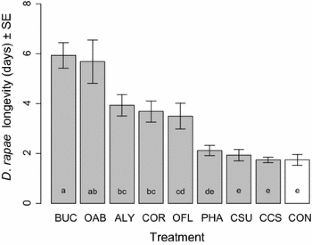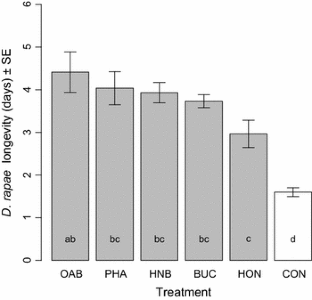 References
Balmer O, Géneau CE, Belz E, Weishaupt B, Förderer G, Moos S, Ditner N, Juric I, Luka H (2014) Wildflower companion plants increase pest parasitation and yield in cabbage fields: experimental demonstration and call for caution. Biol Control 76:19–27

Bowie MH, Gurr GM, Hossain Z, Baggen LR, Frampton C (1999) Effects of distance from field edge on aphidophagous insects in a wheat crop and observations on trap design and placement. Int J Pest Manag 45:69–73

Desneux N, Rabasse J-M, Ballanger Y, Kaiser L (2006) Parasitism of canola aphids in France in autumn. J Pest Sci 79:95–102

Ellis SA, Oakley JN, Parker WE, Raw K (1999) The development of an action threshold for cabbage aphid (Brevicoryne brassicae) in oilseed rape in the UK. Ann Appl Biol 134:153–162

Fiedler AK, Landis DA, Wratten SD (2008) Maximizing ecosystem services from conservation biological control: the role of habitat management. Biol Control 45:254–271

Gontijo LM, Beers EH, Snyder WE (2013) Flowers promote aphid suppression in apple orchards. Biol Control 66:8–15

Groeneveld JH, Klein A-M (2014) Pollination of two oil-producing plant species: camelina (Camelina sativa L. Crantz) and pennycress (Thlaspi arvense L.) double-cropping in Germany. GCB Bioenergy 6:242–251

Gurr GM, Wratten SD, Snyder WE (eds) (2012) Biodiversity and insect pests: key issues for sustainable management. Wiley, New york

Heimpel GE, Jervis MA (2005) Does floral nectar improve biological control by parasitoids? In: Wäckers FL, van Rijn PCJ, Bruin J (eds) Plant-provided food for carnivorous insects: a protective mutualism and its applications. Cambridge University Press, Cambridge, pp 267–304

Hopkinson JE, Zalucki MP, Murray DAH (2013) Honeydew as a source of nutrition for Lysiphlebus testaceipes (Cresson) (Hymenoptera: Braconidae): effect of adult diet on lifespan and egg load. Aust J Entomol 52:14–19

Jamont M, Crépellière S, Jaloux B (2013) Effect of extrafloral nectar provisioning on the performance of the adult parasitoid Diaeretiella rapae. Biol Control 65:271–277

Konrad R, Wäckers FL, Romeis J, Babendreier D (2009) Honeydew feeding in the solitary bee Osmia bicornis as affected by aphid species and nectar availability. J Insect Physiol 55:1158–1166

Lamb KP (1959) Composition of the honeydew of the aphid Brevicoryne brassicae (L.) feeding on swedes (Brassica napobrassica DC.). J Insect Physiol 3:1–13

Lamb R (1989) Entomology of oilseed brassica crops. Annu Rev Entomol 34:211–229

Lee JC, Heimpel GE (2002) Nectar availability and parasitoid sugar feeding. In: van Driesche RG (ed) First international symposium on biological control of arthropods. Forest Health Technolgy Enterprise Team, Morgantown, pp 220–225

Letourneau DK, Armbrecht I, Rivera BS, Lerma JM, Carmona EJ, Daza MC, Escobar S, Galindo V, Gutiérrez C, López SD, Mejía JL, Rangel AMA, Rangel JH, Rivera L, Saavedra CA, Torres AM, Trujillo AR (2011) Does plant diversity benefit agroecosystems? A synthetic review. Ecol Appl 21:9–21

Patt JM, Hamilton GC, Lashomb JH (1997) Foraging success of parasitoid wasps on flowers: interplay of insect morphology, floral architecture and searching behavior. Entomol Exp Appl 83:21–30

Pike KS, Stary P, Miller T, Allison D, Graf G, Boydston L, Miller R, Gillespie R (1999) Host range and habitats of the aphid parasitoid Diaeretiella rapae (Hymenoptera: Aphidiidae) in Washington state. Environ Entomol 28:61–71

Ratnadass A, Fernandes P, Avelino J, Habib R (2012) Plant species diversity for sustainable management of crop pests and diseases in agroecosystems: a review. Agron Sustain Dev 32:273–303

Russell MC (2015) A meta-analysis of physiological and behavioral responses of parasitoid wasps to flowers of individual plant species. Biol Control 82:96–103

Shonnard DR, Williams L, Kalnes TN (2010) Camelina-derived jet fuel and diesel: sustainable advanced biofuels. Environ Prog Sustain Energy 29:382–392

Tylianakis JM, Didham RK, Wratten SD (2004) Improved fitness of aphid parasitoids receiving resource subsidies. Ecology 85:658–666

Van Rijn P, VanAlebeek F, den Belder E, Wäckers FL, Buurma J, Willemse J, van Gurp H (2008) Functional agro biodiversity in Dutch arable farming: results of a three year pilot. IOBC/WPRS Bull 34:125–128

Van Rijn PCJ, Kooijman J, Wäckers FL (2013) The contribution of floral resources and honeydew to the performance of predatory hoverflies (Diptera: Syrphidae). Biol Control 67:32–38

Vattala HD, Wratten SD, Phillips CB, Wäckers FL (2006) The influence of flower morphology and nectar quality on the longevity of a parasitoid biological control agent. Biol Control 39:179–185

Vollhardt IMG, Bianchi FJJA, Wäckers FL, Thies C, Tscharntke T (2010) Nectar vs. honeydew feeding by aphid parasitoids: does it pay to have a discriminating palate? Entomol Exp Appl 137:1–10

Wäckers FL (2000) Do oligosaccharides reduce the suitability of honeydew for predators and parasitoids ? A further facet to the function of insect-synthesized honeydew sugars. Oikos 90:197–201

Wäckers FL (2005) Suitability of (extra-)floral nectar, pollen, and honeydew as insect food sources. In: Wäckers FL, van Rijn PCJ (eds) plant-provided food for carnivorous insects: a protective mutualism and its applications. Cambridge University Press, Cambridge, pp 17–75

Wäckers FL, van Rijn PCJ, Heimpel GE (2008) Honeydew as a food source for natural enemies: making the best of a bad meal? Biol Control 45:176–184

Wang W, Liu Y, Chen J, Ji X, Zhou H, Wang G (2009) Impact of intercropping aphid-resistant wheat cultivars with oilseed rape on wheat aphid (Sitobion avenae) and its natural enemies. Acta Ecol Sin 29:186–191

Williams IH (ed) (2010) Biocontrol-based integrated management of oilseed rape pests. Springer, Dordrecht

Zhu P, Lu Z, Heong K, Chen G, Zheng X, Xu H, Yang Y (2014) Selection of nectar plants for use in ecological engineering to promote biological control of rice pests by the predatory bug, Cyrtorhinus lividipennis (Heteroptera: Miridae). PLoS ONE 9:e108669
Acknowledgments
We thank Gaëlle Marliac and Mauricio G. Chang for valuable practical help, and the EU-IRSES 'APHIWEB' project members for fruitful advice. This work has been supported by the New Zealand Ministry of Business, Innovation and Employment grant LINX0802 and by the Bio-Protection Research Centre based at Lincoln University, New Zealand.
Additional information
Handling Editor: Stefano Colazza.
About this article
Cite this article
Varennes, YD., Boyer, S. & Wratten, S.D. Nectar from oilseed rape and floral subsidies enhances longevity of an aphid parasitoid more than does host honeydew. BioControl 61, 631–638 (2016). https://doi.org/10.1007/s10526-016-9750-3
Received:

Accepted:

Published:

Issue Date:
Keywords
Brevicoryne brassicae
Myzus persicae
Diaeretiella rapae

Ecosystem services

Companion plants