Abstract
Rice is one of the most important global crops but, despite suffering serious insect pest damage, has been less the subject of conservation biological control research compared with crops of importance in developed countries. Earlier studies of sesame (Sesamum indicum) as a nectar plant grown on the bunds around rice crop to promote natural enemies of rice pests had focused on the natural enemies of planthopper pests. But there is little available information on the effects of this plant's nectar on parasitoids of important rice stem borer pests, or on the extent to which sesame may be a selective food plant such that adult Lepidoptera do not feed on its nectar. The present laboratory study assessed the effect of sesame flowers on Apanteles ruficrus, Cotesia chilonis and Trichogramma chilonis and their stem borer hosts, Sesamia inferens and Chilo suppressalis. Adult survival of all parasitoid species was increased by the presence of S. indicum flowers compared with a water control. Realized fecundity of T. chilonis was significantly enhanced by sesame flowers. Egg production of both stem borer species was comparable for S. indicum and the water treatment, and significantly lower than the honey solution control. The same trend, illustrating lack of benefit from access to sesame nectar, was also apparent in adult longevity of C. suppressalis. These findings indicate that sesame is a selective food plant that is unlikely to promote key Lepidoptera pests of rice when used in the field though it does benefit parasitoids representing three genera.
Access options
Buy single article
Instant access to the full article PDF.
US$ 39.95
Tax calculation will be finalised during checkout.
Subscribe to journal
Immediate online access to all issues from 2019. Subscription will auto renew annually.
US$ 79
Tax calculation will be finalised during checkout.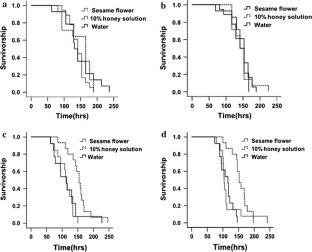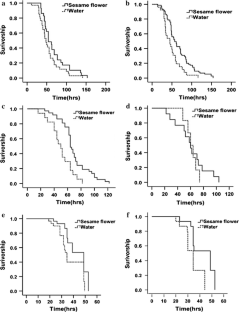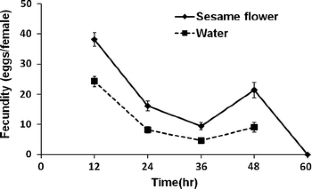 References
Baggen LR, Gurr GM (1998) The influence of food on Copidosoma koehleri (Hymenoptera: Encyrtidae), and the use of flowering plants as a habitat management tool to enhance biological control of potato moth, Phthorimaea operculella (Lepidoptera: Gelechiidae). Biol Control 11(1):9–17

Baggen LR, Gurr GM, Meats A (1999) Flowers in tri-trophic systems: mechanisms allowing selective exploitation by insect natural enemies for conservation biological control. Entomol Exp Appl 91(1):155–161

Baggen LR, Gurr GM, Meats A (2000) Field observations on selective food plants in habitat manipulation for biological control of potato moth by Copidosoma koehleri Blanchard (Hymnoptera:Encyrtidae). In: Austin AD, Dowton M (eds) Hymenoptera: evolution, biodiversity and biological control. CSIRO, Canberra, Australia, pp 388–395

Balzan MV, Wäckers FL (2013) Flowers to selectively enhance the fitness of a host-feeding parasitoid: adult feeding by Tuta absoluta and its parasitoid Necremnus artynes. Biol Control 67(1):21–31

Begum M, Gurr GM, Wratten SD, Hedberg PR, Nicol HI (2006) Using selective food plants to maximize biological control of vineyard pests. J Appl Ecol 43(3):547–554

Berndt LA, Wratten SD, Scarratt SL (2006) The influence of floral resource subsidies on parasitism rates of leafrollers (Lepidoptera: Tortricidae) in New Zealand vineyards. Biol Control 37(1):50–55

Bianchi F, Booij C, Tscharntke T (2006) Sustainable pest regulation in agricultural landscapes: a review on landscape composition, biodiversity and natural pest control. Proc R Soc B 273(1595):1715–1727

Cullen R, Warner KD, Jonsson M, Wratten SD (2008) Economics and adoption of conservation biological control. Biol Control 45(2):272–280

Díaz MF, Ramírez A, Poveda K (2012) Efficiency of different egg parasitoids and increased floral diversity for the biological control of noctuid pests. Biol Control 60(2):182–191

Ellis J, Walter A, Tooker J, Ginzel M, Reagel P, Lacey E, Bennett A, Grossman E, Hanks L (2005) Conservation biological control in urban landscapes: manipulating parasitoids of bagworm (Lepidoptera: Psychidae) with flowering forbs. Biol Control 34(1):99–107

Giron D, Rivero A, Mandon N, Darrouzet E, Casas J (2002) The physiology of host feeding in parasitic wasps: implications for survival. Funct Ecol 16(6):750–757

Gurr GM, Wratten SD, Altieri MA (2004) Ecological engineering for pest management : advances in habitat manipulation for arthropods. CSIRO Publishing, Collingwood, Australia

Gurr GM, Liu J, Read DMY, Catindig JLA, Cheng JA, Lan LP, Heong KL (2011) Parasitoids of Asian rice planthopper (Hemiptera: Delphacidae) pests and prospects for enhancing biological control by ecological engineering. Ann Appl Biol 158(2):149–176

Gurr GM, Read DMY, Catindig JLA, Cheng JA, Liu J, Lan LP, Heong KL (2012) Parasitoids of the rice leaffolder Cnaphalocrocis medinalis and prospects for enhancing biological control with nectar plants. Agric For Entomol 14(1):1–12

Heong KL (2009) Are planthopper problems caused by a breakdown in ecosystem services? In: Heong KL, Hardy B (eds) Planthoppers: new threats to the sustainability of intensive rice production systems in Asia. International Rice Research Institute, Los Baños, Philippines, pp 221–232

Hossain Z, Gurr GM, Wratten SD, Raman A (2002) Habitat manipulation in lucerne Medicago sativa: arthropod population dynamics in harvested and 'refuge' crop strips. J Appl Ecol 39(3):445–454

Landis DA, Wratten SD, Gurr GM (2000) Habitat management to conserve natural enemies of arthropod pests in agriculture. Annu Rev Entomol 45:175–201

Lavandero B, Wratten S, Shishehbor P, Worner S (2005) Enhancing the effectiveness of the parasitoid Diadegma semiclausum (Helen): movement after use of nectar in the field. Biol Control 34(2):152–158

Lavandero B, Wratten SD, Didham RK, Gurr G (2006) Increasing floral diversity for selective enhancement of biological control agents: a double-edged sward? Basic Appl Ecol 7(3):236–243

Lee JC, Andow DA, Heimpel GE (2006) Influence of floral resources on sugar feeding and nutrient dynamics of a parasitoid in the field. Ecol Entomol 31(5):470–480

Li LJ, Lu X, Liu HW, Wang YZ, Zhang GH, Ding Y (2005) Progress of studies on artificial propagation and application of Trichogramma chilonis. J Jinlin Agric Sci 30:23–28

Lou YG, Cheng JA (2011) Basic research on the outbreak mechanism and sustainable management of rice planthoppers. Chin J Appl Entomol 48:231–238

Lou YG, Zhang GR, Zhang WQ, Hu Y, Zhang J (2013) Biological control of rice insect pests in China. Biol Control 67(1):8–20

Lu ZX, Zhu PY, Chen GH, Heong KL, Gurr GM, Zheng XS, Yao XM, Xu HX, Yang YJ (2012) Enhancing biological control of rice planthoppers by ecological enginerring in China. In: Proceedings of international conference on rice planthoppers: ecology, management, socio-economics and policy. Zhejiang University, International Rice research Institute and Zhejiang Academy of Agriculture Sciences, Hangzhou, China, 21–23 Nov 2012, pp 32–33

Lu ZX, Zhu PY, Gurr GM, Zheng XS, Read DM, Heong KL, Yang YJ, Xu HX (2014) Mechanisms for flowering plants to benefit arthropod natural enemies of insect pests: prospects for enhanced use in agriculture. Insect Sci 21(1):1–12

Mahfouz H, Kamel S, Belal A, Said M (2012) Pollinators visiting sesame (Sesamum indicum L.) seed crop with reference to foraging activity of some bee species. Cercetari Agron Moldova 45(2):49–55

Masetti A, Lanzoni A, Burgio G (2010) Effects of flowering plants on parasitism of lettuce leafminers (Diptera: Agromyzidae). Biol Control 54(3):263–269

Matson PA, Parton WJ, Power A, Swift M (1997) Agricultural intensification and ecosystem properties. Science 277(5325):504–509

Mitsunaga T, Mukawa S, Shimoda T, Suzuki Y (2006) The influence of food supply on the parasitoid against Plutella xylostella L. (Lepidoptera: Yponomeutidae) on the longevity and fecundity of the pea leafminer, Chromatomyia horticola (Goureau) (Diptera: Agromyzidae). Appl Entomol Zool 41(2):277–285

Orre Gordon G, Wratten S, Jonsson M, Simpson M, Hale R (2013) 'Attract and reward': combining a herbivore-induced plant volatile with floral resource supplementation–Multi-trophic level effects. Biol Control 64(2):106–115

Östman Ö, Ekbom B, Bengtsson J (2001) Landscape heterogeneity and farming practice influence biological control. Basic Appl Ecol 2(4):365–371

Pandey S, Byerlee D, Dawe D, Dobermann A, Mohanty S, Rozelle S, Hardy B (2010) Rice in the global economy: strategic research and policy issues for food security. International Rice Research Institute, Los Baňos, Philippines

Perović DJ, Gurr GM, Raman A, Nicol HI (2010) Effect of landscape composition and arrangement on biological control agents in a simplified agricultural system: a cost–distance approach. Biol Control 52(3):263–270

Romeis J, Wäckers F (2002) Nutritional suitability of individual carbohydrates and amino acids for adult Pieris brassicae. Physiol Entomol 27(2):148–156

Rosenheim JA (2011) Stochasticity in reproductive opportunity and the evolution of egg limitation in insects. Evolution 65(8):2300–2312

Segoli M, Rosenheim JA (2013) Spatial and temporal variation in sugar availability for insect parasitoids in agricultural fields and consequences for reproductive success. Biol Control 67(2):163–169

Settele J, Biesmeijer J, Bommarco R (2008) Switch to ecological engineering would aid independence. Nature 456(7222):570

Shepard M, Barrion A, Litsinger J (2000) Friends of the rice farmer: helpful insects, spiders, and pathogens. International Rice Research Institute, Los Baños, Philippines

Simpson M, Gurr GM, Simmons AT, Wratten SD, James DG, Leeson G, Nicol HI (2011) Insect attraction to synthetic herbivore-induced plant volatile-treated field crops. Agric For Entomol 13(1):45–57

Tylianakis JM, Didham RK, Wratten SD (2004) Improved fitness of aphid parasitoids receiving resource subsidies. Ecology 85(3):658–666

Wäckers FL (2000) Do oligosaccharides reduce the suitability of honeydew for predators and parasitoids? A further facet to the function of insect-synthesized honeydew sugars. Oikos 90:197–201

Wäckers FL (2001) The effect of food supplements on parasitoid–host dynamics. In: Proceedings of first international symposium on biological control of arthropods, Honolulu, USA, 14–18 Jan 2002, USDA Forest Service, pp 226–231

Wäckers FL (2005) Suitability of (extra-) floral nectar, pollen, and honeydew as insect food sources. In: Wäckers FL, van Rijn P, Bruin J (eds) Plant provided food for carnivorous insects: a protective mutualism and its applications. Cambridge University Press, Cambridge, UK, pp 17–74

Wäckers FL, Romeis J, van Rijn PCJ (2007) Nectar and pollen feeding by insect herbivores and implications for multitrophic interactions. Annu Rev Entomol 52:301–323

Wäckers FL, van Rijn PCJ, Heimpel GE (2008) Honeydew as a food source for natural enemies: making the best of a bad meal? Biol Control 45(2):176–184

Wade MR, Gurr GM, Wratten SD (2008) Ecological restoration of farmland: progress and prospects. Philos Trans R Soc B 363(1492):831–847

Winkler K, Wäckers FL, Termorshuizen AJ, van Lenteren JC (2010) Assessing risks and benefits of floral supplements in conservation biological control. BioControl 55(6):719–727

Yuan LP (2014) Development of hybrid rice to ensure food security. Rice Sci 21:1–2

Zhao J, Ayers G, Grafius E, Stehr F (1992) Effects of neighboring nectar-producing plants on populations of pest Lepidoptera and their parasitoids in broccoli plantings. Gt Lakes Entomol 25(4):253–258

Zheng XS, Yu XP, Lu ZX, Chen JM, Xu HX (2003) Effects of different nutritional resources on the longevity and parasitic ability of egg parasitoid Anagrus nilaparvatae. Chin J Appl Ecol 14(10):1751–1755

Zhu PY, Gurr GM, Lu ZX, Heong KL, Chen GH, Zheng XS, Xu HX, Yang YJ (2013a) Laboratory screening supports the selection of sesame (Sesamum indicum) to enhance Anagrus spp. parasitoids (Hymenoptera: Mymaridae) of rice planthoppers. Biol Control 64(1):83–89

Zhu PY, Sheng XQ, Fang DH, Chen GH, Lu ZX (2013b) Effect of feeding parental adults with plant flowers on growth and predatory capacity of next generation of mirid bug Cyrtorhinus lividipennis. China Plant Prot 33(10):17–21
Acknowledgments
We thank Mr Qian Minjie and Lu Tao for their assistance with parasitoid experiments in Zhejiang Academy of Agriculture Sciences (ZAAS) and Miss Sylvia Villareal and Josie Lynn Catindig for their technical assistance with stem borer experiments in International Rice Research Institute (IRRI). Funding for this study was provided jointly by the National Basic Research Program of China (973, Grant No. 2013CD127600), and the Asian Development Bank (TA7648-R-RDTA) coordinated by the IRRI, Los Baños Philippines. Mrs A Johnson helped with manuscript preparation.
Additional information
Handling Editor: Dirk Babendreier.
Pingyang Zhu, Gengwei Wang and Xusong Zheng have contributed equally to this paper.
About this article
Cite this article
Zhu, P., Wang, G., Zheng, X. et al. Selective enhancement of parasitoids of rice Lepidoptera pests by sesame (Sesamum indicum) flowers. BioControl 60, 157–167 (2015). https://doi.org/10.1007/s10526-014-9628-1
Received:

Accepted:

Published:

Issue Date:
Keywords
Conservation biological control

Ecological engineering

Stem borer

Apanteles ruficrus
Cotesia chilonis
Trichogramma chilonis
Sesamia inferens
Chilo suppressalis