Abstract
The weevil Cyrtobagous salviniae Calder & Sands 1985 (Family: Curculionidae) is a highly effective biocontrol agent for the invasive water fern Salvinia molesta D.S. Mitchell (Family: Salviniaceae). The life histories of both organisms are affected by temperature, making the potential impacts of climate change on efficacy of control an important area in which comprehensive understanding is required. Here we use warming tolerance (WT) and low temperature tolerance (LTT) as measures of C. salviniae's sensitivity to climate warming, calculated across South Africa using critical thermal limits, lethal temperature limits and mean maximum (Tmax) and minimum (Tmin) environmental temperatures under present climatic conditions and two future periods (2040s and 2080s). From the present climate to the 2080s the WTs of C. salviniae decrease and LTTs increase indicating C. salviniae may face greater constraints on survival as Tmax nears the upper thermal limits, but increased population persistence over cool months as Tmin increases.
Access options
Buy single article
Instant access to the full article PDF.
USD 39.95
Price excludes VAT (USA)
Tax calculation will be finalised during checkout.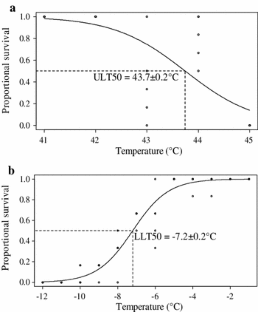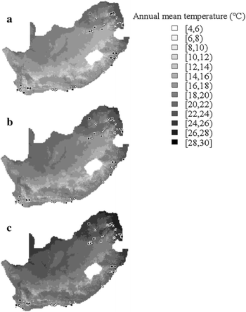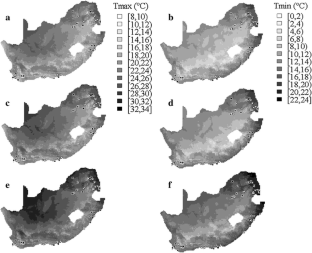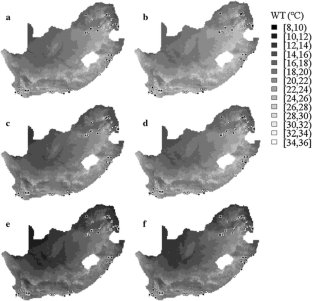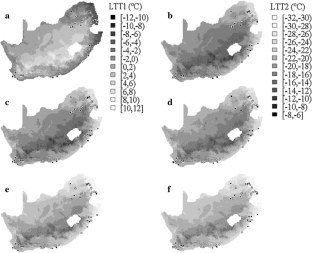 References
Allen JL, Clusella-Trullas S, Chown SL (2012) The effects of acclimation and rates of temperature change on critical thermal limits in Tenebrio molitor (Tenebrionidae) and Cyrtobagous salviniae (Curculionidae). J Insect Physiol 58:669–678

Angilletta MJ (2009) Thermal adaptation: a theoretical and empirical synthesis. Oxford University Press, Oxford, UK

Araújo MB, Ferri-Yáñez F, Bozinovic F, Marquet PA, Valladares F, Chown SL (2013) Heat freezes niche evolution. Ecol Lett 16:1206–1219

Bale JS, Hayward SAL (2010) Insect overwintering in a changing climate. J Exp Biol 213:980–994

Bivand R (2012) classInt: choose univariate class intervals. R package version 0.1-19. http://CRAN.R-project.org/package=classInt. Accessed 06 Feb 2013

Bivand R, Lewin-Koh N (2013) maptools: tools for reading and handling spatial objects. R Package Version 0.8-23. http://CRAN.R-project.org/package=maptools. Accessed 06 May 2013

Chown SL, Slabber S, McGeoch MA, Janion C, Leinaas HP (2007) Phenotypic plasticity mediates climate change responses among invasive and indigenous arthropods. Proc R Soc B 274:2531–2567

Chown SL, Jumbam KR, Sørensen JG, Terblanche JS (2009) Phenotypic variance, plasticity and heritability estimates of critical thermal limits depend on methodological context. Funct Ecol 23:133–140

Cilliers CJ (1991) Biological control of the water fern, Salvinia molesta (Salviniaceae), in South Africa. Agric Ecosyst Environ 37:219–224

Clusella-Trullas S, Blackburn TM, Chown SL (2011) Climatic predictors of temperature performance curve parameters in ectotherms imply complex responses to climate change. Am Nat 177:738–751

Coetzee JA, Hill MP, Byrne MJ, Bownes A (2011) A review of the biological control programmes on Eichhornia crassipes (C.Mart) Solms (Pontederiaceae), Salvinia molesta D.S.Mitch. (Salviniaceae), Pistia stratiotes L. (Araceae), Myriophyllum aquaticum (Vell.) Verdc. (Haloragaceae) and Azolla filiculoides Lam. (Azollaceae) in South Africa. Afr Entomol 19:451–468

Core Team R (2012) R: a language and environment for statistical computing. R Foundation for Statistical Computing, Vienna, Austria

Crawley MJ (2007) The R Book. Wiley, Chichester, UK

Deutsch CA, Tewksbury JJ, Huey RB, Sheldon KS, Ghalambor CK, Haak DC, Martin PR (2008) Impacts of climate warming on terrestrial ectotherms across latitude. Proc Natl Acad Sci USA 105:6668–6672

Diop O, Hill MP (2009) Quantitative post-release evaluation of biological control of floating fern, Salvinia molesta D.S. Mitchell (Salviniaceae), with Cyrtobagous salviniae Calder and Sands (Coleoptera: Curculionidae) on the Senegal River and Senegal River Delta. Afr Entomol 17:64–70

Forno IW, Bourne AS (1986) Temperature-related effects of three insects on growth of Salvinia molesta in Brazil. Entomophaga 31:19–26

Forno IW, Harley KLS (1979) The occurrence of Salvinia molesta in Brazil. Aquat Bot 6:185–187

Forno IW, Sands DPA, Sexton W (1983) Distribution, biology and host specificity of Cyrtobagous singularis Hustache (Coleoptera: Curculionidae) for the biological control of Salvinia molesta. Bull Entomol Res 73:85–95

Hellmann JJ, Byers JE, Bierwagen BG, Dukes JS (2008) Five potential consequences of climate change for invasive species. Conserv Biol 22:534–543

Hennecke B, Postle LA (2006) The key to success: an investigation into oviposition of the Salvinia weevil in cool climate regions. In: Preston C, Watts JH, Crossman ND (eds) 15th Australian weeds conference, papers and proceedings, September 2006, Adelaide, Australia, pp 780–783

Hijmans RJ, van Etten J (2012) raster: Geographic data analysis and modelling. R package version 2.0-41. http://CRAN.R-project.org/package=raster. Accessed 11 Feb 2013

Hijmans RJ, Cameron SE, Parra JL, Jones PG, Jarvis A (2005) Very high resolution interpolated climate surfaces for global land areas. Int J Climatol 25:1965–1978

Hoffmann AA, Sgrò CM (2011) Climate change and evolutionary adaptation. Nature 470:479–485

Jacono CC (1999) Salvinia molesta (Salviniaceae) new to Texas and Louisiana. SIDA Contrib Bot 18:927–928

Keitt T (2012) colorRamps: builds color tables. R package version 2.3. http://CRAN.R-project.org/package=colorRamps. Accessed 15 July 2013

Keitt TH, Bivand R, Pebesma E, Rowlingson B (2013) rgdal: Bindings for the Geospatial Data Abstraction Library. R package version 0.8-4. http://CRAN.R-project.org/package=rgdal. Accessed 06 Feb 2013

Kingsolver JG, Diamond SE, Buckley LB (2013) Heat stress and the fitness consequences of climate change for terrestrial ectotherms. Funct Ecol 27:1415–1423

Kruger AC, Sekele SS (2013) Trends in extreme temperature indices in South Africa: 1962-2009. Int J Climatol 33:661–676

Kruger AC, McBride C, Thiaw WM (2011) Southern Africa regional climate. In: Blunden J, Arndt DS, Brainger MO (eds) State of the Climate 2010. Bull Am Meteorol Soc 92:S161–S163

Le Maitre DC, de Lange WJ, Richardson DM, Wise RM, van Wilgen BW (2011) The economic consequences of the environmental impacts of alien plant invasions in South Africa. In: Pimental D (ed) Biological invasions: economic and environmental costs of alien plant, animal and microbe species (2nd edn). CRC Press, Taylor & Francis Group, Boca Raton, USA, pp 295–323

Naidu KC, Muzila I, Tyolo I, Katorah G (2000) Biological control of Salvinia molesta in some areas of Moremi Game Reserve, Botswana. Afr J Aquat Sci 25:152–155

Neuwirth E (2011) RColorBrewer: ColorBrewer palettes. R package version 1.0-5. http://CRAN.R-project.org/package=RColorBrewer. Accessed 17 Jan 2013

Pebesma EJ, Bivand RS (2005) Classes and methods for spatial data in R. R News 5 (2). http://cran.r-project.org/doc/Rnews/. Accessed 06 May 2013

Stocker T, Dahe Q, Plattner, G-K (2013) Climate change 2013: the physical basis technical summary. IPCC Fifth Assessment Report, Geneva, Switzerland

Rivers-Moore NA, Mantel S, Dallas HF (2012) Prediction of water temperature metrics using spatial modelling in the Eastern and Western Cape, South Africa. Water SA 38:167–176

Room PM (1986) Equations relating growth and uptake of nitrogen by Salvinia molesta to temperature and the availability of nitrogen. Aquat Bot 24:43–59

Room PM (1990) Ecology of a simple plant-herbivore system: biological control of Salvinia. Trends Ecol Evol 5:74–79

Sands DPA, Schotz M, Bourne AS (1983) The feeding characteristics and development of larvae of a Salvinia weevil Cyrtobagous sp. Entomol Exp Appl 34:291–296

van Driesche RG, Carruthers RI, Center T, Hoddle MS, Hough-Goldstein J, Morin L, Smith L, Wagner DL, Blossey B, Brancatini V, Casagrande R, Causton CE, Coetzee JA, Cuda J, Ding J, Fowler SV, Frank JH, Fuester R, Goolsby J, Grodowitz M, Heard TA, Hill MP, Hoffmann JH, Huber J, Julien M, Kairo MTK, Kenis M, Mason P, Medal J, Messing R, Miller R, Moore A, Neuenschwander P, Newman R, Norambuena H, Palmer WA, Pemberton R, Perez Panduro A, Pratt PD, Rayamajhi M, Salom S, Sands D, Schooler S, Schwarzländer M, Sheppard A, Shaw R, Tipping PW, van Klinken RD (2010) Classical biological control for the protection of natural ecosystems. Biol Control 54:S2–S33

Whiteman JB, Room PM (1991) Temperatures lethal to Salvinia molesta Mitchell. Aquat Bot 40:27–35
Acknowledgments
We thank Denise Gillespie, Angela Walton and Des Conlong of the Entomology Unit for access to and assistance in the laboratories of the SASRI, and its management personnel for hosting this research project. We thank Elrike Marais for her assistance throughout the study and Erika Nortje for laboratory and technical support. We thank Martin Hill (Department of Zoology and Entomology, Rhodes University) for permission to use the occurrence data for S. molesta and C. salviniae, and Matthew Parkinson (Department of Zoology and Entomology, Rhodes University), for compiling the working for water data. This study was supported by the National Research Foundation through the DST-NRF Centre of Excellence for Invasion Biology and by the Stellenbosch University Hope project.
Additional information
Handling Editor: John Scott
Electronic supplementary material
Below is the link to the electronic supplementary material.
About this article
Cite this article
Allen, J.L., Clusella-Trullas, S. & Chown, S.L. Thermal tolerance of Cyrtobagous salviniae: a biocontrol agent in a changing world. BioControl 59, 357–366 (2014). https://doi.org/10.1007/s10526-014-9570-2
Received:

Accepted:

Published:

Issue Date:

DOI: https://doi.org/10.1007/s10526-014-9570-2
Keywords
Cyrtobagous salviniae

Curculionidae

Lethal temperature limits

Critical thermal tolerance

Biological control

Invasive alien species