Abstract
The omnivorous predators Nesidiocoris tenuis (Reuter) and Macrolophus pygmaeus Rambur (Hemiptera: Miridae) are indigenous natural enemies that commonly inhabit tomato crops in the Mediterranean basin. Both predators are mass-reared and primarily released to control whiteflies, although recently they have also contributed to the control of the invasive tomato pest Tuta absoluta (Meyrick) (Lepidoptera: Gelechiidae). The life history traits of these two predators have been studied in the laboratory under the conditions of being fed exclusively the eggs of T. absoluta or the eggs of the factitious prey Ephestia kuehniella (Zeller) (Lepidoptera: Pyralidae). Immature stages of both predator species successfully developed while preying on eggs of T. absoluta. However, the mature M. pygmaeus females produced significantly lower numbers of offspring in comparison to the offspring produced when preying on E. kuehniella eggs. This resulted in higher than expected demographic indexes for N. tenuis when compared to M. pygmaeus (e.g., the intrinsic rates of increase were 0.127 and 0.005, respectively). Our results support previous studies on the potential of N. tenuis has as biological control agent of T. absoluta, and indicate that the role of M. pygmaeus in controlling T. absoluta in the absence of other food sources is possibly limited.
Access options
Buy single article
Instant access to the full article PDF.
USD 39.95
Price includes VAT (USA)
Tax calculation will be finalised during checkout.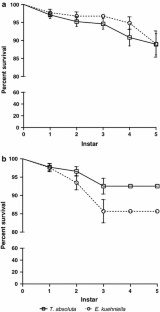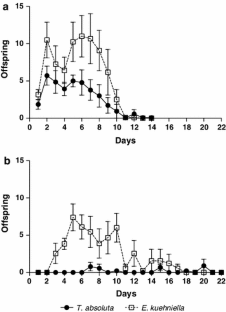 References
Alomar O, Goula M, Albajes R (2002) Colonisation of tomato fields by predatory mirid bugs (Hemiptera: Heteroptera) in northern Spain. Agric Ecosyst Environ 89:105–115

Alomar O, Riudavets J, Castañe C (2006) Macrolophus caliginosus in the biological control of Bemisia tabaci on greenhouse melons. Biol Control 36:154–162

Arnó J, Gabarra R (2011) Side effects of selected insecticides on the Tuta absoluta (Lepidoptera: Gelechiidae) predators Macrolophus pygmaeus and Nesidiocoris tenuis (Hemiptera: Miridae). J Pest Sci 84:513–520

Arnó J, Sorribas R, Prat M, Matas M, Pozo C, Rodríguez D, Garreta A, Gómez A, Gabarra R (2009) Tuta absoluta, a new pest in IPM tomatoes in the northeast of Spain. IOBC/WPRS Bull 49:203–208

Biondi A, Desneux N, Siscaro G, Zappalà L (2012) Using organic-certified rather than synthetic pesticides may not be safer for biological control agents: selectivity and side effects of 14 pesticides on the predator Orius laevigatus. Chemosphere 87:803–812

Birch LC (1948) The intrinsic rate of natural increase of an insect population. J Anim Ecol 17:15–26

Bompard A, Jaworski C, Bearez P, Desneux N (2013) Sharing a predator: can an invasive alien pest affect the predation on a local pest? Popul Ecol 55:433–440

Cabello T, Gallego JR, Fernandez FJ, Gamez M, Vila E, Del Pino M, Hernandez E (2012) Biological control strategies for the South American tomato moth (Lepidoptera: Gelechiidae) in greenhouse tomatoes. J Econ Entomol 105:2085–2096

Calvo J, Bolckmans K, Stansly PA, Urbaneja A (2009) Predation by Nesidiocoris tenuis on Bemisia tabaci and injury to tomato. BioControl 54:237–246

Calvo FJ, Bolckmans K, Belda JE (2012) Release rate for a pre-plant application of Nesidiocoris tenuis for Bemisia tabaci control in tomato. BioControl 57:809–817

Castañe C, Zapata R (2005) Rearing the predatory bug Macrolophus caliginosus on a meat-based diet. Biol Control 34:66–72

Desneux N, Wajnberg E, Wyckhuys KAG, Burgio G, Arpaia S, Narvaez-Vasquez CA, Gonzalez-Cabrera J, Ruescas DC, Tabone E, Frandon J, Pizzol J, Poncet C, Cabello T, Urbaneja A (2010) Biological invasion of European tomato crops by Tuta absoluta: ecology, geographic expansion and prospects for biological control. J Pest Sci 83:197–215

Desneux N, Luna MG, Guillemaud T, Urbaneja A (2011) The invasive South American tomato pinworm, Tuta absoluta, continues to spread in Afro-Eurasia and beyond: the new threat to tomato world production. J Pest Sci 84:403–408

Ehler LE (1998) Invasion biology and biological control. Biol Control 13:127–133

Gerling D, Alomar O, Arno J (2001) Biological control of Bemisia tabaci using predators and parasitoids. Crop Prot 20:779–799

Gontijo PC, Picanço MC, Pereira EJG, Martins JC, Chediak M, Guedes RNC (2013) Spatial and temporal variation in the control failure likelihood of the tomato leaf miner, Tuta absoluta. Ann Appl Biol 162:50–59

González-Cabrera J, Mollá O, Montón H, Urbaneja A (2011) Efficacy of Bacillus thuringiensis (Berliner) for controlling the tomato borer, Tuta absoluta (Meyrick) (Lepidoptera: Gelechiidae). BioControl 56:71–80

Hawkins BA, Cornell HV, Hochberg ME (1997) Predators, parasitoids, and pathogens as mortality agents in phytophagous insect populations. Ecology 78:2145–2152

Lu YH, Wu KM, Jiang YY, Guo YY, Desneux N (2012) Widespread adoption of Bt cotton and insecticide decrease promotes biocontrol services. Nature 487:362–365

Lundgren JG, Wiedenmann RN (2004) Nutritional suitability of corn pollen for the predator Coleomegilla maculata (Coleoptera: Coccinellidae). J Insect Physiol 50:567–575

Mackauer M (1983) Quantitative assessment of Aphidius smithi (Hymenoptera: Aphidiidae): fecundity, intrinsic rate of increase, and functional response. Can Entomol 115:399–415

Messelink GJR, van Maanen S, van Steenpaal EF, Janssen A (2008) Biological control of thrips and whiteflies by a shared predator: two pests are better than one. Biol Control 44:372–379

Messelink GJ, Sabelis MW, Janssen A (2012) Generalist predators, food web complexities and biological pest control. In: Larramendy ML, Soloneski S (eds) Greenhouse crops Integrated Pest Management and pest control—current and future tactics. InTech, Rijeka, Croatia, pp 191–214

Meyer JS, Ingersoll CG, McDonald LL, Boyce MS (1986) Estimating uncertainty in population growth rates: Jackknife vs Bootstrap techniques. Ecology 67:1156–1166

Miranda MMM, Picanço M, Zanuncio JC, Guedes RNC (1998) Ecological life table of Tuta absoluta (Meyrick) (Lepidoptera: Gelechiidae). Bio Sci Tech 8:597–606

Mollá O, Montón H, Vanaclocha P, Beitia F, Urbaneja A (2009) Predation by the mirids Nesidiocoris tenuis and Macrolophus pygmaeus on the tomato borer Tuta absoluta. IOBC/WPRS Bull 49:209–214

Mollá O, González-Cabrera J, Urbaneja A (2011) The combined use of Bacillus thuringiensis and Nesidiocoris tenuis against the tomato borer Tuta absoluta. BioControl 56:883–891

Perdikis D, Lykouressis DP (2002) Life table and biological characteristics of Macrolophus pygmaeus when feeding on Myzus persicae and Trialeurodes vaporariorum. Entomol Exp Appl 102:261–272

Pina T, Argolo PS, Urbaneja A, Jacas JA (2012) Effect of pollen quality on the efficacy of two different life-style predatory mites against Tetranychus urticae in citrus. Biol Control 61:176–183

Sanchez JA, Lacasa A, Arno J, Castañe C, Alomar O (2009) Life history parameters for Nesidiocoris tenuis (Reuter) (Het., Miridae) under different temperature regimes. J Appl Entomol 133:125–132

Stansly PA, Sanchez PA, Rodriguez JM, Canizares F, Nieto A, Leyva MJL, Fajardo M, Suarez V, Urbaneja A (2004) Prospects for biological control of Bemisia tabaci (Homoptera, Aleyrodidae) in greenhouse tomatoes of southern Spain. Crop Prot 23:701–712

Symondson WOC, Sunderland KD, Greenstone MH (2002) Can generalist predators be effective biocontrol agents? Annu Rev Entomol 47:561–594

Thompson SN (1999) Nutrition and culture of entomophagous insects. Annu Rev Entomol 44:561–592

Urbaneja A, Tapia G, Stansly P (2005) Influence of host plant and prey availability on developmental time and survivorship of Nesidiocoris tenius (Het.: Miridae). Bio Sci Tech 15:513–518

Urbaneja A, Montón H, Vanaclocha P, Mollá O, Beitia F (2008) La polilla del tomate, Tuta absoluta, una nueva presa para los míridos Nesidiocoris tenuis y Macrolophus pygmaeus. Agricola Vergel 320:361–367

Urbaneja A, Montón H, Mollá O (2009) Suitability of the tomato borer Tuta absoluta as prey for Macrolophus caliginosus and Nesidiocoris tenuis. J Appl Entomol 133:292–296

Urbaneja A, Gonzalez-Cabrera J, Arno J, Gabarra R (2012) Prospects for the biological control of Tuta absoluta in tomatoes of the Mediterranean basin. Pest Manag Sci 68:1215–1222

Urbaneja-Bernat P, Alonso-Valiente M, Tena A, Bolckmans K, Urbaneja A (2013) Sugar as nutritional supplement for the zoophytophagous predator Nesidiocoris tenuis. BioControl 58:57–64

van Lenteren JC (2012) The state of commercial augmentative biological control: plenty of natural enemies, but a frustrating lack of uptake. BioControl 57:1–20

van Lenteren JC, Woets J (1988) Biological and integrated pest control in greenhouses. Annu Rev Entomol 33:239–269

Vandekerkhove B, De Clercq P (2010) Pollen as an alternative or supplementary food for the mirid predator Macrolophus pygmaeus. Biol Control 53:238–242

Vandekerkhove B, Parmentier L, van Stappen G, Grenier S, Febvay G, Rey M, De Clercq P (2009) Artemia cysts as an alternative food for the predatory bug Macrolophus pygmaeus. J Appl Entomol 133:133–142

Zappalà L, Siscaro G, Biondi A, Mollá O, González-Cabrera J, Urbaneja A (2012) Efficacy of sulphur on Tuta absoluta and its side effects on the predator Nesidiocoris tenuis. J Appl Entomol 136:401–409
Acknowledgments
Erica Nystrom from the University of Minnesota, USA, A. Janssen from the University of Amsterdam, The Netherlands and two anonymous reviewers provided useful comments on earlier drafts of the manuscript. The authors thank H. Montón, A. Tena and J. González-Cabrera from IVIA and J. Calvo and J.E. Belda from Koppert BS for technical assistance with the experiments. This work was partially funded by the Instituto Nacional de Investigación y Tecnología Agraria (INIA-CC09-048) and by the Conselleria d'Agricultura, Pesca i Alimentació de la Generalitat Valenciana. OM and AB were the recipients of PhD grants from INIA and from the University of Catania, respectively. The University of Catania provided funds for the stay of AB at IVIA.
Additional information
Handling Editor: Arne Janssen.
About this article
Cite this article
Mollá, O., Biondi, A., Alonso-Valiente, M. et al. A comparative life history study of two mirid bugs preying on Tuta absoluta and Ephestia kuehniella eggs on tomato crops: implications for biological control. BioControl 59, 175–183 (2014). https://doi.org/10.1007/s10526-013-9553-8
Received:

Accepted:

Published:

Issue Date:
Keywords
Nesidiocoris tenuis
Macrolophus pygmaeus

Invasive pest

Tomato

Development time

Intrinsic rate of increase