Abstract
Fusarium oxysporum f.sp. melonis (FOM) is a plant pathogen affecting melon production worldwide. An environmental friendly disease management strategy is the use of biocontrol agents (BCAs). Towards this direction, two BCA release strategies, seed coating and amendment of the transplant soil plug with the BCA strain Paenibacillus alvei K165 at various ratios, were evaluated against FOM in planta and in vitro. A reduction in Fusarium wilt symptom development was observed in melon plants, after mixing the transplant soil plug with K165 (107 cfu g−1 powder) at a ratio of 10 % (v/v). The monitoring of K165 rhizosphere population in the different treatments revealed a possible existence of a threshold population level that has to be attained before suppression of disease occurs. The data of the present study suggest that K165 plant protective activity against FOM can be possibly attributed to antibiosis and the triggering of Chit1 and Pal1 gene expression.
Access options
Buy single article
Instant access to the full article PDF.
USD 39.95
Price includes VAT (USA)
Tax calculation will be finalised during checkout.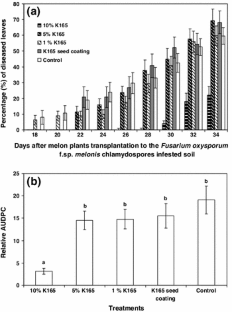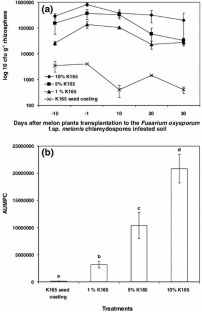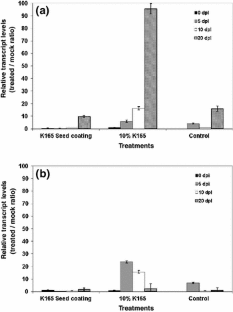 References
Beckman CH (2000) Phenolic-storing cells: keys to programmed cell death and periderm formation in wilt disease resistance and in general defence responses in plants? Physiol Mol Plant Pathol 57:101–110

Berrocal-Lobo M, Molina A (2008) Arabidopsis defense response against Fusarium oxysporum. Trends Plant Sci 13:145–150

Boller T, Felix GA (2009) Renaissance of elicitors: perception of microbe-associated molecular patterns and danger signals by pattern-recognition receptors. Annu Rev Plant Biol 60:379–406

Campbell CL, Madden LV (1990) Introduction to plant disease epidemiology. Wiley, New York, USA

Conrath U, Beckers GJM, Flors V, García-Agustín P, Jakab G, Mauch F, Newman M-A, Pieterse CMJ, Poinssot B, Pozo MJ, Pugin A, Schaffrath U, Ton J, Wendehenne D, Zimmerli L, Mauch-Mani B (2006) Priming: getting ready for battle. Mol Plant Microbe Interact 19:1062–1071

Cordier C, Pozo MJ, Barea JM, Gianinazzi S, Gianinazzi-Pearson V (1998) Cell defense responses associated with localized and systemic resistance to Phytophthora induced in tomato by an arbuscular mycorrhizal fungus. Mol Plant Microbe Interact 11:1017–1028

De Cal A, Pascual S, Melgarejo P (1997) Infectivity of chlamydospores vs. microconidia of Fusarium oxysporum f. sp. lycopersici on tomato. J Phytopathol 145:231–233

De Cal A, Garcıa-Lepe R, Melgarejo P (2000) Induced resistance by Penicillium oxalicum against of Fusarium oxysporum f.sp. lycopersici: histological studies of infected and induced tomato stems. Phytopathology 90:260–268

Dean R, van Kan JAL, Pretorius ZA, Hammond-Kosack KE, Di Pietro A, Spanu PD, Rudd JJ, Dickman M, Kahmann R, Ellis J, Foster GD (2012) The top 10 fungal pathogens in molecular plant pathology. Mol Plant Pathol 13:414–430

El-Hassan SA, Gowen SR (2006) Formulation and delivery of the bacterial antagonist Bacillus subtilis for management of lentil vascular wilt caused by Fusarium oxysporum f. sp. lentis. J Phytopathol 154:148–155

Fravel DR (1988) Role of antibiosis in the biocontrol of plant diseases. Ann Rev Phytopathol 26:75–91

Fravel DR (2005) Commercialization and implementation of biocontrol. Annu Rev Phytopathol 43:337–359

Girhepuje PV, Shinde GB (2011) Transgenic tomato plants expressing a wheat endochitinase gene demonstrate enhanced resistance to Fusarium oxysporum f. sp. lycopersici. Plant Cell Tiss Organ Cult 105:243–251

Jongedijk E, Tigelaar H, van Roekel JSC, Bres-Vloemans SA, Dekker I, van den Elzen PJM, Cornelissen BJC, Melchers LS (1995) Synergistic activity of chitinases and b-1,3-glucanases enhances fungal resistance in transgenic tomato plants. Euphytica 85:173–180

Kloepper JW, Schroth MN (1981) Development of a powder formulation of rhizobacteria for inoculation of potato seed pieces. Phytopathology 71:590–592

Kokalis-Burelle N, Kloepper JW, Reddy MS (2006) Plant growth-promoting rhizobacteria as transplant amendments and their effects on indigenous rhizosphere microorganisms. Appl Soil Ecol 31:91–100

Lois R, Dietrich A, Hahlbrock K, Schulz W (1989) A phenylalanine ammonia-lyase gene from parsley: structure, regulation and identification of elicitor and light responsive cis-acting elements. EMBO J 8:1641–1648

Markakis EA, Tjamos SE, Chatzipavlidis I, Antoniou PP, Paplomatas EJ (2008) Evaluation of compost amendments for control of vascular wilt diseases. J Phytopathol 156:622–627

Martınez-Medina A, Pascual JA, Lloret E, Roldan A (2009) Interactions between arbuscularmycorrhizal fungi and Trichoderma harzianum and their effects on Fusarium wilt in melon plants grown in seedling nurseries. J Sci Food Agric 89:1843–1850

Maurhofer M, Keel C, Haas D, Defago G (1995) Influence of plant species on disease suppression by Pseudomonas fluorescens strain CHA0 with enhanced antibiotic production. Plant Pathol 44:40–50

Michielse CB, Rep M (2009) Pathogen profile update: Fusarium oxysporum. Mol Plant Pathol 10:311–324

Minuto A, Migheli Q, Garibaldi A (1995) Evaluation of antagonistic strains of Fusarium spp. in the biological and integrated control of Fusarium wilt of cyclamen. Crop Prot 14:221–226

Ntui VO, Azadi P, Thirukkumaran G, Khan RS, Chin DP, Nakamura I, Mii M (2011) Increased resistance to Fusarium wilt in transgenic tobacco lines co-expressing chitinase and wasabi defensin genes. Plant Pathol 60:221–231

Pozo MJ, Azcón-Aguilar C, Dumas-Gaudot E, Barea JM (1999) β-1,3-Glucanase activities in tomato roots inoculated with arbuscular mycorrhizal fungi and/or Phytophthora parasitica and their possible involvement in bioprotection. Plant Sci 141:149–157

Pozo MJ, Cordier C, Dumas-Gaudot E, Gianinazzi S, Barea JM, Azcón-Aguilar C (2002) Localized vs. systemic effect of arbuscular mycorrhizal fungi on defense responses to Phytophthora infection in tomato plants. J Exp Bot 53:525–534

Raza W, Yang X, Wu H, Wang Y, Xu Y, Shen Q (2009) Isolation and characterisation of fusaricidin-type compound-producing strain of Paenibacillus polymyxa SQR-21 active against Fusarium oxysporum f.sp. nevium. Eur J Plant Pathol 125:471–483

Schoina C, Stringlis I, Pantelides I, Tjamos SE, Paplomatas EJ (2011) Evaluation of application methods and biocontrol efficacy of Paenibacillus alvei strain K-165, against the cotton black root rot pathogen Thielaviopsis basicola. Biol Control 58:68–73

Shoresh M, Yedidia I, Chet I (2005) Involvement of jasmonic acid/ethylene signaling pathway in the systemic resistance induced in cucumber by Trichoderma asperellum T203. Phytopathology 95:76–84

Suarez-Estrella F, Vargas-Garcia C, Lopez MJ, Capel C, Moreno J (2007) Antagonistic activity of bacteria and fungi from horticultural compost against Fusarium oxysporum f. sp. melonis. Crop Prot 26:46–53

Tjamos EC, Tsitsigiannis DI, Tjamos SE, Antoniou PP, Katinakis P (2004) Selection and screening of endorhizosphere bacteria from solarized soils as biocontrol agents against Verticillium dahliae of solanaceous hosts. Eur J Plant Pathol 110:35–44

Tjamos SE, Flemetakis E, Paplomatas EJ, Katinakis P (2005) Induction of resistance to Verticillium dahliae in Arabidopsis thaliana by the biocontrol agent K-165 and pathogenesis-related proteins gene expression. Mol Plant Pathol 18:555–561

Vakalounakis DJ, Doulis AG, Klironomou E (2005) Characterization of Fusarium oxysporum f. sp. radicis-cucumerinum attacking melon under natural conditions in Greece. Plant Pathol 54:339–346

Zhang S, Raza W, Yang X, Hu J, Huang Q, Xu Y, Liu X, Ran W, Shen Q (2008) Control of Fusarium wilt disease of cucumber plants with the application of a bioorganic fertilizer. Biol Fertil Soils 44:1073–1080

Zhao Q, Dong C, Yang X, Mei X, Ran W, Shen Q, Xu Y (2011) Biocontrol of Fusarium wilt disease for Cucumis melo melon using bio-organic fertilizer. Appl Soil Ecol 47:67–75

Zvirin T, Herman R, Brotman Y, Denisov Y, Belausov E, Freeman S, Perl-Treves R (2010) Differential colonization and defence responses of resistant and susceptible melon lines infected by Fusarium oxysporum race 12. Plant Pathol 59:576–585
Acknowledgments
The authors would like to thank Professor Jean Pierre Metraux (University of Fribourg, Switzerland) for his critical reading of this article.
Additional information
Handling Editor: Jesus Mercado Blanco.
About this article
Cite this article
Charalambous, A., Tjamos, S.E., Domazakis, E. et al. Incorporation into the transplant soil plug of the plant protective agent Paenibacillus alvei strain K165 confers protection to melon against Fusarium wilt. BioControl 58, 685–692 (2013). https://doi.org/10.1007/s10526-013-9537-8
Received:

Accepted:

Published:

Issue Date:
Keywords
Antibiosis

Biological control

Chitinase

Fusarium oxysporum

Phenylalanine ammonia-lyase