Abstract
In this study, the effects of medicinal plant extracts on the development of mycelium in the following phytopathogenic fungi were evaluated: Phytophthora capsici, Rhizoctonia solani, Fusarium solani, Colletotrichum gloeosprorioides, and Botrytis cinera. Of the 26 medicinal plants tested, six plant extracts showed antifungal activity against phytopathogenic fungi. The highest antifungal activity was exerted against R. solani by the n-hexane fraction of a Cinnamon (Cinnamomum cassia Blume) solvent extract. Therefore, the antifungal compound fractions I and II were purified from the n-hexane fraction by TLC on silica gel plates. When treated with solutions containing compound fractions I or II at a concentration of 2%, the mycelia growth rate of R. solani was reduced to 0.19 and 0.18, respectively. In addition, microscopic observation of the hyphal morphology of R. solani following treatment with compound fraction I revealed the presence of severely damaged hyphae. Specifically, the hyphal tips became swollen, collapsed or were completely destroyed in response to treatment with solution containing compound fraction I at concentration of 1%.
Access options
Buy single article
Instant access to the full article PDF.
US$ 39.95
Tax calculation will be finalised during checkout.
Subscribe to journal
Immediate online access to all issues from 2019. Subscription will auto renew annually.
US$ 79
Tax calculation will be finalised during checkout.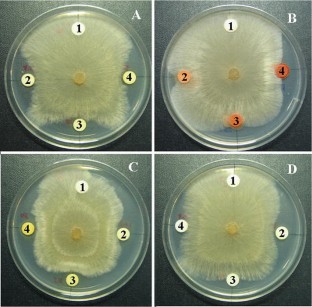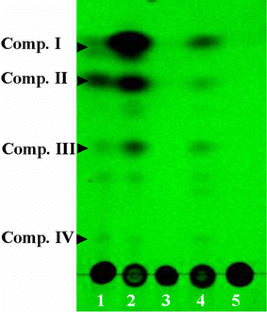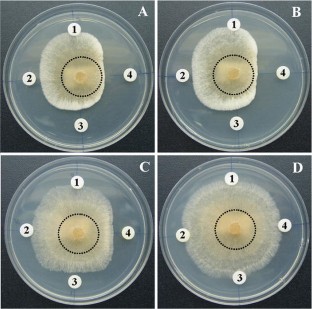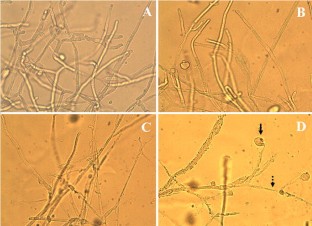 References
Akhtar Y, Yeoung R, Isman MB (2008) Comparative bioactivity of selected extracts from Meliaceae and some commercial botanical insecticides against two noctuid caterpillars, Trichoplusia ni and Pseudaletia unipuncta. Phytochem Rev 7:77–88

Bianchi A, Zambonelli A, Aulerio AZ, Bellesia F (1997) Ultrastructural studies of the effects of Allium sativum on phytopathogenic fungi in vitro. Plant Dis 81:1241–1246

Burt S (2004) Essential oils: their antibacterial properties and potential applications in foods—a review. Int J Food Microbiol 94:223–253

Choi IH, Park JY, Shin SK, Park IK (2006) Nematicidal activity of medicinal plant extracts and two cinnamates isolated from Kaempferia galanga L. (Proh Hom) against the pine wood nematode, Bursaphelenchus xylophylus. Nematology 8:359–365

Chu YL, Ho WC, Ko WH (2006) Effects of Chinese herb extracts on spore germination of Oidium murrayae and nature of inhibition substances from Chinese Rhubarb. Plant Dis 90:848–861

Dhingra OD, Sinclair JB (2000) Basic plant pathology methods. CRF Press, Florida

Fiori ACG, Schwan-Estrada KRF, Stangarlin JR, Vida JB, Scapim CA, Cruz MES, Pascholati SF (2000) Antifungal activity of leaf extracts and essential oils of some medicinal plants against Didymella bryoniae. J Phytopathol 148:483–487

Isman BM (2000) Plant essential oils for pest and disease management. Crop Prot 19:603–608

Jang KS, Kim HM, Chung BK (2001) Purification and antifungal activity of an antibiotic produced by Gliocladium virens G1 against plant pathogens. Plant Pathol J 17:52–56

Jung WJ, Jung SJ, An KN, Jin YL, Park RD, Kim KY, Shon BK, Kim TH (2002) Effect of chitinase-producing Peanibacillus illinoosensis KJA-424 on egg hatching of root-knot nematode (Meloidogyne incognita). J Microbiol Biotechnol 12:856–871

Kim HK, Yun YK, Ahn YJ (2008) Fumigant toxicity of cassia bark and cassia and Cinnamon oil compounds to Dernatophagoides farinae and Dernatophagoides pteronyssinus (Acari: Pyroglyphidae). Exp Appl Acarol 44:1–9

Knight SC, Anthony VM, Brady AM, Greenland AJ, Heaney SP, Murray DC, Powell KA, Schulz MA, Spinks CA, Worthington PA, Youle D (1997) Rationale and perspectives on the development of fungicides. Annu Rev Phytopathol 35:349–372

Liu YJ, Zhang KQ (2004) Antimicrobial activity of selected Cyathus species. Mycopathologia 157:185–189

Mares D, Romagnoli C, Tosi B, Andreotti E, Chillemi G, Poli F (2005) Chicory extracts from Cichorium intybus L. as potential antifungals. Mycopathologia 160:85–92

Nguyen VN, Kim YJ, Oh KT, Jung WJ, Park RD (2007) The role of chitinase from Lecanicillium antillanum B-3 in parasitism to root-knot nematode Meloidogyne incognita eggs. Biocontrol Sci Technol 17:1047–1058

Pham HH (1993) An illustrated flora of Vietnam. Mekong Printing, Santa Monica, 1176 pp

SAS Institute (2008) SAS/STAT User's Guide, version 9.1. Cary, NC

Shmutterer H (1990) Properties and potential of natural pesticides from the neem tree Azadirachta indica. Annu Rev Entomol 35:271–297

Slusarenko AJ, Patel A, Portz D (2008) Control of plant diseases by natural products: Allicin from garlic as a case study. Eur J Plant Phytopathol 121:313–322

Soylu EM, Soylu S, Kurt S (2006) Antimicrobial activities of the essential oils of various plants against tomato late blight disease agent Phytophthora infestans. Mycopathologia 161:119–128

Tegegne G, Pretorius JC (2007) In vitro and in vivo antifungal activity of crude extracts and powdered dry material from Ethiopian wild plants against economically important plant pathogens. BioControl 52:877–888

Wang W, Ben-Daniel BH, Cohen Y (2004) Control of plant diseases by extracts of Inula viscosa. Phytopathology 94:1042–1047

Wilson CL, Solar JM, AEl Ghaouth, Wisniewski ME (1997) Rapid evaluation of plant extracts and essential oils for antifungal activity against Botrytis cinerea. Plant Dis 82:204–210

Yazaki K, Sugiyama A, Morita M, Shitan N (2008) Secondary transport as an efficient membrane transport mechanism for plant secondary metabolites. Phytochem Rev 7:513–524
Acknowledgments
This work was supported by the Technology Development Program for Agriculture and Forestry, Ministry for Food, Agriculture, Forestry, and Fisheries, Republic of Korea, and by the Korea Science and Engineering Foundation (KOSEF) through the National Research Lab program funded by the Ministry of Science and Technology (No. 10300000322-06J0000-32210).
Additional information
Handling Editor: Reijo Karjalainen.
About this article
Cite this article
Nguyen, VN., Nguyen, DMC., Seo, DJ. et al. Antimycotic activities of Cinnamon-derived compounds against Rhizoctonia solani in vitro. BioControl 54, 697–707 (2009). https://doi.org/10.1007/s10526-009-9220-2
Received:

Accepted:

Published:

Issue Date:
Keywords
Antifungal activity

Cinnamomum cassia

Plant extracts

Rhizoctoni solani