Abstract
Hymenopterous parasitoids of herbivorous insects can be useful biocontrol agents in integrated pest management strategies. However, the potential effects on these beneficials of new components in such strategies are often neglected. Essential oil of lavender, Lavendula angustifolia (Miller) (Lamiaceae), has recently been identified as a potential repellent in new control strategies being developed for the pollen beetle Meligethes aeneus (Fabricius) (Coleoptera: Nitidulidae), a major pest of oilseed rape, Brassica napus L. (Brassicaceae). We tested the electrophysiological and behavioural responses of two common parasitoids of M. aeneus: Phradis interstitialis (Thomson) and P. morionellus (Holmgren) (both Ichneumonidae) using coupled gas chromatography-electroantennodetection (GC-EAD) and olfactometry techniques. Both species elicited electrophysiological responses to lavender oil volatiles, including two compounds known to be repellent to M. aeneus. However, the parasitoids gave no significant responses to the odours of lavender oil in behavioural bioassays and there was no evidence to suggest that lavender-treated oilseed rape plants would reduce host habitat location by parasitoids of the target pest.
Access options
Buy single article
Instant access to the full article PDF.
USD 39.95
Price excludes VAT (USA)
Tax calculation will be finalised during checkout.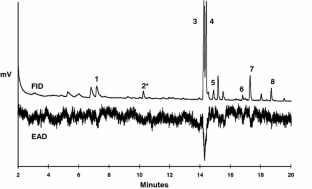 References
Bernays EA, Chapman RF (1994) Host-plant selection by phytophagous insects. Chapman & Hall, New York

Bjostad LB (1998) Electrophysiological methods. In: Millar JG, Haynes KF (eds), Methods in chemical ecology. Kluwer Academic Publishing, Dordrecht, The Netherlands. pp 339–375

Cook SM, Bartlet E, Murray DA, Williams IH (2002) The role of pollen odour in the attraction of pollen beetles to oilseed rape flowers. Entomol Exp Appl 104:43–50

Cook SM, Khan ZR, Pickett JA (2007) The use of 'push-pull' strategies in integrated pest management. Annu Rev Entomol 52:357–400

Cook SM, Smart LE, Martin JL, Murray DA, Watts NP, Williams IH (2006) Exploitation of host plant preferences in pest management strategies for oilseed rape (Brassica napus). Entomol Exp Appl 119:221–229

Ekbom B, Kuusk AK, (2001) Pollen beetles (Meligethes aeneus) and resistance against pyrethroids. Vaxtskyddsnotiser 65:39–42

Evans KA, Allen-Williams LJ (1994) Laboratory and field response of the pollen beetle, Meligethes aeneus, to the odour of oilseed rape. Physiol Entomol 19:285–290

Hansen LM (2003) Insecticide-resistant pollen beetles (Meligethes aeneus F) found in Danish oilseed rape (Brassica napus L) fields. Pest Manage Sci 59:1057–1059

Horstmann K (1971) Revision der europäichen Tersilochinen I (Hym., Ichneumonidae). Veröffentlichungen der Zoologischen Staatssammlung (München) 15:13–45

Isman MB (2006) Botanical insecticides, deterrents, and repellents in modern agriculture and an increasingly regulated world. Annu Rev Entomol 51:45–66

Jönsson M, Lindkvist A, Anderson P (2005) Behavioural responses in three ichneumonid pollen beetle parasitoids to volatiles emitted from different phenological stages of oilseed rape. Entomol Exp Appl 115:363–369

Koschier EH, Sedy KA (2003) Labiate essential oils affecting host selection and acceptance of Thrips tabaci lindeman. Crop Prot 22:929–934

Koschier EH, Sedy KA, Novak J (2002) Influence of plant volatiles on feeding damage caused by the onion thrips Thrips tabaci. Crop Prot 21:419–425

Lancashire PD, Bleiholder H, Vandenboom T, Langeluddeke P, Stauss R, Weber E, Witzenberger A (1991) A uniform decimal code for growth stages of crops and weeds. Ann Appl Biol 119:561–601

Landolt PJ, Hofstetter RW, Biddick LL (1999) Plant essential oils as arrestants and repellents for neonate larvae of the codling moth (Lepidoptera : Tortricidae). Environ Entomol 28:954–960

Mauchline AL (2003) Behavioural and chemical ecology of Meligethes aeneus: effects of non-host plant volatiles. Ph.D. Thesis, The Open University. pp 197

Mauchline AL, Osborne JL, Martin AP, Poppy GM, Powell W (2005) The effects of non-host plant essential oil volatiles on the behaviour of the pollen beetle Meligethes aeneus. Entomol Exp Appl 114:181–188

Nilsson C (2003) Parasitoids of pollen beetles. In: DV Alford (eds) Biocontrol of oilseed rape pests. Blackwell Publishing, Oxford, UK. pp 73–86

Ruther J, Thiemann K (1997) Response of the pollen beetle Meligethes aeneus to volatiles emitted by intact plants and conspecifics. Entomol Exp Appl 84:183–188

Vet LEM, Lewis WJ, Carde RT (1995) Parasitoids foraging and learning. In: RT Carde WJ Bell (eds) Chemical Ecology of Insects. Chapman & Hall, New York. pp 65–104

Wegorek P (2006) Resistance of pollen beetle (Meligethes aeneus F.) to pyrethroids, chloronicotinyls and organophosphorous insecticides in Poland. IOBC/wprs Bull 9(7):137–142
Acknowledgements
We thank Barry Pye for spraying the plants and Ingrid Williams for her support throughout this study. This work was facilitated by John Pickett and funded by the UK Department for Environment, Food and Rural Affairs. Rothamsted Research receives grant-aided support from the UK Biotechnology and Biological Sciences Research Council.
About this article
Cite this article
Cook, S.M., Jönsson, M., Skellern, M.P. et al. Responses of Phradis parasitoids to volatiles of lavender, Lavendula angustifolia—a possible repellent for their host, Meligethes aeneus . BioControl 52, 591–598 (2007). https://doi.org/10.1007/s10526-006-9057-x
Received:

Accepted:

Published:

Issue Date:

DOI: https://doi.org/10.1007/s10526-006-9057-x
Keywords
Brassica napus

Electroantennography

Meligethes aeneus

Non-host plant volatiles

Olfactometer

Phradis interstitialis
Phradis morionellus

Pollen beetle