Abstract
Microplastics (MPs) are ubiquitous in aquatic and terrestrial ecosystem, increasingly becoming a serious concern of human health. Many studies have explored the biological effects of MPs on animal and plant life in recent years. However, information regarding the effects of MPs on aging and lifespan is completely lacking in vertebrate species to date. Here we first confirm the bioavailability of MPs by oral delivery in the annual fish N. guentheri. We then show for the first time that administration of MPs not only shortens the lifespan but also accelerates the development of age-related biomarkers in N. guentheri. We also demonstrate that administration of MPs induces oxidative stress, suppresses antioxidant enzymes, reduces digestive enzymes, and causes hepatic dysfunction. Therefore, we propose that administration of MPs reduces lifespan of N. guentheri via induction of both suppressed antioxidant system and digestive disturbance as well as hepatic damage. Our results also suggest that smaller MPs appear more toxic to digestion, metabolism and growth of animals.
This is a preview of subscription content,
to check access.
Access this article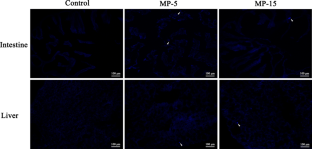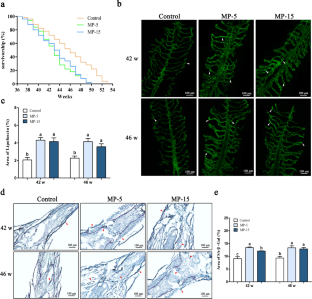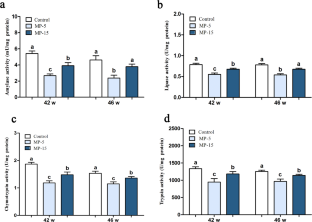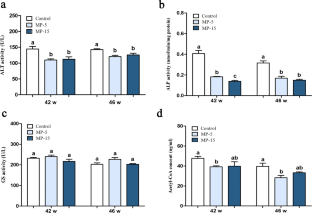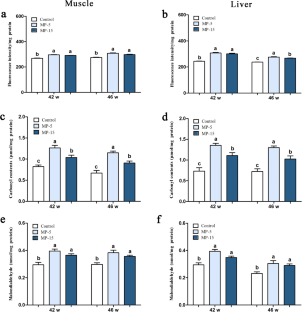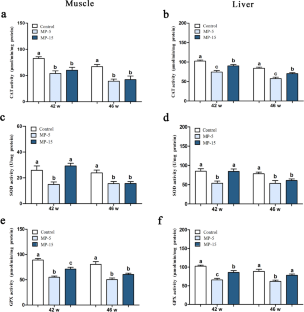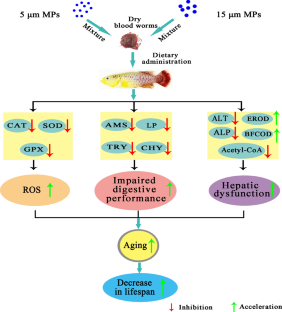 Similar content being viewed by others
References
Alimba CG, Faggio C (2019) Microplastics in the marine environment: Current trends in environmental pollution and mechanisms of toxicological profile. Environ Toxicol Phar 68:61–74

Ames BN, Shigenaga MK (1992) Oxidants are a major contributor to aging. Ann N Y Acad Sci 663:85–96

Andrady AL (2011) Microplastics in the marine environment. Mar Pollut Bull 62:1596–1605

Au SY, Bruce TF, Bridges WC, Klaine SJ (2015) Responses of Hyalella azteca to acute and chronic microplastic exposures. Environ Toxicol Chem 34:2564–2572

Avio CG, Gorbi S, Milan M et al (2015) Pollutants bioavailability and toxicological risk from microplastics to marine mussels. Environ Pollut 198:211–222

Balmer RT (1982) The effect of age on body energy content of the annual cyprinodont fish, Nothobranchius guentheri. Exp Gerontol 17:139–143

Banaee M, Sureda A, Zohiery F, Nematdoust HB, Garanzini DS (2014) Alterations in biochemical parameters of the freshwater fish, Alburnus mossulensis, exposed to sub-lethal concentrations of Fenpropathrin. Int J Aquat Biol 2:58–68

Brennecke D, Ferreira EC, Costa TMM, Appel D, da Gama BAP, Lenz M (2015) Ingested microplastics (>100 μm) are translocated to organs of the tropical fiddler crab Uca rapax. Mar Pollut Bull 96:491–495

Browne MA, Dissanayake A, Galloway TS, Lowe DM, Thompson RC (2008) Ingested microscopic plastic translocates to the circulatory system of the mussel, Mytilus edulis (L). Environ Sci Technol 42:5026–5031

Browne MA, Crump P, Niven SJ et al (2011) Accumulation of microplastic on shorelines worldwide: sources and sinks. Environ Sci Technol 45:9175–9179

Checa J, Aran JM (2020) Reactive oxygen species: drivers of physiological and pathological processes. J Inflamm Res 13:1057–1073

Chen W, Chen Z, Shan S, Wu A, Zhao C, Ye X et al (2022) Cyanidin-3-O-glucoside promotes stress tolerance and lifespan extension of Caenorhabditis elegans exposed to polystyrene via DAF-16 pathway. Mech Ageing Dev 207:111723

Cole M, Lindeque P, Halsband C, Galloway TS (2011) Microplastics as contaminants in the marine environment: a review. Mar Pollut Bull 62:2588–2597

Cooper EL, Zapata A, Garcia Barrutia M, Ramirez JA (1983) Aging changes in lymphopoietic and myelopoietic organs of the annual cyprinodont fish, Nothobranchius guentheri. Exp Gerontol 18:29–38

da Costa JP, Santos PSM, Duarte AC, Rocha-Santos T (2016) (Nano) plastics in the environment-sources, fates and effects. Sci Total Environ 566–567:15–26

Dantas DV, Barletta M, da Costa MF (2012) The seasonal and spatial patterns of ingestion of polyfilament nylon fragments by estuarine drums (Sciaenidae). Environ Sci Pollut R 19:600–606

David KA, Barnes FG, Richard C, Thompson MB (2009) Accumulation and fragmentation of plastic debris in global environments. Philos Tran R Soc B 364:1985–1998

Ding J, Zhang S, Razanajatovo RM, Zou H, Zhu W (2018) Accumulation, tissue distribution, and biochemical effects of polystyrene microplastics in the freshwater fish red tilapia (Oreochromis niloticus). Environ Pollut 238:1–9

Dong Y, Cui P, Li Z, Zhang S (2017) Aging asymmetry: systematic survey of changes in age-related biomarkers in the annual fish Nothobranchius guentheri. Fish Physiol Biochem 43:309–319

Eerkes-Medrano D, Thompson RC, Aldridge DC (2015) Microplastics in freshwater systems: a review of the emerging threats, identification of knowledge gaps and prioritisation of research needs. Water Res 75:63–82

Foley CJ, Feiner ZS, Malinich TD, Höök TO (2018) A meta-analysis of the effects of exposure to microplastics on fish and aquatic invertebrates. Sci Total Environ 631–632:550–559

Frydkjær CK, Iversen N, Roslev P (2017) Ingestion and egestion of microplastics by the Cladoceran Daphnia magna: effects of regular and irregular shaped plastic and sorbed phenanthrene. Bull Environ Contam Toxicol 99:655–661

Giordano M, Croci DO, Rabinovich GA (2013) Galectins in hematological malignancies. Curr Opin Hematol 20:327–335

Guo T, Yang Y, Meng F et al (2020) Effects of low salinity on gill and liver glycogen metabolism of great blue-spotted mudskippers (Boleophthalmus pectinirostris). Comp Biochem Phys C 230:108709

Hamed M, Soliman HAM, Osman AGM, Sayed AEH (2020) Antioxidants and molecular damage in Nile Tilapia (Oreochromis niloticus) after exposure to microplastics. Environ Sci Pollut Res Int 27:14581–14588

Horton AA, Walton A, Spurgeon DJ, Lahive E, Svendsen C (2017) Microplastics in freshwater and terrestrial environments: evaluating the current understanding to identify the knowledge gaps and future research priorities. Sci Total Environ 586:127–141

Hsu CY, Chiu YC (2009) Ambient temperature influences aging in an annual fish (Nothobranchius rachovii). Aging Cell 8:726–737

Hsu CY, Chiu YC, Hsu WL, Chan YP (2008) Age-related markers assayed at different developmental stages of the annual fish Nothobranchius rachovii. J Gerontol A Biol Sci Med Sci 63:1267–1276

Huang JN, Wen B, Zhu JG et al (2020) Exposure to microplastics impairs digestive performance, stimulates immune response and induces microbiota dysbiosis in the gut of juvenile guppy (Poecilia reticulata). Sci Total Environ 733:138929

Iheanacho SC, Odo GE (2020) Dietary exposure to polyvinyl chloride microparticles induced oxidative stress and hepatic damage in Clarias gariepinus (Burchell, 1822). Environ Sci Pollut Res Int 27:21159–21173

Imhof HK, Ivleva NP, Schmid J, Niessner R, Laforsch C (2013) Contamination of beach sediments of a subalpine lake with microplastic particles. Curr Biol 23:R867–R868

Izvekova GI, Frolova TV, Izvekov EI, Kashinskaya EN, Solovyev MM (2021) Localization of the proteinase inhibitor activity in the fish cestode Eubothrium rugosum. J Fish Dis 44:1951–1958

Jabeen K, Su L, Li J et al (2017) Microplastics and mesoplastics in fish from coastal and fresh waters of China. Environ Pollut 221:141–149

Jovanović B (2017) Ingestion of microplastics by fish and its potential consequences from a physical perspective. Integr Environ Assess Manag 13:510–515

Jovanović B, Gökdağ K, Güven O et al (2018) Virgin microplastics are not causing imminent harm to fish after dietary exposure. Mar Pollut Bull 130:123–131

Khosrovyan A, Kahru A (2020) Evaluation of the hazard of irregularly-shaped co-polyamide microplastics on the freshwater non-biting midge Chironomus riparius through its life cycle. Chemosphere 244:125487

Kishi S, Uchiyama J, Baughman AM, Goto T, Lin MC, Tsai SB (2003) The zebrafish as a vertebrate model of functional aging and very gradual senescence. Exp Gerontol 38:777–786

Liang B, Zhang D, Liu X et al (2022) Sex-specific effects of PET-MPs on Drosophila lifespan. Arch Insect Biochem Physiol 110:e21909

Li C, Song L, Zhou Y, Yuan J, Zhang S (2022) Identification of Isthmin1 in the small annual fish, Nothobranchius guentheri, as a novel biomarker of aging and its potential rejuvenation activity. Biogerontology 23:99–114

Liu C, Wang X, Feng W et al (2012) Differential express ion of aging biomarkers at different life stages of the annual fish Nothobranchius guentheri. Biogerontology 13:501–510

Liu T, Qi H, Ma L et al (2015) Resveratrol attenuates oxidative stress and extends life span in the annual fish Nothobranchius guentheri. Rejuvenation Res 18:225–233

Liu S, Zheng Z, Ji S, Liu T, Hou Y, Li S, Li G (2018) Resveratrol reduces senescence-associated secretory phenotype by SIRT1/NF-κB pathway in gut of the annual fish Nothobranchius guentheri. Fish Shellfish Immunol 80:473–479

Lu Y, Zhang Y, Deng Y et al (2016) Uptake and accumulation of polystyrene microplastics in zebrafish (Danio rerio) and toxic effects in liver. Environ Sci Technol 50:4054–4060

Markofsky J (1976) Longitudinal and cross-sectional observations of growth and body composition with age in laboratory populations of the male annual cyprinodont fish, Nothobranchius guentheri. Exp Gerontol 11:171–177

Markofsky J, Milstoc M (1979a) Aging changes in the liver of the male annual cyprinodont fish, Nothobranchius guentheri. Exp Gerontol 14:11–20

Markofsky J, Milstoc M (1979b) Histopathological observations of the kidney during aging of the male annual fish Nothobranchius guentheri. Exp Gerontol 14:149–155

Markofsky J, Perlmutter A (1972) Age at sexual maturity and its relationship to longevity in the male annual cyprinodont fish, Nothobranchius guentheri. Exp Gerontol 7:131–135

Markofsky J, Perlmutter A (1973) Growth differences in subgroups of varying longevities in a laboratory population of the male annual cyprinodont fish, Nothobranchius guentheri (Peters). Exp Gerontol 8:65–73

Meller K, Pomastowski P, Grzywinski D, Szumski M, Buszewski B (2016) Preparation and evaluation of dual-enzyme microreactor with co-immobilized trypsin and chymotrypsin. J Chromatogr A 1440:45–54

Mosiichuk N, Husak V, Storey KB, Lushchak V (2021) Acute exposure to the penconazole-containing fungicide topas induces metabolic stress in goldfish. Chem Res Toxicol 34:2441–2449

Okutan H, Savas C, Delibas N (2004) The antioxidant effect of melatonin in lung injury after aortic occlusion-reperfusion. Interact Cardiov Th 3:519–522

Phuong NN, Zalouk-Vergnoux A, Poirier L, Kamari A, Châtel A, Mouneyrac C, Lagarde F (2016) Is there any consistency between the microplastics found in the field and those used in laboratory experiments? Environ Pollut 211:111–123

Reichwald K, Lauber C, Nanda I et al (2009) High tandem repeat content in the genome of the short-lived annual fish Nothobranchius furzeri: a new vertebrate model for aging research. Genome Biol 10:R16

Rochman CM, Hoh E, Kurobe T, Teh SJ (2013) Ingested plastic transfers hazardous chemicals to fish and induces hepatic stress. Sci Rep 3:3263

Schwabl P, Köppel S, Königshofer P et al (2019) Detection of various microplastics in human stool: a prospective case series. Ann Intern Med 171:453–457

Shang X, Lu JW, Feng C et al (2020) Microplastic (1 and 5μm) exposure disturbs lifespan and intestine function in the nematode Caenorhabditis elegans. Sci Total Environ 705:135837

Shihabi ZK, Bishop C (1971) Simplified turbidimetric assay for lipase activity. Clin Chem 17:1150–1153

Shi L, Tu BP (2015) Acetyl-CoA and the regulation of metabolism: mechanisms and consequences. Curr Opin Cell Biol 33:125–131

Sohal RS, Agarwal S, Dubey A, Orr WC (1993) Protein oxidative damage is associated with life expectancy of houseflies. Proc Natl Acad Sci USA 90:7255–7259

Song L, Yuan J, Ni S et al (2020) Enhancement of adaptive immune responses of aged mice by dietary intake of β-glucans, with special emphasis on anti-aging activity. Mol Immunol 117:160–167

Song L, Li C, Wu F, Zhang S (2022) Dietary intake of diosgenin delays aging of male fish Nothobranchius guentheri through modulation of multiple pathways that play prominent roles in ROS production. Biogerontology 23:201–213

Spitz DR, Oberley LW (1989) An assay for superoxide dismutase activity in mammalian tissue homogenates. Anal Biochem 179:8–18

Su L, Xue Y, Li L et al (2016) Microplastics in taihu lake, China. Environ Pollut 216:711–719

Terzibasi E, Lefrançois C, Domenici P et al (2009) Effects of dietary restriction on mortality and age-related phenotypes in the short-lived fish Nothobranchius furzeri. Aging Cell 8:88–99

Torres-Agullo A, Karanasiou A, Moreno T, Lacorte S (2021) Overview on the occurrence of microplastics in air and implications from the use of face masks during the COVID-19 pandemic. Sci Total Environ 800:149555

Triebskorn R, Braunbeck T, Grummt T et al (2019) Relevance of nano- and microplastics for freshwater ecosystems: a critical review. Trends Anal Chem 110:375–392

Valenzano DR, Cellerino A (2006) Resveratrol and the pharmacology of aging: a new vertebrate model to validate an old molecule. Cell Cycle 5:1027–1032

Valenzano DR, Terzibasi E, Cattaneo A, Domenici L, Cellerino A (2006) Temperature affects longevity and age-related locomotor and cognitive decay in the short-lived fish Nothobranchius furzeri. Aging Cell 5:275–278

Vatner SF, Zhang J, Oydanich M, Berkman T, Naftalovich R, Vatner DE (2020) Healthful aging mediated by inhibition of oxidative stress. Ageing Res Rev 64:101194

Wang X, Chang Q, Wang Y, Su F, Zhang S (2014) Late-onset temperature reduction can retard the aging process in aged fish via a combined action of an anti-oxidant system and the insulin/insulin-like growth factor 1 signaling pathway. Rejuven Res 17:507–517

Wang X, Du X, Zhou Y et al (2017) Intermittent food restriction initiated late in life prolongs lifespan and retards the onset of age-related markers in the annual fish Nothobranchius guentheri. Biogerontology 18:383–396

Wang X, Du X, Zhou Y et al (2018) Time-dependent effects of late-onset dietary intake of salidroside on lifespan and age-related biomarkers of the annual fish Nothobranchius guentheri. Oncotarget 9:14882–14894

Wang WF, Gao H, Jin SC, Li RJ, Na GS (2019) The ecotoxicological effects of microplastics on aquatic food web, from primary producer to human: a review. Ecotoxicol Environ Saf 173:110–117

Wang W, Ge J, Yu X (2020) Bioavailability and toxicity of microplastics to fish species: a review. Ecotoxicol Environ Saf 189:109913

Wang Y, Zhou B, Chen H, Yuan R, Wang F (2022) Distribution, biological effects and biofilms of microplastics in freshwater systems: a review. Chemosphere 299:134370

Wan Z, Wang CY, Zhou JJ, Shen ML et al (2019) Effects of polystyrene microplastics on the composition of the microbiome and metabolism in larval zebrafish. Chemosphere 217:646–658

Wei J, Qi H, Liu K et al (2020) Effects of metformin on life span, cognitive ability, and inflammatory response in a short-lived fish. J Gerontol A Biol Sci Med Sci 75:2042–2050

Wong JKH, Lee KK, Tang KHD, Yap PS (2020) Microplastics in the freshwater and terrestrial environments: Prevalence, fates, impacts and sustainable solutions. Sci Total Environ 719:137512

World Health Organization (2019) Microplastics in drinking-water. https://baijiahao.baidu.com/s?id=1644923998516554568&wfr=spider&for=pc. Accesed 6 June 2022.

Xia X, Sun M, Zhou M, Chang Z, Li L (2019) Polyvinyl chloride microplastics induce growth inhibition and oxidative stress in Cyprinus carpio var. larvae. Sci Total Environ 716:136479

Yan LJ (2014) Positive oxidative stress in aging and aging-related disease tolerance. Redox Biol 2:165–169

Yong CQY, Valiyaveettil S, Tang BL (2020) Toxicity of microplastics and nanoplastics in mammalian systems. Int J Environ Res Public Health 17:1509

Zhang K, Xiong X, Hu H et al (2017) Occurrence and characteristics of microplastic pollution in xiangxi bay of three gorges reservoir, China. Environ Sci Technol 51:3794–3801

Zhou Y, Ni SS, Song LL, Wang X et al (2019) Late-onset administration of GDF11 extends life span and delays development of age-related markers in the annual fish Nothobranchius guentheri. Biogerontology 20:225–239
Acknowledgements
We thank all the participants for their valuable contribution to this study.
Funding
This work was supported by the Ministry of Science and Technology (MOST) of China (2018YFD0900505) and the Natural Science Foundation of China (32073000).
Ethics declarations
Competing interest
The authors declare that they have no known competing financial interests or personal relationships that could have appeared to influence the work reported in this paper.
Ethical approval
This work has received approval for research ethics from Academic Committee Office, Ocean University of China and a proof/certificate of approval is available upon request.
Additional information
Publisher's Note
Springer Nature remains neutral with regard to jurisdictional claims in published maps and institutional affiliations.
Rights and permissions
Springer Nature or its licensor (e.g. a society or other partner) holds exclusive rights to this article under a publishing agreement with the author(s) or other rightsholder(s); author self-archiving of the accepted manuscript version of this article is solely governed by the terms of such publishing agreement and applicable law.
About this article
Cite this article
Xiao, K., Song, L., Li, Y. et al. Dietary intake of microplastics impairs digestive performance, induces hepatic dysfunction, and shortens lifespan in the annual fish Nothobranchius guentheri. Biogerontology 24, 207–223 (2023). https://doi.org/10.1007/s10522-022-10007-w
Received:

Accepted:

Published:

Issue Date:

DOI: https://doi.org/10.1007/s10522-022-10007-w
Keywords