Abstract
Aging often leads to an increase risk of age-related diseases, and the development of anti-aging drugs have become the trend and focus of the current scientific research. In this experiment, serum samples from healthy people of different ages were analyzed based on clinical lipidomics, and a total of 10 potential biomarkers in middle-aged and youth group, 20 biomarkers in the youth and the elderly group were obtained. Furthermore, dhSph and dhCer involved above may affect the aging process through sphingolipid metabolic pathway. As the first and rate-limiting step of catalyzing de novo sphingolipid pathway, SPT may play a key role in human anti-aging, which is revealed by lipidomics liposome tracer analysis. The potential active components in ginseng on SPT was further verified by molecular docking virtual screening and atomic force microscope. Four ingredients of ginseng may reduce the levels of metabolites dhSph and dhCer by inhibiting the activity of SPT, and play an anti-aging effect by affecting the sphingolipid metabolism pathway.
A clinical trials registration number: ChiCTR1900026836.
Access options
Buy single article
Instant access to the full article PDF.
USD 39.95
Price includes VAT (USA)
Tax calculation will be finalised during checkout.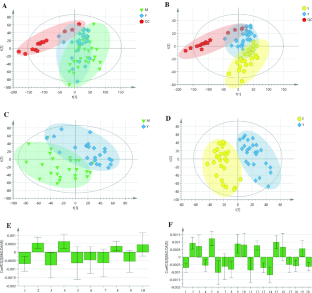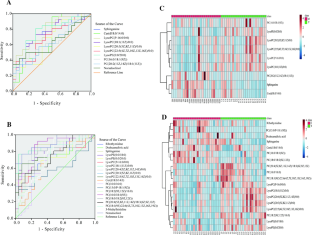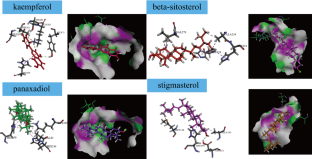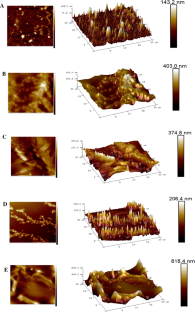 Data availability
All data generated or analysed during this study are included in this published article and its supplementary information files.
References
Adebiyi OE, Olopade JO, Olayemi FO (2018) Sodium metavanadate induced cognitive decline, behavioral impairments, oxidative stress and down regulation of myelin basic protein in mice hippocampus: ameliorative roles of β-spinasterol, and stigmasterol. Brain Behav 8:e1014

Almeida I, Magalhães S, Nunes A (2021) Lipids: biomarkers of healthy aging. Biogerontology 22:273–295

Bayeva M, Gheorghiade M, Ardehali H (2013) Mitochondria as a therapeutic target in heart failure. J Am Coll Cardiol 61:599–610

Da CJ, Vitorino R, Silva GM et al (2016) A synopsis on aging-theories, mechanisms and future prospects. Ageing Res Rev 29:90–112

Espín JC, García-Conesa MT, Tomás-Barberán FA (2007) Nutraceuticals: facts and fiction. Phytochemistry 68:2986–3008

Feng S, Dai Z, Liu AB et al (2018) Intake of stigmasterol and β-sitosterol alters lipid metabolism and alleviates NAFLD in mice fed a high-fat western-style diet. Biochim Biophys Acta Mol Cell Biol Lipids 1863:1274–1284

Ferrando-Martinez S, Ruiz-Mateos E, Hernandez A et al (2011) Age-related deregulation of naive T cell homeostasis in elderly humans. Age (dordr) 33:197–207

Gault CR, Obeid LM, Hannun YA (2010) An overview of sphingolipid metabolism: from synthesis to breakdown. Adv Exp Med Biol 688:1–23

Hannun YA, Obeid LM (2008) Principles of bioactive lipid signalling: lessons from sphingolipids. Nat Rev Mol Cell Biol 9:139–150

Hannun YA, Obeid LM (2011) Many ceramides. J Biol Chem 286:27855–27862

Hornemann T, Richard S, Rütti MF et al (2006) Cloning and initial characterization of a new subunit for mammalian serine-palmitoyltransferase. J Biol Chem 281:37275–37281

Hornemann T, Penno A, Rütti MF et al (2009) The SPTLC3 subunit of serine palmitoyltransferase generates short chain sphingoid bases. J Biol Chem 284:26322–26330

Huang X, Withers BR, Dickson RC (2014) Sphingolipids and lifespan regulation. Biochim Biophys Acta 1841:657–664

Huynh K, Barlow CK, Jayawardana KS et al (2019) High-throughput plasma lipidomics: detailed mapping of the associations with cardiometabolic risk factors. Cell Chem Biol 26:71–84

Illig T, Gieger C, Zhai G et al (2010) A genome-wide perspective of genetic variation in human metabolism. Nat Genet 42:137–141

Johnson AA, Stolzing A (2019) The role of lipid metabolism in aging, lifespan regulation, and age-related disease. Aging Cell 18:e13048

Kanasi E, Ayilavarapu S, Jones J (2016) The aging population: demographics and the biology of aging. Periodontol 2000 72:13–18

Kritsilis M, Rizou SV, Koutsoudaki PN et al (2018) Ageing, cellular senescence and neurodegenerative disease. Int J Mol Sci 19:2937

Lee H, Hong Y, Tran Q et al (2019a) A new role for the ginsenoside RG3 in antiaging via mitochondria function in ultraviolet-irradiated human dermal fibroblasts. J Ginseng Res 43:431–441

Lee SH, Lee HY, Yu M et al (2019b) Extension of Drosophila lifespan by Korean red ginseng through a mechanism dependent on dSir2 and insulin/IGF-1 signaling. Aging (albany NY) 11:9369–9387

Lemaitre RN, King IB, Kabagambe EK et al (2015) Genetic loci associated with circulating levels of very long-chain saturated fatty acids. J Lipid Res 56:176–184

Liang X, Yao Y, Lin Y et al (2019) Panaxadiol inhibits synaptic dysfunction in Alzheimer's disease and targets the Fyn protein in APP/PS1 mice and APP-SH-SY5Y cells. Life Sci 221:35–46

López-Otín C, Blasco MA, Partridge L et al (2013) The hallmarks of aging. Cell 153:1194–1217

Magaye RR, Savira F, Hua Y et al (2019) The role of dihydrosphingolipids in disease. Cell Mol Life Sci 76:1107–1134

Mielke MM, Bandaru VV, Han D et al (2015) Factors affecting longitudinal trajectories of plasma sphingomyelins: the Baltimore Longitudinal Study of Aging. Aging Cell 14:112–121

Mirkov S, Myers JL, Ramírez J et al (2012) SNPs affecting serum metabolomic traits may regulate gene transcription and lipid accumulation in the liver. Metabolism 61:1523–1527

Montoliu I, Scherer M, Beguelin F et al (2014) Serum profiling of healthy aging identifies phospho- and sphingolipid species as markers of human longevity. Aging (albany NY) 6:9–25

Ordoñez R, Fernández A, Prieto-Domínguez N et al (2015) Ceramide metabolism regulates autophagy and apoptotic cell death induced by melatonin in liver cancer cells. J Pineal Res 59:178–189

Papsdorf K, Brunet A (2019) Linking lipid metabolism to chromatin regulation in aging. Trends Cell Biol 29:97–116

Park HJ, Kim DH, Park SJ et al (2012) Ginseng in traditional herbal prescriptions. J Ginseng Res 36:225–241

Patel S, Rauf A (2017) Adaptogenic herb ginseng (Panax) as medical food: Status quo and future prospects. Biomed Pharmacother 85:120–127

Pi J, Cai J (2019) Cell topography and its quantitative imaging by AFM. Methods Mol Biol 1886:99–113

Rizza S, Copetti M, Rossi C et al (2014) Metabolomics signature improves the prediction of cardiovascular events in elderly subjects. Atherosclerosis 232:260–264

Sampey BP, Freemerman AJ, Zhang J et al (2012) Metabolomic profiling reveals mitochondrial-derived lipid biomarkers that drive obesity-associated inflammation. PLoS ONE 7:e38812

Shin KK, Yi YS, Kim JK et al (2020) Korean red ginseng plays an anti-aging role by modulating expression of aging-related genes and immune cell subsets. Molecules 25:1492

Stahl EC, Haschak MJ, Popovic B et al (2018) Macrophages in the aging liver and age-related liver disease. Front Immunol 9:2795

Ussher JR, Folmes CD, Keung W et al (2012) Inhibition of serine palmitoyl transferase I reduces cardiac ceramide levels and increases glycolysis rates following diet-induced insulin resistance. PLoS ONE 7:e37703

Wang JC, Bennett M (2012) Aging and atherosclerosis: mechanisms, functional consequences, and potential therapeutics for cellular senescence. Circ Res 111:245–259

Wang M, Li H, Liu W et al (2020) Dammarane-type leads panaxadiol and protopanaxadiol for drug discovery: biological activity and structural modification. Eur J Med Chem 189:112087

Wang Y, Wu J, Zhu J et al (2021) Ginsenosides regulation of lysophosphatidylcholine profiles underlies the mechanism of Shengmai Yin in attenuating atherosclerosis. J Ethnopharmacol 277:114223

Yao X, Jiang H, Li YH et al (2019) Kaempferol alleviates the reduction of developmental competence during aging of porcine oocytes. Anim Sci J 90:1417–1425

Zhu J, Mu X, Zeng J et al (2014) Ginsenoside Rg1 prevents cognitive impairment and hippocampus senescence in a rat model of D-galactose-induced aging. PLoS ONE 9:e101291
Funding
This work was funded by High-level Innovation Team of Tianjin Talent Development Special Support Program. The National Natural Science Foundation of China (No. 81903933) and the National Natural Science Foundation of China (No. 81873194).
Ethics declarations
Conflict of interest
The authors declared no potential conflicts of interest with respect to the research, authorship, and publication of this article.
Ethical approval
This experiment is registered in the China Clinical Trials Registry.
Informed consent
Informed consent was obtained from all individual participants included in the study. Consent for publication The participant has consented to the submission of the case report to the journal.
Additional information
Publisher's Note
Springer Nature remains neutral with regard to jurisdictional claims in published maps and institutional affiliations.
Supplementary Information
Below is the link to the electronic supplementary material.
About this article
Cite this article
Yang, S., Dong, Y., Liu, Y. et al. Application of lipidomics strategy to explore aging-related biomarkers and potential anti-aging mechanisms of ginseng. Biogerontology 22, 589–602 (2021). https://doi.org/10.1007/s10522-021-09937-8
Received:

Accepted:

Published:

Issue Date:
Keywords
Lipidomics

Sphingolipid metabolism

Aging

SPT

Ginseng