Abstract
Circadian disruption due to artificial light at night (ALAN) is an alarming threat to modern society. In the present study we evaluated the protective effect of melatonin on age dependent redox insults and neurochemical deficits induced by ALAN in the brain of chronodisrupted rat model. Young (3 months) and old (22 months) male Wistar rats were exposed to ALAN along with melatonin supplementation (10 mg Kg−1, oral) for 10 days. Results demonstrated significant increment in the pro-oxidant biomarkers: reactive oxygen species, lipid hydroperoxidation, protein carbonyl, nitric oxide while suppression in the total thiol, ferric reducing antioxidant potential level, superoxide dismutase and catalase activities in the brain of ALAN exposed groups with higher amplitude in aged rats. Further these oxidative modifications were protected by subsequent administration of melatonin. Mitochondrial complexes (C-I to C-IV) activity was significantly altered in young and old ALAN exposed groups with melatonin showing protective effect. Histopathological analysis show dense cytosolic staining and neuronal degeneration in cerebral cortex and different hippocampus regions with greater extent in old ALAN rats effectively moderated by melatonin supplementation. RT-PCR data analysis revealed melatonin effectively downregulated neuroinflammatory (IL-6, TNF α) and neurodegenerative marker (Ngb) while upregulating the aging (Sirt 1) gene expression in both young and old melatonin supplemented ALAN exposed groups. Our results may help in understanding the degree of ALAN induced photo-oxidative damage in neuronal redox homeostasis during aging. We also show that melatonin supplementation might provide a basis for amelioration of oxidative disturbances to improve circadian entrainment in aged populations.
Access options
Buy single article
Instant access to the full article PDF.
US$ 39.95
Tax calculation will be finalised during checkout.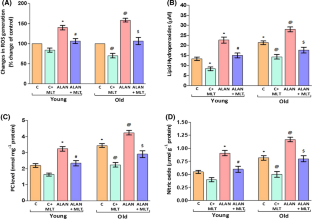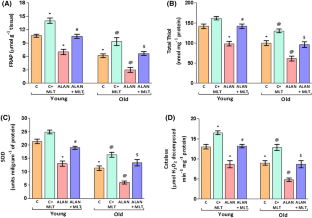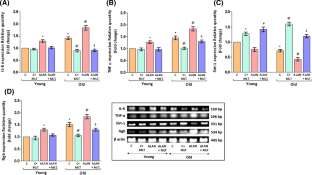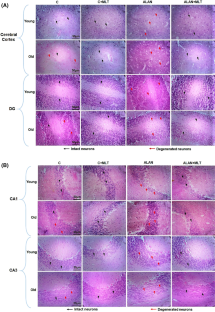 References
Adachi M, Abe M, Sasaki T et al (2010) Role of inducible or neuronal nitric oxide synthase in neurogenesis of the dentate gyrus in aged mice. Metab Brain Dis 25:419–424. https://doi.org/10.1007/s11011-010-9224-8

Akcay YD, Yalcin A, Sozmen EY (2005) The effect of melatonin on lipid peroxidation and nitrite/nitrate levels, and on superoxide dismutase and catalase activities in kainic acid-induced injury. Cell Mol Biol Lett 10:321–329

Ali T, Badshah H, Kim TH, Kim MO (2015) Melatonin attenuates D-galactose-induced memory impairment, neuroinflammation and neurodegeneration via RAGE/NF-K B/JNK signalling pathway in aging mouse model. J Pineal Res 58:71–85. https://doi.org/10.1111/jpi.12194

Allagui MS, Feriani A, Saoudi M et al (2014) Effects of melatonin on aluminium-induced neurobehavioral and neurochemical changes in aging rats. Food Chem Toxicol 70:84–93. https://doi.org/10.1016/j.fct.2014.03.043

Bavithra S, Selvakumar K, Sundareswaran L, Arunakaran J (2017) Neuroprotective effect of melatonin against PCBs induced behavioural, molecular and histological changes in cerebral cortex of adult male Wistar rats. Neurochem Res 42:428–438. https://doi.org/10.1007/s11064-016-2087-6

Benzie IF, Strain JJ (1996) The ferric reducing ability of plasma (FRAP) as a measure of "antioxidant power": the FRAP assay. Anal Biochem 239:70–76. https://doi.org/10.1006/abio.1996.0292

Biello SM (2009) Circadian clock resetting in the mouse changes with age. Age (dordr) 31:293–303. https://doi.org/10.1007/s11357-009-9102-7

Cakatay U, Telci A, Kayalì R et al (2001) Relation of oxidative protein damage and nitrotyrosine levels in the aging rat brain. Exp Gerontol 36:221–229. https://doi.org/10.1016/s0531-5565(00)00197-2

Cardinali DP (2019) Melatonin as a chronobiotic/cytoprotector: its role in healthy aging. Biol Rhythm Res 50:28–45. https://doi.org/10.1080/09291016.2018.1491200

Chahbouni M, López MDS, Molina-Carballo A et al (2017) Melatonin treatment reduces oxidative damage and normalizes plasma pro-inflammatory cytokines in patients suffering from Charcot-Marie-Tooth Neuropathy: a pilot study in three children. Molecules. https://doi.org/10.3390/molecules22101728

Cobley JN, Fiorello ML, Bailey DM (2018) 13 reasons why the brain is susceptible to oxidative stress. Redox Biol 15:490–503. https://doi.org/10.1016/j.redox.2018.01.008

Cooper RL, Linnoila M (1977) Sexual behavior in aged, noncycling female rats. Physiol Behav 18:573–576. https://doi.org/10.1016/0031-9384(77)90054-3

Daitoku H, Hatta M, Matsuzaki H et al (2004) Silent information regulator 2 potentiates Foxo1-mediated transcription through its deacetylase activity. Proc Natl Acad Sci U S A 101:10042–10047. https://doi.org/10.1073/pnas.0400593101

Dauchy RT, Dauchy EM, Tirrell RP et al (2010) Dark-phase light contamination disrupts circadian rhythms in plasma measures of endocrine physiology and metabolism in rats. Comput Med 60:348–356

Evans P, Lyras L, Halliwell B (1999) Measurement of protein carbonyls in human brain tissue. Meth Enzymol 300:145–156. https://doi.org/10.1016/s0076-6879(99)00122-6

Farhadi N, Gharghani M, Farhadi Z (2016) Effects of long-term light, darkness and oral administration of melatonin on serum levels of melatonin. Biomed J 39:81–84. https://doi.org/10.1016/j.bj.2015.09.003

Fonken LK, Weil ZM, Nelson RJ (2013) Mice exposed to dim light at night exaggerate inflammatory responses to lipopolysaccharide. Brain Behav Immun 34:159–163. https://doi.org/10.1016/j.bbi.2013.08.011

Garg G, Singh S, Singh AK, Rizvi SI (2017) Antiaging effect of metformin on brain in naturally aged and accelerated senescence model of rat. Rejuvenation Res 20:173–182. https://doi.org/10.1089/rej.2016.1883

Giordano S, Darley-Usmar V, Zhang J (2014) Autophagy as an essential cellular antioxidant pathway in neurodegenerative disease. Redox Biol 2:82–90. https://doi.org/10.1016/j.redox.2013.12.013

Goswami N, Abulafia C, Vigo D et al (2020) Falls risk, circadian rhythms and melatonin: current perspectives. Clin Interv Aging 15:2165–2174. https://doi.org/10.2147/CIA.S283342

Green LC, Wagner DA, Glogowski J et al (1982) Analysis of nitrate, nitrite, and [15N] nitrate in biological fluids. Anal Biochem 126:131–138. https://doi.org/10.1016/0003-2697(82)90118-x

Guarente L (2008) Mitochondria—a nexus for aging, calorie restriction, and sirtuins? Cell 132:171–176. https://doi.org/10.1016/j.cell.2008.01.007

Gutierrez-Cuesta J, Tajes M, Jiménez A et al (2008) Evaluation of potential pro-survival pathways regulated by melatonin in a murine senescence model. J Pineal Res 45:497–505. https://doi.org/10.1111/j.1600-079X.2008.00626.x

Hardeland R (2017) Melatonin and the pathologies of weakened or dysregulated circadian oscillators. J Pineal Res 62:e12377. https://doi.org/10.1111/jpi.12377

Hardeland R (2019) Aging, melatonin, and the pro- and anti-inflammatory networks. Int J Mol Sci. https://doi.org/10.3390/ijms20051223

Hong I-S, Lee H-Y, Kim H-P (2014) Anti-oxidative effects of Rooibos tea (Aspalathus linearis) on immobilization-induced oxidative stress in rat brain. PLoS ONE 9:e87061. https://doi.org/10.1371/journal.pone.0087061

Hood S, Amir S (2017) The aging clock: circadian rhythms and later life. J Clin Invest 127:437–446. https://doi.org/10.1172/JCI90328

Hundahl CA, Allen GC, Nyengaard JR et al (2008) Neuroglobin in the rat brain: localization. Neuroendocrinology 88:173–182. https://doi.org/10.1159/000129698

Hundahl CA, Hannibal J, Fahrenkrug J et al (2010) Neuroglobin expression in the rat suprachiasmatic nucleus: colocalization, innervation, and response to light. J Comp Neurol 518:1556–1569. https://doi.org/10.1002/cne.22290

Kahya MC, Nazıroğlu M, Övey İS (2017) Modulation of diabetes-induced oxidative stress, apoptosis, and Ca2+ entry through TRPM2 and TRPV1 channels in dorsal root ganglion and hippocampus of diabetic rats by melatonin and selenium. Mol Neurobiol 54:2345–2360. https://doi.org/10.1007/s12035-016-9727-3

Kakkar P, Das B, Viswanathan PN (1984) A modified spectrophotometric assay of superoxide dismutase. Indian J Biochem Biophys 21:130–132

Kazemi R, Hemmatjo R, Mokarami H (2018) The effect of a blue enriched white light on salivary antioxidant capacity and melatonin among night shift workers: a field study. Ann Occup Environ Med 30:61. https://doi.org/10.1186/s40557-018-0275-3

Kuse Y, Ogawa K, Tsuruma K et al (2015) Damage of photoreceptor-derived cells in culture induced by light emitting diode-derived blue light. Sci Rep 4:5223. https://doi.org/10.1038/srep05223

Lambert KG, Nelson RJ, Jovanovic T, Cerdá M (2015) Brains in the city: neurobiological effects of urbanization. Neurosci Biobehav Rev 58:107–122. https://doi.org/10.1016/j.neubiorev.2015.04.007

Lananna BV, Musiek ES (2020) The wrinkling of time: aging, inflammation, oxidative stress, and the circadian clock in neurodegeneration. Neurobiol Dis 139:104832. https://doi.org/10.1016/j.nbd.2020.104832

Leng Y, Musiek ES, Hu K et al (2019) Association between circadian rhythms and neurodegenerative diseases. Lancet Neurol 18:307–318. https://doi.org/10.1016/S1474-4422(18)30461-7

Li PA, Hou X, Hao S (2017) Mitochondrial biogenesis in neurodegeneration. J Neuro Res 95:2025–2029. https://doi.org/10.1002/jnr.24042

Li Volti G, Musumeci T, Pignatello R et al (2012) Antioxidant potential of different melatonin-loaded nanomedicines in an experimental model of sepsis. Exp Biol Med (maywood) 237:670–677. https://doi.org/10.1258/ebm.2012.011425

Liapi C, Stolakis V, Zarros A et al (2013) Gestational exposure to cadmium alters crucial offspring rat brain enzyme activities: the role of cadmium-free lactation. Environ Toxicol Pharmacol 36:835–839. https://doi.org/10.1016/j.etap.2013.07.014

Majidinia M, Reiter RJ, Shakouri SK et al (2018) The multiple functions of melatonin in regenerative medicine. Ageing Res Rev 45:33–52. https://doi.org/10.1016/j.arr.2018.04.003

Martín M, Macías M, Escames G et al (2000) Melatonin-induced increased activity of the respiratory chain complexes I and IV can prevent mitochondrial damage induced by ruthenium red in vivo. J Pineal Res 28:242–248. https://doi.org/10.1034/j.1600-079x.2000.280407.x

Monfredi O, Lakatta EG (2019) Complexities in cardiovascular rhythmicity: perspectives on circadian normality, ageing and disease. Cardiovasc Res 115:1576–1595. https://doi.org/10.1093/cvr/cvz112

Nakamura TJ, Nakamura W, Yamazaki S et al (2011) Age-related decline in circadian output. J Neurosci 31:10201–10205. https://doi.org/10.1523/JNEUROSCI.0451-11.2011

Navarro A, Gómez C, Sánchez-Pino M-J et al (2005) Vitamin E at high doses improves survival, neurological performance, and brain mitochondrial function in aging male mice. Am J Physiol Regul Integr Comp Physiol 289:R1392-1399. https://doi.org/10.1152/ajpregu.00834.2004

Ortega-Gutiérrez S, Fuentes-Broto L, García JJ et al (2007) Melatonin reduces protein and lipid oxidative damage induced by homocysteine in rat brain homogenates. J Cell Biochem 102:729–735. https://doi.org/10.1002/jcb.21327

Ozacmak VH, Barut F, Ozacmak HS (2009) Melatonin provides neuroprotection by reducing oxidative stress and HSP70 expression during chronic cerebral hypoperfusion in ovariectomized rats. J Pineal Res 47:156–163. https://doi.org/10.1111/j.1600-079X.2009.00695.x

Paradies G, Petrosillo G, Paradies V, Ruggiero FM (2011) Mitochondrial dysfunction in brain aging: role of oxidative stress and cardiolipin. Neurochem Int 58:447–457. https://doi.org/10.1016/j.neuint.2010.12.016

Permpoonputtana K, Govitrapong P (2013) The anti-inflammatory effect of melatonin on methamphetamine-induced proinflammatory mediators in human neuroblastoma dopamine SH-SY5Y cell lines. Neurotox Res 23:189–199. https://doi.org/10.1007/s12640-012-9350-7

Petrosillo G, Fattoretti P, Matera M et al (2008) Melatonin prevents age-related mitochondrial dysfunction in rat brain via cardiolipin protection. Rejuvenation Res 11:935–943. https://doi.org/10.1089/rej.2008.0772

Pfeffer M, Korf H-W, Wicht H (2018) Synchronizing effects of melatonin on diurnal and circadian rhythms. Gen Comp Endocrinol 258:215–221. https://doi.org/10.1016/j.ygcen.2017.05.013

Pilorz V, Astiz M, Heinen KO et al (2020) The concept of coupling in the mammalian circadian clock network. J Mol Biol 432:3618–3638. https://doi.org/10.1016/j.jmb.2019.12.037

Piñol-Ripoll G, Fuentes-Broto L, Millán-Plano S et al (2006) Protective effect of melatonin and pinoline on nitric oxide-induced lipid and protein peroxidation in rat brain homogenates. Neurosci Lett 405:89–93. https://doi.org/10.1016/j.neulet.2006.06.031

Pohanka M, Bandouchova H, Pikula J (2012) Melatonin influences antioxidant homeostasis and basal metabolism in the BALB/c mouse model. Neuro Endocrinol Lett 33(Suppl 3):183–189

Portaluppi F, Smolensky MH, Touitou Y (2010) Ethics and methods for biological rhythm research on animals and human beings. Chronobiol Int 27:1911–1929. https://doi.org/10.3109/07420528.2010.516381

Prokkola JM, Nikinmaa M (2018) Circadian rhythms and environmental disturbances—underexplored interactions. J Exp Biol. https://doi.org/10.1242/jeb.179267

Russart KLG, Nelson RJ (2018) Light at night as an environmental endocrine disruptor. Physiol Behav 190:82–89. https://doi.org/10.1016/j.physbeh.2017.08.029

Salminen LE, Paul RH (2014) Oxidative stress and genetic markers of suboptimal antioxidant defense in the aging brain: a theoretical review. Rev Neurosci. https://doi.org/10.1515/revneuro-2014-0046

Sedlak J, Lindsay RH (1968) Estimation of total, protein-bound, and nonprotein sulfhydryl groups in tissue with Ellman's reagent. Anal Biochem 25:192–205. https://doi.org/10.1016/0003-2697(68)90092-4

Singh S, Kumar R, Garg G et al (2021) Spermidine, a caloric restriction mimetic, provides neuroprotection against normal and D-galactose-induced oxidative stress and apoptosis through activation of autophagy in male rats during aging. Biogerontology 22:35–47. https://doi.org/10.1007/s10522-020-09900-z

Srividhya R, Zarkovic K, Stroser M et al (2009) Mitochondrial alterations in aging rat brain: effective role of (-)-epigallo catechin gallate. Int J Dev Neurosci 27:223–231. https://doi.org/10.1016/j.ijdevneu.2009.01.003

Tabassum H, Ashafaq M, Parvez S, Raisuddin S (2017) Role of melatonin in mitigating nonylphenol-induced toxicity in frontal cortex and hippocampus of rat brain. Neurochem Int 104:11–26. https://doi.org/10.1016/j.neuint.2016.12.010

Verma AK, Singh S, Rizvi SI (2019) Redox homeostasis in a rodent model of circadian disruption: effect of melatonin supplementation. Gen Comp Endocrinol. https://doi.org/10.1016/j.ygcen.2019.04.016

Verma AK, Garg G, Singh S, Rizvi SI (2020a) Melatonin protects against membrane alterations affected by 'Artificial Light at Night' in a circadian-disrupted model of rat. Biol Rhythm Res. https://doi.org/10.1080/09291016.2020.1741265

Verma AK, Singh S, Rizvi SI (2020b) Age-dependent altered redox homeostasis in the chronodisrupted rat model and moderation by melatonin administration. Chronobiol Int. https://doi.org/10.1080/07420528.2020.1792483

Wang Y, Zhou Z, Tan H et al (2016) Nitrosylation of vesicular transporters in brain of amyloid precursor protein/Presenilin 1 double transgenic mice. JAD 55:1683–1692. https://doi.org/10.3233/JAD-160700

Yan S-S, Wang W (2016) The effect of lens aging and cataract surgery on circadian rhythm. Int J Ophthalmol 9:1066–1074

Yoo DY, Kim W, Lee CH et al (2012) Melatonin improves d-galactose-induced aging effects on behavior, neurogenesis, and lipid peroxidation in the mouse dentate gyrus via increasing pCREB expression: effects of melatonin ond-galactose-induced hippocampal functions. J Pineal Res 52:21–28. https://doi.org/10.1111/j.1600-079X.2011.00912.x

Yu L, Gong B, Duan W et al (2017) Melatonin ameliorates myocardial ischemia/reperfusion injury in type 1 diabetic rats by preserving mitochondrial function: role of AMPK-PGC-1α-SIRT3 signaling. Sci Rep 7:41337. https://doi.org/10.1038/srep41337

Zhao L, An R, Yang Y et al (2015) Melatonin alleviates brain injury in mice subjected to cecal ligation and puncture via attenuating inflammation, apoptosis, and oxidative stress: the role of SIRT1 signaling. J Pineal Res 59:230–239. https://doi.org/10.1111/jpi.12254

Zubidat AE, Haim A (2017) Artificial light-at-night - a novel lifestyle risk factor for metabolic disorder and cancer morbidity. J Basic Clin Physiol Pharmacol 28:295–313. https://doi.org/10.1515/jbcpp-2016-0116
Acknowledgements
AKV is a recipient of Senior Research Fellowship from Council of Scientific and Industrial Research (CSIR), Government of India. Financial funding from Department of Biotechnology, Govt. of India under the 'Research Resources, Service Facilities and Platforms' is gratefully acknowledged. The Department of Biochemistry is supported by FIST Grant of DST, New Delhi and SAP DRS I from UGC, India.
Ethics declarations
Conflict of interest
All authors report no actual or potential conflicts of interest.
Additional information
Publisher's Note
Springer Nature remains neutral with regard to jurisdictional claims in published maps and institutional affiliations.
About this article
Cite this article
Verma, A.K., Singh, S. & Rizvi, S.I. Age-dependent effect of continuous 'artificial light at night' on circadian rhythm in male rats: neuroprotective role of melatonin. Biogerontology 22, 531–545 (2021). https://doi.org/10.1007/s10522-021-09933-y
Received:

Accepted:

Published:

Issue Date:
Keywords
Aging

Artificial light at night (ALAN)

Brain

Chronodisruption

Melatonin

Oxidative stress