Abstract
The deterioration of the skin morphology and physiology is the first and earliest obvious harbinger of the aging process which is progressively manifested with increasing age. Such deterioration affects the vital functions of the skin such as homeodynamic regulation of body temperature, fluid balance, loss of electrolytes and proteins, production of vitamin D, waste removal, immune surveillance, sensory perception, and protection of other organs against deleterious environmental factors. There are, however, harmful chemicals and toxins found in everyday cosmetics that consumers are now aware of. Thus, the natural beauty industry is on the rise with innovative technology and high-performance ingredients as more consumers demand healthier options. Therefore, the aims of this review are to give some critical insights to the effects of both intrinsic and extrinsic factors on excessive or premature skin aging and to elaborate on the relevance of natural beauty and natural anti-aging skincare approaches that will help consumers, scientists and entrepreneurs make the switch. Our recent investigations have shown the potential and relevance of identifying more resources from our rich natural heritage from various plant sources such as leaves, fruits, pomace, seeds, flowers, twigs and so on which can be explored for natural anti-aging skincare product formulations. These trending narratives have started to gain traction among researchers and consumers owing to the sustainability concern and impact of synthetic ingredients on human health and the environment. The natural anti-aging ingredients, which basically follow hormetic pathways, are potentially useful as moisturizing agents; barrier repair agents; antioxidants, vitamins, hydroxy acids, skin lightening agents, anti-inflammatory ingredients, and sunblock ingredients.
Graphic abstract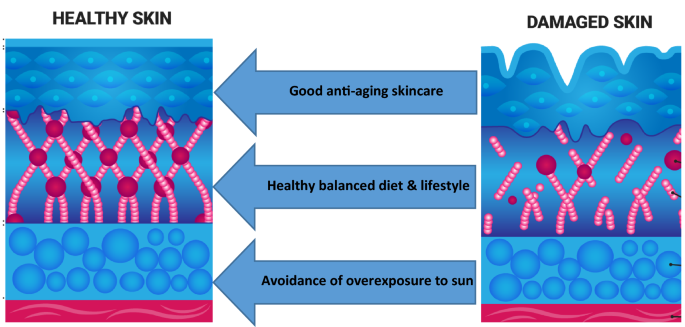 Access options
Buy single article
Instant access to the full article PDF.
US$ 39.95
Tax calculation will be finalised during checkout.
Subscribe to journal
Immediate online access to all issues from 2019. Subscription will auto renew annually.
US$ 79
Tax calculation will be finalised during checkout.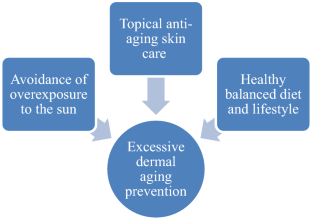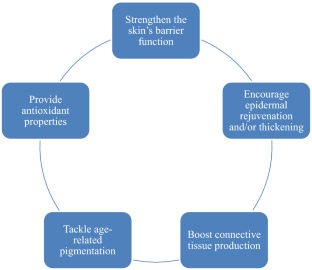 Abbreviations
MMP:

Matrix metalloproteinases

Cav-1:

Caveolin-1

NLCS:

Nanostructured lipid carriers

UVB:

Ultraviolet B

SPF:

Sun protecting factor
References
Abarca-Buis RF, Martínez-Jiménez A, Vera-Gómez E, Contreras-Figueroa ME, Garciadiego-Cázares D, Paus R, Robles-Tenorio A, Krötzsch E (2018) Mechanisms of epithelial thickening due to IL-1 signalling blockade and TNF-α administration differ during wound repair and regeneration. Differentiation 99(2018):10–20

Agathokleous E, Calabrese EJ (2019) Hormesis: The dose response for the 21st century: the future has arrived. Toxicology 425(2019):152249

Agathokleous E, Kitao M, Calabrese EJ (2019) Hormesis: a compelling platform for sophisticated plant science. Trends Plant Sci 24(4):318–327

Aguiar J, Estevinho BN, Santos L (2016) Microencapsulation of natural antioxidants for food application: the specific case of coffee antioxidants: a review. Trends Food Sci Technol 58(2016):21–39

Ahmed IA, Mikail MA, Ibrahim M (2017) Baccaurea angulata fruit juice ameliorates altered hematological and biochemical biomarkers in diet-induced hypercholesterolemic rabbits. Nutr Res 42(2017):31–42

Ahmed IA, Mikail MA, Bin Ibrahim M, Bin Hazali N, Rasad MS, Ghani RA, Wahab RA, Arief SJ, Yahya MN (2015) Antioxidant activity and phenolic profile of various morphological parts of underutilized Baccaurea angulata fruit. Food Chem 172:778–787

Ahmed IA, Mikail MA, Mustafa MR, Ibrahim M, Othman R (2019) Lifestyle Interventions for nonalcoholic fatty liver disease. Saudi J Biol Sci 2019:1–6

Anderson J, Anderson Y, Diyabalanage T (2015) Paving the way with actives for skincare. Planta Med 81:IL23

Assadpour E, Jafari SM (2018) A systematic review on nanoencapsulation of food bioactive ingredients and nutraceuticals by various nanocarriers. Crit Rev Food Sci Nutr 2018:1–23

Assaf H, Adly MA, Hussein MR (2016) Aging and intrinsic aging: pathogenesis and Manifestations. In: Farage MA, Miller KW, Maibach HI (eds) Textbook of aging skin. Springer, Berlin, Heidelberg, pp 1–12

Baxter RA (2008) Anti-aging properties of resveratrol: review and report of a potent new antioxidant skin care formulation. J Cosmet Dermatol 7(1):2–7

Behbahani ES, Ghaedi M, Abbaspour M, Rostamizadeh K, Dashtian K (2019) Curcumin loaded nanostructured lipid carriers: in vitro digestion and release studies. Polyhedron 164(2019):113–122

Brewer M (2011) Natural antioxidants: sources, compounds, mechanisms of action, and potential applications. Compr Rev Food Sci Food Saf 10(4):221–247

Calabrese EJ (2020) Stimulating hair growth via hormesis: Experimental foundations and clinical implications. Pharmacol Res 152(2020):104599

Calabrese EJ, Dhawan G, Kapoor R, Mattson MP, Rattan SIS (2019) Curcumin and hormesis with particular emphasis on neural cells. Food Chem Toxicol 129(2019):399–404

Calejja-Agius J, Muscat-Baron Y, Brincat MP (2007) Skin ageing. Menopause Int 13(2):60–64

Calleja-Agius J, Brincat M, Borg M (2013) Skin connective tissue and aging. Best Pract Res Clin Obstet Gynaecol 27(5):727–740

Casadevall A (2018) Melanin triggers antifungal defences. Nature 555:319–320

Cavinato M, Waltenberger B, Baraldo G, Grade CVC, Stuppner H, Jansen-Dürr P (2017) Plant extracts and natural compounds used against UVB-induced photoaging. Biogerontology 18(2017):499–516

Charles Dorni AI, Amalraj A, Gopi S, Varma K, Anjana SN (2017) Novel cosmeceuticals from plants: an industry guided review. J Appl Res Med Aromat Plants 7(2017):1–26

Choi EH (2019) Aging of the skin barrier. Clin Dermatol 37(4):336–345

Couteau C, Coiffard L (2016) Overview of skin whitening agents: drugs and cosmetic products. Cosmetics 3(3):27

Dai B, Pelton LE (2018) Exploring consumers' skincare retail patronage. J Retail Consum Serv 43(2018):269–277

D'Aniello C, Cermola F, Patriarca EJ, Minchiotti G (2017) Vitamin C in stem cell biology: impact on extracellular matrix homeostasis and epigenetics. Stem Cells Int. https://doi.org/10.1155/2017/8936156

Demirovic D, Rattan SIS (2013) Establishing cellular stress response profiles as biomarkers of homeodynamics, health and hormesis. Exp Gerontol 48(1):94–98

Ditre CM, Griffin TD, Murphy GF, Sueki H, Telegan B, Johnson WC, Yu RJ, Van Scott EJ (1996) Effects of α-hydroxy acids on photoaged skin: a pilot clinical, histologic, and ultrastructural study. J Am Acad Dermatol 34(2):187–195

Emerald M, Emerald A, Emerald L, Kumar V (2016) Perspective of natural products in skincare. Pharm Pharm Int J 4(3):00072

Fabra MJ, López-Rubio A, Lagaron JM (2016) Use of the electrohydrodynamic process to develop active/bioactive bilayer films for food packaging applications. Food Hydrocolloids 55(2016):11–18

Farage M, Miller KW, Elsner P, Maibach HI (2008) Intrinsic and extrinsic factors in skin aging: a review. Int J Cosmet Sci 30(2):87–95

Farage MA, Miller KW, Elsner P, Maibach HI (2013) Characteristics of the aging skin. Adv Wound Care 2(1):5–10

Farris, P.K. (2018). Topical skin care cosmetic patient master techniques in facial rejuvenation, second edition. E-Book, pp 68–72.e62

Farris P, Krutmann J, Li YH, McDaniel D, Krol Y (2013) Resveratrol: a unique antioxidant offering a multi-mechanistic approach for treating aging skin. J Drugs Dermatol 12(12):1389–1394

Ganceviciene R, Liakou AI, Theodoridis A, Makrantonaki E, Zouboulis CC (2012) Skin anti-aging strategies. Dermato-Endocrinology 4(3):308–319

Ganiari S, Choulitoudi E, Oreopoulou V (2017) Edible and active films and coatings as carriers of natural antioxidants for lipid food. Trends Food Sci Technol 68(2017):70–82

Godoy RS, Lanés LEK, Castro BD, Weber V, Wingen N, Pires MM, Oliveira GT, Maltch L (2019) Oxidative stress resistance in a short-lived Neotropical annual killifish. Biogerontology 2019:1–13

Goodman GJ, Armour KS, Kolodziejczyk JK, Santangelo S, Gallagher CJ (2018) Comparison of self-reported signs of facial aging among Caucasian women in Australia versus those in the USA, the UK and Canada. Australas J Dermatol 59(2):108–117

Gorbach SL (2000) Isoflavonoids for treatment and prevention of aging skin and wrinkles. Google Patents

Hameed A, Fatima GR, Malik K, Muqadas A, Fazal-ur-Rehman M (2018) Scope of nanotechnology in cosmetics: dermatology and skin care products. J Med Chem Sci 2(1):9–16

Howard D (2018) What is a free radical? Dostupno na adresi: Datum pristupa, 3. https://www.dermalinstitute.com/us/library/22_article_What_Is_A_Free_Radical_.html

Hughes B (2018) Going natural. Professional Beauty (Mar/Apr 2018), p 110

Humbert P, Louvrier L, Saas P, Viennet C (2018) Vitamin C, aged skin, skin health. Vitamin C. IntechOpen, Rijeka, pp 1–20

Huth S, Schmitt L, Marquardt Y, Heise R, Lüscher B, Amann PM, Baron JM (2018) Effects of a ceramide containing water-in-oil ointment on skin barrier function and allergen penetration in an IL-31 treated 3D model of the disrupted skin barrier. Exp Dermatol 27(9):1009–1014

Ibrahim M, Ahmed IA, Mikail MA, Ishola AA, Draman S, Isa ML, Yusof AM (2017) Baccaurea angulata fruit juice reduces atherosclerotic lesions in diet-induced hypercholesterolemic rabbits. Lipids Health Dis 16(134):1–8

Ibrahim M, Mikail MA, Ahmed IA, Abdul Ghani R (2018) Phenolic-rich Baccaurea angulata modulates inflammatory biomarkers of atherosclerosis. J Nutr Metab 2018:1–8

Jarrar MH (2018) Anti-aging effectsofretinol and alpha hydroxy acid on elastin fibers of artificially photo-aged human dermal fibroblast cell lines. World Acad Sci Eng Technol Int J Med Health Biomed Pharm Eng 9(4):1–4

Jin Y, Kim JH, Hong HD, Kwon J, Lee EJ, Jang M, Lee SY, Han AR, Nam TG, Hong SK, Huh TL (2018) Ginsenosides Rg5 and Rk1, the skin-whitening agents in black ginseng. J Funct Foods 45:67–74

Joshi K, Fedders J (2018) Increase SPF efficiency and enable better aesthetics. S Afr Pharm Cosmet Rev 45(7):30–31

Kadlecova A, Makova B, Artal-Sanz M, Strnad M, Voller J (2019) The plant hormone kinetin in disease therapy and healthy aging. Ageing Res Rev 55(2019):100958

Kadry MO (2019) Liposomal glutathione as a promising candidate for immunological rheumatoid arthritis therapy. Heliyon 5(7):e02162

Karimi M, Sadeghi R, Kokini J (2017) Pomegranate as a promising opportunity in medicine and nanotechnology. Trends Food Sci Technol 69:59–73

Kawada C, Kimura M, Masuda Y, Nomura Y (2015) Oral administration of hyaluronan prevents skin dryness and epidermal thickening in ultraviolet irradiated hairless mice. J Photochem Photobiol B 153(2015):215–221

Khuphe M, Ingram N, Thornton PD (2018) Exploiting poly (α-hydroxy acids) for the acid-mediated release of doxorubicin and reversible inside–out nanoparticle self-assembly. Nanoscale 10(29):14201–14206

Kowalska H, Czajkowska K, Cichowska J, AndrzejLenart A (2017) What's new in biopotential of fruit and vegetable by-products applied in the food processing industry? Trends Food Sci Technol 67(2017):150–159

Kruglikov IL, Zhang Z, Scherer PE (2019) Caveolin-1 in skin aging from innocent bystander to major contributor. Ageing Res Rev. https://doi.org/10.1016/j.arr.2019.100959

Lambers H, Piessens S, Bloem A, Pronk H, Finkel P (2006) Natural skin surface pH is on average below 5, which is beneficial for its resident flora. Int J Cosmet Sci 28(5):359–370

Lan CCE, Hung YT, Fang AH, Wu CS (2019) Effects of irradiance on UVA-induced skin aging. J Dermatol Sci 94(1):220–228

Lee DH, Oh JH, Chung JH (2016) Glycosaminoglycan and proteoglycan in skin aging. J Dermatol Sci 83(3):174–181

Li H, Wang M, Williams GR, Wu J, Sun X, Lv Y, Zhu LM (2016) Electrospun gelatin nanofibers loaded with vitamins A and E as antibacterial wound dressing materials. RSC Adv 55(6):50267–50277

Li WH, Wong HK, Serrano J, Randhawa M, Kaur S, Southall MD, Parsa R (2017) Topical stabilized retinol treatment induces the expression of HAS genes and HA production in human skin in vitro and in vivo. Arch Dermatol Res 309(4):275–283

Limbert G, Masen MA, Pond D, Graham HK, Sherratt MJ, Jobanputra R, McBride A (2019) Biotribology of the ageing skin: why we should care. Biotribology 17(2019):75–90

Liu Y, Liao Y, Wei S, Zhang H, Wang X (2019a) Nanoparticles based on sodium alginate and β-conglycinin: self-assembly and delivery of Phyllanthus urinaria phenolic compounds. J Food Process Preserv 43(1):1–8

Liu Y, Gao W, Koellmann C, Le Clerc S, Hüls A, Li B, Peng Q, Wu S, Ding A, Yang Y, Jin L (2019b) Genome-wide scan identified genetic variants associated with skin aging in a Chinese female population. J Dermatol Sci 96(1):42–49

Lodén M (2003) Role of topical emollients and moisturizers in the treatment of dry skin barrier disorders. Am J Clin Dermatol 4(11):771–788

Mahant S, Rao R, Nanda S (2018) Nanostructured lipid carriers: Revolutionizing skin care and topical therapeutics. Design of nanostructures for versatile therapeutic applications. Elsevier, Amsterdam, pp 97–136

Maione F, Russo R, Khan H, Mascolo N (2016) Medicinal plants with anti-inflammatory activities. Nat Prod Res 30(12):1343–1352

Malik A, Hoenig LJ (2019) Can aging be slowed down? Clin Dermatol 37(4):306–311

Martin AR, Lin M, Granka JM, Myrick JW, Liu X, Sockell A, Atkinson EG, Werely CJ, Möller M, Sandhu MS, Kingsley DM (2017) An unexpectedly complex architecture for skin pigmentation in Africans. Cell 171(6):1340–1353

Martinez FAC, Balciunas EM, Salgado JM, González JMD, Converti A, de Souza Oliveira RP (2013) Lactic acid properties, applications and production: a review. Trends Food Sci Technol 30(1):70–83

Mendes AC, Gorzelanny C, Halter N, Schneider SW, Chronakis IS (2016) Hybrid electrospun chitosan-phospholipids nanofibers for transdermal drug delivery. Int J Pharm 510(1):48–56

Mikail MA, Ahmed IA, Ibrahim M, Hazali N, Rasad MS, Ghani RA, Hashim R, Wahab RA, Arief SJ, Isa ML, Draman S (2016) Baccaurea angulata fruit inhibits lipid peroxidation and induces the increase of antioxidant enzymes activities. Eur J Nutr 55:1435–1444

Mir SA, Dar BN, Wani AB, Shah MA (2018) Effect of plant extracts on the techno-functional properties of biodegradable packaging films. Trends Food Sci Technol 80(2018):141–154

Moeini R, Memariani Z, Asadi F, Bozorgi M, Gorji N (2019) Pistacia genus as a potential source of neuroprotective natural products. Planta Med 85(17):1326–1350

Nguyen TN, Rajapakshe K, Avdieiev S, Nicholas C, Chitsazzadeh V, Welsh E, Fang B, Koomen J, Coarfa C, Einspahr J, Tsai KY (2018) A proteome-transcriptome-miRnome integrated analysis identifies similarity between UV-exposed skin and wounding skin (abstract): In: Proceedings of the American Association for Cancer Research Annual Meeting 2018; 2018 Apr 14–18. AACR, Chicago, IL. Philadelphia (PA); Cancer Res 2018;78(13 Suppl):Abstract nr 406

Pan L, Zhang S, Gu K, Zhang N (2018) Preparation of astaxanthin-loaded liposomes: characterization, storage stability and antioxidant activity. CyTA 16(1):607–618

Patra JK, Das G, Lee S, Kang SS, Shin HS (2018) Selected commercial plants: a review of extraction and isolation of bioactive compounds and their pharmacological market value. Trends Food Sci Technol 82(2018):89–109

Pérez-Masiá R, Lagaron JM, Lopez-Rubio A (2015) Morphology and stability of edible lycopene-containing micro- and nanocapsules produced through electrospraying and spray drying. Food Bioprocess Technol 8(2):459–470

Petruk G, del Giudice R, Rigano MM, Monti DM (2018) Antioxidants from plants protect against skin photoaging. Oxid Med Cell Longev. https://doi.org/10.1155/2018/1454936

Pillaiyar T, Manickam M, Namasivayam V (2017) Skin whitening agents: medicinal chemistry perspective of tyrosinase inhibitors. J Enzyme Inhib Med Chem 32(1):403–425

Poljšak B, Dahmane R, Godic A (2012) Intrinsic skin aging: The role of oxidative stress. Acta Dermatovenerol 21(2012):1–4

Pullar J, Carr A, Vissers M (2017) The roles of vitamin C in skin health. Nutrients 9(8):866

Rajagopalan P, Jain AP, Nanjappa V, Patel K, Mangalaparthi KK, Babu N, Cavusoglu N, Roy N, Soeur J, Breton L, Pandey A (2018) Proteome-wide changes in primary skin keratinocytes exposed to diesel particulate extract: a role for antioxidants in skin health. J Dermatol Sci 91(3):239–249

Ramalhete C, Mulhovo S, Lage H, Ferreira MJU (2018) Triterpenoids from Momordica balsamina with a collateral sensitivity effect for tackling multidrug resistance in cancer cells. Planta Med 84(18):1372–1379

Rattan SIS (2008) Hormesis in aging. Ageing Res Rev 7(2008):63–78

Ray L, Gupta KC (2018) Role of Nanotechnology in Skin Remedies. Photocarcinog Photoprot 2018:141–157

Rehman A, Ahmad T, Aadil RM, Spotti MJ, Bakry AM, Khan IM, Zhao L, Riaz T, Tong Q (2019) Pectin polymers as wall materials for the nano-encapsulation of bioactive compounds. Trends Food Sci Technol 90(2019):35–46

Rusu MA, Simedrea R, Gheldiu AM, Mocan A, Vlase L, Popa DS, Ferreira ICFR, I.C.F.R. (2019) Benefits of tree nut consumption on aging and age-related diseases: mechanisms of actions. Trends Food Sci Technol 88(2019):104–120

Safdar A, Zakaria R, Ab Aziz CB, Rashid U, Azman KF, K. (2019) Goat milk attenuates mimetic aging related memory impairment via suppressing brain oxidative stress, neurodegeneration and modulating neurotrophic factors in d-galactose-induced aging model. Biogerontology 2019:1–14

Schagen SK, Zampeli VA, Makrantonaki E, Zouboulis CC (2012) Discovering the link between nutrition and skin aging. Dermato-Endocrinology 4(3):298–307

Sethi A, Kaur T, Malhotra SL, Gambhir ML (2016) Moisturizers: the slippery road. Indian J Dermatol 61(3):279–287

Shapiro SS, Saliou C (2001) Role of vitamins in skincare. Nutrition 17(10):839–844

Shin HJ, Beak HS, Kim SI, Joo YH, Choi J (2018) Development and evaluation of topical formulations for a novel skin whitening agent (AP736) using Hansen solubility parameters and PEG-PCL polymers. Int J Pharm 552(1–2):251–257

Shishir MRI, Karim N, Gowd V, Zheng X, Chen W (2019) Liposomal delivery of natural product: a promising approach in health research. Trends Food Sci Technol 85(2019):177–200

Shishir MRI, Xie L, Sun C, Zheng X, Chen W (2018) Advances in micro and nano-encapsulation of bioactive compounds using biopolymer and lipid-based transporters. Trends Food Sci Technol 78(2018):34–60

Smit N, Vicanova J, Pavel S (2009) The Hunt for Natural Skin Whitening Agents. Int J Mol Sci 10(12):5326–5349

Stamatas GN, de Sterke J, Hauser M, von Stetten O, van der Pol A (2008) Lipid uptake and skin occlusion following topical application of oils on adult and infant skin. J Dermatol Sci 50(2):135–142

Strnadova K, Sandera V, Dvorankova B, Kodet O, Duskova M, Smetana K, Lacina L (2019) Skin aging: the dermal perspective. Clin Dermatol 37(4):326–335

Tarun J, Susan J, Suria J, Susan VJ, Criton S (2014) Evaluation of pH of bathing soaps and shampoos for skin and hair care. Indian J Dermatol 59(5):442–444

Thiele JJ, Ekanayake-Mudiyanselage S (2007) Vitamin E in human skin: organ-specific physiology and considerations for its use in dermatology. Mol Aspects Med 28(5–6):646–667

Tobin DJ (2017) Introduction to skin aging. J Tissue Viability 26(1):37–46

Tran D, Townley JP, Barnes TM, Greive KA (2015) An antiaging skincare system containing alpha hydroxy acids and vitamins improves the biomechanical parameters of facial skin. Clin Cosmet Investig Dermatol 8(2015):9–17

Trojahn C, Dobos G, Lichterfeld A, Blume-Peytavi U, Kottner J (2015) Characterizing facial skin aging in humans: disentangling extrinsic from intrinsic biological phenomena. BioMed Res Int. https://doi.org/10.1155/2015/318586

Tsatsou F, Trakatelli M, Patsatsi A, Kalokasidis K, Sotiriadis D (2012) Extrinsic aging: UV-mediated skin carcinogenesis. Dermato-Endocrinology 4(3):285–297

Vaughn AR, Clark AK, Sivamani RK, Shi VY (2018) Natural oils for skin-barrier repair: ancient compounds now backed by modern science. Am J Clin Dermatol 19(1):103–117

Vierkötter A, Hüls A, Yamamoto A, Stolz S, Krämer U, Matsui MS, Morita A, Wang S, Li Z, Jin L, Krutmann J (2016) Extrinsic skin ageing in German, Chinese and Japanese women manifests differently in all three groups depending on ethnic background, age and anatomical site. J Dermatol Sci 83(3):219–225

Wang X, Wu J (2019) Modulating effect of fatty acids and sterols on skin aging. J Funct Foods 57(2019):135–140

Wang X, Yu DG, Li XY, Bligh SW, Williams GR (2015) Electrospun medicated shellac nanofibers for colon-targeted drug delivery. Int J Pharm 490(1–2):384–390

Watson AD, Okano TN, Akira N (2018) Methods of regulating skin health and appearance with a combination of flavonoid and vitamin B3: United States, (US9913792B2), 1–22

Wen P, Zhu DH, Wu H, Zong MH, Jing YR, Han SY (2016) Encapsulation of cinnamon essential oil in electrospun nanofibrous film for active food packaging. Food Control 59(2016):366–376

Wen P, Zong MH, Linhardt RJ, Feng K, Wu H (2017) Electrospinning: a novel nano-encapsulation approach for bioactive compounds. Trends Food Sci Technol 70(2017):56–68

Xu X, Xiao W, Zhang Z, Pan J, Yan Y, Zhu T, Tang D, Ye K, Paranjpe M, Qu L, Nie H (2018) Anti-pruritic and anti-inflammatory effects of oxymatrine in a mouse model of allergic contact dermatitis. J Dermatol Sci 91(2):134–141

Yagi M, Yonei YJ (2017) Glycative stress and anti-aging: 6. Glycative Stress Kidney Dis 4(1):275–278

Yang J, Ciftci ON (2017) Encapsulation of fish oil into hollow solid lipid micro- and nanoparticles using carbon dioxide. Food Chem 231(2017):105–113

Yao ZC, Chang MW, Ahmad Z, Li JS (2016) Encapsulation of rose hip seed oil into fibrous zein films for ambient and on demand food preservation via coaxial electrospinning. J Food Eng 191(2016):115–123

Zhao T, Yan X, Sun L, Yang T, Hu X, He Z, Liu F, Liu X (2019) Research progress on extraction, biological activities and delivery systems of natural astaxanthin. Trends Food Sci Technol 91(2019):354–361

Zouboulis CC, Makrantonaki E, Nikolakis D (2019a) When the skin is in the center of interest: An aging issue. Clin Dermatol 37(4):296–305

Zouboulis CC, Ganceviciene R, Liakou AI, Theodoridis A, Elewa R, Makrantonaki E (2019b) Aesthetic aspects of skin aging, prevention, and local treatment. Clin Dermatol 37(4):365–372
Acknowledgements
No funding was provided for this research. The Centre for Natural Products Research and Drug Discovery (CENAR), and the Research Management & Innovation Complex, University of Malaya, Kuala Lumpur are, however, greatly acknowledged.
Ethics declarations
Conflict of interest
The authors declare that they have no known competing financial interests or personal relationships that could have appeared to influence the work reported in this paper.
Additional information
Publisher's Note
Springer Nature remains neutral with regard to jurisdictional claims in published maps and institutional affiliations.
About this article
Cite this article
Ahmed, I.A., Mikail, M.A., Zamakshshari, N. et al. Natural anti-aging skincare: role and potential. Biogerontology 21, 293–310 (2020). https://doi.org/10.1007/s10522-020-09865-z
Received:

Accepted:

Published:

Issue Date:
Keywords
Aging

Anti-aging

Homeodynamic

Hormesis

Hormetins

Skincare

Natural beauty