Abstract
One of the most studied and widely accepted conjectures of aging process is the oxidative stress theory. Current studies have generated disputes on the effects of GDF11 and GDF8, a closely related member of GDF11, on rejuvenation and anti-aging properties. In this study, we first demonstrated that when recombinant GDF8 (rGDF8) and GDF11 (rGDF11) of the fish Nothobranchius guentheri were injected into 20-month-old male mice, their serum GDF8 and GDF11 levels were clearly increased. We also showed that injection of rGDF8 and rGDF11 had little influences on the body weight and serological parameters of the mice, indicating their general condition and physiology were not affected. Based on these findings, we started to test the effects of administration of piscine rGDF11 and rGDF8 on the aging process of male mice and to explore the underlying mechanisms. It was found that rGDF11 was able to reduce the levels of AGEs, protein oxidation and lipid peroxidation, and to slow down the accumulation of age-related histological markers, while rGDF8 was not. Moreover, rGDF11 significantly prevented the decrease in CAT, GPX and SOD activities, but rGDF8 did not. Collectively, these results suggest that it is GDF11 but not GDF8 that can exert rejuvenation and anti-aging activities via the action of antioxidant system. It is also the first report that shows the activity of GDF11 is not species-specific, implicating potential usefulness of piscine GDF11 in prolonging the lifespan of the elderly.
Access options
Buy single article
Instant access to the full article PDF.
USD 39.95
Price includes VAT (USA)
Tax calculation will be finalised during checkout.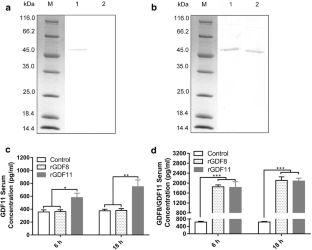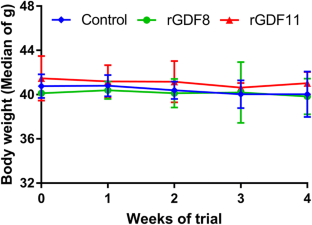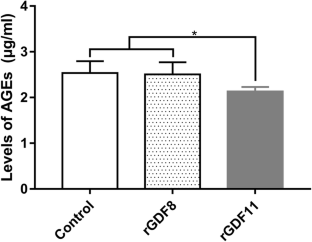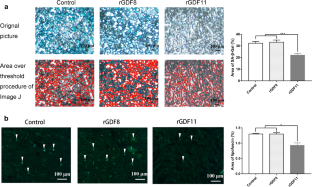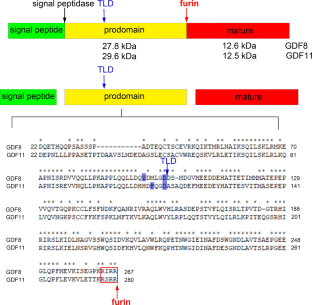 References
Andersen RE, Lim DA (2014) An ingredient for the elixir of youth. Cell Res 24:1381–1382. https://doi.org/10.1038/cr.2014.107

Brack AS (2013) Ageing of the heart reversed by youthful systemic factors. EMBO J 32:2189–2190. https://doi.org/10.1038/emboj.2013.162

Collins JJ, Evason K, Kornfeld K (2006) Pharmacology of delayed aging and extended lifespan of Caenorhabditis elegans. Exp Gerontol 41:1032–1039. https://doi.org/10.1016/j.exger.2006.06.038

Egerman MA, Cadena SM, Gilbert JA et al (2015) GDF11 increases with age and inhibits skeletal muscle regeneration. Cell Metab 22:164–174. https://doi.org/10.1016/j.cmet.2015.05.010

Finkel T, Holbrook NJ (2000) Oxidants, oxidative stress and the biology of ageing. Nature 408:239–247. https://doi.org/10.1038/35041687

Hall SS (2014) Young blood. Science 345:1234–1237. https://doi.org/10.1126/science.345.6202.1234

Harman D (1956) Aging: a theory based on free radical and radiation chemistry. J Gerontol 11:298–300

He Z, Yu S, Mei G et al (2008) Maternally transmitted milk containing recombinant human catalase provides protection against oxidation for mouse offspring during lactation. Free Radic Biol Med 45(8):1135–1142. https://doi.org/10.1016/j.freeradbiomed.2008.07.019

Hollinshead MB, Spillert CR, Flynn EJ et al (1990) Pharmacologic doses of ascorbic acid prolong the effects of pentobarbital anesthesia. Res Commun Chem Pathol Pharmacol 68(3):379

Hsu CY, Chiu YC, Hsu WL, Chan YP (2008) Age-related markers assayed at different developmental stages of the annual fish Nothobranchius rachovii. J Gerontol a-Biol 63:1267–1276. https://doi.org/10.1093/gerona/63.12.1267

Kaiser J (2014) Aging. 'Rejuvenation factor' in blood turns back the clock in old mice. Science 344:570–571. https://doi.org/10.1126/science.344.6184.570

Katsimpardi L, Litterman NK, Schein PA et al (2014) Vascular and neurogenic rejuvenation of the aging mouse brain by young systemic factors. Science 344:630–634. https://doi.org/10.1126/science.1251141

Kim DH, Kim HK, Park S et al (2006) Short-term feeding of baicalin inhibits age-associated NF-kappaB activation. Mech Ageing Dev 127:719–725. https://doi.org/10.1016/j.mad.2006.05.002

Kishi S, Uchiyama J, Baughman AM, Goto T, Lin MC, Tsai SB (2003) The zebrafish as a vertebrate model of functional aging and very gradual senescence. Exp Gerontol 38:777–786. https://doi.org/10.1016/s0531-5565(03)00108-6

Lim Y, Zhong JH, Zhou XF (2015) Development of mature BDNF-specific sandwich ELISA. J Neurochem 134:75–85. https://doi.org/10.1111/jnc.13108

Liu M, Zhang S (2009) A kringle-containing protease with plasminogen-like activity in the basal chordate Branchiostoma belcheri. Biosci Rep 29:385–395. https://doi.org/10.1042/bsr20080173

Liu T, Qi H, Ma L et al (2015) Resveratrol attenuates oxidative stress and extends life span in the annual fish Nothobranchius guentheri. Rejuvenation Res 18:225–233. https://doi.org/10.1089/rej.2014.1618

Loffredo FS, Steinhauser ML, Jay SM et al (2013) Growth differentiation factor 11 is a circulating factor that reverses age-related cardiac hypertrophy. Cell 153:828–839. https://doi.org/10.1016/j.cell.2013.04.015

McPherron AC, Lawler AM, Lee SJ (1999) Regulation of anterior/posterior patterning of the axial skeleton by growth/differentiation factor 11. Nat Genet 22:260–264. https://doi.org/10.1038/10320

Nakada D, Oguro H, Levi BP, Ryan N, Kitano A, Saitoh Y, Takeichi M, Wendt GR, Morrison SJ (2014) Oestrogen increases haematopoietic stem-cell self-renewal in females and during pregnancy. Nature 505(7484):555–558. https://doi.org/10.1038/nature12932

Padyana AK, Vaidialingam B, Hayes DB, Gupta P, Franti M, Farrow NA (2016) Crystal structure of human GDF11. Acta Crystallogr F Struct Biol Commun 72:160–164. https://doi.org/10.1107/S2053230X16001588

Poggioli T, Vujic A, Yang P et al (2016) Circulating growth differentiation factor 11/8 levels decline with age. Circ Res 118:29–37. https://doi.org/10.1161/CIRCRESAHA.115.307521

Rodgers BD, Eldridge JA (2015) Reduced circulating gdf11 is unlikely responsible for age-dependent changes in mouse heart, muscle, and brain. Endocrinology 156:3885–3888. https://doi.org/10.1210/en.2015-1628

Sang Y, Zhang F, Wang H et al (2017) Apigenin exhibits protective effects in a mouse model of d-galactose-induced aging via activating the Nrf2 pathway. Food Funct 8:2331–2340. https://doi.org/10.1039/c7fo00037e

Schafer MJ, Atkinson EJ, Vanderboom PM et al (2016) Quantification of GDF11 and myostatin in human aging and cardiovascular disease. Cell Metab 23:1207–1215. https://doi.org/10.1016/j.cmet.2016.05.023

Sinha M, Jang YC, Oh J et al (2014) Restoring systemic GDF11 levels reverses age-related dysfunction in mouse skeletal muscle. Science 344:649–652. https://doi.org/10.1126/science.1251152

Smith SC, Zhang X, Zhang X et al (2015) GDF11 does not rescue aging-related pathological hypertrophy. Circ Res 117:926–932. https://doi.org/10.1161/CIRCRESAHA.115.307527

Sohal RS, Weindruch R (1996) Oxidative stress, caloric restriction, and aging. Science 273:59–63

Sohal RS, Agarwal S, Dubey A, Orr WC (1993) Protein oxidative damage is associated with life expectancy of houseflies. Proc Natl Acad Sci USA 90:7255–7259. https://doi.org/10.1073/pnas.90.15.7255

Spitz DR, Oberley LW (1989) An assay for superoxide dismutase activity in mammalian tissue homogenates. Anal Biochem 179:8–18

Walburg HE, Cosgrove GE (1967) Ageing in irradiated and unirradiated germfree ICR mice. Exp Gerontol 2(3):143–158. https://doi.org/10.1016/0531-5565(67)90031-9

Walker RG, Poggioli T, Katsimpardi L et al (2016) Biochemistry and biology of GDF11 and myostatin: similarities, differences, and questions for future investigation. Circ Res 118:1125–1141. https://doi.org/10.1161/circresaha.116.308391 discussion 1142

Wang X, Du X, Zhou Y, Wang S, Su F, Zhang S (2018) Time-dependent effects of late-onset dietary intake of salidroside on lifespan and age-related biomarkers of the annual fish Nothobranchius guentheri. Oncotarget 9:14882–14894. https://doi.org/10.18632/oncotarget.23957

Yu X, Li G (2012) Effects of resveratrol on longevity, cognitive ability and aging-related histological markers in the annual fish Nothobranchius guentheri. Exp Gerontol 47:940–949. https://doi.org/10.1016/j.exger.2012.08.009

Zhang YH, Cheng F, Du XT, Gao JL, Xiao XL, Li N, Li SL, Dong DL (2016) GDF11/BMP11 activates both smad1/5/8 and smad2/3 signals but shows no significant effect on proliferation and migration of human umbilical vein endothelial cells. Oncotarget 7:12063–12074. https://doi.org/10.18632/oncotarget.7642

Zhou Y, Jiang Z, Harris EC, Reeves J, Chen X, Pazdro R (2016) Circulating concentrations of growth differentiation factor 11 are heritable and correlate with life span. J Gerontol A Biol Sci Med Sci 71:1560–1563. https://doi.org/10.1093/gerona/glv308

Zhou Y, Ni S, Song L, Wang X, Zhang Y, Zhang S (2018) Late-onset administration of GDF11 extends life span and delays development of age-related markers in the annual fish Nothobranchius guentheri. Biogerontology. https://doi.org/10.1007/s10522-018-09789-9
Acknowledgements
This work was supported in part by the grants of the Natural Science Foundation of China (31501856; 31772442) and the Blue Life Breakthrough Program (MS2017NO02) of the Laboratory for Marine Biology and Biotechnology, Qingdao National Laboratory for Marine Science and Technology, China.
Ethics declarations
Conflict of interest
No competing financial interests exist.
Additional information
Publisher's Note
Springer Nature remains neutral with regard to jurisdictional claims in published maps and institutional affiliations.
Electronic supplementary material
Below is the link to the electronic supplementary material.
About this article
Cite this article
Zhou, Y., Song, L., Ni, S. et al. Administration of rGDF11 retards the aging process in male mice via action of anti-oxidant system. Biogerontology 20, 433–443 (2019). https://doi.org/10.1007/s10522-019-09799-1
Received:

Accepted:

Published:

Issue Date:
Keywords
Aging

GDF11

GDF8

Mice

Nothobranchius