Abstract
In the last decades, studies about ageing have become more essential as our population grows older. The incidence of age-related diseases increases, which pose challenges both for societies and individuals in terms of life quality and economic impact. Understanding ageing and ageing-related processes will help us to slow down or even prevent these diseases and provide opportunities for healthy ageing; additionally, we all want to live longer. Ageing is a consequence of the interaction between processes that occur over time and genetics interacting with various disease states and an individual's lifestyle. There are several hallmarks of ageing that are generally accepted, but neither of the theories appears to be fully satisfactory. The focus of this article is on two theories of ageing: telomere shortening and mitochondrial DNA (mtDNA) alterations and dysfunction. We discuss characteristic molecular features such as mitochondrial haplogroups, telomere length, mtDNA copy number and heteroplasmy, and how all these traits come together in the ageing population. The recent evidence shows the existence of a strong linkage between these two theories suggesting common molecular mechanisms and a complicated telomere-mitochondria interplay during the humans' ageing. However, this relationship is still not completely understood, which is why it needs more attention.
This is a preview of subscription content, log in to check access.
Access options
Buy single article
Instant access to the full article PDF.
US$ 39.95
Price includes VAT for USA
Subscribe to journal
Immediate online access to all issues from 2019. Subscription will auto renew annually.
US$ 99
This is the net price. Taxes to be calculated in checkout.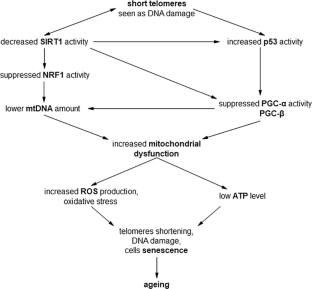 References
Aitullina A, Baumane K, Zalite S, Ranka R, Zole E, Pole I, Sepetiene S, Laganovska G, Baumanis V, Pliss L (2013) Point mutations associated with Leber hereditary optic neuropathy in a Latvian population. Mol Vis 19:2343–2351

Alegría-Torres JA, Velázquez-Villafaña M, López-Gutiérrez JM, Chagoyán-Martínez MM, Rocha-Amador DO, Costilla-Salazar R, García-Torres L (2016) Association of leukocyte telomere length and mitochondrial DNA copy number in children from Salamanca, Mexico. Genet Test Mol Biomark 20:654–659

Anderson S, Bankier AT, Barrell BG, de Bruijn MH, Coulson AR, Drouin J, Eperon IC, Nierlich DP, Roe BA, Sanger F, Schreier PH, Smith AJ, Staden R, Young IG (1981) Sequence and organization of the human mitochondrial genome. Nature 290:457–465

Ashar FN, Moes A, Moore AZ, Grove ML, Chaves PHM, Coresh J, Newman AB, Matteini AM, Bandeen-Roche K, Boerwinkle E, Walston JD, Arking DE (2015) Association of mitochondrial DNA levels with frailty and all-cause mortality. J Mol Med (Berl) 93:177–186

Aviv A (2018) The mitochondrial genome, paternal age and telomere length in humans. Phil Trans R Soc Lond B Biol Sci 373:20170210

Balaban RS, Nemoto S, Finkel T (2005) Mitochondria, oxidants, and aging. Cell 120:483–495

Barrientos A, Casademont J, Cardellach F, Ardite E, Estivill X, Urbano-Márquez A, Fernández-Checa JC, Nunes V (1997a) Qualitative and quantitative changes in skeletal muscle mtDNA and expression of mitochondrial-encoded genes in the human aging process. Biochem Mol Med 62:165–171

Barrientos A, Casademont J, Cardellach F, Estivill X, Urbano-Marquez A, Nunes V (1997b) Reduced steady-state levels of mitochondrial RNA and increased mitochondrial DNA amount in human brain with aging. Brain Res Mol Brain Res 52:284–289

Baudouin SV, Saunders D, Tiangyou W, Elson JL, Poynter J, Pyle A, Keers S, Turnbull DM, Howell N, Chinnery PF (2005) Mitochondrial DNA and survival after sepsis: a prospective study. Lancet 366:2118–2121

Beckstead WA, Ebbert MTW, Rowe MJ, McClellan DA (2009) Evolutionary pressure on mitochondrial Cytochrome b is consistent with a role of CytbI7T affecting longevity during caloric restriction. PLoS ONE 4:e5836

Bellizzi D, Cavalcante P, Taverna D, Rose G, Passarino G, Salvioli S, Franceschi C, De Benedictis G (2006) Gene expression of cytokines and cytokine receptors is modulated by the common variability of the mitochondrial DNA in cybrid cell lines. Genes Cells 11:883–891

Benn M, Schwartz M, Nordestgaard BG, Tybjaerg-Hansen A (2008) Mitochondrial haplogroups: ischemic cardiovascular disease, other diseases, mortality, and longevity in the general population. Circulation 117:2492–2501

Bernadotte A, Mikhelson VM, Spivak IM (2016) Markers of cellular senescence. Telomere shortening as a marker of cellular senescence. Aging (Albany NY) 8:3–11

Bize P, Criscuolo F, Metcalfe NB, Nasir L, Monaghan P (2009) Telomere dynamics rather than age predict life expectancy in the wild. Proc Biol Sci 276:1679–1683

Blackburn EH (2001) Telomeres. eLS 1–7. https://doi.org/10.1038/npg.els.0001167

Blackburn EH, Epel ES, Lin J (2015) Human telomere biology: a contributory and interactive factor in aging, disease risks, and protection. Science 350:1193–1198

Blasco MA (2007) Telomere length, stem cells and aging. Nat Chem Biol 3:640–649

Booker LM, Habermacher GM, Jessie BC, Sun QC, Baumann AK, Amin M, Lim SD, Fernandez-Golarz C, Lyles RH, Brown MD, Marshall FF, Petros JA (2006) North American white mitochondrial haplogroups in prostate and renal cancer. J Urol 175:468–472

Broer L, Codd V, Nyholt DR, Deelen J, Mangino M, Willemsen G, Albrecht E, Amin N, Beekman M, de Geus EJ, Henders A, Nelson CP, Steves CJ, Wright MJ, de Craen AJ, Isaacs A, Matthews M, Moayyeri A, Montgomery GW, Oostra BA, Vink JM, Spector TD, Slagboom PE, Martin NG, Samani NJ, van Duijn CM, Boomsma DI (2013) Meta-analysis of telomere length in 19,713 subjects reveals high heritability, stronger maternal inheritance and a paternal age effect. Eur J Hum Genet 21:1163–1168

Cai XY, Wang XF, Li SL, Qian J, Qian DG, Chen F, Yang YJ, Yuan ZY, Xu J, Bai Y, Yu SZ, Jin L (2009) Association of mitochondrial DNA haplogroups with exceptional longevity in a Chinese population. PLoS ONE 4:e6423

Cai N, Chang S, Li Y, Li Q, Hu J, Liang J, Song L, Kretzschmar W, Gan X, Nicod J, Rivera M, Deng H, Du B, Li K, Sang W, Gao J, Gao S, Ha B, Ho HY, Hu C, Hu J, Hu Z, Huang G, Jiang G, Jiang T, Jin W, Li G, Li K, Li Y, Li Y, Li Y, Lin YT, Liu L, Liu T, Liu Y, Liu Y, Lu Y, Lv L, Meng H, Qian P, Sang H, Shen J, Shi J, Sun J, Tao M, Wang G, Wang G, Wang J, Wang L, Wang X, Wang X, Yang H, Yang L, Yin Y, Zhang J, Zhang K, Sun N, Zhang W, Zhang X, Zhang Z, Zhong H, Breen G, Wang J, Marchini J, Chen Y, Xu Q, Xu X, Mott R, Huang GJ, Kendler K, Flint J (2015) Molecular signatures of major depression. Curr Biol 5:46–56

Canela A, Vera E, Klatt P, Blasco MA (2007) High-throughput telomere length quantification by FISH and its application to human population studies. PNAS 104:5300–5305

Carrieri G, Bonafè M, De Luca M, Rose G, Varcasia O, Bruni A, Maletta R, Nacmias B, Sorbi S, Corsonello F, Feraco E, Andreev KF, Yashin AI, Franceschi C, De Benedictis G (2001) Mitochondrial DNA haplogroups and APOE4 allele are non-independent variables in sporadic Alzheimer's disease. Hum Genet 108:194–198

Cawthon RM, Smith KR, O'Brien E, Sivatchenko A, Kerber RA (2003) Association between telomere length in blood and mortality in people aged 60 years or older. Lancet 361:393–395

Chai W, Du Q, Shay JW, Wright WE (2006) Human telomeres have different overhang sizes at leading versus lagging strands. Mol Cell 21:427–435

Chandel NS (2014) Mitochondria as signaling organelles. BMC Biol 12:34

Chang YK, Kim DE, Cho SH, Kim JH (2016) Association between leukocyte mitochondrial DNA copy number and regular exercise in postmenopausal women. Korean J Fam Med 37:334–339

Chen W, Kimura M, Kim S, Cao X, Srinivasan SR, Berenson GS, Kark JD, Aviv A (2011) Longitudinal versus cross-sectional evaluations of leukocyte telomere length dynamics: age-dependent telomere shortening is the rule. J Gerontol A Biol Sci Med Sci 66:312–319

Chen A, Raule N, Chomyn A, Attardi G (2012) Decreased reactive oxygen species production in cells with mitochondrial haplogroups associated with longevity. PLoS ONE 7:e46473

Chien MC, Huang WT, Wang PW, Liou CW, Lin TK, Hsieh CJ, Weng SW (2012) Role of mitochondrial DNA variants and copy number in diabetic atherogenesis. Genet Mol Res 11:3339–3348

Chin L, Artandi SE, Shen Q, Tam A, Lee SL, Gottlieb GJ, Greider CW, DePinho RA (1999) p53 deficiency rescues the adverse effects of telomere loss and cooperates with telomere dysfunction to accelerate carcinogenesis. Cell 97:527–538

Chinnery PF, Hudson G (2013) Mitochondrial genetics. Br Med Bull 106:135–159

Correia-Melo C, Marques FD, Anderson R, Hewitt G, Hewitt R, Cole J, Carroll BM, Miwa S, Birch J, Merz A, Rushton MD, Charles M, Jurk D, Tait SW, Czapiewski R, Greaves L, Nelson G, Bohlooly-Y M, Rodriguez-Cuenca S, Vidal-Puig A, Mann D, Saretzki G, Quarato G, Green DR, Adams PD, von Zglinicki T, Korolchuk VI, Passos JF (2016) Mitochondria are required for pro-ageing features of the senescent phenotype. EMBO J 35:724–742

Cortopassi GA, Shibata D, Soong NW, Arnheim N (1992) A pattern of accumulation of a somatic deletion of mitochondrial DNA in aging human tissues. Proc Natl Acad Sci USA 89:7370–7374

Courtenay MD, Gilbert JR, Jiang L, Cummings AC, Gallins PJ, Caywood L, Reinhart-Mercer L, Fuzzell D, Knebusch C, Laux R, McCauley JL, Jackson CE, Pericak-Vance MA, Haines JL, Scott WK (2012) Mitochondrial haplogroup X is associated with successful aging in the Amish. Hum Genet 131:201–208

Crous-Bou M, Fung TT, Prescott J, Julin B, Du M, Sun Q, Rexrode KM, Hu FB, De Vivo I (2014) Mediterranean diet and telomere length in Nurses' Health Study: population based cohort study. BMJ 349:g6674

Cui X, Wang J, Cai Z, Wang J, Liu K, Cui S, Zhang J, Luo Y, Wang X, Li W, Jing J (2014) Complete sequence analysis of mitochondrial DNA and telomere length in aplastic anemia. Int J Mol Med 34:1309–1314

Czarnecka AM, Bartnik E (2011) The role of the mitochondrial genome in ageing and carcinogenesis. J Aging Res 2011:136435

Daniali L, Benetos A, Susser E, Kark JD, Labat C, Kimura M, Desai K, Granick M, Aviv A (2013) Telomeres shorten at equivalent rates in somatic tissues of adults. Nat Commun 4:1597

Dato S, Passarino G, Rose G, Altomare K, Bellizzi D, Mari V, Feraco E, Franceschi C, De Benedictis G (2004) Association of the mitochondrial DNA haplogroup J with longevity is population specific. Eur J Hum Genet 12:1080–1082

de Benedictis G, Rose G, Carrieri G, De Luca M, Falcone E, Passarino G, Bonafe M, Monti D, Baggio G, Bertolini S, Mari D, Mattace R, Franceschi C (1999) Mitochondrial DNA inherited variants are associated with successful aging and longevity in humans. FASEB J 13:1532–1536

de Benedictis G, Carrieri G, Varcasia O, Bonafè M, Franceschi C (2000) Inherited variability of the mitochondrial genome and successful aging in humans. Ann N Y Acad Sci 908:208–218

de Camargo MA, Paneto GG, de Mell ACO, Martin JA, Barcello W, Cicarell RMB (2011) No relationship found between point heteroplasmy in mitochondrial DNA control region and age range, sex and haplogroup in human hairs. Mol Biol Rep 38:1219–1223

de Lange T, Lundblad V, Blackburn E (2006) Telomeres, 2nd edn. Cold Spring Harbor Laboratory Press, Cold Spring Harbor

DeBalsi KL, Hoff KE, Copeland WC (2017) Role of the mitochondrial DNA replication machinery in mitochondrial DNA mutagenesis, aging and age-related diseases. Ageing Res Rev 33:89–104

Debrabant B, Soerensen M, Flachsbart F, Dato S, Mengel-From J, Stevnsner T, Bohr VA, Kruse TA, Schreiber S, Nebel A, Christensen K, Tan Q, Christiansen L (2014) Human longevity and variation in DNA damage response and repair: study of the contribution of sub-processes using competitive gene-set analysis. Eur J Hum Genet 22:1131–1136

Dimri GP, Lee X, Basile G, Acosta M, Scott G, Roskelley C, Medrano EE, Linskens M, Rubelj I, Pereira-Smith O, Peacocke M, Campisi J (1995) A biomarker that identifies senescent human cells in culture and in aging skin in vivo. Proc Natl Acad Sci USA 92:9363–9367

Ding J, Sidore C, Butler TJ, Wing MK, Qian Y, Meirelles O, Busonero F, Tsoi LC, Maschio A, Angius A, Kang HM, Nagaraja R, Cucca F, Abecasis GR, Schlessinger D (2015) Assessing mitochondrial DNA variation and copy number in lymphocytes of ~ 2000 sardinians using tailored sequencing analysis tools. PLoS Genet 11:e1005549

Ehrlenbach S, Willeit P, Kiechl S, Willeit J, Reindl M, Schanda K, Kronenberg F, Brandstätter A (2009) Influences on the reduction of relative telomere length over 10 years in the population-based Bruneck Study: introduction of a well-controlled high-throughput assay. Int J Epidemiol 38:1725–1734

Eisenberg DT (2011) An evolutionary review of human telomere biology: the thrifty telomere hypothesis and notes on potential adaptive paternal effects. Am J Hum Biol 23:149–167

Eisenberg DT, Salpea KD, Kuzawa CW, Hayes MG, Humphries SE (2011) Substantial variation in qPCR measured mean blood telomere lengths in young men from eleven European countries. Am J Hum Biol 23:228–231

Ekstrand MI, Falkenberg M, Rantanen A, Park CB, Gaspari M, Hultenby K, Rustin P, Gustafsson CM, Larsson NG (2004) Mitochondrial transcription factor A regulates mtDNA copy number in mammals. Hum Mol Genet 13:935–944

Epel ES, Blackburn EH, Lin J, Dhabhar FS, Adler NE, Morrow JD, Cawthon RM (2004) Accelerated telomere shortening in response to life stress. PNAS 101:17312–17315

Fang EF, Scheibye-Knudsen M, Chua KF, Mattson MP, Croteau DL, Bohr VA (2016) Nuclear DNA damage signalling to mitochondria in ageing. Nat Rev Mol Cell Biol 17:308–321

Faure E, Delaye L, Tribolo S, Levasseur A, Seligmann H, Barthélémy RM (2011) Probable presence of an ubiquitous cryptic mitochondrial gene on the antisense strand of the cytochrome oxidase I gene. Biol Direct 6:56

Fernández-Moreno M, Tamayo M, Soto-Hermida A, Mosquera A, Oreiro N, Fernández-López C, Fernández JL, Rego-Pérez I, Blanco FJ (2011) mtDNA haplogroup J modulates telomere length and nitric oxide production. BMC Musculoskelet Disord 12:283

Fernández-Moreno M, Soto-Hermida A, Vázquez-Mosquera ME, Cortés-Pereira E, Relaño S, Hermida-Gómez T, Pértega S, Oreiro-Villar N, Fernández-López C, Garesse R, Blanco FJ, Rego-Pérez I (2017) Mitochondrial DNA haplogroups influence the risk of incident knee osteoarthritis in OAI and CHECK cohorts. A meta-analysis and functional study. Ann Rheum Dis 76:1114–1122

Flores I, Blasco MA (2009) A p53-dependent response limits epidermal stem cell functionality and organismal size in mice with short telomeres. PLoS ONE 4:e4934

Friedrich U, Griese E, Schwab M, Fritz P, Thon K, Klotz U (2000) Telomere length in different tissues of elderly patients. Mech Ageing Dev 119:89–99

Fukuoh A, Cannino G, Gerards M, Buckley S, Kazancioglu S, Scialo F, Lihavainen E, Ribeiro A, Dufour E, Jacobs HT (2014) Screen for mitochondrial DNA copy number maintenance genes reveals essential role for ATP synthase. Mol Syst Biol 10:734

Gaweda-Walerych K, Maruszak A, Safranow K, Bialecka M, Klodowska-Duda G, Czyzewski K, Slawek J, Rudzinska M, Styczynska M, Opala G, Drozdzik M, Canter JA, Barcikowska M, Zekanowski C (2008) Mitochondrial DNA haplogroups and subhaplogroups are associated with Parkinson's disease risk in a Polish PD cohort. J Neural Transm (Vienna) 115:1521–1526

Gendron SP, Thériault M, Proulx S, Brunette I, Rochette PJ (2016) Restoration of mitochondrial integrity, telomere length, and sensitivity to oxidation by in vitro culture of fuchs' endothelial corneal dystrophy cells. Invest Ophthalmol Vis Sci 57:5926–5934

Ghezzi D, Marelli C, Achilli A, Goldwurm S, Pezzoli G, Barone P, Pellecchia MT, Stanzione P, Brusa L, Bentivoglio AR, Bonuccelli U, Petrozzi L, Abbruzzese G, Marchese R, Cortelli P, Grimaldi D, Martinelli P, Ferrarese C, Garavaglia B, Sangiorgi S, Carelli V, Torroni A, Albanese A, Zeviani M (2005) Mitochondrial DNA haplogroup K is associated with a lower risk of Parkinson's disease in Italians. Eur J Hum Genet 13:748–752

Gierman HJ, Fortney K, Roach JC, Coles NS, Li H, Glusman G, Markov GJ, Smith JD, Hood L, Coles LS, Kim SK (2014) Whole-genome sequencing of the world's oldest people. PLoS ONE 9:e112430

Giles RE, Blanc H, Cann HM, Wallace C (1980) Maternal inheritance of human mitochondrial DNA. Proc Natl Acad Sci USA Sci 77:6715–6719

Giuliani C, Barbieri C, Li M, Bucci L, Monti D, Passarino G, Luiselli D, Franceschi C, Stoneking M, Garagnani P (2014) Transmission from centenarians to their offspring of mtDNA heteroplasmy revealed by ultra-deep sequencing. Aging (Albany NY) 6:454–467

Gómez-Durán A, Pacheu-Grau D, López-Gallardo E, Díez-Sánchez C, Montoya J, López-Pérez MJ, Ruiz-Pesini E (2010) Unmasking the causes of multifactorial disorders: OXPHOS differences between mitochondrial haplogroups. Hum Mol Genet 19:3343–3353

Govindaraju D, Atzmon G, Barzilai N (2015) Genetics, lifestyle and longevity: lessons from centenarians. Appl Transl Genom 4:23–32

Greaves LC, Nooteboom M, Elson JL, Tuppen HA, Taylor GA, Commane DM, Arasaradnam RP, Khrapko K, Taylor RW, Kirkwood TB, Mathers JC, Turnbull DM (2014) Clonal expansion of early to mid-life mitochondrial DNA point mutations drives mitochondrial dysfunction during human ageing. PLoS Genet 10:e1004620

Green DR, Galluzzi L, Kroemer G (2011) Mitochondria and the autophagy–inflammation–cell death axis in organismal aging. Science 333:1109–1112

Greider CW, Blackburn EH (1985) Identification of a specific telomere terminal transferase activity in Tetrahymena extracts. Cell 43:405–413

Guantes R, Díaz-Colunga J, Iborra FJ (2016) Mitochondria and the non-genetic origins of cell-to-cell variability: more is different. BioEssays 38:64–76

Guney O, Ak H, Atay S, Ozkaya AB, Aydin HH (2014) Mitochondrial DNA polymorphisms associated with longevity in the Turkish population. Mitochondrion 17:7–13

Haendeler J, Dröse S, Büchner N, Jakob S, Altschmied J, Goy C, Spyridopoulos I, Zeiher AM, Brandt U, Dimmeler S (2009) Mitochondrial telomerase reverse transcriptase binds to and protects mitochondrial DNA and function from damage. Arterioscler Thromb Vasc Biol 29:929–935

Halaschek-Wiener J, Vulto I, Fornika D, Collins J, Connors JM, Le ND, Lansdorp PM, Brooks-Wilson A (2008) Reduced telomere length variation in healthy oldest old. Mech Ageing Dev 129:638–641

Hansen ME, Hunt S, Stone RC, Horvath K, Herbig U, Ranciaro A, Hirbo J, Beggs W, Reiner AP, Wilson JG, Kimura M, De Vivo I, Chen MM, Kark JD, Levy D, Nyambo T, Tishkoff SA, Aviv A (2016) Shorter telomere length in Europeans than in Africans due to polygenetic adaptation. Hum Mol Genet 25:2324–2330

Harley CB, Futcher AB, Greider CW (1990) Telomeres shorten during aging of human fibroblasts. Nature 345:458–460

Hashimoto Y, Niikura T, Tajima H, Yasukawa T, Sudo H, Ito Y, Kita Y, Kawasumi M, Kouyama K, Doyu M, Sobue G, Koide T, Tsuji S, Lang J, Kurokawa K, Nishimoto I (2001) A rescue factor abolishing neuronal cell death by a wide spectrum of familial Alzheimer's disease genes and Aβ. Proc Natl Acad Sci USA 98:6336–6341

Haussmann MF, Mauck RA (2008) Telomeres and longevity: testing an evolutionary hypothesis. Mol Biol Evol 25:220–228

He YH, Lu X, Wu H, Cai WW, Yang LQ, Xu LY, Sun HP, Kong QP (2014) Mitochondrial DNA content contributes to healthy aging in Chinese: a study from nonagenarians and centenarians. Neurobiol Aging 35:1779

Hewitt G, Jurk D, Marques FD, Correia-Melo C, Hardy T, Gackowska A, Anderson R, Taschuk M, Mann J, Passos JF (2012) Telomeres are favoured targets of a persistent DNA damage response in ageing and stress-induced senescence. Nat Commun 3:708

Higa M, Fujita M, Yoshida K (2017) DNA replication origins and fork progression at mammalian telomeres. Genes (Basel). https://doi.org/10.3390/genes8040112

Hjelmborg JB, Dalgård C, Mangino M, Spector TD, Halekoh U, Möller S, Kimura M, Horvath K, Kark JD, Christensen K, Kyvik KO, Aviv A (2015) Paternal age and telomere length in twins: the germ stem cell selection paradigm. Aging Cell 14:701–703

Hudson G, Carelli V, Spruijt L, Gerards M, Mowbray C, Achilli A, Pyle A, Elson J, Howell N, La Morgia C, Valentino ML, Huoponen K, Savontaus ML, Nikoskelainen E, Sadun AA, Salomao SR, Belfort R Jr, Griffiths P, Man PY, de Coo RF, Horvath R, Zeviani M, Smeets HJ, Torroni A, Chinnery PF (2007) Clinical expression of Leber hereditary optic neuropathy is affected by the mitochondrial DNA-haplogroup background. Am J Hum Genet 81:228–233

Hunt SC, Chen W, Gardner JP, Kimura M, Srinivasan SR, Eckfeldt JH, Berenson GS, Aviv A (2008) Leukocyte telomeres are longer in African Americans than in whites: the National Heart, Lung, and Blood Institute Family Heart Study and the Bogalusa Heart Study. Aging Cell 7:451–458

Jiang D, Fei RG, Pendergrass WR, Wolf NS (1992) An age-related reduction in the replicative capacity of two murine hematopoietic stroma cell types. Exp Hematol 20:1216–1222

Jiang H, Ju Z, Rudolph KL (2007) Telomere shortening and aging. Z Gerontol Geriat 40:314–324

Jin K (2010) Modern biological theories of aging. Aging Dis 1:72–74

Jung SJ, Cho JH, Park WJ, Heo YR, Lee JH (2017) Telomere length is correlated with mitochondrial DNA copy number in intestinal, but not diffuse, gastric cancer. Oncol Lett 14:925–929

Kaszubowska L (2008) Telomere shortening and ageing of the immune system. J Physiol Pharmacol 9:169–186

Kauppila JH, Stewart JB (2015) Mitochondrial DNA: radically free of free-radical driven mutations. Biochim Biophys Acta 1847:1354–1361

Kawanishi S, Oikawa S (2004) Mechanism of telomere shortening by oxidative stress. Ann N Y Acad Sci 1019:278–284

Kelly RD, Mahmud A, McKenzie M, Trounce IA, St John JC (2012) Mitochondrial DNA copy number is regulated in a tissue specific manner by DNA methylation of the nuclear-encoded DNA polymerase gamma. A Nucl Acids Res 40:10124–10138

Kenneth D, Kochanek MA, Sherry L, Murphy BS, Jiaquan Xu MD, Betzaida Tejada-Vera MS (2016) Deaths: final data for 2014. Natl Vital Stat Rep 65:1–121

Kenney MC, Chwa M, Atilano SR, Falatoonzadeh P, Ramirez C, Malik D, Tarek M, Del Carpio JC, Nesburn AB, Boyer DS, Kuppermann BD, Vawter MP, Jazwinski SM, Miceli MV, Wallace DC, Udar N (2014) Molecular and bioenergetic differences between cells with African versus European inherited mitochondrial DNA haplogroups: implications for population susceptibility to diseases. Biochim Biophys Acta 1842:208–219

Kim NW, Piatyszek MA, Prowse KR, Harley CB, West MD, Ho PL, Coviello GM, Wright WE, Weinrich SL, Shay JW (1994) Specific association of human telomerase activity with immortal cells and cancer. Science 266:2011–2015

Kim MY, Lee JW, Kang HC, Kim E, Lee DC (2011) Leukocyte mitochondrial DNA (mtDNA) content is associated with depression in old women. Arch Gerontol Geriatr 53:e218–e221

Kim JH, Kim HK, Ko JH, Bang H, Lee DC (2013) The relationship between leukocyte mitochondrial DNA copy number and telomere length in community-dwelling elderly women. PLoS ONE 8:e67227

Kimura M, Cherkas LF, Kato BS, Demissie S, Hjelmborg JB, Brimacombe M, Cupples A, Hunkin JL, Gardner JP, Lu X, Cao X, Sastrasinh M, Province MA, Hunt SC, Christensen K, Levy D, Spector TD, Aviv A (2008) Offspring's leukocyte telomere length, paternal age, and telomere elongation in sperm. PLoS Genet 4:e37

Klemba A, Kowalewska M, Kukwa W, Tonska K, Szybinska A, Mossakowska M, Scinska A, Golik P, Koper K, Radziszewski J, Kukwa A, Czarnecka AM, Bartnik E (2010) Mitochondrial genotype in vulvar carcinoma: cuckoo in the nest. J Biomed Sci 17:73

Knez J, Winckelmans E, Plusquin M, Thijs L, Cauwenberghs N, Staessen JA, Nawrot T, Kuznetsova T (2016) Correlates of peripheral blood mitochondrial DNA copy number in a general population. J Hypertens 33:e2

Kobyliansky E, Torchinsky D, Kalichman L, Karasik D (2016) Leukocyte telomere length pattern in a Chuvash population that experienced mass famine in 1922–1923: a retrospective cohort study. Am J Clin Nutr 104:1410–1415

Koczor CA, White RC, Zhao P, Zhu L, Fields E, Lewis W (2012) p53 and mitochondrial DNA: their role in mitochondrial homeostasis and toxicity of antiretrovirals. Am J Pathol 180:2276–2283

Kofler B, Mueller EE, Eder W, Stanger O, Maier R, Weger M, Haas A, Winker R, Schmut O, Paulweber B, Iglseder B, Renner W, Wiesbauer M, Aigner I, Santic D, Zimmermann FA, Mayr JA, Sperl W (2009) Mitochondrial DNA haplogroup T is associated with coronary artery disease and diabetic retinopathy: a case control study. BMC Med Genet 10:35

Kulawiec M, Ayyasamy V, Singh KK (2009) p53 regulates mtDNA copy number and mitocheckpoint pathway. J Carcinog 8:8

Kumar B, Bhat ZI, Bansal S, Saini S, Naseem A, Wahabi K, Burman A, Kumar GT, Saluja SS, Rizvi MMA (2017) Association of mitochondrial copy number variation and T16189C polymorphism with colorectal cancer in North Indian population. Tumour Biol 39:1–7

Kyo S, Takakura M, Kanaya T, Zhuo W, Fujimoto K, Nishio Y, Orimo A, Inoue M (1999) Estrogen activates telomerase. Cancer Res 59:5917–5921

Larsen S, Díez-Sánchez C, Rabøl R, Ara I, Dela F, Helge JW (2014) Increased intrinsic mitochondrial function in humans with mitochondrial haplogroup H. Biochim Biophys Acta 1837:226–231

Lebedeva MA, Eaton JS, Shadel GS (2009) Loss of p53 causes mitochondrial DNA depletion and altered mitochondrial reactive oxygen species homeostasis. Biochim Biophys Acta 1787:328–334

Lee JW, Park KD, Im JA, Kim MY, Lee DC (2010) Mitochondrial DNA copy number in peripheral blood is associated with cognitive function in apparently healthy elderly women. Clin Chim Acta 411:592–596

Lee C, Yen K, Cohen P (2013) Humanin: a harbinger of mitochondrial-derived peptides? Trends Endocrinol Metab 24:222–228

Lee JY, Kim JH, Lee DC (2017a) Combined impact of telomere length and mitochondrial DNA copy number on cognitive function in community-dwelling very old adults. Dement Geriatr Cogn Disord 44:232–243

Lee H, Cho JH, Park WJ, Jung SJ, Choi IJ, Lee JH (2017b) Loss of the association between telomere length and mitochondrial dna copy number contribute to colorectal carcinogenesis. Pathol Oncol Res (in press)

Levine B, Kroemer G (2008) Autophagy in the pathogenesis of disease. Cell 132:27–42

Lin J, Epel E, Blackburn E (2012) Telomeres and lifestyle factors: roles in cellular aging. Mutat Res 730:85–89

Linnane AW, Marzuki S, Ozawa T, Tanaka M (1989) Mitochondrial DNA mutations as an important contributor to ageing and degenerative diseases. Lancet 1:642–645

Lipinski MM, Zheng B, Lu T, Yan ZY, Py BF, Ng A, Xavier RJ, Li C, Yankner BA, Scherzer CR, Yuan JY (2010) Genome-wide analysis reveals mechanisms modulating autophagy in normal bramin aging and in Alzheimer's disease. PNAS 107:14164–14169

Lipsky MS, King M (2015) Biological theories of aging. Dis Mon 61:460–466

Liu L, Trimarchi JR, Smith PJ, Keefe DL (2002) Mitochondrial dysfunction leads to telomere attrition and genomic instability. Aging Cell 1:40–46

López-Otín C, Blasco MA, Partridge L, Serrano M, Kroemer G (2013) The hallmarks of aging. Cell 153:1194–1217

Makarov VL, Hirose Y, Langmore JP (1997) Long G tails at both ends of human chromosomes suggest a C strand degradation mechanism for telomere shortening. Cell 88:657–666

Malik AN, Czajka A (2013) Is mitochondrial DNA content a potential biomarker of mitochondrial dysfunction? Mitochondrion 13:481–492

Mandal S, Guptan P, Owusu-Ansah E, Banerjee U (2005) Mitochondrial regulation of cell cycle progression during development as revealed by the tenured mutation in Drosophila Developmental. Cell 9:843–854

Martínez-Redondo D, Marcuello A, Casajús JA, Ara I, Dahmani Y, Montoya J, Ruiz-Pesini E, López-Pérez MJ, Díez-Sánchez C (2010) Human mitochondrial haplogroup H: the highest VO2max consumer-is it a paradox? Mitochondrion 10:102–107

Meissner C, von Wurmb N, Oehmichen M (1997) Detection of the age-dependent 4977 bp deletion of mitochondrial DNA A pilot study. Int J Legal Med 110:288–291

Memon AA, Zöller B, Hedelius A, Wang X, Stenman E, Sundquist J, Sundquist K (2017) Quantification of mitochondrial DNA copy number in suspected cancer patients by a well optimized ddPCR method. Biomol Detect Quantif 13:32–39

Meng S, Wu S, Liang L, Liang G, Giovannucci E, De Vivo I, Nan H (2016) Leukocyte mitochondrial DNA copy number, anthropometric indices, and weight change in US women. Oncotarget 7:60676–60686

Mengel-From J, Thinggaard M, Dalgård C, Kyvik KO, Christensen K, Christiansen L (2014) Mitochondrial DNA copy number in peripheral blood cells declines with age and is associated with general health among elderly. Hum Genet 133:1149–1159

Mikhed Y, Daiber A, Steven S (2015) Mitochondrial oxidative stress, mitochondrial DNA damage and their role in age-related vascular dysfunction. Int J Mol Sci 16:15918–15953

Mishmar D, Ruiz-Pesini E, Golik P, Macaulay V, Clark AG, Hosseini S, Brandon M, Easley K, Chen E, Brown MD, Sukernik RI, Olckers A, Wallace DC (2003) Natural selection shaped regional mtDNA variation in humans. Proc Natl Acad Sci USA 100:171–176

Moiseeva O, Bourdeau V, Roux A, Deschênes-Simard X, Ferbeyre G (2009) Mitochondrial dysfunction contributes to oncogene-induced senescence. Mol Cell Biol 29:4495–4507

Mondello C, Petropoulou C, Monti D, Gonos ES, Franceschi C, Nuzzo F (1999) Telomere length in fibroblasts and blood cells from healthy centenarians. Exp Cell Res 248:234–242

Monickaraj F, Aravind S, Gokulakrishnan K, Sathishkumar C, Prabu P, Prabu D, Mohan V, Balasubramanyam M (2012) Accelerated aging as evidenced by increased telomere shortening and mitochondrial DNA depletion in patients with type 2 diabetes. Mol Cell Biochem 365:343–350

Moore AZ, Ding J, Tuke MA, Wood AR, Bandinelli S, Frayling TM, Ferrucci L (2018) Influence of cell distribution and diabetes status on the association between mitochondrial DNA copy number and aging phenotypes in the InCHIANTI study. Aging Cell. https://doi.org/10.1111/acel.12683

Moraes CT (2001) What regulates mitochondrial DNA copy number in animal cells? Trends Genet 17:199–205

Müezzinler A, Zaineddin AK, Brenner H (2013) A systematic review of leukocyte telomere length and age in adults. Ageing Res Rev 12:509–519

Nawrot TS, Staessen JA, Gardner JP, Aviv A (2004) Telomere length and possible link to X chromosome. Lancet 363:507–510

Niemi AK, Hervonen A, Hurme M, Karhunen PJ, Jylhä M, Majamaa K (2003) Mitochondrial DNA polymorphisms associated with longevity in a Finnish population. Hum Genet 112:29–33

Niemi AK, Moilanen JS, Tanaka M, Hervonen A, Hurme M, Lehtimäki T, Arai Y, Hirose N, Majamaa K (2005) A combination of three common inherited mitochondrial DNA polymorphisms promotes longevity in Finnish and Japanese subjects. EJHG 13:166–170

Njajou OT, Cawthon RM, Damcott CM, Wu SH, Ott S, Garant MJ, Blackburn EH, Mitchell BD, Shuldiner AR, Hsueh WC (2007) Telomere length is paternally inherited and is associated with parental lifespan. Proc Natl Acad Sci USA 104:12135–12139

Nordfjäll K, Larefalk A, Lindgren P, Holmberg D, Roos G (2005) Telomere length and heredity: indications of paternal inheritance. PNAS 102:16374–16378

Oexle K, Zwirner A (1997) Advanced telomere shortening in respiratory chain disorders. Hum Mol Genet 6:905–908

Ono T, Isobe K, Nakada K, Hayashi JI (2001) Human cells are protected from mitochondrial dysfunction by complementation of DNA products in fused mitochondria. Nat Genet 28:272–275

Otsuka I, Izumi T, Boku S, Kimura A, Zhang Y, Mouri K, Okazaki S, Shiroiwa K, Takahashi M, Ueno Y, Shirakawa O, Sora I, Hishimoto A (2017) Aberrant telomere length and mitochondrial DNA copy number in suicide completers. Sci Rep 7:3176

Owusu-Ansah E, Yavari A, Mandal S, Banerjee U (2008) Distinct mitochondrial retrograde signals control the G1-S cell cycle checkpoint. Nat Genet 40:356–361

Passos JF, Saretzki G, Ahmed S, Nelson G, Richter T, Peters H, Wappler I, Birket MJ, Harold G, Schaeuble K, Birch-Machin MA, Kirkwood TB, von Zglinicki T (2007) Mitochondrial dysfunction accounts for the stochastic heterogeneity in telomere-dependent senescence. PLoS Biol 5:1138–1151

Peel NM, McClure RJ, Bartlett HP (2005) Behavioral determinants of healthy aging. Am J Prev Med 28:298–304

Pieters N, Janssen BG, Valeri L, Cox B, Cuypers A, Dewitte H, Plusquin M, Smeets K, Nawrot TS (2015) Molecular responses in the telomere-mitochondrial axis of aging in the elderly: a candidate gene approach. Mech Aging Dev 145:51–57

Pinós T, Nogales-Gadea G, Ruiz JR, Rodríguez-Romo G, Santiago-Dorrego C, Fiuza-Luces C, Gómez-Gallego F, Cano-Nieto A, Garatachea N, Morán M, Angel MM, Arenas J, Andreu AL, Lucia A (2012) Are mitochondrial haplogroups associated with extreme longevity? A study on a Spanish cohort. Age (Dordr) 34:227–233

Potter SS, Newbold JE, Hutchison CA, Edgell MH (1975) Specific cleavage analysis of mammalian mitochondrial DNA. Proc Natl Acad Sci USA 72:4496–4500

Qiu C, Enquobahrie DA, Gelaye B, Hevner K, Williams MA (2015) The association between leukocyte telomere length and mitochondrial DNA copy number in pregnant women: a pilot study. Clin Lab 61:363–369

Ramos A, Santos C, Mateiu L, Gonzalez Mdel M, Alvarez L, Azevedo L, Amorim A, Aluja MP (2013) Frequency and pattern of heteroplasmy in the complete human mitochondrial genome. PLoS ONE 8:e74636

Raule N, Sevini F, Li S, Barbieri A, Tallaro F, Lomartire L, Vianello D, Montesanto A, Moilanen JS, Bezrukov V, Blanché H, Hervonen A, Christensen K, Deiana L, Gonos ES, Kirkwood TB, Kristensen P, Leon A, Pelicci PG, Poulain M, Rea IM, Remacle J, Robine JM, Schreiber S, Sikora E, Eline Slagboom P, Spazzafumo L, Antonietta Stazi M, Toussaint O, Vaupel JW, Rose G, Majamaa K, Perola M, Johnson TE, Bolund L, Yang H, Passarino G, Franceschi C (2014) The co-occurrence of mtDNA mutations on different oxidative phosphorylation subunits, not detected by haplogroup analysis, affects human longevity and is population specific. Aging Cell 13:401–407

Richards MB, Macaulay VA, Bandelt HJ, Sykes BC (1998) Phylogeography of mitochondrial DNA in western Europe. Ann Hum Genet 62:241–260

Ridge PG, Maxwell TJ, Foutz SJ, Bailey MH, Corcoran CD, Tschanz JT, Norton MC, Munger RG, O'Brien E, Kerber RA, Cawthon RM, Kauwe JS (2014) Mitochondrial genomic variation associated with higher mitochondrial copy number: the Cache County Study on Memory Health and Aging. BMC Bioinform 7:S6

Rizzuto R, Brini M, Murgia M, Pozzan T (1993) Microdomains with high Ca2+ close to IP3-sensitive channels that are sensed by neighboring mitochondria. Science 262:744–747

Robin ED, Wong R (1988) Mitochondrial DNA molecules and virtual number of mitochondria per cell in mammalian cells. J Cell Physiol 136:507–513

Robine JM, Herrmann FR, Arai Y, Willcox DC, Gondo Y, Hirose N, Suzuki M, Saito Y (2012) Exploring the impact of climate on human longevity. Exp Gerontol 47:660–671

Rode L, Nordestgaard BG, Bojesen SE (2015) Peripheral blood leukocyte telomere length and mortality among 64,637 individuals from the general population. J Natl Cancer Inst. https://doi.org/10.1093/jnci/djv074

Rodgers JT, Lerin C, Haas W, Gygi SP, Spiegelman BM, Puigserver P (2005) Nutrient control of glucose homeostasis through a complex of PGC-1alpha and SIRT1. Nature 434:113–118

Rosa A, Fonseca BV, Krug T, Manso H, Gouveia L, Albergaria I, Gaspar G, Correia M, Viana-Baptista M, Simões RM, Pinto AN, Taipa R, Ferreira C, Fontes JR, Silva MR, Gabriel JP, Matos I, Lopes G, Ferro JM, Vicente AM, Oliveira SA (2008) Mitochondrial haplogroup H1 is protective for ischemic stroke in Portuguese patients. BMC Med Genet 9:57

Rose G, Passarino G, Carrieri G, Altomare K, Greco V, Bertolini S, Bonafè M, Franceschi C, De Benedictis G (2001) Paradoxes in longevity: sequence analysis of mtDNA haplogroup J in centenarians. EJHG 9:701–707

Rose G, Passarino G, Scornaienchi V, Romeo G, Dato S, Bellizzi D, Mari V, Feraco E, Maletta R, Bruni A, Franceschi C, De Benedictis G (2007) The mitochondrial DNA control region shows genetically correlated levels of heteroplasmy in leukocytes of centenarians and their offspring. BMC Genomics 29:293

Ruiz-Pesini E, Lapeña AC, Díez-Sánchez C, Pérez-Martos A, Montoya J, Alvarez E, Díaz M, Urriés A, Montoro L, López-Pérez MJ, Enríquez JA (2000) Human mtDNA haplogroups associated with high or reduced spermatozoa motility. Am J Hum Genet 67:682–696

Safdar A, Khrapko K, Flynn JM, Saleem A, De Lisio M, Johnston AP, Kratysberg Y, Samjoo IA, Kitaoka Y, Ogborn DI, Little JP, Raha S, Parise G, Akhtar M, Hettinga BP, Rowe GC, Arany Z, Prolla TA, Tarnopolsky MA (2016) Exercise-induced mitochondrial p53 repairs mtDNA mutations in mutator mice. Skelet Muscle 6:7

Sahin E, Depinho RA (2010) Linking functional decline of telomeres, mitochondria and stem cells during aging. Nature 464:520–528

Sahin E, Colla S, Liesa M, Moslehi J, Müller FL, Guo M, Cooper M, Kotton D, Fabian AJ, Walkey C, Maser RS, Tonon G, Foerster F, Xiong R, Wang YA, Shukla SA, Jaskelioff M, Martin ES, Heffernan TP, Protopopov A, Ivanova E, Mahoney JE, Kost-Alimova M, Perry SR, Bronson R, Liao R, Mulligan R, Shirihai OS, Chin L, DePinho RA (2011) Telomere dysfunction induces metabolic and mitochondrial compromise. Nature 470:359–365

Salpea KD, Nicaud V, Tiret L, Talmud PJ, Humphries SE (2008) The association of telomere length with paternal historyof premature myocardial infarction in the European Atherosclerosis Research Study II. J Mol Med (Berl) 86:815–824

Samassekou O, Gadji M, Drouin R, Yan J (2010) Sizing the ends: normal length of human telomeres. Ann Anat 192:284–291

Samuels DC, Li C, Li B, Song Z, Torstenson E, Boyd Clay H, Rokas A, Thornton-Wells TA, Moore JH, Hughes TM, Hoffman RD, Haines JL, Murdock DG, Mortlock DP, Williams SM (2013) Recurrent tissue-specific mtDNA mutations are common in humans. PLoS Genet 9:e1003929

Santos JH, Meyer JN, Skorvaga M, Annab LA, Van Houten B (2004) Mitochondrial hTERT exacerbates free-radical-mediated mtDNA damage. Aging Cell 3:399–411

Sato D, Itami N, Tasaki H, Takeo S, Kuwayama T, Iwata H (2014) Relationship between mitochondrial DNA copy number and SIRT1 expression in porcine oocytes. PLoS ONE 9:e94488

Schoeftner S, Blanco R, Lopez de Silanes I, Muñoz P, Gómez-López G, Flores JM, Blasco MA (2009) Telomere shortening relaxes X chromosome inactivation and forces global transcriptome alterations. Proc Natl Acad Sci USA 106:19393–19398

Sergiev PV, Dontsova OA, Berezkin GV (2015) Theories of aging: an ever-evolving field. Acta Nat 7:9–18

Sgarbi G, Matarrese P, Pinti M, Lanzarini C, Ascione B, Gibellini L, Dika E, Patrizi A, Tommasino C, Capri M, Cossarizza A, Baracca A, Lenaz G, Solaini G, Franceschi C, Malorni W, Salvioli S (2014) Mitochondria hyperfusion and elevated autophagic activity are key mechanisms for cellular bioenergetic preservation in centenarians. Aging (Albany NY) 6:296–310

Shay JW, Wright WE (2007) Hallmarks of telomeres in aging research. J Pathol 211:114–123

Shepherd BE, Guttorp P, Lansdorp PM, Abkowitz JL (2004) Estimating human hematopoietic stem cell kinetics using granulocyte telomere lengths. Exp Hematol 32:1040–1050

Shigenaga MK, Hagen TM, Ames BN (1994) Oxidative damage and mitochondrial decay in aging. Proc Natl Acad Sci USA 91:10771–10778

Sidorov I, Kimura M, Yashin A, Aviv A (2009) Leukocyte telomere dynamics and human hematopoietic stem cell kinetics during somatic growth. Exp Hematol 37:514–524

Simons MJ (2015) Questioning causal involvement of telomeres in aging. Ageing Res Rev 24:191–196

Sondheimer N, Glatz CE, Tirone JE, Deardorff MA, Krieger AM, Hakonarson H (2011) Neutral mitochondrial heteroplasmy and the influence of aging. Hum Mol Genet 20:1653–1659

Sui B, Hu C, Jin Y (2016) Mitochondrial metabolic failure in telomere attrition-provoked aging of bone marrow mesenchymal stem cells. Biogerontology 17:267–279

Suissa S, Wang Z, Poole J, Wittkopp S, Feder J, Shutt TE, Wallace DC, Shadel GS, Mishmar D (2009) Ancient mtDNA genetic variants modulate mtDNA transcription and replication. PLoS Genet 5:e1000474

Takasaki S (2008) Mitochondrial SNPs associated with Japanese centenarians, Alzheimer's patients, and Parkinson's patients. Comput Biol Chem 32:332–337

Takubo K, Aida J, Izumiyama-Shimomura N, Ishikawa N, Sawabe M, Kurabayashi R, Shiraishi H, Arai T, Nakamura K (2010) Changes of telomere length with aging. Geriatr Gerontol Int 10(Suppl 1):S197–S206

Tanaka M, Gong JS, Zhang J, Yoneda M, Yagi K (1998) Mitochondrial genotype associated with longevity. Lancet 351:185–186

Tanaka M, Gong J, Zhang J, Yamada Y, Borgeld HJ, Yagi K (2000) Mitochondrial genotype associated with longevity and its inhibitory effect on mutagenesis. Mech Aging Dev 116:65–76

Thyagarajan B, Wang R, Nelson H, Barcelo H, Koh WP, Yuan JM (2013) Mitochondrial DNA copy number is associated with breast cancer risk. PLoS ONE 8:e65968

Torroni A, Lott MT, Cabell MF, Chen YS, Lavergne L, Wallace DC (1994) mtDNA and the origin of Caucasians: identification of ancient Caucasian-specific haplogroups, one of which is prone to a recurrent somatic duplication in the D-loop region. Am J Hum Genet 55:760–776

Torroni A, Petrozzi M, D'Urbano L, Sellitto D, Zeviani M, Carrara F, Carducci C, Leuzzi V, Carelli V, Barboni P, De Negri A, Scozzari R (1997) Haplotype and phylogenetic analyses suggest that one European-specific mtDNA background plays a role in the expression of Leber hereditary optic neuropathy by increasing the penetrance of the primary mutations 11778 and 14484. Am J Hum Genet 60:1107–1121

Tranah GJ, Yaffe K, Katzman SM, Lam ET, Pawlikowska L, Kwok PY, Schork NJ, Manini TM, Kritchevsky S, Thomas F, Newman AB, Harris TB, Coleman AL, Gorin MB, Helzner EP, Rowbotham MC, Browner WS, Cummings SR (2015) Health, aging and body composition study mitochondrial DNA heteroplasmy associations with neurosensory and mobility function in elderly adults. J Gerontol A Biol Sci Med Sci 70:1418–1424

Tranah GJ, Katzman S, Cummings SR (2017) Mitochondrial DNA heteroplasmy leads to age-related functional decline and increased mortality risk. Innov Aging 1(Suppl 1):858–859

Trifunovic A, Wredenberg A, Falkenberg M, Spelbrink JN, Rovio AT, Bruder CE, Bohlooly-Y M, Gidlöf S, Oldfors A, Wibom R, Törnell J, Jacobs HT, Larsson NG (2004) Premature ageing in mice expressing defective mitochondrial DNA polymerase. Nature 429:417–423

Tutton S, Azzam GA, Stong N, Vladimirova O, Wiedmer A, Monteith JA, Beishline K, Wang Z, Deng Z, Riethman H, McMahon SB, Murphy M, Lieberman PM (2016) Subtelomeric p53 binding prevents accumulation of DNA damage at human telomeres. EMBO J 35:193–207

Tyrka AR, Carpenter LL, Kao HT, Porton B, Philip NS, Ridout SJ, Ridout KK, Price LH (2015) Association of telomere length and mitochondrial DNA copy number in a community sample of healthy adults. Exp Gerontol 66:17–20

Tyrka AR, Parade SH, Price LH, Kao HT, Porton B, Philip NS, Welch ES, Carpenter LL (2016) Alterations of mitochondrial DNA copy number and telomere length with early adversity and psychopathology. Biol Psychiatry 79:78–86

Tyynismaa H, Sembongi H, Bokori-Brown M, Granycome C, Ashley N, Poulton J, Jalanko A, Spelbrink JN, Holt IJ, Suomalainen A (2004) Twinkle helicase is essential for mtDNA maintenance and regulates mtDNA copy number. Hum Mol Genet 13:3219–3227

van der Harst P, van der Steege G, de Boer RA, Voors AA, Hall AS, Mulder MJ, van Gilst WH, van Veldhuisen DJ, MERIT-HF Study Group (2007) Telomere length of circulating leukocytes is decreased in patients with chronic heart failure. J Am Coll Cardiol 49:1459–14564

van Leeuwen N, Beekman M, Deelen J, van den Akker EB, de Craen AJ, Slagboom PE, 't Hart LM (2014) Low mitochondrial DNA content associates with familial longevity: the Leiden Longevity Study. Age (Dordr) 36:9629

Vaziri H, Dessain SK, Ng Eaton E, Imai SI, Frye RA, Pandita TK, Guarente L, Weinberg RA (2001) hSIR2 (SIRT1) functions as an NAD-dependent p53 deacetylase. Cell 107:149–159

Verhoeven JE, Révész D, Picard M, Epel EE, Wolkowitz OM, Matthews KA, Penninx BW, Puterman E (2017) Depression, telomeres and mitochondrial DNA: between- and within-person associations from a 10-year longitudinal study. Mol Psychiatry. https://doi.org/10.1038/mp.2017.48

Vidacek NŠ, Nanic L, Ravlic S, Sopta M, Geric M, Gajski G, Garaj-Vrhovac V, Rubelj I (2017) Telomeres, nutrition, and longevity: can we really navigate our aging? J Gerontol A Biol Sci Med Sci. https://doi.org/10.1093/gerona/glx082

von Zglinicki T (2002) Oxidative stress shortens telomeres. Trends Biochem Sci 27:339–344

Wachsmuth M, Hübner A, Li M, Madea B, Stoneking M (2016) Age-related and heteroplasmy-related variation in human mtDNA copy number. PLoS Genet 12:e1005939

Wallace DC (2005) A mitochondrial paradigm of metabolic and degenerative diseases, aging, and cancer: a dawn for evolutionary medicine. Annu Rev Genet 39:359–407

Wallace DC, Fan W, Procaccio V (2010) Mitochondrial energetics and therapeutics. Annu Rev Pathol 5:297–348

Wei W, Keogh MJ, Wilson I, Coxhead J, Ryan S, Rollinson S, Griffin H, Kurzawa-Akanbi M, Santibanez-Koref M, Talbot K, Turner MR, McKenzie CA, Troakes C, Attems J, Smith C, Al Sarraj S, Morris CM, Ansorge O, Pickering-Brown S, Ironside JW, Chinnery PF (2017) Mitochondrial DNA point mutations and relative copy number in 1363 disease and control human brains. Acta Neuropathol Commun 5:13

Wilkinson-Herbots HM, Richards MB, Forster P, Sykes BC (1996) Site 73 in hypervariable region II of the human mitochondrial genome and the origin of European populations. Ann Hum Genet 60:499–508

Wilson WR, Herbert KE, Mistry Y, Stevens SE, Patel HR, Hastings RA, Thompson MM, Williams B (2008) Blood leucocyte telomere DNA content predicts vascular telomere DNA content in humans with and without vascular disease. Eur Heart J 29:2689–2694

World Health Statistics (2015) WHO library cataloguing-in-publication data, pp. 1–161

Wrede JE, Mengel-From J, Buchwald D, Vitiello MV, Bamshad M, Noonan C, Christiansen L, Christensen K, Watson NF (2015) Mitochondrial DNA copy number in sleep duration discordant monozygotic twins. Sleep 38:1655–1658

Wright WE, Piatyszek MA, Rainey WE, Byrd W, Shay JW (1996) Telomerase activity in human germline and embryonic tissues and cells. Dev Genet 18:173–179

Wu Z, Puigserver P, Andersson U, Zhang C, Adelmant G, Mootha V, Troy A, Cinti S, Lowell B, Scarpulla RC, Spiegelman BM (1999) Mechanisms controlling mitochondrial biogenesis and respiration through the thermogenic coactivator PGC-1. Cell 98:115–124

Wu P, Takai H, de Lange T (2012) Telomeric 3′ overhangs derive from resection by Exo1 and Apollo and fill-in by POT1b-associated CST. Cell 150:39–52

Wu RA, Upton HE, Vogan JM, Collins K (2017) Telomerase mechanism of telomere synthesis. Annu Rev Biochem 86:439–460

Yashin AI, De Benedictis G, Vaupel JW, Tan Q, Andreev KF, Iachine IA, Bonafe M, Valensin S, De Luca M, Carotenuto L, Franceschi C (2000) Genes and longevity: lessons from studies of centenarians. J Gerontol A Biol Sci Med Sci 55:B319–B328

Yoon JC, Ng A, Kim BH, Bianco A, Xavier RJ, Elledge SJ (2010) Wnt signaling regulates mitochondrial physiology and insulin sensitivity. Genes Dev 24:1507–1518

Zhang J, Asin-Cayuela J, Fish J, Michikawa Y, Bonafe M, Olivieri F, Passarino G, De Benedictis G, Franceschi C, Attardi G (2003) Strikingly higher frequency in centenarians and twins of mtDNA mutation causing remodeling of replication origin in leukocytes. Proc Natl Acad Sci USA 100:1116–1121

Zhang R, Wang Y, Ye K, Picard M, Gu Z (2017) Independent impacts of aging on mitochondrial DNA quantity and quality in humans. BMC Genomics 18:890

Zhou W, Zhu M, Gui M, Huang L, Long Z, Wang L, Chen H, Yin Y, Jiang X, Dai Y, Tang Y, He L, Zhong K (2014) Peripheral blood mitochondrial DNA copy number is associated with prostate cancer risk and tumor burden. PLoS ONE 9:e109470

Zhu X, Mao Y, Huang T, Yan C, Yu F, Du J, Dai J, Ma H, Jin G (2017) High mitochondrial DNA copy number was associated with an increased gastric cancer risk in a Chinese population. Mol Carcinog 56:2593–2600

Zole E, Pliss L, Ranka R, Krumina A, Baumanis V (2013) Dynamics of telomere length in different age groups in a Latvian population. Curr Aging Sci 6:244–250

Zole E, Elferts D, Kimsis J, Krumina A, Narels K, Pole I, Ranka R, Pliss L (2015) Comparison of telomere length between population-specific mitochondrial haplogroups among different age groups in a Latvian population. Mech Aging Dev 145:13–17

Zole E, Zadinane K, Pliss L, Ranka R (2017) Linkage between mitochondrial genome alterations, telomere length and aging population. Mitochondrial DNA A DNA Mapp Seq Anal. https://doi.org/10.1080/24701394.2017.1303490
Funding
This study was supported by the European Regional Development Funds Grant Nr. 1.1.1.1/16/A/101.
Ethics declarations
Conflict of interest
The authors declare that they have no conflict of interest.
About this article
Cite this article
Zole, E., Ranka, R. Mitochondria, its DNA and telomeres in ageing and human population. Biogerontology 19, 189–208 (2018). https://doi.org/10.1007/s10522-018-9748-6
Received:

Accepted:

Published:

Issue Date:
Keywords
Population ageing

Mitochondrial haplogroups

Heteroplasmy

mtDNA copy number

Telomere length