Abstract
Growing evidence suggests an unusual epidemiologic association between cancer and certain neurological conditions, particularly age-related neurodegenerative diseases. Cancer survivors have a 20–50 % lower risk of developing Parkinson's and Alzheimer's disease, and patients with these neurodegenerative conditions have a substantially lower incidence of cancer. We review the epidemiologic evidence for this inverse co-morbidity and show that it is not simply an artifact of survival bias or under-diagnosis. We then review the potential biological explanations for this association, which is intimately linked to the very different nature of dividing cells and neurons. The known genetic and metabolic connections between cancer and neurodegeneration generally fall within two categories. The first includes shared genes and pathways such as Pin1 and the ubiquitin proteasome system that are dysregulated in different directions to cause one disease or the other. The second includes common pathophysiological mechanisms such as mitochondrial dysfunction, oxidative stress and DNA damage that drive both conditions, but with different cellular fates. We discuss examples of these biological links and their implications for developing new approaches to prevention and treatment of both diseases.
Access options
Buy single article
Instant access to the full article PDF.
USD 39.95
Price includes VAT (USA)
Tax calculation will be finalised during checkout.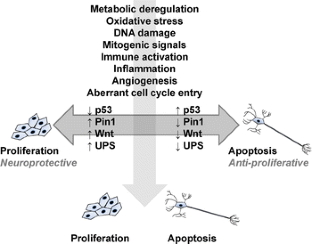 References
Ackman JB, Ramos RL, Sarkisian MR, Loturco JJ (2007) Citron kinase is required for postnatal neurogenesis in the hippocampus. Dev Neurosci 29:113–123. doi:10.1159/000096216

Aljada A, Mousa SA (2012) Metformin and neoplasia: Implications and indications. Pharmacol Ther 133:108–115. doi:10.1016/j.pharmthera.2011.09.004

Bajaj A, Driver JA, Schernhammer ES (2009) Parkinson's disease and cancer risk: A systematic review and meta-analysis. Cancer Causes & Control. Accepted pending revisions

Bakkour A, Morris JC, Dickerson BC (2009) The cortical signature of prodromal AD: Regional thinning predicts mild AD dementia. Neurology 72:1048–1055. doi:10.1212/01.wnl.0000340981.97664.2f

Bao L, Sauter G, Sowadski J, Lu KP, Wang D (2004) Prevalent overexpression of prolyl isomerase Pin1 in human cancers. Am J Pathol 164:1727–1737

Behrens MI, Lendon C, Roe CM (2009) A common biological mechanism in cancer and Alzheimer's disease? Curr Alzheimer Res 6:196–204

Benedict C, Kern W, Schultes B, Born J, Hallschmid M (2008) Differential sensitivity of men and women to anorexigenic and memory-improving effects of intranasal insulin. J Clin Endocrinol Metab 93:1339–1344. doi:10.1210/jc.2007-2606

Catala-Lopez F et al (2014) Inverse and direct cancer comorbidity in people with central nervous system disorders: A meta-analysis of cancer incidence in 577,013 participants of 50 observational studies. Psychother Psychosom 83:89–105. doi:10.1159/000356498

Corsellis J (1962) Mental illness and the ageing brain. Oxford University Press, London

Craft S et al (2012) Intranasal insulin therapy for Alzheimer disease and amnestic mild cognitive impairment: A pilot clinical trial. Arch Neurol 69:29–38. doi:10.1001/archneurol.2011.233

Crawford LJ, Walker B, Irvine AE (2011) Proteasome inhibitors in cancer therapy. J Cell Commun Signal 5:101–110. doi:10.1007/s12079-011-0121-7

de la Monte SM (2009) Insulin resistance and Alzheimer's disease. BMB Rep 42:475–481

de la Monte SM, Luong T, Neely TR, Robinson D, Wands JR. (2000) Mitochondrial DNA damage as a mechanism of cell loss in Alzheimer's disease laboratory investigation; a journal of technical methods and pathology 80:1323–1335

Demetrius LA, Driver J (2013) Alzheimer's as a metabolic disease. Biogerontology 14:641–649. doi:10.1007/s10522-013-9479-7

Demetrius LA, Simon DK (2012) An inverse-warburg effect and the origin of Alzheimer's disease. Biogerontology 13:583–594. doi:10.1007/s10522-012-9403-6

Demetrius LA, Simon DK (2014) The inverse association of cancer and Alzheimer's disease: A bioenergetic mechanism. J R Soc Interface 10: 20130006. 10.1098/rsif.2013.0006

Devine MJ, Plun-Favreau H, Wood NW (2011) Parkinson's disease and cancer: Two wars, one front. Nat Rev Cancer 11:812–823

Dickerson BC et al (2009) The cortical signature of Alzheimer's disease: Regionally specific cortical thinning relates to symptom severity in very mild to mild AD dementia and is detectable in asymptomatic amyloid-positive individuals. Cereb Cortex 19:497–510. doi:10.1093/cercor/bhn113

Doshay LJ (1954) Problem situations in the treatment of paralysis agitans. JAMA 156:680–684

Drachman DA (2006) Aging of the brain, entropy, and Alzheimer disease. Neurology 67:1340–1352. doi:10.1212/01.wnl.0000240127.89601.83

Driver JA (2012) Understanding the link between cancer and neurodegeneration. J Geriatr Oncol 3:58–67

Driver JA et al (2011) Inverse association between cancer and Alzheimer's disease: Results from the Framingham Study. BMJ (in press)

Driver JA, Lu KP (2010) Pin1: a new genetic link between Alzheimer's disease, cancer and aging. Curr Aging Sci 3:158–165

Driver JA, Kurth T, Buring JE, Gaziano JM, Logroscino G (2007a) Prospective case-control study of nonfatal cancer preceding the diagnosis of Parkinson's disease. Cancer Causes Control 18:705–711. doi:10.1007/s10552-007-9005-9

Driver JA, Logroscino G, Buring JE, Gaziano JM, Kurth T (2007b) A prospective cohort study of cancer incidence following the diagnosis of Parkinson's disease. Cancer Epidemiol Biomarkers Prev 16:1260–1265. doi:10.1158/1055-9965.EPI-07-0038

Driver JA, Kurth T, Buring JE, Gaziano JM, Logroscino G (2008) Parkinson disease and risk of mortality: a prospective comorbidity-matched cohort study. Neurology 70:1423–1430. doi:10.1212/01.wnl.0000310414.85144.ee

Elbaz A et al (2002) Nonfatal cancer preceding Parkinson's disease: A case-control study. Epidemiology 13:157–164

Elbaz A et al (2005) Risk of cancer after the diagnosis of Parkinson's disease: A historical cohort study. Mov Disord 20:719–725

Fois AF, Wotton CJ, Yeates D, Turner MR, Goldacre MJ (2009) Cancer in patients with motor neuron disease, multiple sclerosis and Parkinson's disease: Record linkage studies. J Neurol Neurosurg Psychiatry 81:215–221. doi:10.1136/jnnp.2009.175463

Fois AF, Wotton CJ, Yeates D, Turner MR, Goldacre MJ (2010) Cancer in patients with motor neuron disease, multiple sclerosis and Parkinson's disease: Record linkage studies. J Neurol Neurosurg Psychiatry 81:215–221. doi:10.1136/jnnp.2009.175463

Folch J et al (2012) Role of cell cycle re-entry in neurons: A common apoptotic mechanism of neuronal cell death. Neurotox Res 22:195–207. doi:10.1007/s12640-011-9277-4

Freedman DM, Wu J, Daugherty SE, Kuncl RW, Enewold LR, Pfeiffer RM (2014) The risk of amyotrophic lateral sclerosis after cancer in U.S. elderly adults: A population-based prospective study. International journal of cancer. doi:10.1002/ijc.28795

Hernan MA, Takkouche B, Caamano-Isorna F, Gestal-Otero JJ (2002) A meta-analysis of coffee drinking, cigarette smoking, and the risk of Parkinson's disease. Ann Neurol 52:276–284. doi:10.1002/ana.10277

Holohan KN, Lahiri DK, Schneider BP, Foroud T, Saykin AJ (2012) Functional microRNAs in Alzheimer's disease and cancer: differential regulation of common mechanisms and pathways Frontiers in genetics 3:323. doi:10.3389/fgene.2012.00323

Huang L, Chen CH (2009) Proteasome regulators: Activators and inhibitors. Curr Med Chem 16:931–939

Huang WK, Chiou MJ, Kuo CF, Lin YC, Yu KH, See LC (2014) No overall increased risk of cancer in patients with rheumatoid arthritis: A nationwide dynamic cohort study in Taiwan. Rheumatol Int. doi:10.1007/s00296-014-2982-6

Ibanez K, Boullosa C, Tabares-Seisdedos R, Baudot A, Valencia A (2014) Molecular evidence for the inverse comorbidity between central nervous system disorders and cancers detected by transcriptomic meta-analyses. PLoS Genet 10:e1004173. doi:10.1371/journal.pgen.1004173

Inestrosa NC, Toledo EM (2008) The role of Wnt signaling in neuronal dysfunction in Alzheimer's disease. Mol Neurodegener 3:9. doi:10.1186/1750-1326-3-9

Jalving M, Gietema JA, Lefrandt JD, de Jong S, Reyners AK, Gans RO, de Vries EG (2010) Metformin: Taking away the candy for cancer? Eur J Cancer 46:2369–2380. doi:10.1016/j.ejca.2010.06.012

Katsiki M, Chondrogianni N, Chinou I, Rivett AJ, Gonos ES (2007) The olive constituent oleuropein exhibits proteasome stimulatory properties in vitro and confers life span extension of human embryonic fibroblasts. Rejuvenation Res 10:157–172. doi:10.1089/rej.2006.0513

Kwak MK, Wakabayashi N, Greenlaw JL, Yamamoto M, Kensler TW (2003) Antioxidants enhance mammalian proteasome expression through the Keap1-Nrf2 signaling pathway. Mol Cell Biol 23:8786–8794

Lombardi VR, Garcia M, Rey L, Cacabelos R (1999) Characterization of cytokine production, screening of lymphocyte subset patterns and in vitro apoptosis in healthy and Alzheimer's disease (AD) individuals. J Neuroimmunol 97:163–171

Lu KP, Zhou XZ (2007) The prolyl isomerase PIN1: A pivotal new twist in phosphorylation signalling and disease. Nat Rev Mol Cell Biol 8:904–916. doi:10.1038/nrm2261

Lu J et al (2009) A novel functional variant (−842G > C) in the PIN1 promoter contributes to decreased risk of squamous cell carcinoma of the head and neck by diminishing the promoter activity. Carcinogenesis 30:1717–1721. doi:10.1093/carcin/bgp171

Manczak M, Park BS, Jung Y, Reddy PH (2004) Differential expression of oxidative phosphorylation genes in patients with Alzheimer's disease: Implications for early mitochondrial dysfunction and oxidative damage. Neuromol Med 5:147–162. doi:10.1385/NMM:5:2:147

Marambaud P, Zhao H, Davies P (2005) Resveratrol promotes clearance of Alzheimer's disease amyloid-beta peptides. J Biol Chem 280:37377–37382. doi:10.1074/jbc.M508246200

McNaught KS, Jnobaptiste R, Jackson T, Jengelley TA (2010) The pattern of neuronal loss and survival may reflect differential expression of proteasome activators in Parkinson's disease. Synapse 64:241–250. doi:10.1002/syn.20719

Musicco M et al (2013) Inverse occurrence of cancer and Alzheimer disease: A population-based incidence study. Neurology 81:322–328. doi:10.1212/WNL.0b013e31829c5ec1

Nagy Z, Esiri MM, LeGris M, Matthews PM (1999) Mitochondrial enzyme expression in the hippocampus in relation to Alzheimer-type pathology. Acta Neuropathol 97:346–354

Noto H, Goto A, Tsujimoto T, Noda M (2012) Cancer risk in diabetic patients treated with metformin: A systematic review and meta-analysis. PLoS One 7:e33411. doi:10.1371/journal.pone.0033411

Nunomura A et al (2001) Oxidative damage is the earliest event in Alzheimer disease. J Neuropathol Exp Neurol 60:759–767

Olsen JH, Friis S, Frederiksen K, McLaughlin JK, Mellemkjaer L, Moller H (2005) Atypical cancer pattern in patients with Parkinson's disease. Br J Cancer 92:201–205

Olsen JH, Friis S, Frederiksen K (2006) Malignant melanoma and other types of cancer preceding Parkinson disease. Epidemiology 17:582–587

Paisan-Ruiz C, Houlden H (2010) Common pathogenic pathways in melanoma and Parkinson disease. Neurology 75:1653–1655. doi:10.1212/WNL.0b013e3181fb4466

Plun-Favreau H, Lewis PA, Hardy J, Martins LM, Wood NW (2010) Cancer and neurodegeneration: between the devil and the deep blue sea PLOS. Genetics 6:1–8

Raina AK, Zhu X, Rottkamp CA, Monteiro M, Takeda A, Smith MA (2000) Cyclin' toward dementia: cell cycle abnormalities and abortive oncogenesis in Alzheimer disease. J Neurosci Res 61:128–133. doi:10.1002/1097-4547(20000715)61:2<128:AID-JNR2>3.0.CO;2-H

Roe CM, Behrens MI, Xiong C, Miller JP, Morris JC (2005) Alzheimer disease and cancer. Neurology 64:895–898

Roe CM et al (2010) Cancer linked to Alzheimer disease but not vascular dementia. Neurology 74:106–112. doi:10.1212/WNL.0b013e3181c91873

Rugbjerg K, Friis S, Lassen CF, Ritz B, Olsen JH (2012) Malignant melanoma, breast cancer and other cancers in patients with Parkinson's disease. Int J Cancer 131:1904–1911. doi:10.1002/ijc.27443

Segat L et al (2007) PIN1 promoter polymorphisms are associated with Alzheimer's disease. Neurobiol Aging 28:69–74. doi:10.1016/j.neurobiolaging.2005.11.009

Seo H, Sonntag KC, Kim W, Cattaneo E, Isacson O (2007) Proteasome activator enhances survival of Huntington's disease neuronal model cells. PLoS One 2:e238. doi:10.1371/journal.pone.0000238

Shemesh E, Rudich A, Harman-Boehm I, Cukierman-Yaffe T (2012) Effect of intranasal insulin on cognitive function: A systematic review. J Clin Endocrinol Metab 97:366–376. doi:10.1210/jc.2011-1802

Sherman MY, Goldberg AL (2001) Cellular defenses against unfolded proteins: A cell biologist thinks about neurodegenerative diseases. Neuron 29:15–32

Sorensen SA, Fenger K, Olsen JH (1999) Significantly lower incidence of cancer among patients with Huntington disease: An apoptotic effect of an expanded polyglutamine tract? Cancer 86:1342–1346

Staropoli JF (2008) Tumorigenesis and neurodegeneration: Two sides of the same coin? BioEssays 30:719–727. doi:10.1002/bies.20784

Stobart JL, Anderson CM (2013) Multifunctional role of astrocytes as gatekeepers of neuronal energy supply. Front Cell Neurosci 7:38. doi:10.3389/fncel.2013.00038

Tabares-Seisdedos R, Rubenstein JL (2013) Inverse cancer comorbidity: A serendipitous opportunity to gain insight into CNS disorders nature reviews. Neuroscience 14:293–304. doi:10.1038/nrn3464

Tabares-Seisdedos R et al (2011) No paradox, no progress: Inverse cancer comorbidity in people with other complex diseases. Lancet Oncol 12:604–608. doi:10.1016/S1470-2045(11)70041-9

Tacutu R, Budovsky A, Fraifeld VE (2010) The NetAge database: A compendium of networks for longevity, age-related diseases and associated processes. Biogerentology 11:513–522

Tirumalasetti F, Han L, Birkett DP (1991) The relationship between cancer and Alzheimer's disease. J Am Geriatr Soc 39:840

van Heemst D et al (2005) Variation in the human TP53 gene affects old age survival and cancer mortality. Exp Gerontol 40:11–15

Vander Heiden MG, Cantley LC, Thompson CB (2009) Understanding the Warburg effect: The metabolic requirements of cell proliferation. Science 324:1029–1033. doi:10.1126/science.1160809

Whitmer RA, Queensberry C, J. A. Karter AJ (2013) Anti-hyperglycemic therapy and risk of dementia: A new user cohort study. Alzheimer's Dementia 9:136

Wolfson M, Budovsky A, Tacutu R, Fraifeld VE (2009) The signaling hubs at the crossroad of longevity and age-related disease networks. Int J Biochem Cell Biology 41:516–520

Xiang Z et al (2002) Cyclooxygenase (COX)-2 and cell cycle activity in a transgenic mouse model of Alzheimer's disease neuropathology. Neurobiol Aging 23:327–334

Yaffe MB et al (1997) Sequence-specific and phosphorylation-dependent proline isomerization: A potential mitotic regulatory mechanism. Science 278:1957–1960

Yamada M et al (1999) Prevalence and risks of dementia in the Japanese population: RERF's adult health study Hiroshima subjects. Radiation effects research foundation. J Am Geriatr Soc 47:189–195

Zheng B et al. (2010) PGC-1alpha, a potential therapeutic target for early intervention in Parkinson's disease Science translational medicine 2:52ra73 doi:10.1126/scitranslmed.3001059

Zhu X, Lee HG, Perry G, Smith MA (2007) Alzheimer disease, the two-hit hypothesis: An update. Biochim Biophys Acta 1772:494–502. doi:10.1016/j.bbadis.2006.10.014
Acknowledgments
Dr. Driver is supported by a Merit Review Award from the Veteran's Administration.
About this article
Cite this article
Driver, J.A. Inverse association between cancer and neurodegenerative disease: review of the epidemiologic and biological evidence. Biogerontology 15, 547–557 (2014). https://doi.org/10.1007/s10522-014-9523-2
Received:

Accepted:

Published:

Issue Date:
Keywords
Cancer

Neurodegeneration

Alzheimer's disease

Parkinson's disease

Epidemiology