Abstract
Bacterial and viral infections of the gastrointestinal tract are more common in the elderly and represent a major cause of morbidity and mortality. The mucosal immune system provides the first line of defence against pathogens acquired by ingestion and inhalation, but its function is adversely affected in the elderly. This aging-related decline in the immune function is termed immunosenescence and is associated with diminished abilities to generate protective immunity, reduced vaccine efficacy, increased incidence of cancer, inflammation and autoimmunity, and the impaired ability to generate tolerance to harmless antigens. In this review we describe our current understanding of the effects immunosenescence has on the innate and adaptive arms of the mucosal immune system in the intestine. Current estimates suggest that by the year 2050 up to 40 % of the UK population will be over 65 years old, bringing with it important health challenges. A thorough understanding of the mechanisms that contribute to the development of immunosenescence is therefore crucial to help identify novel approaches to improve mucosal immunity in the elderly.
Access options
Buy single article
Instant access to the full article PDF.
USD 39.95
Price excludes VAT (USA)
Tax calculation will be finalised during checkout.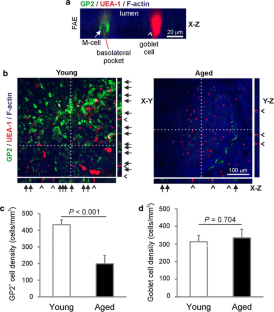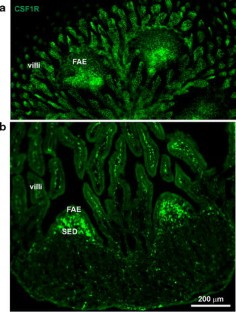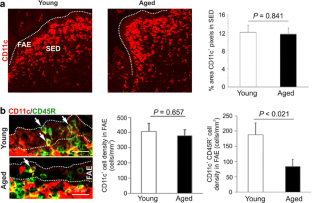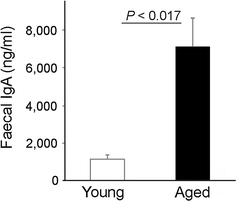 References
Ademokun A, Wu Y-C, Martin V, Mitra R, Sack U, Baxendale H, Kipling D, Dunn-Walters DK (2010) Vaccination-induced changes in human B-cell repertoire and pneumococcal IgM and IgA antibody at different ages. Aging Cell 10:922–930

Akbar AN, Henson SM (2011) Are senescence and exhaustion intertwined or unrelated processes that comprise immunity? Nat Rev Immunol 11:289–295

Aller MA, Corcuera MT, Gomez-Aguado F, Sanchez-Patan F, Alonso MJ, Arias J (2006) Age-related changes in goblet cell density in the rat small bowell. Comment on "Age-related changes in liver structure and function: implications for disease?" by DL Schmucker. Exp Gerontol 41:564

Amerongen HM, Weltzin R, Farnet CM, Michetti P, Haseltine WA, Neutra MR (1991) Transepithelial transport of HIV-1 by intestinal M cells: a mechanism for transmission of AIDS. J Acquir Immune Defic Syndr 4:760–765

Argues JL, Hautefort I, Ivory K, Bertelli E, Regoli M, Clare S, Hinton JC, Nicoletti C (2009) Salmonella induces flagellin- and MyD88-dependent migration of bacteria-capturing dendritic cells into the gut lumen. Gastroenterology 137:579–587

Arranz E, O'Mahony S, Barton JR, Ferguson A (1992) Immunosenescence and mucosal immunity: significant effects of old age on secretory IgA concentrations and intraepithelial lymphocyte counts. Gut 33:882–886

Aydar Y, Balogh P, Tew JG, Szakal AK (2004) Follicular dendritic cells in aging, a 'bottle-neck' in the humoral response. Ageing Res Rev 3:15–29

Banerjee M, Mehr R, Belelovsky A, Spencer J, Dunn-Walters DK (2002) Age- and tissue-specific differences in human germinal center B cell selection revealed by analysis of IgVH gene hypermutation and lineage trees. Eur J Immunol 32:1947–1957

Barone F, Vossenkamper A, Boursier L, Su W, Watson A, John S, Dunn-Walters DK, Fields P, Wijetilleka S, Edgeworth JD, Spencer J (2011) IgA-producing plasma cells originate from germinal centres that are induced by B-cell receptor engagement in humans. Gastroenterology 140:947–956

Biagi E, Nylund L, Candela M, Ostan R, Bucci L, Pini E, Nikkila J, Monti D, Satokari R, Franceschi C, Brigidi P, De Vos W (2010) Through ageing, and beyond: gut microbiota and inflammatory status in seniors and centenarians. PLoS ONE 5:e10667

Boullier S, Tanguy M, Kadaoui KA, Caubet C, Sansonetti P, Corthesy B, Phalipon A (2009) Secretory IgA-mediated neutralization of Shigella flexneri prevents intestinal tissue destruction by down-regulating inflammatory circuits. J Immunol 183:5879–5885

Bouskra D, Brezillon C, Berard M, Werts C, Varona C, Boneca IG, Eberl G (2008) Lymphoid tissue genesis induced by commensals through NOD1 regulates intestinal homeostasis. Nature 456:507–510

Bradford BM, Sester D, Hume DA, Mabbott NA (2011) Defining the anatomical localisation of subsets of the murine mononuclear phagocyte system using integrin alpha X (ITGAX) and colony stimulating factor 1 receptor (CSF1-R) expression fails to discriminate dendritic cells from macrophages. Immunobiology 216:1228–1237

Brown KL, Wathne GJ, Sales J, Bruce ME, Mabbott NA (2009) The effects of host age on follicular dendritic cell status dramatically impair scrapie agent neuroinvasion in aged mice. J Immunol 183:5199–5207. doi:10.4049/jimmunol.0802695

Brown KL, Gossner A, Mok S, Mabbott NA (2012) The effects of host age on the transport of complement-bound complexes to the spleen and the pathogenesis of intravenous scrapie infection. J Virol 86:1228–1237. doi:10.1128/JVI.05581-11

Cerruti A, Chen K, Chorny A (2011) Immunoglobulin responses at the mucosal interface. Annu Rev Immunol 29:273–293

Claesson MJ, Jeffrey IB, Conde S, Power SE, O'Connor EM, Cusack S, Harris HM, Coakley M, Lakshminarayanan B, O'Sullivan O, Fitzgerald GF, Deane J, O'Connor M, Harnedy N, O'Mahony D, van Sinderen D, Wallace M, Brennan L, Stanton C, Marchesi JR, Fitzgerald AP, Shanahan F, Hill C, Ross RP, O'Toole PW (2012) Gut microbiota composition correlates with diet and health in the elderly. Nature 488:178–184

Cook DN, Prosser DM, Forster R, Zhang J, Kuklin NA, Abbondanzo SJ, Niu X-D, Chen S-C, Manfra DJ, Wiekowski MT, Sullivan LM, Smith SR, Greenberg HB, Narula SK, Lipp M, Lira SA (2000) CCR6 mediates dendritic cell localization, lymphocyte homeostasis, and immune responses in mucosal tissue. Immunity 12:495–503

Daniels CK, Schmucker D, Bazin H, Jones AL (1998) Immunoglobulin A receptor of rat small intestinal enterocytes is unaffected by ageing. Gastroenterology 94:1432–1440

David LA, Maurice CF, Carmody RN, Gootenberg DB, Button JE, Wolfe BE, Ling AV, Devlin S, Varma Y, Fischbach MA, Biddinger SB, Dutton RJ, Turnbaugh PJ (2013) Diet rapidly and reproducibly alters the human gut microbiome. Nature 505(7484):559–563

Donaldson DS, Kobayashi A, Ohno H, Yagita H, Williams IR, Mabbott NA (2012) M cell depletion blocks oral prion disease pathogenesis. Mucosal Immunol 5:216–225

Dunn-Walters DK, Banerjee M, Mehr R (2003) Effects of age in antibody affinity maturation. Biochem Soc Trans 31:447–448

Dvorak AM, Dickersin GR (1980) Crohn's disease: transmission electron microscopic studies. I. Barrier funcion. Possible changes related to alterations of cell coat, mucous coat, epithelial cells, and Paneth cells. Hum Pathol 11:561–571

Ebersole JL, Smith DJ, Taubman MA (1985) Secretory immune responses in ageing rats. I. Immunoglobulin levels. Immunology 56:345–350

Ebisawa M, Hase K, Takahashi D, Kitamura D, Knoop KA, Williams IR, Ohno H (2011) CCR6hiCD11cint B cells promote M-cell differentiation in Peyer's patch. Int Immunol 23:261–269

Fagiolo U, Amadori A, Cozzi E, Bendo R, Lama M, Douglas A, Palu G (1993) Humoral and cellular immune responses to influenza virus vaccination in aged humans. Aging 5:451–458

Farache J, Koren I, Milo I, Gurevich I, Kim K-W, Zigmond E, Furtado GC, Lira SA, Shakhar G (2013) Luminal bacteria recruit CD103+ dendritic cells into the intestinal epithelium to sample bacterial antigens for presentation. Immunity 38:581–595

Favier CF, Vaughan EE, De Vos WM, Akkermans AD (2002) Molecular monitoring of succession of bacterial communities in human neonates. Appl Environ Microbiol 68:219–226

Franceschi C, Bonafe M, Valensin S, Olivieri F, De Luca M, Ottaviani E, De Benedictis G (2000) Inflamm-aging: an evolutionary perspective on immunosenescence. Ann N Y Acad Sci 908:244–254

Fujihashi K, Kiyono H (2009) Mucosal immunosenescence: new developments and vaccines to control infectious diseases. Trends Immunol 30(334):343

Fujihashi K, McGhee JR (2004) Mucosal immunity and tolerance in the elderly. Mech Ageing Dev 125:889–898

Fujihashi K, Koga T, McGhee JR (2000) Mucosal vaccination and immune responses in the elderly. Vaccine 18:1675–1680

Fujimura Y, Takeda M, Ikai H, Haruma K, Akisada T, Harada T, Sakai T, Ohuchi M (2004) The role of M cells of human nasopharyngeal lymphoid tissue in influenza virus sampling. Virchows Arch 444:36–42

Furusawa Y, Obata Y, Fukuda S, Endo TA, Nakato G, Takahashi D, Nakanishi Y, Uetake C, Kato K, Kato T, Takahashi M, Fukuda NN, Murukami S, Miyauchi E, Hino S, Atarashi K, Onawa S, Fujimura Y, Lockett T, Clarke JM, Topping DL, Tomita M, Hori S, Ohara O, Morita T, Koseki H, Kikuchi J, Honda K, Hase K, Ohno H (2013) Commensal microbe-derived butyrate induces the differentiation of colonic regulatory T cells. Nature 504:446–450

Gibbons DL, Spencer J (2011) Mouse and human intestinal immunity: same ballpark, different players; different rules, same score. Mucosal Immunol 4:148–157

Gibson KL, Wu Y-C, Barnett Y, Duggan O, Vaughan R, Kondeatis E, Nilsson B-O, Wikby A, Kipling D, Dunn-Walters DK (2009) B-cell diversity decreases in old age and is correlated with poor health status. Aging Cell 8:18–25

Glaysher BR, Mabbott NA (2007) Role of the GALT in scrapie agent neuroinvasion from the intestine. J Immunol 178:3757–3766

Haberman AM, Shlomchik MJ (2003) Reassessing the function of immune-complex retention by follicular dendritic cells. Nat Rev Immunol 3:757–764

Hase K, Kawano K, Nochi T, Pontes GS, Fukuda S, Ebisawa M, Kadokura K, Tobe T, Fujimura Y, Kawano S, Yabashi A, Waguri S, Nakato G, Kimura S, Murakami T, Iimura M, Hamura K, Fukuoka S-I, Lowe AW, Itoh K, Kiyono H, Ohno H (2009) Uptake through glycoprotein 2 of FimH+ bacteria by M cells initiates mucosal immune responses. Nature 462:226–231

Henson SM, Akbar AN (2010) Memory T-cell homeostasis and senescence during aging. Adv Exp Med Biol 684:189–197

Hopkins MJ, Sharp R, Macfarlane GT (2001) Age and disease related changes in intestinal bacterial populations assessed by cell culture, 16S rRNA abundance, and community cellular fatty acid profiles. Gut 48:198–205

House of Commons Library Research (2010) The ageing population. http://www.parliament.uk/business/publications/research/key-issues-for-the-new-parliament/value-for-money-in-public-services/the-ageing-population/. Accessed May 2010

Hume DA, Mabbott N, Raza S, Freeman TC (2013) Can DCs be distinguished from macrophages by molecular signatures. Nat Immunol 14:187–189

Jang MH, Kweon MN, Iwatani K, Yamamoto M, Terahara K, Sasakawa C, Suzuki T, Nochi T, Yokota Y, Rennert PD, Hiroi T, Tamagawa H, Iijima H, Kunisawa J, Yuki Y, Kiyono H (2004) Intestinal villous M cells: an antigen entry site in the mucosal epithelium. Proc Natl Acad Sci USA 101:6110–6115

Jenkins SJ, Allen JE (2010) Similarity and diversity in macrophage activation by nematodes, trematodes, and cestodes. J Biomed Biotechnol 2010:262609

Jones BD, Ghori N, Falkow S (1994) Salmonella typhimurium initiates murine infection by penetrating and destroying the specialized epithelial M cells of the Peyer's patches. J Exp Med 180:15–23

Kadaoui KA, Corthesy B (2007) Secretory IgA mediates bacterial translocation to dendritic cells in mouse Peyer's patches with restriction to mucosal compartment. J Immunol 179:7751–7757

Kanaya T, Hase K, Takahashi D, Fukuda S, Hoshino K, Sasaki I, Hemmi H, Knoop KA, Kumar N, Sato M, Katsuno T, Yokosuka O, Toyooka K, Nakai K, Sakamoto A, Kitahara Y, Jinnohara T, McSorley SJ, Kaisho T, Williams IR, Ohno H (2012) The Ets transcription factor Spi-B is essential for the differentiation of intestinal microfold cells. Nat Immunol 13:729–736

Kato H, Fujihashi K, Kato R, Dohi T, Fujihashi K, Hagiwara Y, Kataoka K, Kobayashi R, McGhee JR (2003) Lack of oral tolerance in ageing is due to sequential loss of Peyer's patch cell interactions. Int Immunol 15:145–158

Kim SH, Jung DI, Yang IY, Kim J, Lee KY, Nochi T, Kiyono H, Jang YS (2011) M cells expressing the complement C5a receptor are efficient targets for mucosal vaccine delivery. Eur J Immunol 41:3219–3229

Kleinschmidt S, Meneses F, Nolte I, Hewicker-Trautwein M (2007) Distribution of mast cell subtypes and immune cell populations in canine intestines: evidence for age-related decline in T cells and macrophages and increase of IgA-positive plasma cells. Res Vet Sci 84:41–48

Knoop KA, Newberry RD (2012) Isolated lymphoid follicles are dynamic reservoirs for the induction of intestinal IgA. Front Immunol 3:84

Knoop KA, Kumar N, Butler BR, Sakthivel SK, Taylor RT, Nochi T, Akiba H, Yagita H, Kiyono H, Williams IR (2009) RANKL is necessary and sufficient to initiate development of antigen-sampling M cells in the intestinal epithelium. J Immunol 183:5738–5747. doi:10.4049/j.immunol.0901563

Kobayashi A, Donaldson DS, Erridge C, Kanaya T, Williams IR, Ohno H, Mahajan A, Mabbott NA (2013) The functional maturation of M cells is dramatically reduced in the Peyer's patches of aged mice. Mucosal Immunol 6:1027–1037

Koga T, McGhee JR, Kato H, Kato R, Kiyono H, Fujihashi K (2000) Evidence for early aging in the mucosal immune system. J Immunol 165:5352–5359

Kosco-Vilbois MH (2003) Are follicular dendritic cells really good for nothing? Nat Rev Immunol 3:764–769

Krahenbuhl JP, Neutra MR (2000) Epithelial M cells: differentiation and function. Annu Rev Cell Dev Biol 16:301–332

Lelouard H, Fallet M, De Bovis B, Meresse S, Gorvel JP (2012) Peyer's patch dendritic cells sample antigens by extending dendrites through M cell-specific transcellular pores. Gastroenterology 142:592–601

Liebler-Tenorio EM, Pabst P (2006) MALT structure and function in farm animals. Vet Res 37:257–280

Linder C, Wahl B, Fohse L, Suerbaum S, Macpherson AJ, Prinz I, Pabst O (2012) Age, microbiota, and T cells shape diverse individual IgA repertoires in the intestine. J Exp Med 209:365–377

Lorenz RG, Newberry RD (2004) Isolated lymphoid follicles can function as sites for induction of mucosal immune responses. Ann N Y Acad Sci 1029:44–57

Lycke N, Erlandsson L, Ekman L, Schon K, Leanderson T (1999) Lack of J chain inhibits the transport of gut IgA and abrogates the development of intestinal antitoxic protection. J Immunol 163:913–919

Mabbott NA, Baillie JC, Hume DA, Freeman TC (2010) Meta-analysis of co-expressed gene signatures in mouse leukocyte populations. Immunobiology 215:724–736

Macpherson AJ, Harris NL (2004) Interactions between commensal intestinal bacteria and the immune system. Nat Rev Immunol 4:478–485

Macpherson AJ, McCoy KD, Johansen F-E, Brandtzaeg P (2008) The immune geography of IgA induction and function. Mucosal Immunol 1:11–22

Mantis NJ, Rol N, Corthesy B (2011) Secretory IgA's complex roles in immunity and mucosal homeostasis in the gut. Mucosal Immunol 4:603–611

Maslowski KM, Vieira AT, Ng A, Kranich J, Sierro F, Yu D, Schilter HC, Rolph MS, Mackay F, Artis D, Xavier RJ, Teixeira MM, Mackay F (2009) Regulation of inflammatory responses by gut microbiota and chemoattractant receptor GPR43. Nature 461:1282–1286

McDole JR, Wheeler LW, McDonald KG, Wang B, Konjufca V, Knoop KA, Newberry RD, Miller MJ (2012) Goblet cells deliver luminal antigen to CD103+ dendritic cells in the small intestine. Nature 483:345–349

McDonald KG, Leach MR, Huang C, Wang C, Newberry RD (2011) Aging impacts isolated lymphoid follicle development and function. Immun Aging 8:1

Michetti P, Mahan MJ, Slauch JM, Mekalanos JJ, Neutra MR (1992) Monoclonal secretory immunoglobulin A protects mice against oral challenge with the invasive pathogen Salmonella typhimurium. Infect Immun 60:1786–1792

Misumi S, Masuyama M, Takamune N, Nakayama D, Mitsumata R, Matsumoto H, Urata N, Takahashi Y, Muneoka A, Sukamoto T, Fukuzaki K, Shoji S (2009) Targeted delivery of immunogen to primate m cells with tetragalloyl lysine dendrimer. J Immunol 182:6061–6070

Moretto MM, Lawlor EM, Khan IA (2008) Aging mice exhibit a functional defect in mucosal dendritic cell response against an intracellular pathogen. J Immunol 181:7977–7984

Mowat AM (2003) Anatomical basis of tolerance and immunity to intestinal pathogens. Nat Rev Immunol 3:331–341

Mueller S, Saunier K, Hanisch C, Norin E, Alm L, Midtvedt T, Cresci A, Silvi S, Orpianesi C, Verdenelli MC, Clavel T, Koebnick C, Zunft HJ, Dore J, Blaut M (2006) Differences in fecal microbiota in different European study populations in relation to age, gender, and country: a cross-sectional study. Appl Environ Microbiol 72:1027–1033

Nakato G, Fukuda S, Hase K, Goitsuka R, Cooper MD, Ohno H (2009) New approach for M-cell-specific molecules by screening comprehensive transcriptome analysis. DNA Res 16:227–235

Nakato G, Hase K, Suzuki M, Kimura M, Ato M, Hanazato M, Tobiume M, Horiuchi M, Atarashi R, Nishida N, Watarai H, Imaoka K, Ohno H (2012) Cutting edge: Brucella abortus exploits a cellular prion protein on intestinal M cells as an invasive receptor. J Immunol 189:1540–1544

Neutra MR, Frey A, Kraehenbuhl J-P (1996) Epithelial M Cells: gateways for mucosal infection and immunization. Cell 86:345–348

Nicoletti C, Regoli M, Bertelli E (2009) Dendritic cells in the gut: to sample and to exclude? Mucosal Immunol 2:462

Niess JH, Brand S, Gu X, Landsman L, Jung S, McCormick BA, Vyas JM, Boes M, Ploegh HL, Fox JG et al (2005) CX3CR1-mediated dendritic cell access to the intestinal lumen and bacterial clearance. Science 307:254–258

Nochi T, Yuki Y, Matsumura A, Mejima M, Terahara K, Kim D-Y, Fukuyama S, Iwatsuki-Horimoto K, Kawaoka Y, Kohda T, Kozaki S, Igrashi O, Kiyono H (2007) A novel M cell-specific carbohydrate-targeted mucosal vaccine effectively induces antigen-specific immune responses. J Exp Med 204:2789–2796

Obata T, Goto Y, Kunisawa Y, Sato S, Sakamoto M, Setoyama H, Matsuki T, Nonaka K, Shibata N, Gohda M, Kagiyama Y, Nochi T, Yuki Y, Fukuyama Y, Mukai A, Shinzaki S, Fujihashi K, Sasakawa C, Iijima H, Goto M, Umesaki Y, Benno Y, Kiyono H (2010) Indigenous opportunistic bacteria inhabit mammalian gut-associated lymphoid tissues and share a mucosal antibody-mediated symbiosis. Proc Natl Acad Sci USA 107:7419–7424

Ogino T, Miura S, Komoto S, Hara Y, Hokari R, Tsuzuki Y, Watanabe C, Koseki S, Nagata H, Hachimura S, Kaminogawa S, Ishii H (2004) Senescence-associated decline of lymphocyte migration in gut-associated lymphoid tissues of rat small intestine. Mech Ageing Dev 125(3):191–199

Ren W, Wu K, Li X, Luo M, Liu H, Zhang S, Hu Y (2013) Age-related changes in small intestinal mucosa epithelium architecture and epithelial tight junction in rat models. Aging Clin Exp Res 26(2):183–191

Rescigno M, Urbano M, Valzasina B, Francolini M, Rotta G, Bonasio R, Granucci F, Kraehenbuhl J-P, Ricciardi-Castagnoli P (2001) Dendritic cells express tight junction proteins and penetrate gut epithelial monolayers to sample bacteria. Nat Immunol 2:361–367

Rey J, Garin N, Spertini F, Corthesy B (2004) Targeting of secretory IgA to Peyer's patch dendritic cells and T cells after transport by intestinal M cells. J Immunol 172:3026–3033

Rochereau N, Drocourt D, Perouzel E, Pavot V, Redelinghuys P, Brown GD, Tiraby G, Roblin X, Verrier B, Genin C, Corthesy B, Paul S (2013) Dectin-1 is essential for reverse transcytosis of glycosylated SIgA-antigen complexes by intestinal M cells. PLoS Biol 11:e1001658

Rose St, Suzanne G, Hunter N, Matthews D, Foster J, Chase-Topping ME, Kruuk LEB, Shaw DJ, Rhind SM, Will RG, Woolhouse MEJ (2006) Comparative evidence for a link between Peyer's patch development and susceptibility to transmissible spongiform encephalopathies. BMC Infect Dis 6:5

Round JL, Mazmanian SK (2009) The gut microbiota shapes intestinal immune responses during health and disease. Nat Rev Immunol 9:313–323

Sansonetti PJ, Phalipon A (1999) M cells as ports of entry for enteroinvasive pathogens: mechanisms of interaction, consequences for the disease process. Semin Immunol 11:193–203

Sasmono RT, Oceandy D, Pollard JW, Tong W, Pavli P, Wainwright BJ, Ostrowski MC, Himes SR, Hume DA (2003) A macrophage colony-stimulating factor receptor-green fluorescent protein transgene is expressed throughout the mononuclear phagocyte system of the mouse. Blood 101:1155–1163

Sato S, Kaneto S, Shibata N, Takahashi Y, Okura H, Yuki Y, Kunisawa J, Kiyono H (2013) Transcription factor Spi-B-dependent and -independent pathways for the development of Peyer's patch M cells. Mucosal Immunol 6:838–846

Schiffrin EJ, Parlesak A, Bode C, Bode JC, van't Hof MA, Grathwohl D, Guigoz Y (2009) Probiotic yoghurt in the elderly with intestinal bacterial overgrowth: endotoxaemia and innate immune functions. Br J Nutr 101:961–966

Schmucker D, Owen R, Outenreath R, Thoreux K (2003) Basis for the age-related decline in intestinal mucosal immunity. Clin Dev Immunol 10:167–172

Senda S, Cheng E, Kawanishi H (1988) Aging-associated changes in murine intestinal immunoglobulin A and M secretions. Scand J Immunol 27:157–164

Shikina T, Hiroi T, Iwatani K, Jang MH, Fukuyama S, Tamura M, Kubo T, Ishikawa H, Kiyono H (2004) IgA class switch occurs in the organized nasopharynx- and gut-associated lymphoid tissue, but not in the diffuse lamina propria or airways and gut. J Immunol 172:6259–6264

Silvey KJ, Hutchings AB, Vajdy M, Petzke MM, Neutra MR (2001) Role of immunoglobulin A in protection against reovirus entry into murine Peyer's patches. J Virol 75:10870–10879

Smith PM, Howitt MR, Panikov N, Michaud M, Gallini CA, Bohlooly YM, Glickman JN, Garrett WS (2013) The microbial metabolites, short-chain fatty acids, regulate colonic Treg cell homeostasis. Science 341:569–573

Sugawara Y, Azuma N, Onodera S, Tsunoka Y, Morimoto M (2011) Th2 immune responses and alternatively activated macrophages (AAMacs) in helminth infection in aged mice. J Vet Med Sci 73:511–516

Suzuki K, Maruya M, Kawamoto S, Fagarasan S (2010) Roles of B-1 and B-2 cells in innate and acquired IgA-mediated immunity. Immunol Rev 237:180–190

Tahoun A, Mahajan S, Paxton E, Malterer G, Donaldson DS, Wang D, Tan A, Gillespie TL, O'Shea M, Rose A, Shaw DJ, Gally DL, Lengeling A, Mabbott NA, Haas J, Mahajan A (2012) Salmonella transforms follicle-associated epithelial cells into M cells to promote intestinal invasion. Cell Host Microbe 12:645–666

Takahashi Y, Misumi S, Muneoka A, Masuyama M, Tokado H, Fukuzaki K, Takamune N, Shoji S (2008) Nonhuman primate intestinal villous M-like cells: an effective poliovirus entry site. Biochem Biophys Res Commun 368:501–507

Taylor DL, Daniels CK, Schmucker D (1992) Ageing compromises gastrointestinal mucosal immune response in the rhesus monkey. Immunology 75:614–618

Terahara K, Yoshida M, Igarashi O, Nochi T, Soares Pontes G, Hase K, Ohno H, Kurokawa S, Mejima M, Takayama N, Yuki Y, Lowe AW, Kiyono H (2008) Comprehensive gene expression profiling of Peyer's patch M cells, villous M-like cells, and intestinal epithelial cells. J Immunol 180:7840–7846

Thoreux K, Owen RL, Schmucker D (2000) Intestinal lymphocyte number, migration and antibody secretion in young and old rats. Immunology 101:161–167

Tiihonen K, Tynkkynen S, Ouwehand A, Ahlroos T, Rautonen N (2008) The effect of ageing with and without non-steroidal anti-inflammtory drugs on gastrointestinal microbiology and immunology. Br J Nutr 100:130–137

Tran L, Greenwood-Van Meerveld B (2013) Age-associated remodeling of the intestinal epithelial barrier. J Gerontol A 68:1045–1056

Vallon-Eberhard A, Landsman L, Yogev N, Verrier B, Jung S (2006) Transepithelial pathogen uptake into the small intestinal lamina propria. J Immunol 176:2465–2469

van der Sluis M, de Koning BA, De Bruijn AC, Velcich A, Meijerink JP, Van Goudoever JB, Buller HA, Dekker J, Van Seuningen I, Renes IB, Einerhand AW (2006) Muc2-deficient mice spontaneously develop colitis, indicating that MUC2 is critical for colonic protection. Gastroenterology 131:117–129

Wang J, Gusti V, Saraswati A, Lo DD (2011) Convergent and divergent development among M cell lineages in mouse mucosal epithelium. J Immunol 187:5277–5285

Westphal S, Lugering A, von Wedel J, von Eiff C, Maaser C, Spahn T, Heusipp G, Schmidt MA, Herbst H, Williams IR, Domschke W, Kucharzik T (2008) Resistance of chemokine receptor 6-deficient mice to Yersinia enterocolitica infection: evidence on defective M-cell formation in vivo. Am J Pathol 172:671–680

Whitman WB, Coleman DC, Wiebe WJ (1998) Prokaryotes: the unseen majority. Proc Natl Acad Sci USA 95:6578–6583

Wolf JL, Rubin DH, Finberg R, Kauffman RS, Sharpe AH, Trier JS, Fields BN (1981) Intestinal M cells: a pathway for entry of reovirus into the host. Science 212:471–472

Zidan M, Pabst R (2008) Unique microanatomy of ileal Peyer's patches of the one humped camel (Cameuls dromodarius) is not age dependent. Anat Rec 291:1023–1028
Acknowledgments
This work was supported by project (BB/J014672/1, BB/K021257/1 & BB/L007452/1) and Institute Strategic Programme Grant funding from the Biotechnology and Biological Sciences Research Council, and project funding from the European Commission (FP7 project 222887; PRIORITY).
Conflict of interest
The authors declare no competing financial conflict of interest.
About this article
Cite this article
Mabbott, N.A., Kobayashi, A., Sehgal, A. et al. Aging and the mucosal immune system in the intestine. Biogerontology 16, 133–145 (2015). https://doi.org/10.1007/s10522-014-9498-z
Received:

Accepted:

Published:

Issue Date:

DOI: https://doi.org/10.1007/s10522-014-9498-z
Keywords
Aging

Intestine

Mucosal immune system

M cells

IgA