Abstract
Aging induced cognitive impairment has been well documented for many years and several antioxidant strategies have been developed against this impairment. Curcumin is the active component of curcuma longa and has shown antioxidant, antiinflamatory and neuroprotective properties. We hypothesized that curcumin would have an influence on cognitive functions in aged female rats. The purpose of the present study was to investigate the effects of curcumin supplementation on cognitive impairment evaluated by Morris water maze (MWM) as well as the oxidative stress induced by aging in female rats. Rats were randomly divided into either control or curcumin-supplemented groups. Curcumin or vehicle (corn oil) were given once daily for a period of 12 days, beginning 7 days prior to and 5 days during the behavioral tests. Behavioral assessment was performed in MWM. At the end of the behavioral test, blood samples and brain tissues were taken for the analysis of malondialdeyde (MDA), protein carbonyl and glutathione levels. During the training session, curcumin supplementation decreased latency to reach to the platform and the total distance traveled. During the probe trial, curcumin supplementation increased the number of platform crossings. In addition to the behavioral testing, biochemical results showed that MDA levels decreased in brain tissue by curcumin supplementation. It may be concluded that, curcumin supplementation improves cognitive functions by decreasing the lipid peroxidation in brain tissue of aged female rats.
This is a preview of subscription content, log in to check access.
Access options
Buy single article
Instant access to the full article PDF.
US$ 39.95
Price includes VAT for USA
Subscribe to journal
Immediate online access to all issues from 2019. Subscription will auto renew annually.
US$ 99
This is the net price. Taxes to be calculated in checkout.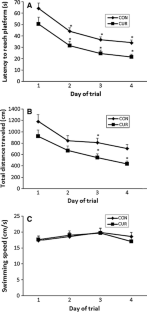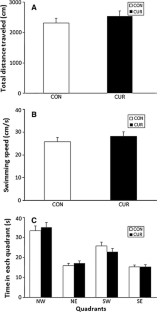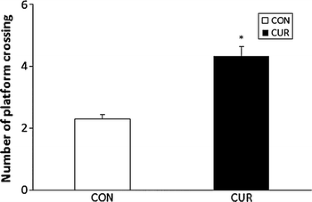 References
Aggarwal BB, Harikumar KB (2009) Potential therapeutic effects of curcumin, the anti-inflammatory agent, against neurodegenerative, cardiovascular, pulmonary, metabolic, autoimmune and neoplastic diseases. Int J Biochem Cell Biol 41:40–59

Ahmed T, Gilani AH (2009) Inhibitory effect of curcuminoids on acetylcholinesterase activity and attenuation of scopolamine-induced amnesia may explain medicinal use of turmeric in Alzheimer's disease. Pharmacol Biochem Behav 91:554–559

Asha Devi S, Sagar Chandrasekar BK, Manjula KR, Ishii N (2011) Grape seed proanthocyanidin lowers brain oxidative stress in adult and middle-aged rats. Exp Gerontol 46:958–964

Ataie A, Sabetkasaei M, Haghparast A, Moghaddam AH, Ataee R, Moghaddam SN (2010) Curcumin exerts neuroprotective effects against homocysteine intracerebroventricular injection-induced cognitive impairment and oxidative stress in rat brain. J Med Food 13:821–826

Bala K, Tripathy BC, Sharma D (2006) Neuroprotective and anti-ageing effects of curcumin in aged rat brain regions. Biogerontology 7:81–89

Belviranli M, Atalik KE, Okudan N, Gökbel H (2012) Age and sex affect spatial and emotional behaviors in rats: The role of repeated elevated plus maze test. Neuroscience 227:1–9

Bergado JA, Almaguer W, Rojas Y, Capdevila V, Frey JU (2011) Spatial and emotional memory in aged rats: a behavioral-statistical analysis. Neuroscience 172:256–269

Bimonte-Nelson HA, Singleton RS, Hunter CL, Price KL, Moore AB, Granholm AC (2003) Ovarian hormones and cognition in the aged female rat: I. Long-term, but not short-term, ovariectomy enhances spatial performance. Behav Neurosci 117:1395–1406

Bimonte-Nelson HA, Singleton RS, Williams BJ, Granholm AC (2004) Ovarian hormones and cognition in the aged female rat: II. Progesterone supplementation reverses the cognitive enhancing effects of ovariectomy. Behav Neurosci 118:707–714

Conboy L, Foley AG, O'Boyle NM, Lawlor M, Gallagher HC, Murphy KJ, Regan CM (2009) Curcumin-induced degradation of PKC delta is associated with enhanced dentate NCAM PSA expression and spatial learning in adult and aged Wistar rats. Biochem Pharmacol 77:1254–1265

Demirovic D, Rattan SI (2013) Establishing cellular stress response profiles as biomarkers of homeodynamics, health and hormesis. Exp Gerontol 48:94–98

D'Hooge R, De Deyn PP (2001) Applications of the Morris water maze in the study of learning and memory. Brain Res Rev 36:60–90

Dkhar P, Sharma R (2010) Effect of dimethylsulphoxide and curcumin on protein carbonyls and reactive oxygen species of cerebral hemispheres of mice as a function of age. Int J Dev Neurosci 28:351–357

Dong S, Zeng Q, Mitchell ES, Xiu J, Duan Y, Li C, Tiwari JK, Hu Y, Cao X, Zhao Z (2012) Curcumin enhances neurogenesis and cognition in aged rats: implications for transcriptional interactions related to growth and synaptic plasticity. PLoS ONE 7:e31211

Frautschy SA, Hu W, Kim P, Miller SA, Chu T, Harris-White ME, Cole GM (2001) Phenolic anti-inflammatory antioxidant reversal of Abeta-induced cognitive deficits and neuropathology. Neurobiol Aging 22:993–1005

Gallagher M, Burwell R, Burchinal M (1993) Severity of spatial learning impairment in aging: development of a learning index for performance in the Morris water maze. Behav Neurosci 107:618–626

Geinisman Y, Detoledo-Morrell L, Morrell F, Heller RE (1995) Hippocampal markers of age-related memory dysfunction: behavioral, electrophysiological and morphological perspectives. Prog Neurobiol 45:223–252

Gottfries CG (1990) Neurochemical aspects on aging and diseases with cognitive impairment. J Neurosci Res 27:541–547

Guzel A, Kanter M, Guzel A, Yucel AF, Erboga M (2012) Protective effect of curcumin on acute lung injury induced by intestinal ischemia/reperfusion. Toxicol Ind Health [Epub ahead of print]

Halliwell B, Gutteridge JM (1985) The importance of free radicals and catalytic metal ions in human diseases. Mol Aspects Med 8:89–193

Jagetia GC, Aggarwal BB (2007) "Spicing up" of the immune system by curcumin. J Clin Immunol 27:19–35

Joseph JA, Shukitt-Hale B, Denisova NA, Bielinski D, Martin A, McEwen JJ, Bickford PC (1999) Reversals of age-related declines in neuronal signal transduction, cognitive, and motor behavioral deficits with blueberry, spinach, or strawberry dietary supplementation. J Neurosci 19:8114–8121

Jovanovic SV, Boone CW, Steenken S, Trinoga M, Kaskey RB (2001) How curcumin works preferentially with water soluble antioxidants. J Am Chem Soc 123:3064–3068

Khurana S, Jain S, Mediratta PK, Banerjee BD, Sharma KK (2012) Protective role of curcumin on colchicine-induced cognitive dysfunction and oxidative stress in rats. Hum Exp Toxicol 31(7):686–697

Kiray M, Uysal N, Sönmez A, Açikgöz O, Gönenç S (2004) Positive effects of deprenyl and estradiol on spatial memory and oxidant stress in aged female rat brains. Neurosci Lett 354:225–228

Küçük A, Gölgeli A, Saraymen R, Koç N (2008) Effects of age and anxiety on learning and memory. Behav Brain Res 195:147–152

Lima CF, Pereira-Wilson C, Rattan SI (2011) Curcumin induces heme oxygenase-1 in normal human skin fibroblasts through redox signaling: relevance for anti-aging intervention. Mol Nutr Food Res 55:430–442

Lowry OH, Rosebrough NJ, Farr AL, Randall RJ (1951) Protein measurement with the Folin phenol reagent. J Biol Chem 193:265–275

Markesbery WR (1997) Oxidative stress hypothesis in Alzheimer's disease. Free Radic Biol Med 23:134–147

Morris RGM (1981) Spatial localization does not require the presence of local cues. Learn Motiv 12:239–260

Ng TP, Chiam PC, Lee T, Chua HC, Lim L, Kua EH (2006) Curry consumption and cognitive function in the elderly. Am J Epidemiol 164:898–906

Rajakumar DV, Rao MN (1994) Antioxidant properties of dehydrozingerone and curcumin in rat brain homogenates. Mol Cell Biochem 140:73–79

Rattan SI (2008) Principles and practice of hormetic treatment of aging and age-related diseases. Hum Exp Toxicol 27:151–154

Rattan SI (2012a) Biogerontology: from here to where? The Lord Cohen Medal Lecture-2011. Biogerontology 13:83–91

Rattan SI (2012b) Rationale and methods of discovering hormetins as drugs for healthy ageing. Expert Opin Drug Discov 7:439–448

Rattan SI, Fernandes RA, Demirovic D, Dymek B, Lima CF (2009) Heat stress and hormetin-induced hormesis in human cells: effects on aging, wound healing, angiogenesis, and differentiation. Dose Response 7:90–103

Reeta KH, Mehla J, Gupta YK (2009) Curcumin is protective against phenytoin-induced cognitive impairment and oxidative stress in rats. Brain Res 1301:52–60

Reeta KH, Mehla J, Gupta YK (2010) Curcumin ameliorates cognitive dysfunction and oxidative damage in phenobarbitone and carbamazepine administered rats. Eur J Pharmacol 644:106–112

Shehzad A, Wahid F, Lee YS (2010) Curcumin in cancer chemoprevention: molecular targets, pharmacokinetics, bioavailability, and clinical trials. Arch Pharm (Weinheim) 343:489–499

Singh R, Kanwar SS, Sood PK, Nehru B (2011) Beneficial effects of folic acid on enhancement of memory and antioxidant status in aged rat brain. Cell Mol Neurobiol 31:83–91

Socci DJ, Crandall BM, Arendash GW (1995) Chronic antioxidant treatment improves the cognitive performance of aged rats. Brain Res 693:88–94

Surh YJ, Kundu JK, Na HK (2008) Nrf2 as a master redox switch in turning on the cellular signaling involved in the induction of cytoprotective genes by some chemopreventive phytochemicals. Planta Med 74:1526–1539

Thiyagarajan M, Sharma SS (2004) Neuroprotective effect of curcumin in middle cerebral artery occlusion induced focal cerebral ischemia in rats. Life Sci 74:969–985

Tian M, Wang L, Yu G, Liu B, Li Y (2012) Curcumin preserves cognitive function and improve serum HDL in chronic cerebral hypoperfusion aging-rats. Mol Neurodegener 7:S3

Topic B, Tani E, Tsiakitzis K, Kourounakis PN, Dere E, Hasenöhrl RU, Häcker R, Mattern CM, Huston JP (2002) Enhanced maze performance and reduced oxidative stress by combined extracts of zingiber officinale and ginkgo biloba in the aged rat. Neurobiol Aging 23:135–143

Van Groen T, Kadish I, Wyss JM (2002) Old rats remember old tricks; memories of the water maze persist for 12 months. Behav Brain Res 136:247–255

Xu Y, Ku BS, Yao HY, Lin YH, Ma X, Zhang YH, Li XJ (2005) Antidepressant effects of curcumin in the forced swim test and olfactory bulbectomy models of depression in rats. Pharmacol Biochem Behav 82:200–206

Yang F, Lim GP, Begum AN, Ubeda OJ, Simmons MR, Ambegaokar SS, Chen PP, Kayed R, Glabe CG, Frautschy SA, Cole GM (2005) Curcumin inhibits formation of amyloid beta oligomers and fibrils, binds plaques, and reduces amyloid in vivo. J Biol Chem 280:5892–5901

Zhao DY, Yang MK (1986) Separation and determination of curcuminoids in Curcuma longa L. and its preparation by HPLC. Yao Xue Xue Bao 21:382–385

Zhao J, Zhao Y, Zheng W, Lu Y, Feng G, Yu S (2008) Neuroprotective effect of curcumin on transient focal cerebral ischemia in rats. Brain Res 1229:224–232
Acknowledgments
The authors are grateful to Prof. Said Bodur for his assistance in the statistical work.
Conflict of interest
There is no conflict of interest.
About this article
Cite this article
Belviranlı, M., Okudan, N., Atalık, K.E.N. et al. Curcumin improves spatial memory and decreases oxidative damage in aged female rats. Biogerontology 14, 187–196 (2013). https://doi.org/10.1007/s10522-013-9422-y
Received:

Accepted:

Published:

Issue Date:
Keywords
Curcumin

Aging

Spatial learning

Memory

Oxidative stress