Abstract
Serotonin is a monoamine neurotransmitter, which is phylogenetically conserved in a wide range of species from nematodes to humans. In mammals, age-related changes in serotonin systems are known risk factors of age-related diseases, such as diabetes, faecal incontinence and cardiovascular diseases. A decline in serotonin function with aging would be consistent with observations of age-related changes in behaviours, such as sleep, sexual behaviour and mood all of which are linked to serotonergic function. Despite this little is known about serotonin in relation to aging. This review aims to give a comprehensive analysis of the distribution, function and interactions of serotonin in the brain; gastrointestinal tract; skeletal; vascular and immune systems. It also aims to demonstrate how the function of serotonin is linked to aging and disease pathology in these systems. The regulation of serotonin via microRNAs is also discussed, as are possible applications of serotonergic drugs in aging research and age-related diseases. Furthermore, this review demonstrates that serotonin is potentially involved in whole organism aging through its links with multiple organs, the immune system and microRNA regulation. Methods to investigate these links are discussed.
Access options
Buy single article
Instant access to the full article PDF.
USD 39.95
Price excludes VAT (USA)
Tax calculation will be finalised during checkout.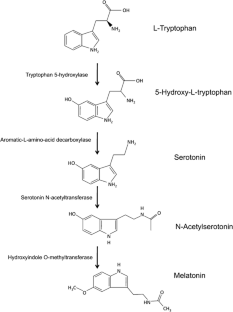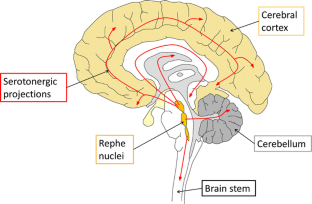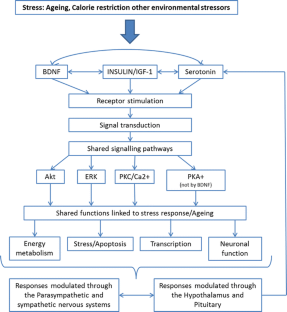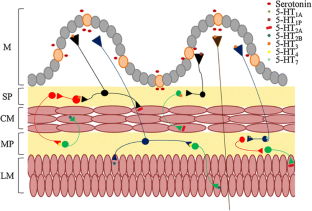 References
Ahern GP (2011) 5-HT and the immune system. Curr Opin Pharmacol 11(1):29–33

Amital D et al (2005) Anxiogenic effects of Sumatriptan in panic disorder: a double-blind, placebo-controlled study. Eur Neuropsychopharmacol: J Eur Coll Neuropsychopharmacol 15(3):279–282

Amrein I, Isler K, Lipp H-P (2011) Comparing adult hippocampal neurogenesis in mammalian species and orders: influence of chronological age and life history stage. Eur J Neurosci 34(6):978–987

Andersson A, Sundman I, Marcusson J (1992) Age stability of human brain 5-HT terminals studied with [3H]paroxetine binding. Gerontology 38(3):127–132

Arivazhagan P, Panneerselvam C (2002) Neurochemical changes related to ageing in the rat brain and the effect of DL-alpha-lipoic acid. Exp Gerontol 37(12):1489–1494

Ballok DA et al (2004) Hippocampal damage in mouse and human forms of systemic autoimmune disease. Hippocampus 14(5):649–661

Ban Y et al (2007) Impact of increased plasma serotonin levels and carotid atherosclerosis on vascular dementia. Atherosclerosis 195(1):153–159

Banasr M et al (2004) Serotonin-induced increases in adult cell proliferation and neurogenesis are mediated through different and common 5-HT receptor subtypes in the dentate gyrus and the subventricular zone. Neuropsychopharmacol: Off Publ Am Coll Neuropsychopharmacol 29(3):450–460

Bardin L et al (2003) Profound, non-opioid analgesia produced by the high-efficacy 5-HT(1A) agonist F 13640 in the formalin model of tonic nociceptive pain. Pharmacology 67(4):182–194

Behan M, Zabka AG, Mitchell GS (2002) Age and gender effects on serotonin-dependent plasticity in respiratory motor control. Respir Physiol Neurobiol 131(1–2):65–77

Benninghoff J et al (2012) The complex role of the serotonin transporter in adult neurogenesis and neuroplasticity. A critical review. World J Biol Psychiatry: Off J World Fed Soc Biol Psychiatry 13(4):240–247

Berger M, Gray JA, Roth BL (2009) The expanded biology of serotonin. Annu Rev Med 60:355–366

Bertrand PP (2006) Real-time measurement of serotonin release and motility in guinea pig ileum. J Physiol 577(2):689–704

Bertrand PP, Bertrand RL (2010) Serotonin release and uptake in the gastrointestinal tract. Auton Neurosci 153(1–2):47–57

Bertrand PP et al (2008) Serotonin (5-HT) release and uptake measured by real-time electrochemical techniques in the rat ileum. Am J Physiol Gastrointest Liver Physiol 295(6):G1228–G1236

Bertrand PP et al (2010) Simultaneous measurement of serotonin and melatonin from the intestine of old mice: the effects of daily melatonin supplementation. J Pineal Res 49(1):23–34

Bischoff SC et al (2009) Role of serotonin in intestinal inflammation: knockout of serotonin reuptake transporter exacerbates 2,4,6-trinitrobenzene sulfonic acid colitis in mice. Am J Physiol Gastrointest Liver Physiol 296(3):G685–G695

Bitar K et al (2011) Aging and gastrointestinal neuromuscular function: insights from within and outside the gut. Neurogastroenterol Motil 23(6):490–501

Blakely RD et al (1998) Regulated phosphorylation and trafficking of antidepressant-sensitive serotonin transporter proteins. Biol Psychiatry 44(3):169–178

Blessing WW, Seaman B (2003) 5-hydroxytryptamine(2A) receptors regulate sympathetic nerves constricting the cutaneous vascular bed in rabbits and rats. Neuroscience 117(4):939–948

Blundell JE, Lawton CL, Halford JC (1995) Serotonin, eating behavior, and fat intake. Obes Res 3(Suppl 4):471S–476S

Bonaventure P et al (2007) Selective blockade of 5-hydroxytryptamine (5-HT)7 receptors enhances 5-HT transmission, antidepressant-like behavior, and rapid eye movement sleep suppression induced by citalopram in rodents. J Pharmacol Exp Ther 321(2):690–698

Borman RA et al (2002) 5-HT(2B) receptors play a key role in mediating the excitatory effects of 5-HT in human colon in vitro. Br J Pharmacol 135(5):1144–1151

Brenner B et al (2007) Plasma serotonin levels and the platelet serotonin transporter. J Neurochem 102(1):206–215

Bruunsgaard H et al (2000) Proliferative responses of blood mononuclear cells (BMNC) in a cohort of elderly humans: role of lymphocyte phenotype and cytokine production. Clin Exp Immunol 119(3):433–440

Budhoo MR, Harris RP, Kellum JM (1996) 5-Hydroxytryptamine-induced Cl− transport is mediated by 5-HT3 and 5-HT4 receptors in the rat distal colon. Eur J Pharmacol 298(2):137–144

Buijs RM, Van Eden CG (2000) The integration of stress by the hypothalamus, amygdala and prefrontal cortex: balance between the autonomic nervous system and the neuroendocrine system. Prog Brain Res 126:117–132

Burleigh DE, Borman RA (1993) Short-circuit current responses to 5-hydroxytryptamine in human ileal mucosa are mediated by a 5-HT4 receptor. Eur J Pharmacol 241(1):125–128

Camilleri M et al (2001) A randomized controlled clinical trial of the serotonin type 3 receptor antagonist alosetron in women with diarrhea-predominant irritable bowel syndrome. Arch Intern Med 161(14):1733–1740

Capuron L, Miller AH (2011) Immune system to brain signaling: neuropsychopharmacological implications. Pharmacol Ther 130(2):226–238

Capuron L et al (2002) Association between decreased serum tryptophan concentrations and depressive symptoms in cancer patients undergoing cytokine therapy. Mol Psychiatry 7(5):468–473

Capuron L et al (2003) Interferon-alpha-induced changes in tryptophan metabolism. Relationship to depression and paroxetine treatment. Biol Psychiatry 54(9):906–914

Cassel J-C et al (2005) Cognitive deficits in aged rats correlate with levels of l-arginine, not with nNOS expression or 3,4-DAP-evoked transmitter release in the frontoparietal cortex. Eur Neuropsychopharmacol: J Eur Coll Neuropsychopharmacol 15(2):163–175

Cenac N et al (2010) Potentiation of TRPV4 signalling by histamine and serotonin: an important mechanism for visceral hypersensitivity. Gut 59(4):481–488

Chen JJ et al (2001) Maintenance of serotonin in the intestinal mucosa and ganglia of mice that lack the high-affinity serotonin transporter: abnormal intestinal motility and the expression of cation transporters. J Neurosci 21(16):6348–6361

Chen JJ et al (2007) A demographic analysis of the fitness cost of extended longevity in Caenorhabditis elegans. J Gerontol A Biol Sci Med Sci 62(2):126–135

Chial HJ et al (2003) Selective effects of serotonergic psychoactive agents on gastrointestinal functions in health. Am J Physiol Gastrointest Liver Physiol 284(1):G130–G137

Chojnacka-Wójcik E, Kłodzińska A, Tatarczyńska Ewa (2005) The anxiolytic-like effect of 5-HT1B receptor ligands in rats: a possible mechanism of action. J Pharm Pharmacol 57(2):253–257

Coates MD et al (2006) Effects of serotonin transporter inhibition on gastrointestinal motility and colonic sensitivity in the mouse. Neurogastroenterol Motil 18(6):464–471

Costall B, Naylor RJ, Tuladhar BR (1993) 5-HT4 receptor mediated facilitation of the emptying phase of the peristaltic reflex in the guinea-pig isolated ileum. Br J Pharmacol 110(4):1572–1578

Costedio MM, Hyman N, Mawe GM (2007) Serotonin and its role in colonic function and in gastrointestinal disorders. Dis Colon Rectum 50(3):376–388

Cowen P (2008) Serotonin and sleep: molecular, functional and clinical aspects. Monti JM et al (eds) Birkhäuser Basel

Cubeddu LX et al (1990) Antagonism of serotonin S3 receptors with ondansetron prevents nausea and emesis induced by cyclophosphamide-containing chemotherapy regimens. J Clin Oncol: Off J Am Soc Clin Oncol 8(10):1721–1727

Daubert EA, Condron BG (2010) Serotonin: a regulator of neuronal morphology and circuitry. Trends Neurosci 33(9):424–434

Daws LC, Gould GG (2011) Ontogeny and regulation of the serotonin transporter: Providing insights into human disorders. Pharmacol Ther 131(1):61–79

de Boer SF, Koolhaas JM (2005) 5-HT1A and 5-HT1B receptor agonists and aggression: a pharmacological challenge of the serotonin deficiency hypothesis. Eur J Pharmacol 526(1–3):125–139

De Luca M et al (2003) Dopa decarboxylase (Ddc) affects variation in Drosophila longevity. Nat Genet 34(4):429–433

de Magalhães JP et al (2011) Genome-environment interactions that modulate aging: powerful targets for drug discovery. Pharmacol Rev 64:88–101

de Magalhães JP, Curado J, Church GM (2009) Meta-analysis of age-related gene expression profiles identifies common signatures of aging. Bioinformatics (Oxford, England) 25(7):875–881

de Magalhães JP, Faragher R (2008) Cell divisions and mammalian aging: integrative biology insights from genes that regulate longevity. BioEssays: News Rev Mol Cell Dev Biol 30(6):567–578

Dekeyne A et al (2008) S32006, a novel 5-HT2C receptor antagonist displaying broad-based antidepressant and anxiolytic properties in rodent models. Psychopharmacology 199(4):549–568

Dénes V et al (2003) Serotonin in the rabbit ileum: localization, uptake, and effect on motility. Anat Record Part A: Discov Mol Cell Evol Biol 271A(2):368–376

Depuy SD et al (2011) Control of breathing by raphe obscurus serotonergic neurons in mice. J Neurosci: Offi J Soc Neurosci 31(6):1981–1990

Dg LEC et al (2007) Age-related changes in the liver sinusoidal endothelium: a mechanism for dyslipidemia. Ann N Y Acad Sci 1114:79–87

Dickson EJ, Heredia DJ, Smith TK (2010) Critical role of 5-HT1A, 5-HT3, and 5-HT7 receptor subtypes in the initiation, generation, and propagation of the murine colonic migrating motor complex. Am J Physiol Gastrointest Liver Physiol 299(1):G144–G157

Dietz BM et al (2005) Valerian extract and valerenic acid are partial agonists of the 5-HT5a receptor in vitro. Brain Res Mol Brain Res 138(2):191–197

Dorman JB et al (1995) The age-1 and daf-2 genes function in a common pathway to control the lifespan of Caenorhabditis elegans. Genetics 141(4):1399–1406

Ebdrup BH et al (2011) Serotonin 2A receptor antagonists for treatment of schizophrenia. Expert Opin Investig Drugs 20(9):1211–1223

Erickson JD et al (1996) Distinct pharmacological properties and distribution in neurons and endocrine cells of two isoforms of the human vesicular monoamine transporter. Proc Natl Acad Sci 93(10):5166–5171

Eriksson TM et al (2008) Blockade of 5-HT 1B receptors facilitates contextual aversive learning in mice by disinhibition of cholinergic and glutamatergic neurotransmission. Neuropharmacology 54(7):1041–1050

Evans BW et al (2007) Tegaserod for the treatment of irritable bowel syndrome and chronic constipation. Cochrane Database Syst Rev (4):CD003960

Farr SA et al (2003) The antioxidants alpha-lipoic acid and N-acetylcysteine reverse memory impairment and brain oxidative stress in aged SAMP8 mice. J Neurochem 84(5):1173–1183

Ferriolli E et al (1996) The influence of ageing on oesophageal motility after ingestion of liquids with different viscosities. Eur J Gastroenterol Hepatol 8(8):793–798

Filip M, Bader M (2009) Overview on 5-HT receptors and their role in physiology and pathology of the central nervous system. Pharmacol Rep 61(5):761–777

Fiorica-Howells E et al (2002) 5-HT(2A) receptors: location and functional analysis in intestines of wild-type and 5-HT(2A) knockout mice. Am J Physiol Gastrointest Liver Physiol 282(5):G877–G893

Fiorica-Howells E et al (2003) Distribution of 5-Ht(4) receptors in wild-type mice and analyses of intestinal motility in 5-Ht(4) knockout mice. Gastroenterology 124(4):A342–A342

Fontana DJ et al (n.d.) The effects of novel, selective 5-hydroxytryptamine (5-HT)4 receptor ligands in rat spatial navigation. Neuropharmacology 36(4–5):689–696

Foxx-Orenstein AE, Kuemmerle JF, Grider JR (1996) Distinct 5-HT receptors mediate the peristaltic reflex induced by mucosal stimuli in human and guinea pig intestine. Gastroenterology 111(5):1281–1290

Frassetto A, Zhang J, Lao JZ, White A, Metzger JM, Fong TM, Chen RZ (2008) Reduced sensitivity to diet-induced obesity in mice carrying a mutant 5-HT6 receptor. Brain Res 1236:140–144

Freitas AA, Vasieva O, de Magalhães JP (2011) A data mining approach for classifying DNA repair genes into ageing-related or non-ageing-related. BMC Genom 12:27

Frith J, Jones D, Newton JL (2009) Chronic liver disease in an ageing population. Age Ageing 38(1):11–18

Fujitsuka N et al (2009) Selective serotonin reuptake inhibitors modify physiological gastrointestinal motor activities via 5-HT2c receptor and acyl ghrelin. Biol Psychiatry 65(9):748–759

Fukuda Y (1991) Maintenance of ventilatory control by CO2 in the rat during growth and aging. Pflugers Arch 419(1):38–42

Fukuda Y (1992) Changes in ventilatory response to hypoxia in the rat during growth and aging. Pflugers Arch 421(2–3):200–203

Fuller & Wong DT (1990) Serotonin uptake and serotonin uptake inhibition. Ann N Y Acad Sci 600:68–80

Furrer K et al (2011) Serotonin reverts age-related capillarization and failure of regeneration in the liver through a VEGF-dependent pathway. Proc Natl Acad Sci USA 108(7):2945–2950

Gallagher P, O'Mahony D (2009) Constipation in old age. Best Pract Res Clin Gastroenterol 23(6):875–887

Galligan JJ, North RA (1991) Opioid, 5-HT1A and alpha 2 receptors localized to subsets of guinea-pig myenteric neurons. J Auton Nerv Syst 32(1):1–11

Galligan JJ, Pan H, Messori E (2003) Signalling mechanism coupled to 5-hydroxytryptamine4 receptor-mediated facilitation of fast synaptic transmission in the guinea-pig ileum myenteric plexus. Neurogastroenterol Motil 15(5):523–529

Gasbarri A et al (2008) Effect of 5-HT(7) antagonist SB-269970 in the modulation of working and reference memory in the rat. Behav Brain Res 195(1):164–170

Gaspar P, Cases O, Maroteaux L (2003) The developmental role of serotonin: news from mouse molecular genetics. Nat Rev Neurosci 4(12):1002–1012

Gershon MD (2000) 5-HT (serotonin) physiology and related drugs. Curr Opin Gastroenterol 16(2):113–120

Gershon MD (2004) Review article: serotonin receptors and transporters—roles in normal and abnormal gastrointestinal motility. Aliment Pharmacol Ther 20(Suppl 7):3–14

Gershon MD (2005) Nerves, reflexes, and the enteric nervous system: pathogenesis of the irritable bowel syndrome. J Clin Gastroenterol 39(5 Suppl 3):S184–S193

Gershon MD, Tack J (2007) The serotonin signaling system: from basic understanding to drug development for functional GI disorders. Gastroenterology 132(1):397–414

Glatzle J et al (2002) Expression of 5-HT3 receptors in the rat gastrointestinal tract. Gastroenterology 123(1):217–226

Gleerup G, Winther K (1988) The effect of ageing on human platelet sensitivity to serotonin. Eur J Clin Invest 18(5):504–506

Godbout JP et al (2005) Exaggerated neuroinflammation and sickness behavior in aged mice following activation of the peripheral innate immune system. FASEB J: Off Pub Fed Am Soc Exp Biol 19(10):1329–1331

Godbout JP et al (2008) Aging exacerbates depressive-like behavior in mice in response to activation of the peripheral innate immune system. Neuropsychopharmacol: Off Pub Am Coll Neuropsychopharmacol 33(10):2341–2351

Goldberg S et al (2004) Serotonin modulation of cerebral glucose metabolism in normal aging. Neurobiol Aging 25(2):167–174

Gomes OA, de Souza RR, Liberti EA (1997) A preliminary investigation of the effects of aging on the nerve cell number in the myenteric ganglia of the human colon. Gerontology 43(4):210–217

Gomez-Pinilla PJ et al (2011) Changes in interstitial cells of cajal with age in the human stomach and colon. Neurogastroenterol Motil 23(1):36–44

Greenwood-van Meerveld B et al (2006) Activation of peripheral 5-HT4 receptors attenuates colonic sensitivity to intraluminal distension. Neurogastroenterol Motil 18(1):76–86

Gregersen H, Pedersen J, Drewes A (2008) Deterioration of muscle function in the human esophagus with age. Dig Dis Sci 53(12):3065–3070

Grider JR (2003) Neurotransmitters mediating the intestinal peristaltic reflex in the mouse. J Pharmacol Exp Ther 307(2):460–467

Grundy D (2002) Towards a reduction of rectal pain? Neurogastroenterol Motil 14(3):217–219

Gudelsky GA, Koenig JI, Meltzer HY (1986) Thermoregulatory responses to serotonin (5-HT) receptor stimulation in the rat. Evidence for opposing roles of 5-HT2 and 5-HT1A receptors. Neuropharmacology 25(12):1307–1313

Gundling F et al (2010) Influence of gender and age on anorectal function: normal values from anorectal manometry in a large Caucasian population. Digestion 81(4):207–213

Halford JC, Harrold JA (2012) 5-HT(2C) receptor agonists and the control of appetite. Handb Exp Pharmacol 209:349–356

Hanani M et al (2004) Age-related changes in the morphology of the myenteric plexus of the human colon. Auton Neurosci 113(1–2):71–78

Hansen MB, Jaffe BM (1994) 5-HT receptor subtypes involved in luminal serotonin-induced secretion in rat intestine in vivo. J Surg Res 56(3):277–287

Hansen MB, Skadhauge E (1997) Signal transduction pathways for serotonin as an intestinal secretagogue. Comp Biochem Physiol A Physiol 118(2):283–290

Hansen MB, Witte AB (2008) The role of serotonin in intestinal luminal sensing and secretion. Acta Physiol 193(4):311–323

Hansen MB et al (2011) Migrating motor complex in colectomized ileo stoma patients. Basic Clin Pharmacol Toxicol 108(5):349–358

Harrison AA et al (1999) RU 24969, a 5-HT1A/1B agonist, elevates brain stimulation reward thresholds: an effect reversed by GR 127935, a 5-HT1B/1D antagonist. Psychopharmacology 141(3):242–250

Haub S et al (2010) Enhancement of intestinal inflammation in mice lacking interleukin 10 by deletion of the serotonin reuptake transporter. Neurogastroenterol Motil 22(7):826–834, e229

Hayden DM, Weiss EG (2011) Fecal incontinence: etiology, evaluation, and treatment. Clin Colon Rectal Surg 24(1):64–70

Hedlund PB et al (2005) 5-HT7 receptor inhibition and inactivation induce antidepressantlike behavior and sleep pattern. Biol Psychiatry 58(10):831–837

Hempfling C, Neuhuber WL, Wörl J (2012) Serotonin-immunoreactive neurons and mast cells in the mouse esophagus suggest involvement of serotonin in both motility control and neuroimmune interactions. Neurogastroenterol Motil 24(1):e67–e78

Heredia DJ et al (2009) Localized release of serotonin (5-hydroxytryptamine) by a fecal pellet regulates migrating motor complexes in murine colon. Gastroenterology 136(4):1328–1338

Hesse S et al (2003) Is correction for age necessary in neuroimaging studies of the central serotonin transporter? Eur J Nucl Med Mol Imaging 30(3):427–430

Hilmer SN, Shenfield GM, Le Couteur DG (2005) Clinical implications of changes in hepatic drug metabolism in older people. Ther Clin Risk Manag 1(2):151–156

Hirst WD et al (2006) SB-399885 is a potent, selective 5-HT6 receptor antagonist with cognitive enhancing properties in aged rat water maze and novel object recognition models. Eur J Pharmacol 553(1–3):109–119

Hodges MR, Richerson GB (2010) The role of medullary serotonin (5-HT) neurons in respiratory control: contributions to eupneic ventilation, CO2 chemoreception, and thermoregulation. Journal of applied physiology (Bethesda, MD.: 1985) 108(5):1425–1432

Hoekzema E et al (2011) [(11)C]-DASB microPET imaging in the aged rat: frontal and meso-thalamic increases in serotonin transporter binding. Exp Gerontol 46(12):1020–1025

Hoffman JM et al (2012) Activation of colonic mucosal 5-HT4 receptors accelerates propulsive motility and inhibits visceral hypersensitivity. Gastroenterology 142(4):844–854.e4

Holzenberger M et al (2002) IGF-1 receptor regulates lifespan and resistance to oxidative stress in mice. Nature 421(6919):182–187

Horiuchi J, McDowall LM, Dampney RAL (2008) Role of 5-HT(1A) receptors in the lower brainstem on the cardiovascular response to dorsomedial hypothalamus activation. Auton Neurosci Basic Clin 142(1–2):71–76

Hosaka N et al (1996) Thymus transplantation, a critical factor for correction of autoimmune disease in aging MRL/+mice. Proc Natl Acad Sci USA 93(16):8558–8562

Huang X, Xu WX (2010) The pacemaker functions of visceral interstitial cells of Cajal. Sheng Li Xue Bao 62(5):387–397

Huebner M et al (2007) Age effects on internal anal sphincter thickness and diameter in nulliparous females. Dis Colon Rectum 50(9):1405–1411

Hussain AM, Mitra AK (2000) Effect of aging on tryptophan hydroxylase in rat brain: implications on serotonin level. Drug metabolism and disposition: the biological fate of chemicals 28(9):1038–1042

Ikegami T et al (2000) The impact of donor age on living donor liver transplantation. Transplantation 70(12):1703–1707

Imeri L, Opp MR (2009) How (and why) the immune system makes us sleep. Nat Rev Neurosci 10(3):199–210

Irving HR et al (2007) Comparison of 5-HT4 and 5-HT7 receptor expression and function in the circular muscle of the human colon. Life Sci 80(13):1198–1205

Javors M, Tiouririne M, Prihoda T (2000) Platelet serotonin uptake is higher in early-onset than in late-onset alcoholics. Alcohol Alcohol 35(4):390–393

Jean A et al (2007) Anorexia induced by activation of serotonin 5-HT4 receptors is mediated by increases in CART in the nucleus accumbens. Proc Natl Acad Sci USA 104(41):16335–16340

Karasek M (2007) Does melatonin play a role in aging processes? J Physiol Pharmacol: Off J Polish Physiol Soc 58(Suppl 6):105–113

Karlsson B et al (1998) Thyroid dysfunction in Down's syndrome: relation to age and thyroid autoimmunity. Arch Dis Child 79(3):242–245

Kawai M, Rosen CJ (2010) Minireview: a skeleton in serotonin's closet? Endocrinology 151(9):4103–4108

Keating DJ, Spencer NJ (2010) Release of 5-hydroxytryptamine from the mucosa is not required for the generation or propagation of colonic migrating motor complexes. Gastroenterology 138(2):652–659

Kennett GA, Dourish CT, Curzon G (1987) Antidepressant-like action of 5-HT1A agonists and conventional antidepressants in an animal model of depression. Eur J Pharmacol 134(3):265–274

Kennett GA et al (1996) Effects of the 5-HT2B receptor agonist, BW 723C86, on three rat models of anxiety. Br J Pharmacol 117(7):1443–1448

Kennett GA et al (1997) BW 723C86, a 5-HT2B receptor agonist, causes hyperphagia and reduced grooming in rats. Neuropharmacology 36(2):233–239

Khan WI, Ghia JE (2010) Gut hormones: emerging role in immune activation and inflammation. Clin Exp Immunol 161(1):19–27

Kirkup AJ, Brunsden AM, Grundy D (2001) Receptors and transmission in the brain-gut axis: potential for novel therapies. I. Receptors on visceral afferents. Am J Physiol Gastrointest Liver Physiol 280(5):G787–G794

Knowles CH, Martin JE (2000) Slow transit constipation: a model of human gut dysmotility. Review of possible aetiologies. Neurogastroenterol Motil 12(2):181–196

Koff RS et al (1973) Absence of an age effect on sulfobromophthalein retention in healthy men. Gastroenterology 65(2):300–302

Kovacic JC, Moreno P, Hachinski V et al (2011a) Cellular senescence, vascular disease, and aging: part 1 of a 2-part review. Circulation 123(15):1650–1660

Kovacic JC, Moreno P, Nabel EG et al (2011b) Cellular senescence, vascular disease, and aging: part 2 of a 2-part review: clinical vascular disease in the elderly. Circulation 123(17):1900–1910

Lambert HW, Weiss ER, Lauder JM (2001) Activation of 5-HT receptors that stimulate the adenylyl cyclase pathway positively regulates IGF-I in cultured craniofacial mesenchymal cells. Dev Neurosci 23(1):70–77

Lee CK, Weindruch R, Prolla TA (2000) Gene-expression profile of the ageing brain in mice. Nat Genet 25(3):294–297

León-Ponte M, Ahern GP, O'Connell PJ (2007) Serotonin provides an accessory signal to enhance T-cell activation by signaling through the 5-HT7 receptor. Blood 109(8):3139–3146

Lesemann A et al (2012) MPTP-induced hippocampal effects on serotonin, dopamine, neurotrophins, adult neurogenesis and depression-like behavior are partially influenced by fluoxetine in adult mice. Brain Res 1457:51–69

Lesurtel M et al (2006) Platelet-derived serotonin mediates liver regeneration. Science 312(5770):104–107

Lewicky-Gaupp C et al (2009) Anal sphincter structure and function relationships in aging and fecal incontinence. Am J Obstet Gynecol 200(5):559.e1–559.e5

Li Z et al (2011) Essential roles of enteric neuronal serotonin in gastrointestinal motility and the development/survival of enteric dopaminergic neurons. J Neurosci 31(24):8998–9009

Linden DR, Chen JX, Gershon MD, Sharkey KA, Mawe GM (2003) Serotonin availability is increased in mucosa of guinea pigs with TNBS-induced colitis. Am J Physiol Gastrointest Liver Physiol 285(1):G207–G216

Linton P, Haynes L, Klinman N (1996) Antigen-independent changes in naive CD4 T cells with aging. J Exp Med 184(November):1891–1900

Liu HN et al (2011) Serotonin augments gut pacemaker activity via 5-HT3 receptors. PLoS One 6(9):p.e24928

Liu M et al (2005) Expression and function of 5-HT4 receptors in the mouse enteric nervous system. Am J Physiol Gastrointest Liver Physiol 289(6):G1148–G1163

Lu T et al (2004) Gene regulation and DNA damage in the ageing human brain. Nature 429(June):883–891

Lucas G et al (2007) Serotonin(4) (5-HT(4)) receptor agonists are putative antidepressants with a rapid onset of action. Neuron 55(5):712–725

Madsen JL (1992) Effects of gender, age, and body mass index on gastrointestinal transit times. Dig Dis Sci 37(10):1548–1553

Madsen JL, Graff J (2004) Effects of ageing on gastrointestinal motor function. Age Ageing 33(2):154–159

Manzke T et al (2003) 5-HT4(a) receptors avert opioid-induced breathing depression without loss of analgesia. Science (New York, NY) 301(5630):226–229

Marazziti D et al (1989) Age-related differences in human platelet 5-HT uptake. Naunyn-Schmiedeberg's Arch Pharmacol 340(5):593–594

Marcelli G, Patel BA (2010) Understanding changes in uptake and release of serotonin from gastrointestinal tissue using a novel electroanalytical approach. Analyst 135(9):2340–2347

Marston OJ, Garfield AS, Heisler LK (2011) Role of central serotonin and melanocortin systems in the control of energy balance. Eur J Pharmacol 660(1):70–79

Martinez-Vilalta M et al (2011) Does correlation exist between anorectal manometry and endoanal ultrasound findings in healthy subjects according to age? Rev Esp Enferm Dig 103(6):304–309

Matkovic V et al (1979) Bone status and fracture rates in two regions of Yugoslavia. Am J Clin Nutr 32(3):540–549

Mattson MP, Duan W, Maswood N (2002) How does the brain control lifespan? Ageing Res Rev 1(2):155–165

Mattson MP, Maudsley S, Martin B (2004) A neural signaling triumvirate that influences ageing and age-related disease: insulin/IGF-1, BDNF and serotonin. Age Res Rev 3(4):445–464

Mazda T et al (2004) Gastric distension-induced release of 5-HT stimulates c-fos expression in specific brain nuclei via 5-HT3 receptors in conscious rats. Am J Physiol Gastrointest Liver Physiol 287(1):G228–G235

Mazzola-Pomietto P et al (1997) Functional subsensitivity of 5-HT2A and 5-HT2C receptors mediating hyperthermia following acute and chronic treatment with 5-HT2A/2C receptor antagonists. Psychopharmacology 130(2):144–151

McCrea GL et al (2009) A review of the literature on gender and age differences in the prevalence and characteristics of constipation in North America. J Pain Symptom Manage 37(4):737–745

McCreary AC, Bankson MG, Cunningham KA (1999) Pharmacological studies of the acute and chronic effects of (+)-3,4-methylenedioxymethamphetamine on locomotor activity: role of 5-hydroxytryptamine(1A) and 5-hydroxytryptamine(1B/1D) receptors. J Pharmacol Exp Therap 290(3):965–973

McLean AJ, Le Couteur DG (2004) Aging biology and geriatric clinical pharmacology. Pharmacol Rev 56(2):163–184

Meciano Filho J, Carvalho VC, de Souza RR (1995) Nerve cell loss in the myenteric plexus of the human esophagus in relation to age: a preliminary investigation. Gerontology 41(1):18–21

Meller R, Babity JM, Grahame-Smith DG (2002) 5-HT2A receptor activation leads to increased BDNF mRNA expression in C6 glioma cells. NeuroMol Med 1(3):197–205

Meltzer et al (1998) Serotonin in aging, late-life depression, and Alzheimer's disease: the emerging role of functional imaging. Neuropsychopharmacology 18(6):407–430

Meneses A, Hong E (1997) Effects of 5-HT4 receptor agonists and antagonists in learning. Pharmacol Biochem Behav 56(3):347–351

Mercado CP, Kilic F (2010) Molecular mechanisms of SERT in platelets: regulation of plasma serotonin levels. Mol Interv 10(4):231–241

Meredith EJ et al (2005) The serotonin transporter (SLC6A4) is present in B-cell clones of diverse malignant origin: probing a potential anti-tumor target for psychotropics. FASEB J: Off Pub Fed Am Soc Exp Biol 19(9):1187–1189

Meyer LCR, Fuller A, Mitchell D (2006) Zacopride and 8-OH-DPAT reverse opioid-induced respiratory depression and hypoxia but not catatonic immobilization in goats. Am J Physiol Regul Integr Comp Physiol 290(2):R405–R413

Millan MJ (2011) MicroRNA in the regulation and expression of serotonergic transmission in the brain and other tissues. Curr Opin Pharmacol 11(1):11–22

Millan MJ, Perrin-Monneyron S (1997) Potentiation of fluoxetine-induced penile erections by combined blockade of 5-HT1A and 5-HT1B receptors. Eur J Pharmacol 321(3):R11–R13

Millan MJ et al (1997) 5-HT2C receptors mediate penile erections in rats: actions of novel and selective agonists and antagonists. Eur J Pharmacol 325(1):9–12

Millan MJ et al (2005) Anxiolytic properties of agomelatine, an antidepressant with melatoninergic and serotonergic properties: role of 5-HT2C receptor blockade. Psychopharmacology 177(4):448–458

Milosevic PD et al (2007) A quantitative morphometric study of rectal mucosa in adult and aged healthy subjects. Histol Histopathol 22(4):433–436

Mitchell GS et al (2001) Invited review: intermittent hypoxia and respiratory plasticity. J Appl Physiol (Bethesda, MD.: 1985) 90(6):2466–2475

Mitchell GS, Johnson SM (2003) Neuroplasticity in respiratory motor control. J Appl Physiol (Bethesda, MD.: 1985) 94(1):358–374

Mitchell ES, McDevitt RA, Neumaier JF (2009) Adaptations in 5-HT receptor expression and function: implications for treatment of cognitive impairment in aging. J Neusci Res 87(12):2803–2811

Mödder UI et al (2010) Relation of serum serotonin levels to bone density and structural parameters in women. J Bone Miner Res 25(2):415–422

Monro RL, Bornstein JC, Bertrand PP (2005) Slow excitatory post-synaptic potentials in myenteric AH neurons of the guinea-pig ileum are reduced by the 5-hydroxytryptamine7 receptor antagonist SB 269970. Neuroscience 134(3):975–986

Monti J, Jantos H (1992) Dose-dependent effects of the 5-HT1A receptor agonist 8-OH-DPAT on sleep and wakefulness in the rat. J Sleep Res 1(3):169–175

Morgan LD, Honey M et al (2011a) Colonic migratory motor complex (CMMC) frequency is reduced in aged murine colon due to elevated serotonin release. Neurogastroenterol Motil 23:48

Morgan LD, Parmar L et al (2011b) Age-related changes in mucosal serotonin transmission mechanism varies in the lower bowel. Neurogastroenterol Motil 23:50

Morley JE, Thomas DR (1999) Anorexia and aging: pathophysiology. Nutrition 15(6):499–503

Müller CP et al (2007) Serotonin and psychostimulant addiction: focus on 5-HT1A-receptors. Prog Neurobiol 81(3):133–178

Murakami H et al (2008) Manipulation of serotonin signal suppresses early phase of behavioral aging in Caenorhabditis elegans. Neurobiol Aging 29(7):1093–1100

Nagakura Y et al (1996) Characterization of 5-hydroxytryptamine (5-HT) receptor subtypes influencing colonic motility in conscious dogs. Naunyn Schmiedebergs Arch Pharmacol 353(5):489–498

Nalivaiko E, Ootsuka Y, Blessing WW (2005) Activation of 5-HT1A receptors in the medullary raphe reduces cardiovascular changes elicited by acute psychological and inflammatory stresses in rabbits. Am J Physiol Regul Integr Comp Physiol 289(2):R596–R604

Nikolich-Zugich J, Messaoudi I (2005) Mice and flies and monkeys too: caloric restriction rejuvenates the aging immune system of non-human primates. Exp Gerontol 40(11):884–893

O'Connell PJ et al (2006) A novel form of immune signaling revealed by transmission of the inflammatory mediator serotonin between dendritic cells and T cells. Blood 107(3):1010–1017

Ogren SO et al (2008) The role of 5-HT(1A) receptors in learning and memory. Behav Brain Res 195(1):54–77

Ootsuka Y, Blessing WW (2006) Activation of 5-HT1A receptors in rostral medullary raphé inhibits cutaneous vasoconstriction elicited by cold exposure in rabbits. Brain Res 1073–1074:252–261

Opazo A et al (2009) A comparative study of structure and function of the longitudinal muscle of the anal canal and the internal anal sphincter in pigs. Dis Colon Rectum 52(11):1902–1911

Osborn O, Olefsky JM (2012) The cellular and signaling networks linking the immune system and metabolism in disease. Nat Med 18(3):363–374

Oxenkrug G, Requintina P, Bachurin S (2001) Antioxidant and antiaging activity of N-acetylserotonin and melatonin in the in vivo models. Ann N Y Acad Sci 939:190–199

Pacher P, Kecskemeti V (2004) Cardiovascular side effects of new antidepressants and antipsychotics: new drugs, old concerns? Curr Pharm Des 10(20):2463–2475

Pan H, Galligan JJ (1994) 5-HT1A and 5-HT4 receptors mediate inhibition and facilitation of fast synaptic transmission in enteric neurons. Am J Physiol 266(2 Pt 1):G230–G238

Pan H, Gershon MD (2000) Activation of intrinsic afferent pathways in submucosal ganglia of the guinea pig small intestine. J Neurosci 20(9):3295–3309

Parmar L et al (2012) Chromatographic analysis of age-related changes in mucosal serotonin transmission in the murine distal ileum. Chem Cent J 6(1):31

Peck CJ et al (2009) Fall in density, but not number of myenteric neurons and circular muscle nerve fibres in guinea-pig colon with ageing. Neurogastroenterol Motil 21(10):1075–1090

Perera TD et al (2011) Necessity of hippocampal neurogenesis for the therapeutic action of antidepressants in adult nonhuman primates. PLoS One 6(4): p.e17600

Perez-García G, Meneses A (2005) Oral administration of the 5-HT6 receptor antagonists SB-357134 and SB-399885 improves memory formation in an autoshaping learning task. Pharmacol Biochem Behav 81(3):673–682

Phillips RJ, Kieffer EJ, Powley TL (2003) Aging of the myenteric plexus: neuronal loss is specific to cholinergic neurons. Auton Neurosci 106(2):69–83

Phillips RJ, Kieffer EJ, Powley TL (2004) Loss of glia and neurons in the myenteric plexus of the aged Fischer 344 rat. Anat Embryol (Berl) 209(1):19–30

Phillips RJ, Powley TL (2001) As the gut ages: timetables for aging of innervation vary by organ in the Fischer 344 rat. J Comp Neurol 434(3):358–377

Phillips RJ, Powley TL (2007) Innervation of the gastrointestinal tract: patterns of aging. Auton Neurosci 136(1–2):1–19

Poh CH, Navarro-Rodriguez T, Fass R (2010) Review: treatment of gastroesophageal reflux disease in the elderly. Am J Med 123(6):496–501

Poole D et al (2006) Identification of neurons that express 5-hydroxytryptamine4 receptors in intestine. Cell Tissue Res 325(3):413–422

Popova NK, Amstislavskaya TG (2002a) Involvement of the 5-HT(1A) and 5-HT(1B) serotonergic receptor subtypes in sexual arousal in male mice. Psychoneuroendocrinology 27(5):609–618

Popova NK, Amstislavskaya TG (2002b) 5-HT2A and 5-HT2C serotonin receptors differentially modulate mouse sexual arousal and the hypothalamo-pituitary-testicular response to the presence of a female. Neuroendocrinology 76(1):28–34

Prelog M (2006) Aging of the immune system: a risk factor for autoimmunity? Autoimmun Rev 5(2):136–139

Prins NH et al (1999) Evidence for 5-HT7 receptors mediating relaxation of human colonic circular smooth muscle. Br J Pharmacol 128(4):849–852

Qin H-Y et al (2010) Visceral hypersensitivity induced by activation of transient receptor potential vanilloid type 1 is mediated through the serotonin pathway in rat colon. Eur J Pharmacol 647(1–3):75–83

Rabinowe SL et al (1989) Trisomy 21 (Down's syndrome): autoimmunity, aging and monoclonal antibody-defined T-cell abnormalities. J Autoimmun 2(1):25–30

Raikhlin NT, Kvetnoy IM, Tolkachev VN (1975) Melatonin may be synthesised in enterochromaffin cells. Nature 255(5506):344–345

Rastogi M et al (2012) Prevention of age-associated neurodegeneration and promotion of healthy brain ageing in female Wistar rats by long term use of bacosides. Biogerontology 13(2):183–195

Ray RS et al (2011) Impaired respiratory and body temperature control upon acute serotonergic neuron inhibition. Science 333(6042):637–642

Raybould HE (2002) Visceral perception: sensory transduction in visceral afferents and nutrients. Gut 51(suppl 1):i11–i14

Rehman HU, Masson EA (2001) Neuroendocrinology of ageing. Age Ageing 30(4):279–287

Richards JB et al (2007) Effect of selective serotonin reuptake inhibitors on the risk of fracture. Arch Intern Med 167(2):188–194

Riggs BL, Khosla S, Melton LJ III (2002) Sex steroids and the construction and conservation of the adult skeleton. Endocr Rev 23(3):279–302

Rolls A (2012) Hypothalamic control of sleep in aging. Neuromol Med

Saegusa Y et al (2011) Decreased motility of the lower esophageal sphincter in a rat model of gastroesophageal reflux disease may be mediated by reductions of serotonin and acetylcholine signaling. Biol Pharm Bull 34(5):704–711

Salles N (2007) Basic mechanisms of the aging gastrointestinal tract. Dig Dis 25(2):112–117

Seebart BR, Stoffel RT, Behan M (2007) Age-related changes in the serotonin 2A receptor in the hypoglossal nucleus of male and female rats. Respir Physiol Neurobiol 158(1):14–21

Shimatani H et al (2003) A 5-HT4 agonist mosapride enhances rectorectal and rectoanal reflexes in guinea pigs. Am J Physiol Gastrointest Liver Physiol 285(2):G389–G395

Siegel GJ, Brady S, Albers RW (2011) Basic neurochemistry: principles of molecular, cellular, and medical neurobiology. Elsevier Science

Sikander A, Rana SV, Prasad KK (2009) Role of serotonin in gastrointestinal motility and irritable bowel syndrome. Clin Chim Acta 403(1–2):47–55

Silverthorn DU et al (2012) Human physiology: an integrated approach, 5th edn. Pearson Education, University of Texas, Austin

Singletary KG, Naidoo N (2011) Disease and degeneration of aging neural systems that integrate sleep drive and circadian oscillations. Frontiers Neurol 2:66

Siuciak JA et al (1996) BDNF increases monoaminergic activity in rat brain following intracerebroventricular or intraparenchymal administration. Brain Res 710(1–2):11–20

Smith TK et al (2010) Controversies involving the role of 5-hydroxytryptamine in generating colonic migrating motor complexes: what is spontaneous? Gastroenterology 138(3):1213–1215

Smits GJ, Lefebvre RA (1996) Influence of aging on gastric emptying of liquids, small intestine transit, and fecal output in rats. Exp Gerontol 31(5):589–596

Smriga M, Torii K (2003) l-Lysine acts like a partial serotonin receptor 4 antagonist and inhibits serotonin-mediated intestinal pathologies and anxiety in rats. Proc Natl Acad Sci USA 100(26):15370–15375

Syed FA, Ng AC (2010) The pathophysiology of the aging skeleton. Curr Osteoporos Rep 8(4):235–240

Sze JY et al (2000) Food and metabolic signalling defects in a Caenorhabditis elegans serotonin-synthesis mutant. Nature 403(6769):560–564

Tanaka T et al (2004) Relationship between intraduodenal 5-hydroxytryptamine release and interdigestive contractions in dogs. J Smooth Muscle Res 40(3):75–84

Tatar M, Bartke A, Antebi A (2003) The endocrine regulation of aging by insulin-like signals. Science (New York, NY) 299(5611):1346–1351

Tatarczyńska E et al (2004) Effects of a selective 5-HT1B receptor agonist and antagonists in animal models of anxiety and depression. Behav Pharmacol 15(8):523–534

Tonini M et al (2005) 5-HT7 receptors modulate peristalsis and accommodation in the guinea pig ileum. Gastroenterology 129(5):1557–1566

Tsukamoto K et al (2007) Luminally released serotonin stimulates colonic motility and accelerates colonic transit in rats. Am J Physiol Regul Integr Comp Physiol 293(1):R64–R69

Tugtepe H et al (2007) Esophageal smooth muscle reactivity is impaired in chronic reflux esophagitis by both receptor- and nonreceptor-mediated mechanisms. J Pediatr Surg 42(4):641–646

Tuladhar BR, Costall B, Naylor RJ (1996) 5-HT3 and 5-HT4 receptor-mediated facilitation of the emptying phase of the peristaltic reflex in the marmoset isolated ileum. Br J Pharmacol 117(8):1679–1684

Tuladhar Bishwa R, Ge L, Naylor Robert J (2003) 5-HT7 receptors mediate the inhibitory effect of 5-HT on peristalsis in the isolated guinea-pig ileum. Br J Pharmacol 138(7):1210–1214

Tuladhar BR, Kaisar M, Naylor RJ (1997) Evidence for a 5-HT3 receptor involvement in the facilitation of peristalsis on mucosal application of 5-HT in the guinea pig isolated ileum. Br J Pharmacol 122(6):1174–1178

van den Berg EK et al (1989) Transcardiac serotonin concentration is increased in selected patients with limiting angina and complex coronary lesion morphology. Circulation 79(1):116–124

van Dyck CH et al (2000) Age-related decline in central serotonin transporter availability with [(123)I]beta-CIT SPECT. Neurobiol Aging 21(4):497–501

Verbitsky M et al (2004) Altered hippocampal transcript profile accompanies an age-related spatial memory deficit in mice. Learn Mem 11(3):253–260

Vikenes K, Farstad M, Nordrehaug JE (1999) Serotonin is associated with coronary artery disease and cardiac events. Circulation 100(5):483–489

Wade PR et al (1996) Localization and function of a 5-HT transporter in crypt epithelia of the gastrointestinal tract. J Neurosci 16(7):2352–2364

Wald A (2008) Management and prevention of fecal impaction. Curr Gastroenterol Rep 10(5):499–501

Walther DJ et al (2003) Synthesis of serotonin by a second tryptophan hydroxylase isoform. Science 299(5603):76

Watanabe T, Koba S (2012) Roles of serotonin in atherothrombosis and related diseases. In: Gaxiola E (ed) Traditional and novel risk factors in atherothrombosis. InTech

Watts SW et al (2012) Serotonin and blood pressure regulation. Pharmacol Rev 64(2):359–388

Wesołowska A, Nikiforuk A (2007) Effects of the brain-penetrant and selective 5-HT6 receptor antagonist SB-399885 in animal models of anxiety and depression. Neuropharmacology 52(5):1274–1283

Wesołowska A et al (2006) Effect of the selective 5-HT7 receptor antagonist SB 269970 in animal models of anxiety and depression. Neuropharmacology 51(3):578–586

Wood SH et al (2012) Whole transcriptome sequencing of the aging rat brain reveals dynamic RNA changes in the dark matter of the genome. AGE

Woodhouse KW, Wynne HA (1988) Age-related changes in liver size and hepatic blood flow. The influence on drug metabolism in the elderly. Clin Pharmacokinet 15(5):287–294

Woudstra T, Thomson AB (2002) Nutrient absorption and intestinal adaptation with ageing. Best Pract Res Clin Gastroenterol 16(1):1–15

Xu Y et al (2012) Neurotransmitter receptors and cognitive dysfunction in Alzheimer's disease and Parkinson's disease. Prog Neurobiol 97(1):1–13

Yadav VK et al (2008) Lrp5 controls bone formation by inhibiting serotonin synthesis in the duodenum. Cell 135(5):825–837

Yadav VK et al (2009) A serotonin-dependent mechanism explains the leptin regulation of bone mass, appetite, and energy expenditure. Cell 138(5):976–989

Yamada S et al (2000) T102C polymorphism of the serotonin (5-HT) 2A receptor gene in patients with non-fatal acute myocardial infarction. Atherosclerosis 150(1):143–148

Yasuno F et al (2003) Inhibitory effect of hippocampal 5-HT1A receptors on human explicit memory. Am J Psychiatry 160(2):334–340

Yeoman M, Scutt G, Faragher R (2012) Insights into CNS ageing from animal models of senescence. Nat Rev Neurosci 13(6):435–445

Yu PL et al (1999) Immunohistochemical localization of tryptophan hydroxylase in the human and rat gastrointestinal tracts. J Comp Neurol 411(4):654–665

Zahn JM et al (2007) AGEMAP: a gene expression database for aging in mice. PLoS Genet 3(11):p.e201

Zhu CB et al (2004) Adenosine receptor, protein kinase G, and p38 mitogen-activated protein kinase-dependent up-regulation of serotonin transporters involves both transporter trafficking and activation. Mol Pharmacol 65(6):1462–1474
Acknowledgments
SHW, DKI and SF would like to thank the organisers of the BSRA and IABG meeting in Brighton 2011 for inviting us to write this review. SHW and SF are grateful for the support from the BBSRC. Thanks go to Paul Thompson, Mark Yeoman and Bhavik Patel their suggestions and critical revision of the manuscript.
Additional information
All authors contributed equally to this work and are listed alphabetically.
About this article
Cite this article
Fidalgo, S., Ivanov, D.K. & Wood, S.H. Serotonin: from top to bottom. Biogerontology 14, 21–45 (2013). https://doi.org/10.1007/s10522-012-9406-3
Received:

Accepted:

Published:

Issue Date:

DOI: https://doi.org/10.1007/s10522-012-9406-3
Keywords
Serotonin

Aging

GI tract

Brain

Energy balance