Abstract
The concept of frailty as a medically distinct syndrome has evolved based on the clinical experience of geriatricians and is clinically well recognizable. Frailty is a nonspecific state of vulnerability, which reflects multisystem physiological change. These changes underlying frailty do not always achieve disease status, so some people, usually very elderly, are frail without a specific life threatening illness. Current thinking is that not only physical but also psychological, cognitive and social factors contribute to this syndrome and need to be taken into account in its definition and treatment. Together, these signs and symptoms seem to reflect a reduced functional reserve and consequent decrease in adaptation (resilience) to any sort of stressor and perhaps even in the absence of extrinsic stressors. The overall consequence is that frail elderly are at higher risk for accelerated physical and cognitive decline, disability and death. All these characteristics associated with frailty can easily be applied to the definition and characterization of the aging process per se and there is little consensus in the literature concerning the physiological/biological pathways associated with or determining frailty. It is probably true to say that a consensus view would implicate heightened chronic systemic inflammation as a major contributor to frailty. This review will focus on the relationship between aging, frailty and age-related diseases, and will highlight possible interventions to reduce the occurrence and effects of frailty in elderly people.
Access options
Buy single article
Instant access to the full article PDF.
USD 39.95
Price includes VAT (USA)
Tax calculation will be finalised during checkout.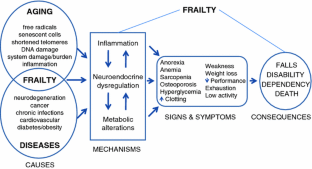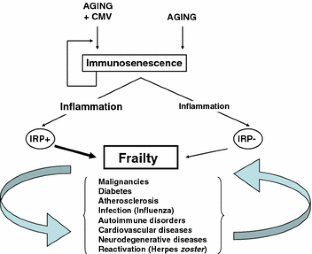 References
Abbatecola AM, Paolisso G (2008) Is there a relationship between insulin resistance and frailty syndrome? Curr Pharm Des 14(4):405–410

Angelopoulos P, Agouridaki H, Vaiopoulos H et al (2008) Cytokines in Alzheimer's disease and vascular dementia. Int J Neurosci 118(12):1659–1672

Anker SD, von Haehling S (2004) Inflammatory mediators in chronic heart failure: an overview. Heart 90:464–470

Bandeen-Roche K, Xue QL, Ferrucci L et al (2006) Phenotype of frailty: characterization in the women's health and aging studies. J Gerontol A Biol Sci Med Sci 61(3):262–266

Bandeen-Roche K, Walston JD, Huang Y et al (2009) Measuring systemic inflammatory regulation in older adults: evidence and utility. Rejuvenation Res 12(6):403–410

Barzilay JI, Blaum C, Moore T et al (2007) Insulin resistance and inflammation as precursors of frailty: the Cardiovascular Health Study. Arch Intern Med 167(7):635–641

Beaufrère B, Morio B (2000) Fat and protein redistribution with aging: metabolic considerations. Eur J Clin Nutr 54:S48–S53

Bergman H, Ferrucci L, Guralnik J et al (2007) Frailty: an emerging research and clinical paradigm—issues and controversies. J Gerontol A Biol Sci Med Sci 62(7):731–737

Birks EJ, Felkin LE, Banner NR et al (2004) Increased toll-like receptor 4 in the myocardium of patients requiring left ventricular assist devices. J Heart Lung Transplant 23:228–235

Blaum CS, Xue QL, Tian J et al (2009) Is hyperglycemia associated with frailty status in older women? J Am Geriatr Soc 57(5):840–847

Bortz WM II (2002) A conceptual framework of frailty: a review. J Gerontol A Biol Sci Med Sci 57(5):M283–M288

Boyle PA, Buchman AS, Wilson RS et al (2010) Physical frailty is associated with incident mild cognitive impairment in community-based older persons. J Am Geriatr Soc [Epub ahead of print]

Buchman AS, Boyle PA, Wilson RS (2007) Frailty is associated with incident Alzheimer's disease and cognitive decline in the elderly. Psychosom Med 69(5):483–489

Buchman AS, Schneider JA, Leurgans S, Bennett DA (2008) Physical frailty in older persons is associated with Alzheimer disease pathology. Neurology 71(7):499–504

Castle SC, Uyemura K, Rafi A et al (2005) Comorbidity is a better predictor of impaired immunity than chronological age in older adults. J Am Geriatr Soc 53:1565–1568

Castle SC, Uyemura K, Fulop T, Makinodan T (2007) Host resistance and immune responses in advanced age. Clin Geriatr Med 23:463–479

Cesari M, Penninx BW, Newman AB et al (2003) Inflammatory markers and onset of cardiovascular events: results from the Health ABC study. Circulation 108(19):2317–2322

Cesari M, Penninx BW, Pahor M et al (2004) Inflammatory markers and physical performance in older persons: the InCHIANTI study. J Gerontol A Biol Sci Med Sci 59(3):242–248

Chang SS, Weiss CO, Xue QL, Fried LP (2009) Patterns of comorbid inflammatory diseases in frail older women: the Women's Health and Aging Studies I and II. J Gerontol A Biol Sci Med Sci [Epub ahead of print]

Chin A, Paw MJ, de Groot LC, van Gend SV et al (2003) Inactivity and weight loss: effective criteria to identify frailty. J Nutr Health Aging 7(1):55–60

Cook WL (2009) The intersection of geriatrics and chronic kidney disease: frailty and disability among older adults with kidney disease. Adv Chronic Kidney Dis 16(6):420–429

Daniels R, van Rossum E, de Witte L, Kempen GI, van den Heuvel W (2008) Interventions to prevent disability in frail community-dwelling elderly: a systematic review. BMC Health Serv Res 8:278

De Lepeleire J, Iliffe S, Mann E, Degryse JM et al (2009) Frailty: an emerging concept for general practice. Br J Gen Pract 59(562):e177–e182

de Souto Barreto P (2010) What is the role played by physical activity and exercise on the frailty syndrome? Perspectives for future research. Aging Clin Exp Res [Epub ahead of print]

Derhovanessian E, Solana R, Larbi A, Pawelec G (2008) Immunity, aging and cancer. Immun Ageing 5:11

Derhovanessian E, Larbi A, Pawelec G (2009) Biomarkers of human immunosenescence: impact of Cytomegalovirus infection. Curr Opin Immunol 21(4):440–445

Després JP, Lemieux I, Bergeron J et al (2008) Abdominal obesity and the metabolic syndrome: contribution to global cardiometabolic risk. Arterioscler Thromb Vasc Biol 28:1039–1049

Ershler WB, Keller ET (2000) Age-associated increased interleukin-6 gene expression, late-life diseases, and frailty. Annu Rev Med 51:245–270

Ferrucci L, Harris TB, Guralnik JM et al (1999) Serum IL-6 level and the development of disability in older persons. J Am Geriatr Soc 47(6):639–646

Földes G, von Haehling S, Okonko DO et al (2008) Fluvastatin reduces increased blood monocyte Toll-like receptor 4 expression in whole blood from patients with chronic heart failure. Int J Cardiol 124:80–85

Franceschi C, Bonafè M, Valensin S et al (2000) Inflamm-aging. An evolutionary perspective on immunosenescence. Ann N Y Acad Sci 908:244–254

Fried LP, Walston J (2003) Frailty and failure to thrive. In: Hazzard WR, Blass JP, Ettinger WH Jr, Halter JB, Ouslander J (eds) Principles of geriatric medicine and gerontology, 5th edn. McGraw-Hill, New York, pp 1487–1502

Fried LP, Tangen CM, Walston J et al (2001) Frailty in older adults: evidence for a phenotype. J Gerontol A Biol Sci Med Sci 56(3):M146–M156

Fried LP, Xue QL, Cappola AR et al (2009) Nonlinear multisystem physiological dysregulation associated with frailty in older women: implications for etiology and treatment. J Gerontol A Biol Sci Med Sci 64(10):1049–1057

Fulop T, Larbi A, Wikby A et al (2005) Dysregulation of T-cell function in the elderly: scientific basis and clinical implications. Drugs Aging 22(7):589–603

Fulop T, Dupuis G, Fortin C et al (2006a) T cell response in aging: influence of cellular cholesterol modulation. Adv Exp Med Biol 584:157–169

Fulop T, Tessier D, Carpentier A (2006b) The metabolic syndrome. Pathol Biol (Paris) 54(7):375–386

Fulop T, Pawelec G, Castle S, Loeb M (2009) Immunosenescence and vaccination in nursing home patients. Clin Infect Dis 48(4):443–448

Fülöp T, Larbi A, Hirokawa K (2007) Immunosupportive therapies in aging. Clin Interv Aging 2(1):33–54

Gill TM, Gahbauer EA, Han L, Allore HG (2009) Trajectories of disability in the last year of life. New Engl J Med 362(13):1173–1180

Goggins WB, Woo J, Sham A, Ho SC (2005) Frailty index as a measure of biological age in a Chinese population. J Gerontol A Biol Sci Med Sci 60(8):1046–1051

Goulet ED, Hassaine A, Dionne IJ et al (2009) Frailty in the elderly is associated with insulin resistance of glucose metabolism in the postabsorptive state only in the presence of increased abdominal fat. Exp Gerontol 44(11):740–744

Gu D, Dupre ME, Sautter J (2009) Frailty and mortality among Chinese at advanced ages. J Gerontol B Psychol Sci Soc Sci 64(2):279–289

Hackstaff L (2009) Factors associated with frailty in chronically ill older adults. Soc Work Health Care 48(8):798–811

Hazzard WR (2001) Depressed albumin and high-density lipoprotein cholesterol: signposts along the final common pathway of frailty. J Am Geriatr Soc 49(9):1253–1254

Hubbard RE, O'Mahony MS, Savva GM, Calver BL, Woodhouse KW (2009) Inflammation and frailty measures in older people. J Cell Mol Med 13(9B):3103–3109

Hubbard RE, Lang IA, Llewellyn DJ, Rockwood K (2010) Frailty, body mass index, and abdominal obesity in older people. J Gerontol A Biol Sci Med Sci 65:377–381

Izaks GJ, Westendorp RG (2003) Ill or just old? Towards a conceptual framework of the relation between ageing and disease. BMC Geriatr 3:7

Jones D, Song X, Mitnitski A, Rockwood K (2005) Evaluation of a frailty index based on a comprehensive geriatric assessment in a population based study of elderly Canadians. Aging Clin Exp Res 17(6):465–471

Kanapuru B, Ershler WB (2009) Inflammation, coagulation, and the pathway to frailty. Am J Med 122(7):605–613

Katagiri H, Ito Y, Ito S et al (2008) TNF-alpha induces thromboxane receptor signaling-dependent microcirculatory dysfunction in mouse liver. Shock 30(4):463–467

Kim JS, Wilson JM, Lee SR (2010) Dietary implications on mechanisms of sarcopenia: roles of protein, amino acids and antioxidants. J Nutr Biochem 21(1):1–13

Kirkwood TB (2005) Understanding the odd science of aging. Cell 120(4):437–447

Klein BE, Klein R, Knudtson MD, Lee KE (2005) Frailty, morbidity and survival. Arch Gerontol Geriatr 41(2):141–149

Kulminski AM, Arbeev KG, Ukraintseva SV (2008a) Changes in health status among participants of the Framingham Heart Study from the 1960s to the 1990s: application of an index of cumulative deficits. Ann Epidemiol 18:696–701

Kulminski AM, Culminskaya IV, Ukraintseva SV (2008b) Sex-specific health deterioration and mortality: the morbidity-mortality paradox over age and time. Exp Gerontol 43:1052–1057

Kulminski AM, Ukraintseva SV, Culminskaya IV (2008c) Cumulative deficits and physiological indices as predictors of mortality and long life. J Gerontol A Biol Sci Med Sci 63:1053–1059

Kulminski AM, Ukraintseva SV, Kulminskaya IV (2008d) Cumulative deficits better characterize susceptibility to death in elderly people than phenotypic frailty: lessons from the Cardiovascular Health Study. J Am Geriatr Soc 56:898–903

Lages CS, Suffia I, Velilla PA et al (2008) Functional regulatory T cells accumulate in aged hosts and promote chronic infectious disease reactivation. J Immunol 181(3):1835–1848

Landi F, Russo A, Pahor M et al (2008) Serum high-density lipoprotein cholesterol levels and mortality in frail, community-living elderly. Gerontology 54(2):71–78

Larbi A, Dupuis G, Khalil A et al (2006) Differential role of lipid rafts in the functions of CD4+ and CD8+ human T lymphocytes with aging. Cell Signal 18(7):1017–1030

Larbi A, Franceschi C, Mazzatti D et al (2008) Aging of the immune system as a prognostic factor for human longevity. Physiology (Bethesda) 23:64–74

Larbi A, Pawelec G, Witkowski JM et al (2009) Dramatic shifts in circulating CD4 but not CD8 T cell subsets in mild Alzheimer's disease. J Alzheimer Dis 17(1):91–103

Leng SX, Chaves P, Koenig K, Walston J (2002) Serum interleukin-6 and hemoglobin as physiological correlates in the geriatric syndrome of frailty: a pilot study. J Am Geriatr Soc 50(7):1268–1271

Leng SX, Xue QL, Tian J (2009) Associations of neutrophil and monocyte counts with frailty in community-dwelling disabled older women: results from the Women's Health and Aging Studies I. Exp Gerontol 44(8):511–516

Libby P (2002) Inflammation in atherosclerosis. Nature 420:868–874

Lipsitz LA (2004) Physiological complexity, aging, and the path to frailty. Sci Aging Knowledge Environ 2004(16):pe16

Maggio M, Guralnik JM, Longo DL, Ferrucci L (2006) Interleukin-6 in aging and chronic disease: a magnificent pathway. J Gerontol A Biol Sci Med Sci 61(6):575–584

Martin FC, Brighton P (2008) Frailty: different tools for different purposes? Age Ageing 37(2):129–131

Mitnitski AB, Mogilner AJ, Rockwood K (2001) Accumulation of deficits as a proxy measure of aging. ScientificWorldJournal 8(1):323–336

Mitnitski AB, Graham JE, Mogilner AJ, Rockwood K (2002) Frailty fitness and late-life mortality in relation to chronological and biological age. BMC Geriatr 2:1

Mitnitski A, Song X, Skoog I (2005) Relative fitness and frailty of elderly men and women in developed countries, in relation to mortality. J Am Geriatr Soc 53:2184–2189

Mori TA, Woodman RJ, Burke V et al (2003) Effect of eicosapentaenoic acid and docosahexaenoic acid on oxidative stress and inflammatory markers in treated-hypertensive type 2 diabetic subjects. Free Radic Biol Med 35:772–781

Morley JE (2009) Developing novel therapeutic approaches to frailty. Curr Pharm Des 15(29):3384–3395

Muszkat M, Friedman G, Dannenberg HD et al (2003) Response to influenza vaccination in community and in nursing home residing elderly: relation to clinical factors. Exp Gerontol 38:1199–1203

Newman AB, Gottdiener JS, Mcburnie MA et al (2001) Cardiovascular Health Study Research Group. Associations of subclinical cardiovascular disease with frailty. J Gerontol A Biol Sci Med Sci 56(3):M158–M166

Oxman MN (2007) Vaccination to prevent herpes zoster and postherpetic neuralgia. Hum Vaccin 3(2):64–68

Pass RF, Zhang C, Evans A, Simpson T, Andrews W, Huang ML, Corey L, Hill J, Davis E, Flanigan C, Cloud G (2009) Vaccine prevention of maternal cytomegalovirus infection. N Engl J Med 360(12):1191–1199

Pawelec G, Derhovanessian E, Larbi A, Strindhall J, Wikby A (2009) Cytomegalovirus and human immunosenescence. Rev Med Virol 19(1):47–56

Pel-Littel RE, Schuurmans MJ, Emmelot-Vonk MH, Verhaar HJ (2009) Frailty: defining and measuring of a concept. J Nutr Health Aging 13(4):390–394

Pou KM, Massaro JM, Hoffmann U et al (2007) Visceral and subcutaneous adipose tissue volumes are cross-sectionally related to markers of inflammation and oxidative stress: the Framingham Heart Study. Circulation 116:1234–1241

Rafi A, Crawford W, Klaustermeyer W (2005) Declining cell-mediated immunity and increased chronic disease burden. Ann Allergy Asthma Immunol 94:445–450

Reiner AP, Aragaki AK, Gray SL (2009) Inflammation and thrombosis biomarkers and incident frailty in postmenopausal women. Am J Med 122(10):947–954

Richartz E, Stransky E, Batra A et al (2005) Decline of immune responsiveness: a pathogenetic factor in Alzheimer's disease? J Psychiatr Res 39:535–543

Rockwood K (2005) What would make a definition of frailty successful? Age Ageing 34(5):432–434

Rockwood K, Mitnitski A (2007a) Frailty in relation to the accumulation of deficits. J Gerontol A Biol Sci Med Sci 62(7):722–727

Rockwood K, Mitnitski A (2007b) Geriatric syndromes. J Am Geriatr Soc 55:2092

Rockwood K, Fox RA, Stolee P (1994) Frailty in elderly people: an evolving concept. CMAJ 150:489–495

Rockwood K, Stadnyk K, MacKnight C, McDowell I, Hébert R, Hogan DB (1999) A brief clinical measure of frailty. Lancet 353:205–206

Rockwood K, Hogan DB, MacKnight C (2000) Conceptualization and measurement of frailty in elderly people. Drugs Aging 17:295–302

Rockwood K, Howlett SE, MacKnight C et al (2004) Prevalence, attributes, and outcomes of fitness and frailty in community-dwelling older adults: report from the Canadian study of health and aging. J Gerontol A Biol Sci Med Sci 59(12):1310–1317

Rockwood K, Mitnitski A, Song X et al (2006) Long-term risks of death and institutionalization of elderly people in relation to deficit accumulation at age 70. J Am Geriatr Soc 54(6):975–979

Rockwood K, Andrew M, Mitnitski A (2007) A comparison of two approaches to measuring frailty in elderly people. J Gerontol A Biol Sci Med Sci 62:738–743

Rockwood K, Rockwood M, Mitnitksi A (2010) Physiological redundancy in older adults, in relation to the slope of a clinically derived Frailty Index. J Am Geriatr Soc 58:318–323

Rothman MD, Leo-Summers L, Gill TM (2008) Prognostic significance of potential frailty criteria. J Am Geriatr Soc 56(12):2211–2216

Roubenoff R, Harris TB (1997) Failure to thrive, sacropenia and functional decline in the elderly. Clin Geriatr Med 13(4):613–622

Schalk BW, Visser M, Deeg DJ, Bouter LM (2004) Lower levels of serum albumin and total cholesterol and future decline in functional performance in older persons: the Longitudinal Aging Study Amsterdam. Age Ageing 33(3):266–272

Schuurmans H, Steverink N, Lindenberg S et al (2004) Old or frail: what tells us more? J Gerontol A Biol Sci Med Sci 59(9):M962–M965

Searle SD, Mitnitski A, Gahbauer EA et al (2008) A standard procedure for creating a frailty index. BMC Geriatr 30(8):24

Walston J, Arking DE, Fallin D et al (2005) IL-6 gene variation is not associated with increased serum levels of IL-6, muscle, weakness, or frailty in older women. Exp Gerontol 40(4):44–52

Walston J, Hadley EC, Ferrucci L et al (2006) Research agenda for frailty in older adults: toward a better understanding of physiology and etiology: summary from the American Geriatrics Society/National Institute on Aging Research Conference on Frailty in Older Adults. J Am Geriatr Soc 54(6):991–1001

Wick G, Perschinka H, Millonig G (2001) Atherosclerosis as an autoimmune disease: an update. Trends Immunol 22:665–669

Wikby A, Månsson IA, Johansson B et al (2008) The immune risk profile is associated with age and gender: findings from three Swedish population studies of individuals 20–100 years of age. Biogerontology 9(5):299–308

Woo J, Tang NL, Suen E, Leung JC, Leung PC (2008) Telomeres and frailty. Mech Ageing Dev 129(11):642–648

Woods NF, LaCroix AZ, Gray SL et al (2005) Frailty: emergence and consequences in women aged 65 and older in the Women's Health Initiative Observational Study. J Am Geriatr Soc 53(8):1321–1330

Yang Y, Lee LC (2010) Dynamics and heterogeneity in the process of human frailty and aging: evidence from the U.S. older adult population. J Gerontol B Psychol Sci Soc Sci 65B:246–255

Yashin AI, Arbeev KG, Kulminski A (2008) What age trajectories of cumulative deficits and medical costs tell us about individual aging and mortality risk: findings from the NLTCS-Medicare data. Mech Ageing Dev 129:191–200

Yates FE (2002) Complexity of a human being: changes with age. Neurobiol Aging 23(1):17–19

Zoppini G, Verlato G, Targher G et al (2008) Variability of body weight, pulse pressure and glycaemia strongly predict total mortality in elderly type 2 diabetic patients: the Verona Diabetes Study. Diabetes Metab Res Rev 24(8):624–628
Acknowledgments
This work was partly supported by the Research Center on Aging, by the Canadian Initiative on Frailty and Aging, by a Canadian Institutes of Health Research (No 63149) grant and the University of Sherbrooke, and by EU-LSHG-CT-2007-036894 "LifeSpan" and DFG-PA 361/14-1 (to GP).
About this article
Cite this article
Fulop, T., Larbi, A., Witkowski, J.M. et al. Aging, frailty and age-related diseases. Biogerontology 11, 547–563 (2010). https://doi.org/10.1007/s10522-010-9287-2
Received:

Accepted:

Published:

Issue Date:
Keywords
Frailty

Aging

Immunosenescence

Chronic diseases

Inflamm-aging

IRP