Abstract
The effect of feeding of two different antioxidants, tetrahydrocurcumin (TC) and green tea polyphenols (PPs) on the survival of male C57BL/6 mice was examined. Mice that started to receive diets containing TC (0.2%) at the age of 13 months had significantly longer average life spans (days, mean ± SD) than control mice (797.6 ± 151.2 vs.882 ± 154.6, both n = 50, controls vs. TC treated, plus 11.7%, P < 0.01). The 10% longest survival was also significantly greater in TC-treated mice (plus 6.5%, P < 0.01). In contrast, in mice that started to receive TC in their 19th month of life, no significant difference from the control mice was found for either the average life span or the 10% longest survival. In mice that received water containing PPs (80 mg/l), the average life span was also significantly longer than in the control mice (801 ± 121.5 vs. 852.7 ± 88.2, plus 6.4%, P < 0.05), although the 10% longest survival was not significantly different from that in the control mice (P > 0.05). The body weights of the TC (but not PP) fed mice, were slightly (2–4%) but significantly (P < 0.05) lower than the values for the corresponding ages in the control mice in the first six months of treatment. Thereafter, the difference in average body weight between the control and the TC-fed animals was totally lost. Although an additional contribution of an unintended slight decrease in food intake due to TC feeding (suspected due to the difference in body weight) is not excluded, we suggest that the feeding of nutritional antioxidants such as TC and PPs may have the potential to beneficially modify the life spans of animals.
Access options
Buy single article
Instant access to the full article PDF.
USD 39.95
Price includes VAT (USA)
Tax calculation will be finalised during checkout.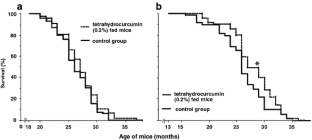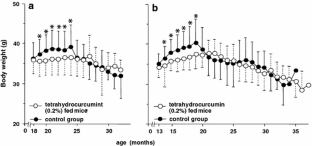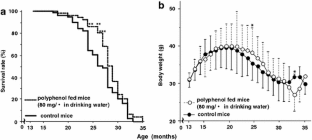 Abbreviations
PPs:

Polyphenols

TC:

Tetrahydrocurcumin
References
Artas ICW, Hollman PCH, Feskens EJM, De Mesquita HBB, Kromhout D (2001) Catechin intake might explain the inverse relation between tea consumption and ischemic heart disease; the Zutphen elderly study. Am J Clin Nutr 74:227–232

Chung HY, Kim HJ, Kim JW, Yu BP (2001) The inflammation hypothesis of aging. Molecular modulation by calorie restriction. Ann New York Acad Sci 928:327–335

Conney AH, Lou YR, Xie JG, Osawa T, Newmark HL, Liu Y, Chang RL, Huang MT (1997) Some perspectives on dietary inhibition of carcinogenesis: Studies with curcumin and tea. Proc Soc Exp Biol Med 216(2):234–245

Crepsy V, Williamson G (2004) Review of health effects of green tea catechins in in vivo animal models. J Nutr 134:3431S–3440S

Frautschy SA, Hu W, Kim P, Miller SA, Chu T, Harris-White ME, Cole GM (2001) Phenolic anti-inflammatory antioxidant reversal of Aβ-induced cognitive deficits and neuropathology. Neurobiol Aging 22:993–1005

Harman D (1956) Aging: a theory based on free radical and radiation chemistry. J Gerontol 11:298–300

Harman D (1994) Free-radical theory of aging. Increase the functional life span. In: Zs.-Nagy I, Harman D, Kitani K (eds) Pharmacology and aging process - methods of assessment and potential interventions, vol. 717, Acad. Sci. Ann., New York, pp 1–15

Huang MT, Lou YR, Ma W, Newmark HL, Reuhl KR, Conney AH (1994) Inhibitory effects of dietary curcumin on forestomach, duodenal, and colon carcinogenesis in mice. Cancer Res 54:5841–5847

Inano H, Onoda M, Inafuku N, Kubota M, Kamada Y, Osawa T, Kobayashi H, Wakabayashi K (2000) Potent preventive action of curcumin on radiation-induced initiation of mammary tumorigenesis in rats. Carcinogenesis 21(10):1836–1841

Jagetia GC, Aggarwal BB (2007) "Spicing up" of the immune system by curcumin. J Clin Immunol 27:19–35

Khan N, Afag F, Saleem M, Ahmad H, Mukhtar H (2006) Targeting multiple signaling pathways by green tea polyphenol (-)-epigallocatechin-3-gallate. Cancer Res 66:2500–2505

Kim JM, Araki S, Kim DJ, Park CB, Takasuka N, Baba-Toriyama H, Ota T, Nir Z, Khachik F, Shimidzu N, Tanaka Y, Osawa T, Uraji T, Murakoshi M, Nishino H, Tsuda H (1998) Chemopreventive effects of carotenoids and curcumins on mouse colon carcinogenesis after 1,2-dimethylhydrazine initiation. Carcinogenesis 19:81–85

Lim GP, Chu T, YanG F, Beech W, Frautschy SA, Cole GM (2001) The curry spice curcumin reduces oxidative damage and amyloid pathology in an Alzheimer transgenic mouse. J Neurosci 21(21):8370–8377

Lipman RD, Bronson RT, Wu D, Smith DE, Prior R, Cao G, Han SN, Martin KR, Meydani SN, Meydani M (1998) Disease incidence and longevity are unaltered by dietary antioxidant supplementation initiated during middle age in C57BL/6 mice. Mech Ageing Dev 103:269–284

Nakagawa T, Yokozawa T, Sano M, Takeuchi S, Kim M, Minamoto S (2004) Activity of (-)epigallocatechin 3-O-gallate against oxidative stress in rats with adenine-induced renal failure. J Agri Food Chem 57:2103–2107

Okada K, Wangpoengtrakul C, Tanaka T, Toyokuni S, Uchida K, Osawa T (2001) Curcumin and especially tetrahydrocurcumin ameliorate oxidative stress-induced renal injury in mice. J Nutr 131:2090–2095

Osawa T (2000) Protective effect of dietary antioxidants in oxidative stress. In: Yoshikawa T, Toyokuni Y, Yamamoto Y, Naito Y (eds) Free radicals in chemistry, biology and medicine, OICA International, London, pp 476–482

Osawa T, Sugiyama Y, Inayoshi M, Kawakishi S (1995) Antioxidative activity of tetrahydrocurcuminoids. Biosci Biotech Bioshem 59:1609–1612

Ringman JM, Frautschy SA, Cole GM, Masterman DJ, Cummings JL (2005) A potential role of the curry spice curcumin in Alzheimer's disease. Curr Alzheimer Res 2:131–136

Sakanaka S, Kim M, Taniguchi M, Yamamoto T (1989) Antibacterial substances in Japanese green tea extract against Streptococcus mutants, a carcinogenic bacterium. Agric Biol Chem 53:2307–2311

Surh YJ (2003) Cancer chemoprevention with dietary phytochemicals. Nat Rev Cancer 3:768–780

Yadav VS, Mishra KP, Singh DP, Mehrotra S, Singh VK (2005) Immunomodulatory effects of curcumin. Immunopharmacol Immunotoxicol 27:485–497

Yang F, Lim GP, Begum AN, Ubeda OJ, Simmons MR, Ambegaokar SS, Chen P, Kayed RK, Glabe CG, Frautschy SA, Cole GM (2005) Curcumin inhibits formation of amyloid β oligomers and fibrils, binds plaques, and reduces amyuloid in vivo. J Biol Chem 280:5892–5901

Yokozawa T, Dong E (1997) Influence of green tea and its three major components upon low-density lipoprotein oxidation. Exp Toxicol Pathol 49:329–335

Yokozawa T, Nakagawa T, Kitani K (2002) Antioxidative activity of green tea polyphenol in cholesterol-fed rats. J Agri Food Chem 50:3549–3552

Yokozawa T, Nakagawa T, Oya T, Okubo T, Juneja LR (2005) Green tea polyphenols and dietary fibre protect against renal damage in rats with diabetic nephropathy. J Pharm Pharmacol 57:773–780

Yoshizawa S, Horiuchi T, Fujiki H, Yoshida T, Okuda T, Sugimura T (1987) Antitumor promoting activity of (-)epigallocatechin gallate, the main constituent of "tannin" in green tea. Phytother Res 1:44–47

Zheng W, Doyle TJ, Kuchi LH, Seliers TA, Hong C-P, Folsom AR (1996) Tea consumption and cancer incidence in a prospective cohort study of postmenopausal women. Am J Epidemiol 144:175–182
Acknowledgments
Drs. H.Watanabe and Y.Sasaki (formerly the National Institute for Radiological Sciences) have kindly provided valuable suggestions. The skilful secretarial work of Ms. T. Ohara is greatly appreciated.
About this article
Cite this article
Kitani, K., Osawa, T. & Yokozawa, T. The effects of tetrahydrocurcumin and green tea polyphenol on the survival of male C57BL/6 mice. Biogerontology 8, 567–573 (2007). https://doi.org/10.1007/s10522-007-9100-z
Received:

Accepted:

Published:

Issue Date:
Keywords
Aging

Green tea polyphenols

Life span

Male C57BL mice

Tetrahydrocurcumin