Abstract
Gateway hypothesis presumes that using a psychotropic drug can increase the probability of using another drug. The study was to assess whether cigarette smoking is a gateway drug for subsequent opium use. Mendelian randomization (MR) analysis was applied to test and estimate the size of causal effect of cigarette smoking on opium use. The CHRNA3 rs1051730 polymorphism was used as an instrumental variable. A population-based case control study in the setting of Fasa Cohort Study was carried out using 477 cases and 531 controls based on their opium use status at the baseline of cohort study. The logistic two stage estimator method was applied. The Number of cigarettes smoked per day was associated with opium use (OR 1.17, 95% CI 1.15–1.19). In the MR analysis, rs1051730 T alleles were associated with increased risk of opium use among ever smokers (OR 5.73, 95% CI 1.72–19.07) however there found no evidence of association among never smokers. In instrumental variable analysis, showed that on average smoking every 1 more cigarette per day increases the odds of opium use by 1.17 (OR 1.17, 95%CI:1.14–1.19). The MR analysis found a positive finding on the relationship between cigarette smoking and opium use which supports the gateway hypothesis. It adds new information to the gateway theory regarding the relation of cigarette smoking and drug use, and increases our understanding of the importance of tobacco control for prevention of opium addiction.
Access options
Buy single article
Instant access to the full article PDF.
USD 39.95
Price excludes VAT (USA)
Tax calculation will be finalised during checkout.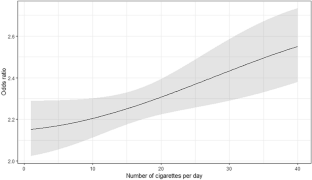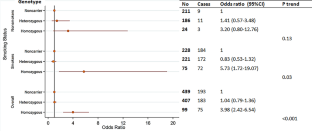 References
Abuse, S. 2013. Results from the 2012 National Survey on Drug Use and Health: Summary of national findings. NSDUH Series H-46, HHS Publication No.(SMA) 13–4795. Substance Abuse and Mental Health Services Administration Rockville, MD.

ABUSE, S. & ADMINISTRATION, M. H. S. 2016. 2015 National Survey on Drug Use and Health.

Bahr, s. J. & Hoffmann, J. P. (2015) Social Scientific Theories of Drug Use, Abuse, and Addiction. The Handbook of Drugs and Society. https://doi.org/10.1002/9781118726761.ch10

Boscarino JA, Rukstalis M, Hoffman SN, Han JJ, Erlich PM, Gerhard GS, Stewart WFJA (2010) Risk factors for drug dependence among out-patients on opioid therapy in a large US health-care system 105:1776–1782

Brick LA, Micalizzi L, Knopik VS, Palmer RHJJOSOA (2019) & Drugs. Characterization of DSM-IV opioid dependence among individuals of European ancestry 80:319–330

Burgess S, Dudbridge F, Thompson SGJSIM (2016) Combining information on multiple instrumental variables in Mendelian randomization: comparison of allele score and summarized data methods 35:1880–1906

Burgess S, Thompson SG, Collaboration CCG (2011) Avoiding bias from weak instruments in Mendelian randomization studies. Int J Epidemiol 40:755–764

Chaubey G, Ayub Q, Rai N, Prakash S, Mushrif-Tripathy V, Mezzavilla M, Pathak AK, Tamang R, Firasat S, Reidla M (2017) "Like sugar in milk": reconstructing the genetic history of the Parsi population. Genome Biol 18:110

Dargan P, Wood D (2012) Recreational drug use in the Asia Pacific region: improvement in our understanding of the problem through the UNODC programmes. J Med Toxicol 8:295–299

Davey Smith G, Hemani GJHMG (2014) Mendelian randomization: genetic anchors for causal inference in epidemiological studies 23:R89–R98

Degenhardt L, Dierker L, Chiu WT, Medina-Mora ME, Neumark Y, Sampson N, Alonso J, Angermeyer M, Anthony JC, Bruffaerts R (2010) Evaluating the drug use "gateway" theory using cross-national data: consistency and associations of the order of initiation of drug use among participants in the WHO World Mental Health Surveys. Drug Alcohol Depend 108:84–97

Erlich PM, Hoffman SN, Rukstalis M, Han JJ, Chu X, Kao WL, Gerhard GS, Stewart WF, Boscarino JAJHG (2010) Nicotinic acetylcholine receptor genes on chromosome 15q25. 1 are associated with nicotine and opioid dependence severity. Hum Genet 128:491–499

Farjam M, Bahrami H, Bahramali E, Jamshidi J, Askari A, Zakeri H, Homayounfar R, Poustchi H, Malekzadeh R (2016) A cohort study protocol to analyze the predisposing factors to common chronic non-communicable diseases in rural areas: Fasa Cohort Study. BMC Public Health 16:1090

Furberg H, Kim Y, Dackor J, Boerwinkle E, Franceschini N, Ardissino D, Bernardinelli L, Mannucci PM, Mauri F, Merlini PA (2010) Genome-wide meta-analyses identify multiple loci associated with smoking behavior. Nat Genet 42:441

Guydish J, Passalacqua E, Pagano A, Martínez C, Le T, Chun J, Tajima B, Docto L, Garina D, Delucchi K (2016) An international systematic review of smoking prevalence in addiction treatment. Addiction 111:220–230

Haug S, Nunez CL, Becker J, Gmel G, Schaub MP (2014) Predictors of onset of cannabis and other drug use in male young adults: results from a longitudinal study. BMC Public Health 14:1202

Haycock PC, Burgess S, Wade KH, Bowden J, Relton C, Davey Smith G (2016) Best (but oft-forgotten) practices: the design, analysis, and interpretation of Mendelian randomization studies. Am J ClinNutr 103:965–978

Huizink AC, Levälahti E, Korhonen T, Dick DM, Pulkkinen L, Rose RJ, Kaprio J (2010) Tobacco, cannabis, and other illicit drug use among Finnish adolescent twins: causal relationship or correlated liabilities? J Stud Alcohol Drugs 71:5–14

Kandel D (1975) Stages in adolescent involvement in drug use. Science 190:912–914

Kandel D, Kandel E (2015) The Gateway Hypothesis of substance abuse: developmental, biological and societal perspectives. ActaPaediatr 104:130–137

Kandel, D. B. & Jessor, R. 2002. The gateway hypothesis revisited. Stages and pathways of drug involvement. Examining the gateway hypothesis, 365–373.

Kandel DB, Yamaguchi K, Chen K (1992) Stages of progression in drug involvement from adolescence to adulthood: further evidence for the gateway theory. J Stud Alcohol 53:447–457

Kandel ER, Kandel DB (2014) A molecular basis for nicotine as a gateway drug. N Engl J Med 2014:932–943

Levine A, Huang Y, Drisaldi B, Griffin EA, Pollak DD, Xu S, Yin D, Schaffran C, Kandel DB, Kandel ER (2011) Molecular mechanism for a gateway drug: epigenetic changes initiated by nicotine prime gene expression by cocaine. Science translational medicine 3:107–109

Li D, Zhao H, Kranzler HR, Li MD, Jensen KP, Zayats T, Farrer LA, Gelernter JJN (2015) Genome-wide association study of copy number variations (CNVs) with opioid dependence. Neuropsychopharmacology 40:1016–1026

Mehrjoo Z, Fattahi Z, Beheshtian M, Mohseni M, Poustchi H, Ardalani F, Jalalvand K, Arzhangi S, Mohammadi Z, Khoshbakht S (2019) Distinct genetic variation and heterogeneity of the Iranian population. PLoS Genet 15:e1008385

Nazarzadeh M, Bidel Z, Carson KV (2014) The association between tramadol hydrochloride misuse and other substances use in an adolescent population: Phase I of a prospective survey. Addict Behav 39:333–337

Nielsen DA, Ji F, Yuferov V, Ho A, He C, Ott J, Kreek MJJPG (2010) Genome-wide association study identifies genes that may contribute to risk for developing heroin addiction. Psychisatr Genet 20:207–214

Paaby AB, Rockman MVJTIG (2013) The many faces of pleiotropy. Trends Genet 29:66–73

Palmer RH, Button TM, Rhee SH, Corley RP, Young SE, Stallings MC, Hopfer CJ, Hewitt JK (2012) Genetic etiology of the common liability to drug dependence: evidence of common and specific mechanisms for DSM-IV dependence symptoms. Drug Alcohol Depend 123:S24–S32

Palmer TM, Sterne JA, Harbord RM, Lawlor DA, Sheehan NA, Meng S, Granell R, Smith GD, Didelez V (2011) Instrumental variable estimation of causal risk ratios and causal odds ratios in Mendelian randomization analyses. Am J Epidemiol 173:1392–1403

Palmer TM, Thompson JR, Tobin MD, Sheehan NA, Burton PR (2008) Adjusting for bias and unmeasured confounding in Mendelian randomization studies with binary responses. Int J Epidemiol 37:1161–1168

Poustchi H, Eghtesad S, Kamangar F, Etemadi A, Keshtkar A-A, Hekmatdoost A, Mohammadi Z, Mahmoudi Z, Shayanrad A, Roozafzai F (2017) Prospective epidemiological research studies in Iran (the PERSIAN Cohort Study): Rationale, objectives, and design. Am J Epidemiol 187:647–655

Rajabi A, Dehghani M, Shojaei A, Farjam M, Motevalian SA (2018a) Association between tobacco smoking and opioid use: A meta-analysis. Addict Behav 92:225–235

Rajabi, A., Dehghani, M., Shojaei, A., Farjam, M. & Motevalian, S. A. 2018b. Tobacco smoking and opioid use disorders: A meta-analysis. Addictive Behaviors.

Rajabi A, Khosravi P, Motevalian SA, Farjam M, Shojaei A (2018) The association between polymorphism of BDNF gene and cigarette smoking in the Iranian population. J Gene Med 20:e3052

Smith AH, Jensen KP, Li J, Nunez Y, Farrer LA, Hakonarson H, Cook-Sather SD, Kranzler HR, Gelernter JJMP (2017) Genome-wide association study of therapeutic opioid dosing identifies a novel locus upstream of OPRM1. Mol Psychiatry 22:346–352

Smith GD, Ebrahim S (2005) What can mendelian randomisation tell us about modifiable behavioural and environmental exposures? BMJ 330:1076

Thompson JR, Minelli C, Bowden J, Del Greco FM, Gill D, Jones EM, Shapland CY, Sheehan NAJSIM (2017) Mendelian randomization incorporating uncertainty about pleiotropy 36:4627–4645

Van Leeuwen AP, Verhulst FC, Reijneveld SA, Vollebergh WA, Ormel J, Huizink AC (2011) Can the gateway hypothesis, the common liability model and/or, the route of administration model predict initiation of cannabis use during adolescence? A survival analysis—the TRAILS study. J Adolesc Health 48:73–78

Vanyukov MM, Tarter RE, Kirillova GP, Kirisci L, Reynolds MD, Kreek MJ, Conway KP, Maher BS, Iacono WG, Bierut L (2012) Common liability to addiction and "gateway hypothesis": theoretical, empirical and evolutionary perspective. Drug Alcohol Depend 123:S3–S17

Wang S-C, Chen Y-C, Lee C-H, Cheng C-MJIJOMS (2019) Opioid addiction, genetic susceptibility, and medical treatments: a review. Int J MolSci 20:4294

Weinberger AH, Platt J, Galea S, Goodwin R (2015) Cigarette smoking and risk of substance use and substance use disorder relapse among adults in recovery. Drug Alcohol Depend 156:e236

Zale EL, Dorfman ML, Hooten WM, Warner DO, Zvolensky MJ, Ditre JW (2015) Tobacco smoking, nicotine dependence, and patterns of prescription opioid misuse: results from a nationally representative sample. Nicotine Tob Res 17:1096–1103
Funding
This study was funded by Iran University of Medical Sciences (Grant No. 9221128205).
Ethics declarations
Conflict of interest
Abdolhalim Rajabi, Azadeh Shojaei, Leila Janani, Mojtaba Farjam, Hamid Reza Baradaran, Pedram Khosravi and Seyed Abbas Motevalian declare that they have no conflict of interest.
Human and Animal Rights and Informed consent
The study has been performed in accordance with the Declaration of Helsinki. Written informed consent was obtained from all individual participants in the study.
Additional information
Publisher's Note
Springer Nature remains neutral with regard to jurisdictional claims in published maps and institutional affiliations.
Edited by Sarah Medland.
About this article
Cite this article
Rajabi, A., Shojaei, A., Janani, L. et al. Cigarette Smoking Behavior a Gateway to Opium Use Disorder: A Mendelian Randomization Analysis. Behav Genet 51, 385–393 (2021). https://doi.org/10.1007/s10519-021-10052-0
Received:

Accepted:

Published:

Issue Date:

DOI: https://doi.org/10.1007/s10519-021-10052-0
Keywords