Abstract
Study Objectives
Twin studies have provided data about the relative weight of genetic and environmental factors on sleep variables over the last few decades. However, heritability is a non-intuitive concept and it is often misunderstood even amongst the scientific community. This study aimed to analyze: (1) understanding of the meaning of heritability of insomnia; (2) the accuracy of estimations of heritability in the general population regarding three sleep traits (sleep duration, sleep quality and insomnia); (3) perceptions of the effectiveness of different treatments for insomnia depending on how the disorder is presented (i.e. having an environmental or genetic etiology) and whether the subject's estimate of genetic influence on sleep traits impacted beliefs about the effectiveness of different treatments.
Methods
Participants (N = 3658) completed a survey which included: questions about general genetic knowledge; a specific question about the meaning of heritability; estimates of heritability of three different sleep traits; and the effectiveness of different treatments for insomnia depending on how the etiology of this condition was presented.
Results
Fewer than 25% of the participants selected the correct description of the heritability of insomnia. Almost half of the sample incorrectly believed that heritability refers to the chance of passing a disorder onto their children. We also found that participants provided different estimates for the effectiveness of different treatments depending on the presumed etiology of the disorder.
Conclusion
Most people do not have accurate knowledge about the concept of heritability. People's assumptions about the etiology of a disorder may influence which treatments they consider most effective.
Access options
Buy single article
Instant access to the full article PDF.
US$ 39.95
Tax calculation will be finalised during checkout.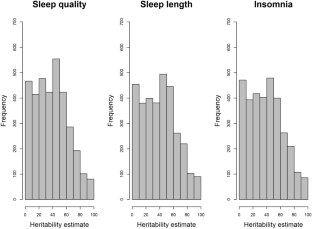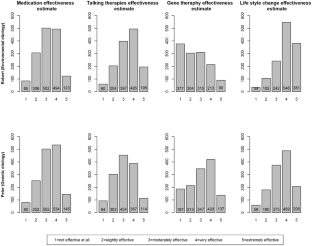 References
Barclay NL, Gregory AM (2013) Quantitative genetic research on sleep: a review of normal sleep, sleep disturbances and associated emotional, behavioural, and health-related difficulties. Sleep Med Rev 17(1):29–40

Barclay NL, Gehrman PR, Gregory AM, Eaves LJ, Silberg JL (2015) The heritability of insomnia progression during childhood/adolescence: results from a longitudinal twin study. Sleep 38(1):109–118

Chapman R, Likhanov M, Selita F, Zakharov I, Smith-Woolley E, Kovas Y (2017) Genetic literacy and attitudes survey (iGLAS): international population-wide assessment instrument. Eur Proc Soc Behav Sci EpSBS 33(6):12

Chapman R, Likhanov M, Selita F, Zakharov I, Smith-Woolley E, Kovas Y (2019) New literacy challenge for the twenty-first century: genetic knowledge is poor even among well educated. J Commun Genet 10(1):73–84

Drake CL, Friedman NP, Wright KP, Roth T (2011) Sleep reactivity and insomnia: genetic and environmental influences. Sleep 34(9):1179–1188

Gregory AM, Rijsdijk FV, Eley TC, Buysse DJ, Schneider MN, Parsons M, Barclay NL (2016) A longitudinal twin and sibling study of associations between insomnia and depression symptoms in young adults. Sleep 39(11):1985–1992

Hublin C, Partinen M, Koskenvuo M, Kaprio J (2011) Heritability and mortality risk of insomnia-related symptoms: a genetic epidemiologic study in a population-based twin cohort. Sleep 34(7):957–964

Kelly N, Makarem D, Wasserstein M (2016) Screening of newborns for disorders with high benefit-risk ratios should be mandatory. J Law Med Ethics 44(2):231–240

Knopik VS, Neiderhiser JM, DeFries JC, Plomin R (2017) Behavioral genetics, 7th edn. Worth Publishers, New York

Lebowitz MS (2019) The implications of genetic and other biological explanations for thinking about mental disorders. Hastings Cent Rep 49(12):S82–S87

Lebowitz MS, Ahn WK (2014) Effects of biological explanations for mental disorders on clinicians' empathy. Proc Natl Acad Sci USA 111(50):17786–17790

Madrid-Valero JJ, Rubio-Aparicio M, Gregory AM, Sánchez-Meca J, Ordoñana JR (2020) Twin studies of subjective sleep quality and sleep duration, and their behavioral correlates: systematic review and meta-analysis of heritability estimates. Neurosci Biobehav Rev 109:78–89

Madrid-Valero JJ, Ronald A, Shakeshaft N, Schofield K, Malanchini M, Gregory AM (2019) Sleep quality, insomnia and internalising difficulties in adolescents: insights from a twin study. Sleep

Morin CM, Blais F, Savard J (2002) Are changes in beliefs and attitudes about sleep related to sleep improvements in the treatment of insomnia? Behav Res Ther 40(7):741–752

Morin CM, Drake CL, Harvey AG, Krystal AD, Manber R, Riemann D, Spiegelhalder K (2015) Insomnia disorder. Nat Rev Dis Primers 11:50–26

Polderman TJ, Benyamin B, de Leeuw CA, Sullivan PF, van Bochoven A, Visscher PM, Posthuma D (2015) Meta-analysis of the heritability of human traits based on fifty years of twin studies. Nat Genet 47(7):702–709

Qaseem A, Kansagara D, Forciea MA, Cooke M, Denberg TD, Physicians CGCotACo, (2016) Management of chronic insomnia disorder in adults: a clinical practice guideline from the American College of Physicians. Ann Intern Med 165(2):125–133

Selita F, Smereczynska V, Chapman R, Toivainen T, Kovas Y (2020) Judging in the genomic era: judges' genetic knowledge, confidence and need for training. Eur J Hum Genet 28(10):1322–1330. https://doi.org/10.1038/s41431-020-0650-8

Vincent N, Lionberg C (2001) Treatment preference and patient satisfaction in chronic insomnia. Sleep 24(4):411–417

Visscher PM, Hill WG, Wray NR (2008) Heritability in the genomics era–concepts and misconceptions. Nat Rev Genet 9(4):255–266

Willoughby EA, Love AC, McGue M, Iacono WG, Quigley J, Lee JJ (2019) Free will, determinism, and intuitive judgments about the heritability of behavior. Behav Genet 49(2):136–153
Funding
J.J.M-V. was supported by predoctoral scholarship (19814/FPI/15) of the Fundación Seneca. This work was supported by Russian Foundation for Basic Research Grant No. 18-29-14071.
Ethics declarations
Conflict of interest
Juan J. Madrid-Valero, Robert Chapman, Evangelina Bailo, Juan R. Ordoñana, Fatos Selita, Yulia Kovas, and Alice M. Gregory have declare that they have no conflict of interest.
Ethical Approval
iGLAS has received approval from the ethics departments at both Goldsmiths, University of London and the Ethics Committee for Interdisciplinary Research of Tomsk State University, Russia.
Informed Consent
Participants read information about the study, including their rights as participants, and provided informed consent.
Additional information
Publisher's Note
Springer Nature remains neutral with regard to jurisdictional claims in published maps and institutional affiliations.
Edited by Matt McGue.
About this article
Cite this article
Madrid-Valero, J.J., Chapman, R., Bailo, E. et al. What Do People Know About the Heritability of Sleep?. Behav Genet 51, 144–153 (2021). https://doi.org/10.1007/s10519-021-10041-3
Received:

Accepted:

Published:

Issue Date:
Keywords
Genetic knowledge

Insomnia

Heritability

Sleep