Abstract
Disaggregation and estimation of genetic effects from offspring and parents has long been of interest to statistical geneticists. Recently, technical and methodological advances have made the genome-wide and loci-specific estimation of direct offspring and parental genetic nurture effects more possible. However, unbiased estimation using these methods requires datasets where both parents and at least one child have been genotyped, which are relatively scarce. Our group has recently developed a method and accompanying software (IMPISH; Hwang et al. in PLoS Genet 16:e1009154, 2020) which is able to impute missing parental genotypes from observed data on sibships and estimate their effects on an offspring phenotype conditional on the effects of genetic transmission. However, this method is unable to disentangle maternal and paternal effects, which may differ in magnitude and direction. Here, we introduce an extension to the original IMPISH routine which takes advantage of all available nuclear families to impute parent-specific missing genotypes and obtain asymptotically unbiased estimates of genetic effects on offspring phenotypes. We apply this this method to data from related individuals in the UK Biobank, showing concordance with previous estimates of maternal genetic effects on offspring birthweight. We also conduct the first GWAS jointly estimating offspring-, maternal-, and paternal-specific genetic effects on body-mass index.
Access options
Buy single article
Instant access to the full article PDF.
USD 39.95
Price includes VAT (USA)
Tax calculation will be finalised during checkout.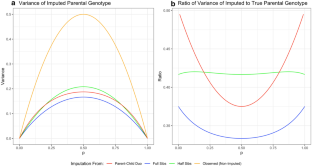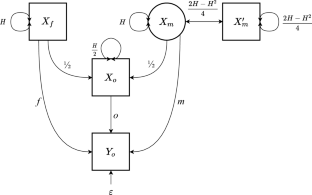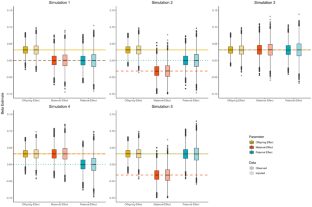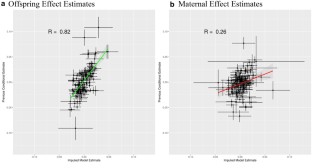 References
Adan RAH, Vanderschuren LJMJ, la Fleur SE (2008) Anti-obesity drugs and neural circuits of feeding. Trends Pharmacol Sci 29:208–217

Arnold M, Raffler J, Pfeufer A et al (2015) SNiPA: an interactive, genetic variant-centered annotation browser. Bioinformatics 31:1334–1336. https://doi.org/10.1093/bioinformatics/btu779

Bates D, Mächler M, Bolker B, Walker S (2015) Fitting linear mixed-effects models using lme4. J Stat Softw 67:1–48. https://doi.org/10.18637/jss.v067.i01

Bates TC, Maher BS, Medland SE et al (2018) The nature of nurture: using a virtual-parent design to test parenting effects on children's educational attainment in genotyped families. Twin Res Hum Genet 21:73–83. https://doi.org/10.1017/thg.2018.11

Beaumont RN, Warrington NM, Cavadino A et al (2018) Genome-wide association study of offspring birth weight in 86 577 women identifies five novel loci and highlights maternal genetic effects that are independent of fetal genetics. Hum Mol Genet 18:742–756. https://doi.org/10.1093/hmg/ddx429

Bergin JE, Neale MC, Eaves LJ et al (2012) Genetic and environmental transmission of body mass index fluctuation. Behav Genet 42:867–874. https://doi.org/10.1007/s10519-012-9567-5

Bycroft C, Freeman C, Petkova D et al (2018) The UK Biobank resource with deep phenotyping and genomic data. Nature 562:203–209. https://doi.org/10.1038/s41586-018-0579-z

Chang CC, Chow CC, Tellier LC et al (2015) Second-generation PLINK: rising to the challenge of larger and richer datasets. Gigascience 4:7. https://doi.org/10.1186/s13742-015-0047-8

Csardi G, Nepusz T (2006) The igraph software package for complex network research. InterJ Complex Syst 1695:1–9

Eilertsen EM, Jami ES, McAdams T et al (2020) Direct and indirect effects of maternal, paternal, and offspring genotypes: Trio-GCTA. bioRxiv. https://doi.org/10.1101/2020.05.15.097840

Hwang L-D, Tubbs JD, Luong J et al (2020) Estimating indirect parental genetic effects on offspring phenotypes using virtual parental genotypes derived from sibling and half sibling pairs. PLOS Genet 16:e1009154. https://doi.org/10.1371/journal.pgen.1009154

Kong A, Thorleifsson G, Frigge ML et al (2018) The nature of nurture: effects of parental genotypes. Science 359:424–428. https://doi.org/10.1126/science.aan6877

Kong L, Nilsson IAK, Gissler M, Lavebratt C (2019) Associations of maternal diabetes and body mass index with offspring birth weight and prematurity. JAMA Pediatr 173:371–378. https://doi.org/10.1001/jamapediatrics.2018.5541

Kong A, Benonisdottir S, Young A (2020) Family analysis with mendelian imputations. bioRxiv. https://doi.org/10.1101/2020.07.02.185181

Manichaikul A, Mychaleckyj JC, Rich SS et al (2010) Robust relationship inference in genome-wide association studies. Bioinformatics 26:2867–2873. https://doi.org/10.1093/bioinformatics/btq559

McAdams TA, Neiderhiser JM, Rijsdijk FV et al (2014) Accounting for genetic and environmental confounds in associations between parent and child characteristics: a systematic review of children-of-twins studies. Psychol Bull 140:1138–1173. https://doi.org/10.1037/a0036416

Meister B (2007) Neurotransmitters in key neurons of the hypothalamus that regulate feeding behavior and body weight. Physiol Behav 92:263–271. https://doi.org/10.1016/j.physbeh.2007.05.021

Moen GH, Hemani G, Warrington NM, Evans DM (2019) Calculating power to detect maternal and offspring genetic effects in genetic association studies. Behav Genet 49:327–339. https://doi.org/10.1007/s10519-018-9944-9

Ornoy A (2011) Prenatal origin of obesity and their complications: gestational diabetes, maternal overweight and the paradoxical effects of fetal growth restriction and macrosomia. Reprod Toxicol 32:205–212. https://doi.org/10.1016/j.reprotox.2011.05.002

R Core Team (2019) R: a language and environment for statistical computing. R Core Team, Vienna

Stamatakis AM, Van Swieten M, Basiri ML et al (2016) Lateral hypothalamic area glutamatergic neurons and their projections to the lateral habenula regulate feeding and reward. J Neurosci 36:302–311. https://doi.org/10.1523/JNEUROSCI.1202-15.2016

Straker L, Mountain J, Jacques A et al (2017) Cohort profile: the Western Australian pregnancy cohort (RAINE) study-generation 2. Int J Epidemiol 46:1384J-1385J. https://doi.org/10.1093/ije/dyw308

Tanaka M, Delorey TM, Delgado-Escueta AV, Olsen RW (2010) GABRB3, epilepsy, and neurodevelopment. Epilepsia 51:77. https://doi.org/10.1111/j.1528-1167.2010.02863.x

Tubbs JD, Porsch RM, Cherny SS, Sham PC (2020a) The genes we inherit and those we don't: maternal genetic nurture and child BMI trajectories. Behav Genet. https://doi.org/10.1007/s10519-020-10008-w

Tubbs JD, Zhang YD, Sham PC (2020b) Intermediate confounding in trio relationships: the importance of complete data in effect size estimation. Genet Epidemiol 44:395–399. https://doi.org/10.1002/gepi.22294

Tyrrell JS, Yaghootkar H, Freathy RM et al (2013) Parental diabetes and birthweight in 236 030 individuals in the UK Biobank study. Int J Epidemiol 42:1714–1723. https://doi.org/10.1093/ije/dyt220

Warrington NM, Freathy RM, Neale MC, Evans DM (2018) Using structural equation modelling to jointly estimate maternal and fetal effects on birthweight in the UK Biobank. Int J Epidemiol 47:1229–1241. https://doi.org/10.1093/ije/dyy015

Warrington NM, Beaumont RN, Horikoshi M et al (2019) Maternal and fetal genetic effects on birth weight and their relevance to cardio-metabolic risk factors. Nat Genet 51:804–814. https://doi.org/10.1038/s41588-019-0403-1

Wright J, Small N, Raynor P et al (2013) Cohort profile: the born in bradford multi-ethnic family cohort study. Int J Epidemiol 42:978–991. https://doi.org/10.1093/ije/dys112

Xue A, Wu Y, Zhu Z et al (2018) Genome-wide association analyses identify 143 risk variants and putative regulatory mechanisms for type 2 diabetes. Nat Commun. https://doi.org/10.1038/s41467-018-04951-w

Yengo L, Sidorenko J, Kemper KE et al (2018) Meta-analysis of genome-wide association studies for height and body mass index in ∼700000 individuals of European ancestry. Hum Mol Genet 27:3641–3649. https://doi.org/10.1093/hmg/ddy271

Young A, Nehzati SM, Lee C et al (2020) Mendelian imputation of parental genotypes for genome-wide estimation of direct and indirect genetic effects. bioRxiv. https://doi.org/10.1101/2020.07.02.185199
Funding
D.M.E. is funded by an Australian National Health and Medical Research Council Senior Research Fellowship (APP1137714) and NHMRC project Grants (GNT1125200, GNT1157714, GNT1183074).
Ethics declarations
Conflict of interest
Justin D. Tubbs, Liang-Dar Hwang, Justin Luong, David M. Evans and Pak C. Sham declare no conflicts of interest.
Ethical approval
This research has been conducted using the UK Biobank Resource under project ID number 28732. UK Biobank received ethical approval from the NHS National Research Ethics Service North West (11/NW/0382).
Informed consent
Informed consent was obtained by UK Biobank researchers from all participants.
Additional information
Publisher's Note
Springer Nature remains neutral with regard to jurisdictional claims in published maps and institutional affiliations.
Edited by Elizabeth Prom-Wormley.
Justin D. Tubbs and Liang-Dar Hwang are joint first authors.
David M. Evans and Pak C. Sham are joint senior authors.
Supplementary Information
Below is the link to the electronic supplementary material.
About this article
Cite this article
Tubbs, J.D., Hwang, LD., Luong, J. et al. Modeling Parent-Specific Genetic Nurture in Families with Missing Parental Genotypes: Application to Birthweight and BMI. Behav Genet 51, 289–300 (2021). https://doi.org/10.1007/s10519-020-10040-w
Received:

Revised:

Accepted:

Published:

Issue Date:
Keywords
Statistical genetics

Imputation

Parental genetic effect

Genetic nurture

Birthweight

BMI