Abstract
The ε4 allele of the apolipoprotein (APOE) gene is a widely recognized genetic risk factor for developing Alzheimer's disease in older age. However, it is controversial whether there is a positive impact of the APOE ε4 allele on human cognitive performance in young adulthood, possibly representing a case of antagonistic pleiotropy. Here we explored associations of the APOE ε4 allele with cognitive ability in young adulthood. In contrast to previous studies, we used structural equation modeling that allows a multivariate measurement of the cognitive phenotype. Results based on four independent samples (N1 = 245; N2 = 300; N3 = 244; N4 = 206) overall revealed a complex effect of the APOE ε4 genotype on cognitive ability in young adulthood: Whereas the ε4 allele tends to be negatively associated with cognitive performance in individuals with lower education levels, there might be a weak positive association in persons with higher education—a finding that is partly in line with the antagonistic pleiotropy view on APOE and cognitive ability. The education-related findings support protective effects of environmental factors.
This is a preview of subscription content, log in to check access.
Access options
Buy single article
Instant access to the full article PDF.
US$ 39.95
Price includes VAT for USA
Subscribe to journal
Immediate online access to all issues from 2019. Subscription will auto renew annually.
US$ 199
This is the net price. Taxes to be calculated in checkout.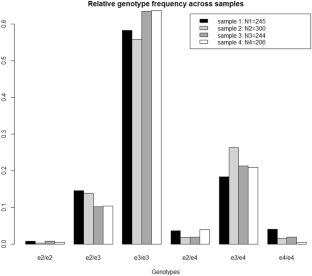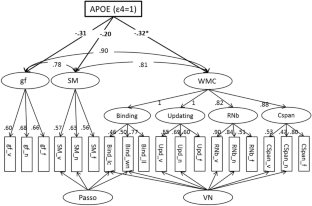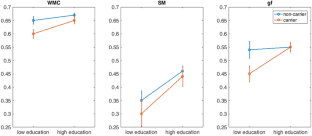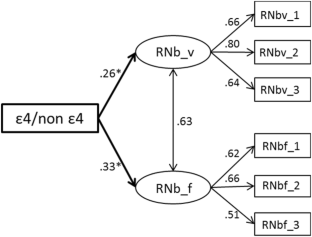 References
Alexander DM, Williams LM, Gatt JM et al (2007) The contribution of apolipoprotein E alleles on cognitive performance and dynamic neural activity over six decades. Biol Psychol 75:229–238

Alexopoulos P, Richter-schmidinger T, Horn M et al (2011) Hippocampal volume differences between healthy young apolipoprotein E ε2 and ε4 carriers. J Alzheimers Dis. 26:207–210

Allison PD (2001) Missing Data. In: Millsap RE, Maydeu-Olivares A (eds) The SAGE handbook of quantitative methods in psychology. SAGE, London, pp 73–90

Arenaza-Urquijo EM, Landeau B, La Joie R et al (2013) Relationships between years of education and gray matter volume, metabolism and functional connectivity in healthy elders. Neuroimage 83:450–457

Arenaza-Urquijo EM, Gonneaud J, Fouquet M et al. (2015). Interaction between years of education and APOE ε4 status on frontal and temporal metabolism. Neurology 85:1392–1399

Baddeley A, Hitch G (1974) Working memory. Psychol Learn Motiv 8:47–89

Bloss CS, Delis DC, Salmon DP et al (2008) Decreased cognition in children with risk factors for Alzheimer's Disease. Biol Psychiatry 64:904–906

Craik F, Byrd M (1982) Aging and cognitive deficits: the role of attentional resources. In: Craik FIM, Trehub S (eds) Aging and cognitive processes. Plenum, New York, pp 199–211

Dennis NA, Browndyke JN, Stokes J et al (2010) Temperal lobe functional activity and connectivity in young adult APOE e4 carriers. Alzheimers Dement 6:303–311

Dong Y, Peng CYJ (2013) Principled missing data methods for researchers. SpringerPlus 2:222

Dowell NG, Ruest T, Evans SL et al (2013) MRI of carriers of the apolipoprotein E e4 allele-evidence for structural differences in normal-appearing brain tissue in e4+ relative to e4− young adults. NMR Biomed 26:674–682

Engle RW, Tuholski SW, Laughlin JE (1999) Working memory, short-term memory, and general fluid intelligence: a latent-variable approach. J Exp Psychol Gen 128:309–331

Eramudugolla R, Bielak AAM, Bunce D et al (2014) Long-term cognitive correlates of traumatic brain injury across adulthood and interactions with APOE genotype, sex, and age cohorts. J Int Neuropsychol Soc 20:444–454

Estévez-González A, García-Sánchez C, Boltes A et al (2004) Preclinical memory profile in Alzheimer patients with and without allele APOE-epsilon4. Eur Neurol 51:199–205

Evans S, Gray MA, Dowell NG et al (2013) APOE E4 Carriers show prospective memory enhancement under nicotine, and evidence for specialisation within medial BA10. Neuropsychopharmacology 38:655–663

Fouquet M, Besson FL, Gonneaud J et al (2014) Imaging brain effects of APOE4 in cognitively normal individuals across the lifespan. Neuropsychol Rev 24:290–299

Greenwood PM, Lambert C, Sunderland T et al (2005) Effects of apolipoprotein E genotype on spatial attention, working memory, and their interaction in healthy, middle-aged adults: results From the National Institute of Mental Health's BIOCARD study. Neuropsychology 19:199–211

Han SD, Bondi MW (2008) Revision of the apolipoprotein E compensatory mechanism recruitment hypothesis. Alzheimers Dement. 4:251–254

Hildebrandt A, Kiy A, Reuter M et al (2016) Face and emotion expression processing and the serotonin transporter polymorphism 5-HTTLPR/rs22531. Genes Brain Behav 15:453–464

Hu LT, Bentler PM (1995) Evaluating Model Fit. In: Hoyle RH (ed) Structural equation modeling: concepts, issues, and applications. SAGE, US, pp 76–99

Hubacek JA, Pitha J, Skodova Z et al (2001) A possible role of apolipoprotein E polymorphism in predisposition to higher education. Neuropsychobiology 43:200–203

Ihle A, Bunce D, Kliegel M (2012) APOE ε4 and cognitive function in early life: a meta-analysis. Neuropsychology 26:267–277

Izaks GJ, Gansevoort RT, Knaap AM (2011) The association of APOE genotype with cognitive function in persons aged 35 years or older. PLoS ONE 6:1–8

Kane MJ, Hambrick DZ, Tuholski SW et al (2004) The domain generality of working- memory capacity: a latent-variable approach to verbal and spatial memory span and reasoning. J Exp Psychol 133:189–217

Kunz L, Schroeder TN, Lee H et al (2015) Reduced grid-like representations in adults at genetic risk for Alzheimer's disease. Science 350:430–433

Kyllonen PC, Christal RE (1990) Reasoning ability is (little more than) working memory capacity?! Intelligence 14:389–433

Marioni RE, Campbell A, Scotland G et al (2016) Differential effects of the APOE e4 allele on different domains of cognitive ability across the life-course. Eur J Hum Genet 24:919–923

Matura S, Prvulovic D, Jurcoane A et al (2014) Differential effects of the ApoE4 genotype on brain structure and function. NeuroImage 89:81–91

Merchant NL, King SL, Tabet N et al (2010) Positive effects of cholinergic stimulation favor young APOE ε4 carriers. Neuropsychopharmacology 35:1090–1096

Mondadori CRA, Quervain DJF, Buchmann A et al (2007) Better memory and neural efficiency in young Apolipoprotein E4 carriers. Cereb Cortex 17:1934–1947

Oberauer K, Süß HM, Schulze R (2000) Working memory capacity—facets of a cognitive ability construct. Pers Individ Differ 29:1017–1045

Oberauer K, Schulze R, Wilhelm O et al (2005) Working memory and intelligence—their correlation and their relation: comment on Ackerman, Beier, and Boyle. Psychol Bull 131:61–65

Oberauer K, Süß HM, Wilhelm O et al (2007) Individual differences in working memory capacity and reasoning ability. In: Conway A, Jarrold C, Kane M et al (eds) Variation in working memory. Oxford University Press, Oxford, pp 49–75

Oriá RB, Patrick PD, Zhang H et al (2005) APOE4 protects the cognitive development in children with heavy diarrhea burdens in Northeast Brazil. Pediatr Res 57:310–316

Puttonen S, Elovainio M, Kivimäki M et al (2003) The combined effects of Apolipoprotein E polymorphism and low-density lipoprotein cholesterol on cognitive performance in young adults. Neuropsychobiology 48:35–40

Raven JC, Court JH (1979) Manual for Raven's progressive matrices and vocabulary scales. Harcourt Assessment, San Antonio, TX

Reinvang I, Winjevoll IL, Rootwelt H et al (2010) Working memory deficits in healthy APOE epsilon 4 carriers. Neuropsychologia 48:566–573

Rusted J, Carare RO (2015) Are the effects of APOE ϵ4 on cognitive function in nonclinical populations age- and gender-dependent? Neurodegener Dis Manag 5:37–48

Rusted JM, Evans SL, King SL et al (2013) APOE e4 polymorphism in young adults is associated with improved attention and indexed by distinct neural signatures. NeuroImage 65:364–373

Schafer JL (1997) Analysis of incomplete multivariate data. Chapman and Hall, London

Schmiedek F, Hildebrandt A, Lövdén M et al (2009) Complex span versus updating tasks of working memory: the gap is not that deep. J Exp Psychol Learn Mem Cogn 35:1089–1096

Schmiedek F, Lövdén M, Lindenberger U (2014) A task is a task: putting complex span, n-back, and other working memory indicators in psychometric context. Front Psychol 5:1475

Shipstead Z, Lindsey DRB, Marshall RL et al (2014) The mechanisms of working memory capacity: primary memory, secondary memory, and attention control. J Mem Lang 72:116–141

Sinclair LI, Button KS, Munafò MR et al (2015) Possible association of APOE genotype with working memory in young adults. PLoS ONE 10:1–13

Small BJ, Rosnick CB, Fratiglioni L et al (2004) Apolipoprotein E and cognitive performance: a meta-analysis. Psychol Aging 19:592–600

Süß HM, Oberauer K, Wittmann WW et al (2002) Working-memory capacity explains reasoning ability—and a little bit more. Intelligence 30:261–288

Tukey JW (1977) Exploratory data analysis, 1st edn. Addison-Wesley, Reading

Unsworth N, Spillers GJ (2010) Working memory capacity: attention control, secondary memory, or both? A direct test of the dual-component model. J Mem Lang 62:392–406

Unsworth N, Fukuda K, Awh E et al (2014) Working memory and fluid intelligence: capacity, attention control, and secondary memory retrieval. Cogn Psychol 71:1–26

Valenzuela MJ, Sachdev P (2006) Brain reserve and dementia: a systematic review. Psychol Med 36:441–454

Velichkovsky BB, Roschina IF, Selezneva ND (2015) Cognitive control and memory in healthy ApoE-E4 carriers with a family history of Alzheimer's disease. Psychol Russia 8:4–13

Wacker J, Mueller EM, Stemmler G (2012) How to consistently link extraversion and intelligence to the catechol-O-methyltransferase (COMT) gene: on defining and measuring psychological phenotypes in neurogenetic research. J Pers Soc Psychol 102:427–444

Weissberger GH, Nation DA, Nguyen CP et al (2018) Meta-Analysis of Cognitive Ability Differences by Apolipoprotein E Genotype in Young Humans. Neurosci Biobehav Rev 94:49–58

Wilhelm O, Hildebrandt A, Oberauer K (2013) What is working memory capacity, and how can we measure it? Front Psychol 4:433

Wisdom NM, Callahan JL, Hawkins KA (2011) The effects of apolipoprotein E on non-impaired cognitive functioning: a meta-analysis. Neurobiol Aging 32:63–74

Wolk DA, Dickerson BC, ADNI (2010) Apolipoprotein E (APOE) genotype has dissociable effects on memory and attentional–executive network function in Alzheimer's disease. Proc Natl Acad Sci USA 107:10256–10261

Woo M, Kim Y (2017) Cortical functional connections and fluid intelligence in adolescent APOE ε4 carriers. Dement Geriatr Cogn Disord 44:153–159

Yu YW, Lin CH, Chen SP et al (2000) Intelligence and event-related potentials for young female human volunteer apolipoprotein E epsilon4 and non-epsilon4 carriers. Neurosci Lett 294:179–181

Zokaei N, Čepukaitytė G, Board AG et al (2019) Dissociable effects of the apolipoprotein-E (APOE) gene on short- and long-term memories. Neurobiol Aging 73:115–122
Acknowledgement
This research was supported by a scholarship awarded from Hong Kong Baptist University and an Elsa-Neumann-Scholarship from Humboldt Universität zu Berlin to Xiaojing Li. The study was also supported by a Research Group Linkage Project funded by the Alexander von Humboldt Foundation to Andrea Hildebrandt, Werner Sommer and Changsong Zhou. Behavioral data collection was funded by a grant of the Deutsche Forschungsgemeinschaft (HI 1780/2-1 & SO 177/26-1) awarded to Andrea Hildebrandt and Werner Sommer. Genetic analysis was supported by the Hong Kong Baptist University (HKBU) Strategic Development Fund and the Hong Kong Baptist University Research Committee Interdisciplinary Research Matching Scheme (IRMS/16-17/04) awarded to Changsong Zhou. The position of Christian Montag is funded by a Heisenberg grant awarded to him by the German Research Foundation (DFG, MO2363/3-2).
Ethics declarations
Conflict of interest
Xiaojing Li, Andrea Hildebrandt, Werner Sommer, Oliver Wilhelm, Martin Reuter, Christian Montag, and Changsong Zhou declare that they have no conflict of interest.
Ethical approval
All data collections had been approved by the ethics committee of Humboldt-Universität zu Berlin (Ref.-nr. 2013-01) and with the 1964 Helsinki declaration and its later amendments or comparable ethical standards.
Informed consent
Informed consent was collected for all participants involved in the studies.
Additional information
Publisher's Note
Springer Nature remains neutral with regard to jurisdictional claims in published maps and institutional affiliations.
Handling Editor: Chandra A. Reynolds, PhD.
Electronic supplementary material
Below is the link to the electronic supplementary material.
About this article
Cite this article
Li, X., Hildebrandt, A., Sommer, W. et al. Cognitive Performance in Young APOE ε4 Carriers: A Latent Variable Approach for Assessing the Genotype–Phenotype Relationship. Behav Genet 49, 455–468 (2019). https://doi.org/10.1007/s10519-019-09961-y
Received:

Accepted:

Published:

Issue Date:
Keywords
Working memory

Secondary memory

Reasoning

APOE

Structural equation modeling