Abstract
A statistical mediation model was developed within a twin design to investigate the etiology of alcohol use disorder (AUD). Unlike conventional statistical mediation models, this biometric mediation model can detect unobserved confounding. Using a sample of 1410 pairs of Norwegian twins, we investigated specific hypotheses that DSM-IV personality-disorder (PD) traits mediate effects of childhood stressful life events (SLEs) on AUD, and that adulthood SLEs mediate effects of PDs on AUD. Models including borderline PD traits indicated unobserved confounding in phenotypic path coefficients, whereas models including antisocial and impulsive traits did not. More than half of the observed effects of childhood SLEs on adulthood AUD were mediated by adulthood antisocial and impulsive traits. Effects of PD traits on AUD 5‒10 years later were direct rather than mediated by adulthood SLEs. The results and the general approach contribute to triangulation of developmental origins for complex behavioral disorders.
Access options
Buy single article
Instant access to the full article PDF.
USD 39.95
Price excludes VAT (USA)
Tax calculation will be finalised during checkout.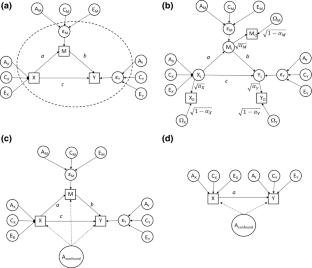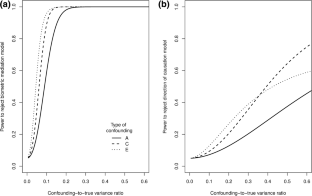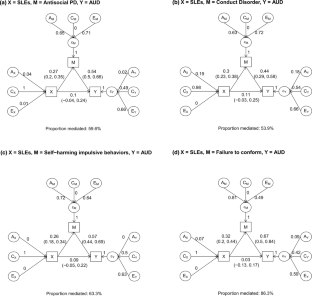 References
Afifi TO, Mather A, Boman J et al (2011) Childhood adversity and personality disorders: results from a nationally representative population-based study. J Psychiatr Res 45:814–822. https://doi.org/10.1016/j.jpsychires.2010.11.008

American Psychiatric Association (2013) Diagnostic and statistical manual of mental disorders, 5th edn. American Psychiatric Association, Arlington

Barker V, Romaniuk L, Cardinal RN et al (2015) Impulsivity in borderline personality disorder. Psychol Med 45:1955–1964. https://doi.org/10.1017/S0033291714003079

Baron RM, Kenny DA (1986) The moderator-mediator variable distinction in social psychological research: conceptual, strategic, and statistical considerations. J Pers Soc Psychol 51:1173–1182

Baryshnikov I, Joffe G, Koivisto M et al (2017) Relationships between self-reported childhood traumatic experiences, attachment style, neuroticism and features of borderline personality disorders in patients with mood disorders. J Affect Disord 210:82–89. https://doi.org/10.1016/j.jad.2016.12.004

Boden JM, Fergusson DM, Horwood LJ (2014) Associations between exposure to stressful life events and alcohol use disorder in a longitudinal birth cohort studied to age 30. Drug Alcohol Depend 142:154–160. https://doi.org/10.1016/j.drugalcdep.2014.06.010

Bornovalova MA, Huibregtse BM, Hicks BM et al (2013) Tests of a direct effect of childhood abuse on adult borderline personality disorder traits: a longitudinal discordant twin design. J Abnorm Psychol 122:180–194. https://doi.org/10.1037/a0028328

Burnham KP, Anderson DR (2004) Multimodel inference: understanding AIC and BIC in model selection. Sociol Methods Res 33:261–304. https://doi.org/10.1177/0049124104268644

Carlin JB, Gurrin LC, Sterne JA et al (2005) Regression models for twin studies: a critical review. Int J Epidemiol 34:1089–1099. https://doi.org/10.1093/ije/dyi153

Carroll RJ, Ruppert D, Stefanski LA, Crainiceanu CM (2006) Measurement error in nonlinear models: a modern perspective. Chapman & Hall/CRC, Boca Raton

Castellanos-Ryan N, Rubia K, Conrod PJ (2011) Response inhibition and reward response bias mediate the predictive relationships between impulsivity and sensation seeking and common and unique variance in conduct disorder and substance misuse. Alcohol Clin Exp Res 35:140–155. https://doi.org/10.1111/j.1530-0277.2010.01331.x

Coffman DL, Zhong W (2012) Assessing mediation using marginal structural models in the presence of confounding and moderation. Psychol Methods 17:642–664. https://doi.org/10.1037/a0029311

Dickens WT, Flynn JR (2001) Heritability estimates versus large environmental effects: the IQ paradox resolved. Psychol Rev 108:346–369. https://doi.org/10.1037/0033-295X.108.2.346

Didelez V, Sheehan N (2007) Mendelian randomization as an instrumental variable approach to causal inference. Stat Methods Med Res 16:309–330. https://doi.org/10.1177/0962280206077743

Duffy DL, Martin NG (1994) Inferring the direction of causation in cross-sectional twin data: theoretical and empirical considerations. Genet Epidemiol 11:483–502. https://doi.org/10.1002/gepi.1370110606

Enders CK, Bandalos DL (2001) The relative performance of full information maximum likelihood estimation for missing data in structural equation models. Struct Equ Model 8:430–457. https://doi.org/10.1207/S15328007SEM0803_5

Flensborg-Madsen T, Mortensen EL, Knop J et al (2009) Comorbidity and temporal ordering of alcohol use disorders and other psychiatric disorders: results from a Danish register-based study. Compr Psychiatry 50:307–314. https://doi.org/10.1016/j.comppsych.2008.09.003

Fritz MS, Kenny DA, MacKinnon DP (2016) The combined effects of measurement error and omitting confounders in the single-mediator model. Multivariate Behav Res 51:681–697. https://doi.org/10.1080/00273171.2016.1224154

Gondré-Lewis MC, Warnock KT, Wang H et al (2016) Early life stress is a risk factor for excessive alcohol drinking and impulsivity in adults and is mediated via a CRF/GABA(A) mechanism. Stress 19:235–247. https://doi.org/10.3109/10253890.2016.1160280

Harkness KL, Monroe SM (2016) The assessment and measurement of adult life stress: basic premises, operational principles, and design requirements. J Abnorm Psychol 125:727–745. https://doi.org/10.1037/abn0000178

Heath AC, Berg K, Eaves LJ et al (1985) Education policy and the heritability of educational attainment. Nature 314:734–736

Heath AC, Kessler RC, Neale MC et al (1993) Testing hypotheses about direction of causation using cross-sectional family data. Behav Genet 23:29–50

Hill AB (1965) The environment and disease: association or causation? Proc R Soc Med 58:295–300

Hyde LW, Waller R, Trentacosta CJ et al (2016) Heritable and nonheritable pathways to early callous-unemotional behaviors. Am J Psychiatry 173:903–910. https://doi.org/10.1176/appi.ajp.2016.15111381

Imai K, Keele L, Tingley D (2010) A general approach to causal mediation analysis. Psychol Methods 15:309–334. https://doi.org/10.1037/a0020761

Jaffee SR, Caspi A, Moffitt TE, Taylor A (2004) Physical maltreatment victim to antisocial child: evidence of an environmentally mediated process. J Abnorm Psychol 113:44–55. https://doi.org/10.1037/0021-843X.113.1.44

Just-Østergaard E, Mortensen EL, Flensborg-Madsen T (2018) Major life events and risk of alcohol use disorders: a prospective cohort study. Addiction 113:25–33. https://doi.org/10.1111/add.13947

Kang S-M, Waller NG (2005) Moderated multiple regression, spurious interaction effects, and IRT. Appl Psychol Meas 29:87–105. https://doi.org/10.1177/0146621604272737

Kendler KS, Baker JH (2007) Genetic influences on measures of the environment: a systematic review. Psychol Med 37:615–626. https://doi.org/10.1017/S0033291706009524

Kendler KS, Aggen SH, Czajkowski N et al (2008) The structure of genetic and environmental risk factors for DSM-IV personality disorders: a multivariate twin study. Arch Gen Psychiatry 65:1438–1446. https://doi.org/10.1001/archpsyc.65.12.1438

Kendler KS, Aggen SH, Patrick CJ (2012) A multivariate twin study of the DSM-IV criteria for antisocial personality disorder. Biol Psychiatry 71:247–253. https://doi.org/10.1016/j.biopsych.2011.05.019

Keyes KM, Hatzenbuehler ML, Hasin DS (2011) Stressful life experiences, alcohol consumption, and alcohol use disorders: the epidemiologic evidence for four main types of stressors. Psychopharmacology 218:1–17. https://doi.org/10.1007/s00213-011-2236-1

Kim JH, Martins SS, Shmulewitz D et al (2014) Childhood maltreatment, stressful life events, and alcohol craving in adult drinkers. Alcohol Clin Exp Res 38:2048–2055. https://doi.org/10.1111/acer.12473

Krueger RF, South S, Johnson W, Iacono W (2008) The heritability of personality is not always 50%: gene–environment interactions and correlations between personality and parenting. J Pers 76:1485

Lawlor DA, Harbord RM, Sterne JAC et al (2008) Mendelian randomization: using genes as instruments for making causal inferences in epidemiology. Stat Med 27:1133–1163. https://doi.org/10.1002/sim.3034

Lawlor DA, Tilling K, Davey Smith G (2017) Triangulation in aetiological epidemiology. Int J Epidemiol 45:1866–1886. https://doi.org/10.1093/ije/dyw314

Little TD, Card NA, Bovaird JA et al (2007) Structural equation modeling of mediation and moderation with contextual factors. In: Little TD, Bovaird JA, Card NA (eds) Modeling contextual effects in longitudinal studies. Lawrence Erlbaum Associates, Mahwah, pp 207–231

Loehlin JC (1996) The Cholesky approach: a cautionary note. Behav Genet 26:65–69. https://doi.org/10.1007/BF02361160

Long EC, Aggen SH, Neale MC et al (2017) The association between personality disorders with alcohol use and misuse: a population-based twin study. Drug Alcohol Depend 174:171–180. https://doi.org/10.1016/j.drugalcdep.2017.01.022

Mackey S, Chaarani B, Kan K-J et al (2017) Brain regions related to impulsivity mediate the effects of early adversity on antisocial behavior. Biol Psychiatry 82:275–282. https://doi.org/10.1016/j.biopsych.2015.12.027

MacKinnon DP, Krull JL, Lockwood CM (2000) Equivalence of the mediation, confounding and suppression effect. Prev Sci 1:173–181. https://doi.org/10.1023/A:1026595011371

Markon KE, Krueger RF (2004) An empirical comparison of information-theoretic selection criteria for multivariate behavior genetic models. Behav Genet 34:593–610. https://doi.org/10.1007/s10519-004-5587-0

Mauro R (1990) Understanding L.O.V.E. (left out variables error): a method for estimating the effects of omitted variables. Psychol Bull 108:314–329

McAdams TA, Gregory AM, Eley TC (2013) Genes of experience: explaining the heritability of putative environmental variables through their association with behavioural and emotional traits. Behav Genet 43:314–328. https://doi.org/10.1007/s10519-013-9591-0

McGue M, Osler M, Christensen K (2010) Causal inference and observational research: the utility of twins. Perspect Psychol Sci 5:546–556. https://doi.org/10.1177/1745691610383511

Murray AL, Molenaar D, Johnson W, Krueger RF (2016) Dependence of gene-by-environment interactions (GxE) on scaling: comparing the use of sum scores, transformed sum scores and IRT scores for the phenotype in tests of GxE. Behav Genet 46:552–572. https://doi.org/10.1007/s10519-016-9783-5

Neale MC (2003) A finite mixture distribution model for data collected from twins. Twin Res Hum Genet 6:235–239. https://doi.org/10.1375/136905203765693898

Neale MC, Cardon LR (1992) Methodology for genetic studies of twins and families. Kluwer Academic Publishers, Dordrecht

Neale MC, Miller MB (1997) The use of likelihood-based confidence intervals in genetic models. Behav Genet 27:113–120

Neale MC, Hunter MD, Pritikin JN et al (2016) OpenMx 2.0: extended structural equation and statistical modeling. Psychometrika 81:535–549. https://doi.org/10.1007/s11336-014-9435-8

Nesvåg R, Reichborn-Kjennerud T, Gillespie NA et al (2017) Genetic and environmental contributions to the association between cannabis use and psychotic-like experiences in young adult twins. Schizophr Bull 43:644–653. https://doi.org/10.1093/schbul/sbw101

Nilsen TS, Knudsen GP, Gervin K et al (2013) The Norwegian Twin Registry from a public health perspective: a research update. Twin Res Hum Genet 16:285–295. https://doi.org/10.1017/thg.2012.117

Pfohl B, Blum N, Zimmerman M (1995) Structured interview for DSM-IV personality (SIDP-IV). University of Iowa, Iowa City

Preacher KJ (2015) Advances in mediation analysis: a survey and synthesis of new developments. Annu Rev Psychol 66:825–852. https://doi.org/10.1146/annurev-psych-010814-015258

Reichborn-Kjennerud T, Ystrom E, Neale MC et al (2013) Structure of genetic and environmental risk factors for symptoms of DSM-IV Borderline Personality Disorder. JAMA Psychiatry 70:1206–1214. https://doi.org/10.1001/jamapsychiatry.2013.1944

Reichborn-Kjennerud T, Czajkowski N, Ystrøm E et al (2015) A longitudinal twin study of borderline and antisocial personality disorder traits in early to middle adulthood. Psychol Med 45:3121–3131. https://doi.org/10.1017/S0033291715001117

Rosenström T, Ystrom E, Torvik FA et al (2017) Genetic and environmental structure of DSM-IV criteria for antisocial personality disorder: a twin study. Behav Genet 47:265–277. https://doi.org/10.1007/s10519-016-9833-z

Rosenström T, Torvik FA, Ystrom E et al (2018) Prediction of alcohol use disorder using personality disorder traits: a twin study. Addiction 113:15–24. https://doi.org/10.1111/add.13951

Schmitz S, Cherny SS, Fulker DW (1998) Increase in power through multivariate analyses. Behav Genet 28:357–363

Tambs K, Rønning T, Prescott CA et al (2009) The Norwegian Institute of Public Health twin study of mental health: examining recruitment and attrition bias. Twin Res Hum Genet 12:158–168. https://doi.org/10.1375/twin.12.2.158

Torvik FA, Rosenström TH, Ystrom E et al (2017) Stability and change in etiological factors for alcohol use disorder and major depression. J Abnorm Psychol 126:812–822. https://doi.org/10.1037/abn0000280

Trull TJ, Jahng S, Tomko RL et al (2010) Revised NESARC personality disorder diagnoses: gender, prevalence, and comorbidity with substance dependence disorders. J Pers Disord 24:412–426. https://doi.org/10.1521/pedi.2010.24.4.412

Turkheimer E, Petterson E, Horn EE (2014) A phenotypic null hypothesis for the genetics of personality. Annu Rev Psychol 65:515–540. https://doi.org/10.1146/annurev-psych-113011-143752

Visscher PM (2004) Power of the classical twin design revisited. Twin Res 7:505–512. https://doi.org/10.1375/1369052042335250

Vrieze SI (2012) Model selection and psychological theory: a discussion of the differences between the Akaike information criterion (AIC) and the Bayesian information criterion (BIC). Psychol Methods 17:228–243. https://doi.org/10.1037/a0027127

Wagenmakers E-J, Farrel S (2004) AIC model selection using Akaike weights. Psychon Bull Rev 11:192–196. https://doi.org/10.3758/BF03206482

White SF, Clanton R, Brislin SJ et al (2014) Reward: empirical contribution. Temporal discounting and conduct disorder in adolescents. J Personal Disord 28:5–18. https://doi.org/10.1521/pedi.2014.28.1.5

Wiedermann W, von Eye A (2016) Statistics and causality: methods for applied and empirical research. Wiley, Hoboken

Williams CJ (1993) On the covariance between parameter estimates in models of twin data. Biometrics 49:557–568

Wittchen HU, Pfister H (1997) DIA-X interview (M-CIDI). Swets & Zeitlinger, Frankfurt

Wittchen H-U, Lachner G, Wunderlich U, Pfister H (1998) Test–retest reliability of the computerized DSM-IV version of the Munich-Composite International Diagnostic Interview (M-CIDI). Soc Psychiatry Psychiatr Epidemiol 33:568–578. https://doi.org/10.1007/s001270050095

Ystrom E, Kendler KS, Reichborn-Kjennerud T (2014) Early age of alcohol initiation is not the cause of alcohol use disorders in adulthood, but is a major indicator of genetic risk. A population-based twin study. Addiction 109:1824–1832. https://doi.org/10.1111/add.12620
Acknowledgements
We acknowledge funding from the US National Institutes of Health and National Institute on Drug Abuse (1R01DA037558-01A1), the Research Council of Norway (226985 and 240061), the Norwegian Foundation for Health and Rehabilitation, the Norwegian Council for Mental Health, and the European Commission under the program "Quality of Life and Management of the Living Resources" of the Fifth Framework Program (QLG2-CT-2002-01254). TR had full access to all the data in this study and takes responsibility for the integrity of the data and the accuracy of the data analysis. The funding sources had no role in the design and conduct of the study; collection, management, analysis, and interpretation of the data; preparation, review, or approval of the manuscript; and decision to submit the manuscript for publication.
Ethics declarations
Conflict of interest
Tom Rosenström, Nikolai Czajkowski, Eivind Ystrom, Robert Krueger, Steven Aggen, Nathan Gillespie, Espen Eilertsen, Ted Reichborn-Kjennerud, and Fartein Torvik declare that they have no conflict of interest.
Ethical approval
Approval was received from The Norwegian Data Inspectorate and the Regional Committee for Medical and Health Research Ethics.
Human and animal rights
All procedures performed in studies involving human participants were in accordance with the ethical standards of the institutional and/or national research committee and with the 1964 Helsinki declaration and its later amendments or comparable ethical standards.
Informed consent
A written informed consent was obtained from all participants after a complete description of the study.
Additional information
Publisher's Note
Springer Nature remains neutral with regard to jurisdictional claims in published maps and institutional affiliations.
Edited by Stacey Cherny.
Electronic supplementary material
Below is the link to the electronic supplementary material.
About this article
Cite this article
Rosenström, T., Czajkowski, N.O., Ystrom, E. et al. Genetically Informative Mediation Modeling Applied to Stressors and Personality-Disorder Traits in Etiology of Alcohol Use Disorder. Behav Genet 49, 11–23 (2019). https://doi.org/10.1007/s10519-018-9941-z
Received:

Accepted:

Published:

Issue Date:

DOI: https://doi.org/10.1007/s10519-018-9941-z
Keywords