Abstract
While a standard part of twin modeling, the magnitude of shared environment (c2) is rarely examined by comparing estimates obtained using other methods. To clarify these effects on familial resemblance, we estimated c2 for 20 diverse phenotypes in: (i) monozygotic and dizygotic twins, (ii) all step-siblings, and (iii) reared together and apart half-siblings, ascertained from the Swedish general population. The mean c2 estimates (± 95% CIs) differed across methods and were higher from twins (0.18; 0.13–0.23) than from the step (0.12; 0.09–0.14) and half-sibs (0.09; 0.06–0.13). c2 estimates correlated moderately across these three methods (ICC = + 0.28). When step-siblings from blended (each sib biologically related to one parent) and adoption-like families (one sib offspring of both parents and one of neither), were examined separately, resemblance was much lower in the latter. We need to clarify the range of environmental processes now considered together under the term "shared environment."
This is a preview of subscription content,
to check access.
Access this article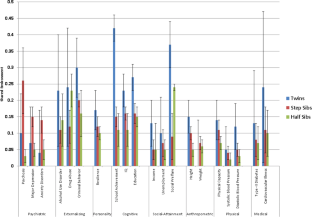 References
Allen M, Donohue WA, Griffin A, Ryan D, Turner MM (2003) Comparing the influence of parents and peers on the choice to use drugs. Crim Justice Behav 30(2):163–186

Andrews JA, Tildesley E, Hops H, Li F (2002) The influence of peers on young adult substance use. Health Psychol 21(4):349–357

Burt SA (2009) Rethinking environmental contributions to child and adolescent psychopathology: a meta-analysis of shared environmental influences. Psychol Bull 135(4):608–637

Falconer DS (1989) Introduction to quantitative genetics. Wiley, New York

Harris KM (2013) The add health study: design and accomplishments. Carolina Population Center, University of North Carolina, Chapel Hill

Hawkins JD, Herrenkohl T, Farrington DP, Brewer D, Catalano RF, Harachi TW (1998) A Review of predictors of youth violence. In: Loeber R, Farrington DP (eds) Serious and violent juvenile offenders: risk factors and successful interventions. Sage Publications, Inc., London, pp 106–146

Hopper JL, Culross PR (1983) Covariation between family members as a function of cohabitation history. Behav Genet 13(5):459–471

Jinks JL, Fulker DW (1970) Comparison of the biometrical genetical, MAVA, and classical approaches to the analysis of human behavior. Psychol Bull 73(5):311–349

Kendler KS, Maes HH, Sundquist K, Ohlsson H, Sundquist J (2013a) Genetic and family and community environmental effects on drug abuse in adolescence: a swedish national twin and sibling study. Am J Psychiatry 171(2):209–217

Kendler KS, Ohlsson H, Sundquist K, Sundquist J (2013b) Within-family environmental transmission of drug abuse: a Swedish national study. JAMA Psychiatry 70(2):235–242

Kendler KS, Larsson Lönn S, Morris NA, Sundquist J, Långström N, Sundquist K (2014) A Swedish National Adoption Study of criminality. Psychol Med 44(9):1913–1925

Kendler KS, Maes HH, Lönn SL, Morris NA, Lichtenstein P, Sundquist J, Sundquist K (2015a) A Swedish National Twin Study of criminal behavior and its violent, white-collar and property subtypes. Psychol Med 45(11):2253–2262

Kendler KS, Ohlsson H, Sundquist J, Sundquist K (2015b) Triparental families: a new genetic-epidemiological design applied to drug abuse, alcohol use disorders, and criminal behavior in a Swedish National Sample. Am J Psychiatry 172(6):553–560

Kendler KS, Ohlsson H, Sundquist K, Sundquist J (2016a) The rearing environment and risk for drug abuse: a Swedish national high-risk adopted and not adopted co-sibling control study. Psychol Med 46(7):1359–1366

Kendler KS, PirouziFard M, Lonn S, Edwards AC, Maes HH, Lichtenstein P, Sundquist J, Sundquist K (2016b) A National Swedish Twin-Sibling Study of alcohol use disorders. Twin Res Hum Genet 19(5):430–437

Kendler KS, Ohlsson H, Sundquist J, Sundquist K (2018a) A Contagion Model for Within-Family Transmission of Drug-Abuse. Am J Psychiatry In Press

Kendler KS, Ohlsson H, Sundquist K, Sundquist J (2018b) Sources of parent-offspring resemblance for major depression in a national swedish extended adoption study. JAMA Psychiatry 75(2):194–200

Lichtenstein P, de Faire U, Floderus B, Svartengren M, Svedberg P, Pedersen NL (2002) The Swedish Twin Registry: a unique resource for clinical, epidemiological and genetic studies. J Intern Med 252(3):184–205

Mather K, Jinks JL (1982) Biometrical genetics: the study of continuous variation. Chapman & Hall, London

Muthén LK, Muthén BO (2015) Mplus user's guide: 1998–2015. Muthén & Muthén, Los Angeles

Neale MC, Cardon LR (1992) Methodology for genetic studies of twins and families. Kluwer Academic Publishers B.V., Dordrecht

Petraitis J, Flay BR, Miller TQ, Torpy EJ, Greiner B (1998) Illicit substance use among adolescents: a matrix of prospective predictors. Subst Use Misuse 33(13):2561–2604

Polderman TJ, Benyamin B, de Leeuw CA, Sullivan PF, van Bochoven A, Visscher PM, Posthuma D (2015) Meta-analysis of the heritability of human traits based on fifty years of twin studies. Nat Genet 47(7):702–709

Reiss D, Neiderhiser JM, Hetherington EM, Plomin R (2000) The relationship code: deciphering genetic and social influences on adolescent development. Harvard University Press, Cambridge

Rhee SH, Waldman ID (2002) Genetic and environmental influences on antisocial behavior: a meta- analysis of twin and adoption studies. Psychol Bull 128(3):490–529

SAS Institute I (2012) SAS/STAT® Online Documentation, Version 9.4. Cary. SAS Institute, Inc, Charlotte

Sullivan PF, Kendler KS, Neale MC (2003) Schizophrenia as a complex trait: evidence from a meta-analysis of twin studies. Arch Gen Psychiatry 60(12):1187–1192
Funding
This project was supported by Grant Nos. R01DA030005 and AA023534 from the National Institutes of Health, the Swedish Research Council (K2012-70X-15428-08-3), the Swedish Research Council for Health, Working Life and Welfare (In Swedish: Forte; Reg.nr: 2013-1836), the Swedish Research Council (2012-2378; 2014-10134) and FORTE (2014-0804) as well as ALF funding from Region Skåne awarded. The authors also wish to thank The Swedish Twin Registry at the Karolinska Institute, which provided the twin data for this study.
Ethics declarations
Conflict of interest
Kenneth S. Kendler, Henrik Ohlsson, Paul Lichtenstein, Jan Sundquist and Kristina Sundquist declares that they have no conflict of interest.
Human and Animal Rights
All procedures performed in studies involving human participants were in accordance with the ethical standards of the institutional and/or national research committee and with the 1964 Helsinki declaration and its later amendments or comparable ethical standards. We secured ethical approval for this study from the Regional Ethical Review Board of Lund University. There were no animals used in this study.
Informed consent
Informed consent was not obtained from individual participants included in the study as we were working with anonymized data.
Additional information
Edited by Valerie Knopik.
Electronic supplementary material
Below is the link to the electronic supplementary material.
About this article
Cite this article
Kendler, K.S., Ohlsson, H., Lichtenstein, P. et al. The Nature of the Shared Environment. Behav Genet 49, 1–10 (2019). https://doi.org/10.1007/s10519-018-9940-0
Received:

Accepted:

Published:

Issue Date:

DOI: https://doi.org/10.1007/s10519-018-9940-0
Keywords