Abstract
The fact that genes and environment contribute differentially to variation in human behaviors, traits and attitudes is central to the field of behavior genetics. Perceptions about these differential contributions may affect ideas about human agency. We surveyed two independent samples (N = 301 and N = 740) to assess beliefs about free will, determinism, political orientation, and the relative contribution of genes and environment to 21 human traits. We find that lay estimates of genetic influence on these traits cluster into four distinct groups, which differentially predict beliefs about human agency, political orientation, and religiosity. Despite apparent ideological associations with these beliefs, the correspondence between mean lay estimates and published heritability estimates for the surveyed traits is large (r = .77). Belief in genetic determinism emerges as a modest predictor of accuracy in these lay estimates. Additionally, educated mothers with multiple children emerge as particularly accurate in their estimates of the genetic contribution to these traits.
This is a preview of subscription content, log in to check access.
Access options
Buy single article
Instant access to the full article PDF.
US$ 39.95
Price includes VAT for USA
Subscribe to journal
Immediate online access to all issues from 2019. Subscription will auto renew annually.
US$ 199
This is the net price. Taxes to be calculated in checkout.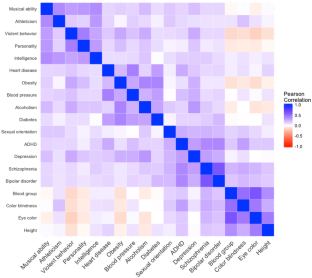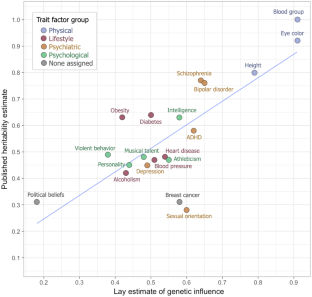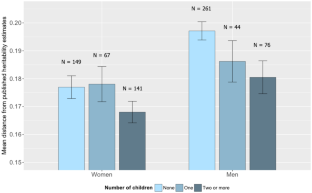 Notes
1.

Since the samples for generating published estimates and lay estimates are not comparable, this is considered an ecological correlation. A p-value for this correlation would not necessarily be meaningful or interpretable and therefore has not been included.

2.

T-statistic and p-value presented have been corrected for inequality of variance.
References
Adleberg T, Thompson M, Nahmias E (2014) Do men and women have different philosophical intuitions? Further data. Philos Psychol 28(5):615–641

Baumeister RF, Bauer IM, Lloyd SA (2010) Choice, free will, and religion. Psychol Relig Spiritual 2(2):67–82

Buhrmester M, Kwang T, Gosling SD (2011) Amazon's mechanical turk: a new source of inexpensive, yet high-quality data? Perspect Psychol Sci 6(1):3–5

Carver RB et al (2017) Young adults' belief in genetic determinism, and knowledge and attitudes towards modern genetics and genomics: The PUGGS questionnaire. PLoS ONE 12(1):e0169808

Chan H-Y, Deutsch M, Nichols S (2016) Free will and experimental philosophy. In: Sytsma J, Buckwalter W (eds) A companion to experimental philosophy. Wiley-Blackwell, Oxford

Condit CM (2011) When do people deploy genetic determinism? A review pointing to the need for multi-factorial theories of public utilization of scientific discourses. Sociol Compass 5(7):618–635

Condit C, Parrott R, Harris T (2006) Laypeople and behavior genetics. In: Parens E, Chapman AR (eds) Wrestling with behavior genetics. The John Hopkins University Press, Baltimore

Crosswaite M, Asbury K (2018) Teacher beliefs about the aetiology of individual differences in cognitive ability, and the relevance of behavioural genetics to education. Br J Educ Psychol. https://doi.org/10.1111/bjep.12224

Duckitt J, Bizumic B, Krauss SW, Heled E (2010) A tripartite approach to right-wing authoritarianism: the authoritarianism-conservatism-traditionalism model. Polit Psychol 31(5):685–715

Earman J (1986) A primer on determinism. Springer, New York

Feldman S (1988) Structure and consistency in public opinion: the role of core beliefs and values. Am J Polit Sci 32(2):416–440

Feldman S, Steenbergen MR (2001) The humanitarian foundation of public support for social welfare. Am J Polit Sci 45(3):658–677

Feltz A, Cokely ET (2012) The philosophical personality argument. Philos Stud 161:227–246

Gericke N et al (2017) Exploring relationships among belief in genetic determinism, genetics knowledge, and social factors. Sci Educ 26(10):1223–1259

Graham J, Haidt J, Nosek BA (2009) Liberals and conservatives rely on different sets of moral foundations. J Pers Soc Psychol 96(5):1029–1046

Haga SB et al (2013) Public knowledge of and attitudes towards genetics and genetic testing. Genetic Test Mol Biomark 17(4):327–335

Hamilton LC (2015) Conservative and liberal views of science, does trust depend on topic? The Carsey School of Public Policy at the Scholars' Repository, 252

Hirsh JB, DeYoung CG, Xu X, Peterson JB (2010) Compassionate liberals and polite conservatives: associations of agreeableness with political ideology and moral values. Pers Soc Psychol Bull 36(5):655–663

Hume D (1975/1738) A treatise of human nature. In Selby-Bigge LA, ed. 2nd ed. revised by P.H. Nidditch. Clarendon Press

Ismael JT (2016) How physics makes us free. Oxford University Press, Oxford

James W (1956/1884) The dilemma of determinism. In The will to believe: and other essays in popular philosophy and human immortality. Dover, Mineola

Kan C et al (2016) Genetic overlap between type 2 diabetes and depression in Swedish and Danish twin registries. Mol Psychiatry 21:903–909

Kane R (ed) (2002) Oxford handbook on free will. Oxford University Press, Oxford

Keller J (2005) In genes we trust: the biological component of psychological essentialism and its relationship to mechanisms of motivated social cognition. J Pers Soc Psychol 88(4):686–702

Långström N et al (2010) Genetic and environmental effects on same-sex sexual behavior: a population study of twins in Sweden. Arch Sex Behav 39(1):75–80

Libet B (1985) Unconscious cerebral initiative and the role of conscious will in voluntary action. Behav Brain Sci 8:529–566

McCright AM, Dunlap RE (2011) The politicization of climate change and polarization in the American public's views of global warming, 2001–2010. Sociol Q 52(2):155–194

Mele A (2009) Effective intentions: the power of conscious will. Oxford University Press, Oxford

Mucci LA et al (2016) Familial risk and heritability of cancer among twins in Nordic countries. JAMA 315(1):68–76

Nadelhoffer T et al (2014) The free will inventory: measuring beliefs about agency and responsibility. Conscious Cogn 25:27–41

Nadelson LS, Hardy KK (2015) Trust in science and scientists and the acceptance of evolution. Evol: Educ Outreach 8(9):1–9

Nahmias E, Morris S, Nadelhoffer T, Turner J (2005) Surveying freedom: folk intuitions about free will and moral responsibility. Philos Psychol 18(5):561–584

O'Connor T (2016) Free will. In: Zalta EN (ed) The stanford encyclopedia of philosophy. Metaphysics Research Lab, Standford

Patterson N, Price AL, Reich D (2006) Population structure and eigenanalysis. PLoS Genet 2(12):e190

Paulhus DL, Carey JM (2011) The FAD-plus: measuring lay beliefs regarding free will and related constructs. J Pers Assess 93(1):96–104

Polderman TJ et al (2015) Meta-analysis of the heritability of human traits based on fifty years of twin studies. Nat Genet 47(7):702–709

Rangel U, Keller J (2011) Essentialism goes social: belief in social determinism as a component of psychological essentialism. J Pers Soc Psychol 100(6):1056–1078

Russell P (2016) Hume on free will. In: Zalta EN (ed) The stanford encyclopedia of philosophy. Metaphysics Research Lab, Standford

Suhay E, Jayaratne TE (2013) Does biology justify ideology? The politics of genetic attribution. Public Opin Q 77(2):497–521

Tabery J (2014) Beyond versus: the struggle to understand the interaction of nature and nurture. MIT Press, Cambridge

Thomas KA, Clifford S (2017) Validity and mechanical turk: an assessment of exclusion methods and interactive experiments. Comput Hum Behav 77:184–197

Velicer WF, Jackson DN (1990) Component analysis versus common factor analysis: some issues in selecting an appropriate procedure. Multivar Behav Res 25(1):1–28

Vinkhuyzen AAE et al (2009) The heritability of aptitude and exceptional talent across different domains in adolescents and young adults. Behav Genet 39:380–392

Weinberg J, Nichols S, Stich S (2001) Normativity and epistemic intuitions. Philos Topics 29:429–460

Zdravkovic S et al (2002) Heritability of death from coronary heart disease: a 36-year follow-up of 20,966 Swedish twins. J Intern Med 252(2):247–254

Zhu G et al (2004) A genome scan for eye color in 502 twin families: most variation is due to a QTL on chromosome 15q. Twin Res 7(2):197–210
Funding
Research was supported in part by a grant from the John Templeton Foundation as part of their Genetics and Human Agency initiative (Grant Number 60780).
Ethics declarations
Conflict of interest
Emily A. Willoughby, Alan C. Love, Matt McGue, William G. Iacono, Jack Quigley, James J. Lee declare that they have no conflict of interest.
Human and animal rights
All procedures followed were in accordance with the ethical standards of the responsible committee on human experimentation (institutional and national) and with the Helsinki Declaration of 1975, as revised in 2000 (5). Informed consent was obtained from all participants for being included in the study. This article does not contain any studies with animal subjects performed by the any of the authors.
Informed consent
Informed consent was obtained from all individual participants included in the study.
Electronic supplementary material
Below is the link to the electronic supplementary material.
About this article
Cite this article
Willoughby, E.A., Love, A.C., McGue, M. et al. Free Will, Determinism, and Intuitive Judgments About the Heritability of Behavior. Behav Genet 49, 136–153 (2019). https://doi.org/10.1007/s10519-018-9931-1
Received:

Accepted:

Published:

Issue Date:
Keywords
Heritability

Free will

Determinism

Human agency

Genetics

Environment