Abstract
When explaining the causes of human behavior, genes are often given a special status. They are thought to relate to an intrinsic human 'essence', and essentialist biases have been shown to skew the way in which causation is assessed. Causal reasoning in general is subject to other pre-existing biases, including beliefs about normativity and morality. In this synthesis we show how factors which influence causal reasoning can be mapped to a framework of genetic essentialism, which reveals both the shared and unique factors underpinning biases in causal reasoning and genetic essentialism. This comparison identifies overlooked areas of research which could provide fruitful investigation, such as whether normative assessments of behaviors influence the way that genetic causes are ascribed or endorsed. We also outline the importance of distinguishing reasoning processes regarding genetic causal influences on one's self versus others, as different cognitive processes and biases are likely to be at play.
Access options
Buy single article
Instant access to the full article PDF.
US$ 39.95
Tax calculation will be finalised during checkout.
Subscribe to journal
Immediate online access to all issues from 2019. Subscription will auto renew annually.
US$ 119
Tax calculation will be finalised during checkout.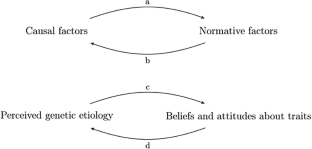 References
Alicke MD (1992) Culpable causation. J Personal Soc Psychol 63(3):368

Alicke MD (2000) Culpable control and the psychology of blame. Psychol Bull 126(4):556

Alicke MD (2008) Blaming badly. J Cogn Cult 8(1):179–186

Alicke MD, Rose D, Bloom D (2011) Causation, norm violation, and culpable control. J Philos 108(12):670–696

Alicke MD, Mandel DR, Hilton DJ, Gerstenberg T, Lagnado DA (2015) Causal conceptions in social explanation and moral evaluation: a historical tour. Perspect Psychol Sci 10(6):790–812

Allport GW (1979) The nature of prejudice. Basic Books, New York

Alper JS, Beckwith J (1993) Genetic fatalism and social policy: the implications of behavior genetics research. Yale J Biol Med 66(6):511–524

Astuti R (2001) Are we all natural dualists? A cognitive developmental approach. J R Anthropol Inst 7(3):429–447

Atran S (1990) Cognitive foundations of natural history: towards an anthropology of science. Cambridge University Press, Cambridge

Bastian B, Haslam N (2006) Psychological essentialism and stereotype endorsement. J Exp Soc Psychol 42(2):228–235

Bates BR, Lynch JA, Bevan JL, Condit CM (2005) Warranted concerns, warranted outlooks: a focus group study of public understandings of genetic research. Soc Sci Med 60(2): 331–344

Bear A, Knobe J (2017) Normality: part descriptive, part prescriptive. Cognition 167(Suppl C):25–37

Birchwood M, Mason R, MacMillan F, Healy J (1993) Depression, demoralization and control over psychotic illness: a comparison of depressed and non-depressed patients with a chronic psychosis. Psychol Med 23(2):387–395

Block N (1995) How heritability misleads about race. Cognition 56:99–128

Block N, Dworkin G (eds) (1976) IQ, heritability and inequality. In: The IQ controversy. Pantheon books, New York, pp 410–540

Boysen GA, Vogel DL (2007) Biased assimilation and attitude polarization in response to learning about biological explanations of homosexuality. Sex Roles 57(9–10):755–762

Boza M (2016) The influence of gender and ethnic essentialization on intergroup attitudes in preschool children. In: 17th European conference on developmental psychology, pp 213–218

Calcott B (2017) Causal specificity and the instructive–permissive distinction. Biol Philos 32(4):481–505

Chao MM, Kung FYH (2015) An essentialism perspective on intercultural processes. Asian J Soc Psychol 18(2):91–100

Chao MM, Hong Y-y, Chiu C-y (2013) Essentializing race: its implications on racial categorization. J Personal Soc Psychol 104(4):619–634

Cheung BY, Dar-Nimrod I, Gonsalkorale K (2014) Am I my genes? Perceived genetic etiology, intrapersonal processes, and health. Soc Personal Psychol Compass 8(11):626–637

Christensen KD, Jayaratne TE, Roberts JS, Kardia SLR, Petty EM (2010) Understandings of basic genetics in the United States: results from a national survey of black and white men and women. Public Health Genom 13(7–8):467–476

Coleman JM, Hong Y-Y (2008) Beyond nature and nurture: the influence of lay gender theories on self-stereotyping. Self Identity 7(1):34–53

Condit CM (1999) The meaning of the gene: public debates about human heredity. University of Wisconsin Press, Madison

Condit C, Parrott R, Bates B, Bevan J, Achter P (2004) Exploration of the impact of messages about genes and race on lay attitudes: impact of messages about genes. Clin Genet 66(5):402–408

Conrad P (1997) Public eyes and private genes: historical frames, news constructions, and social problems. Soc Probl 44:139–154

Conrad P (1999) A mirage of genes. Sociol Health Illn 21(2):228–241

Conrad P (2002) Genetics and behavior in the news: dilemmas of a rising paradigm. In: Alper JS, Ard C, Asch A, Beckwith J, Conrad P, Geller LN (eds) The double-edged helix: social implications of genetics in a diverse society. Johns Hopkins University Press, Baltimore

Cushman F (2008) Crime and punishment: distinguishing the roles of causal and intentional analyses in moral judgment. Cognition 108(2):353–380

Cushman F, Knobe J, Sinnott-Armstrong W (2008) Moral appraisals affect doing/allowing judgments. Cognition 108(1):281–289

Dar-Nimrod I (2012) Postgenomics and genetic essentialism. Behav Brain Sci 35(5):362–363

Dar-Nimrod I, Heine SJ (2006) Exposure to scientific theories affects women's math performance. Science 314(5798):435–435

Dar-Nimrod I, Heine SJ (2011a) Genetic essentialism: on the deceptive determinism of DNA. Psychol Bull 137(5):800–818

Dar-Nimrod I, Heine SJ (2011b) Some thoughts on essence placeholders, interactionism, and heritability: reply to Haslam (2011) and Turkheimer (2011). Psychol Bull 137(5):829–833

Dar-Nimrod I, Zuckerman M, Duberstein PR (2013) The effects of learning about one's own genetic susceptibility to alcoholism: a randomized experiment. Genet Med 15(2):132–138

Dar-Nimrod I, Cheung BY, Ruby MB, Heine SJ (2014a) Can merely learning about obesity genes affect eating behavior? Appetite 81(Suppl C):269–276

Dar-Nimrod I, Zuckerman M, Duberstein P (2014b) Smoking at the workplace: effects of genetic and environmental causal accounts on attitudes toward smoking employees and restrictive policies. New Genet Soc 33(4):400–412

Dar-Nimrod I, Ruby M, Godwin A, Cheung B, Murray D, Tam K (2018) The Genetic Essentialist Tendencies Scale (GETS): what can our genetic essentialist biases predict? Manuscript in preparation University of Sydney

Donovan BM (2016) Framing the genetics curriculum for social justice: an experimental exploration of how the biology curriculum influences beliefs about racial difference. Sci Educ 100(3):586–616

Dougherty MJ (2009) Closing the gap: inverting the genetics curriculum to ensure an informed public. Am J Hum Genet 85(1):6–12

Driver J (2008) Attributions of causation and moral responsibility. Moral Psychol 2:423–440

Durant J, Evans G, Thomas GP (1989) The public understanding of science. Nature 6:11–14

Easter MM (2012) "Not all my fault": genetics, stigma, and personal responsibility for women with eating disorders. Soc Sci Med 75(8):1408–1416

Gelman SA (2003) The essential child: origins of essentialism in everyday thought. Oxford University Press, Oxford

Gelman SA, Wellman HM (1991) Insides and essences: early understandings of the non-obvious. Cognition 38(3):213–244

Giles JW, Legare C, Samson JE (2008) Psychological essentialism and cultural variation: children's beliefs about aggression in the United States and South Africa. Infant Child Dev 17(2):137–150

Gil-White FJ (2001) Are ethnic groups biological "species" to the human brain? Essentialism in our cognition of some social categories. Curr Anthropol 42(4):515–554

Gopnik A, Glymour C, Sobel DM, Schultz LE, Kushnir T, Danks D (2004) A theory of causal learning in children: causal maps and Bayes nets. Psychol Rev 111(1):3

Gould WA, Heine SJ (2012) Implicit essentialism: genetic concepts are implicitly associated with fate concepts. PLoS ONE 7(6):e38176

Griffiths PE (2001) Genetic information: a metaphor in search of a theory. Philos Sci 68(3):394–412

Griffiths PE (2002) What is innateness? Monist 85(1):70–85

Griffiths PE (2006) The fearless vampire conservator: Philip Kitcher, genetic determinism and the informational gene. In: Rehmann-Sutter C, Neumann-Held EM (eds) Genes in development: rethinking the molecular paradigm. Duke University Press, Durham

Griffiths PE (2017) Communicating genomic complexity. J Proc R Soc New South Wales 150(4):93–103

Griffiths PE, Gray RD (1994) Developmental systems and evolutionary explanation. J Philos 91(6):277–304

Griffiths P, Stotz K (2013) Genetics and philosophy: an introduction. Cambridge University Press, Cambridge

Griffiths P, Machery E, Linquist S (2009) The vernacular concept of innateness. Mind Lang 24(5):605–630

Griffiths PE, Pocheville A, Calcott B, Stotz K, Kim H, Knight R (2015) Measuring causal specificity. Philos Sci 82(4):529–555

Halpern JY, Hitchcock C (2015) Graded causation and defaults. Br J Philos Sci 66(2):413–457

Hamer DH (2011) Science of desire: the gay gene and the biology of behavior. Simon and Schuster, New York

Hamer DH, Hu S, Magnuson VL, Hu N, Pattatucci AM (1993) A linkage between DNA markers on the X chromosome and male sexual orientation. Science 261(5119):321–327

Haslam N (2011) Genetic essentialism, neuroessentialism, and stigma: commentary on Dar-Nimrod and Heine (2011). Psychol Bull 137(5):819–824

Haslam N, Levy SR (2006) Essentialist beliefs about homosexuality: structure and implications for prejudice. Personal Soc Psychol Bull 32:471–485

Haslam N, Rothschild L, Ernst D (2000) Essentialist beliefs about social categories. Br J Soc Psychol 39(1):113–127

Haslam N, Rothschild L, Ernst D (2002) Are essentialist beliefs associated with prejudice? Br J Soc Psychol 41:87–100

Hegarty P (2002) 'It's not a choice, it's the way we're built': symbolic beliefs about sexual orientation in the US and Britain. J Community Appl Soc Psychol 12(3):153–166

Hegarty P, Pratto F (2001) Sexual orientation beliefs: their relationship to anti-gay attitudes and biological determinist arguments. J Homosex 41(1):121–135

Heine SJ (2017) DNA is not destiny: the remarkable, completely misunderstood relationship between you and your genes. Norton, New York

Heine SJ, Dar-Nimrod I, Cheung BY, Proulx T (2017) Essentially biased: why people are fatalistic about genes. Adv Exp Soc Psychol 55:137–192

Henrich N, Henrich J (2007) Why humans cooperate: a cultural and evolutionary explanation. Oxford University Press, Oxford

Hesslow G (1988) The problem of causal selection. In: Hilton DJ (ed), Contemporary science and natural explanation: commonsense conceptions of causality. Harvester Press, Brighton, pp 11–31

Heyman GD, Gelman SA (2000) Beliefs about the origins of human psychological traits. Dev Psychol 36:663–678

Hilton DJ, Slugoski BR (1986) Knowledge based causal attribution: the abnormal conditions focus model. Psychol Rev 93(1):75–88

Hitchcock C, Knobe J (2009) Cause and norm. J Philos 106(11):587–612

Hitchcock C, Woodward J (2003) Explanatory generalizations, part II: plumbing explanatory depth. Noûs 37(2):181–199

Hull DL (1965) The effects of essentialism on taxonomy: 2,000 years of stasis. Br J Philos Sci 15(60):314–326, 311–318

Icard TF, Kominsky JF, Knobe J (2017) Normality and actual causal strength. Cognition 161(Suppl C):80–93

Jang SM, Lee H (2014) When pop music meets a political issue: examining how "Born This Way" influences attitudes towards gays and gay rights policies. J Broadcast Electron Media 58(1):114–130

Jayaratne T, Ybarra O, Sheldon J, Brown T, Feldbaum M, Pfeffer C, Petty E (2006) White Americans' genetic lay theories of race differences and sexual orientation: their relationship with prejudice toward blacks, and gay men and lesbians. Gr Process Intergr Relat 9(1):77–94

Jost JT, Banaji MR, Nosek BA (2004) A decade of system justification theory: accumulated evidence of conscious and unconscious bolstering of the status quo. Political Psychol 25(6):881–919

Kaebnick GE (2006) Behavioral genetics and moral responsibility. In: Parens E, Chapman AR, Press N (eds) Wrestling with behavior genetics. The Johns Hopkins University Press, Baltimore, pp 220–224

Keller EF (2000) The century of the gene. MIT Press, Cambridge

Keller J (2005) In genes we trust: the biological component of psychological essentialism and its relationship to mechanisms of motivated social cognition. J Personal Soc Psychol 88(4):686–702

Kelley HH (1967) Attribution theory in social psychology. In: Nebraska symposium on motivation, University of Nebraska Press

Kelley HH (1973) The process of causal attribution. Am Psychol 28(2):107–128

Kimel SY, Huesmann R, Kunst JR, Halperin E (2016) Living in a genetic world: how learning about interethnic genetic similarities and differences affects peace and conflict. Personal Soc Psychol Bull 42(5):688–700

Kitcher P (2001) Battling the undead: how (and how not) to resist genetic determinism. In: Singh R, Krimbas K, Paul D, Beatty J (eds) Thinking about evolution: historical, philosophical and political perspectives (Festschrifft for Richard Lewontin). Cambridge University Press, Cambridge, pp 396–414

Knobe J (2010) Person as scientist, person as moralist. Behav Brain Sci 33(4):315–329

Knobe J, Fraser B (2008) Causal judgment and moral judgment: two experiments. Moral Psychol 2:441–448

Knobe J, Samuels R (2013) Thinking like a scientist: innateness as a case study. Cognition 126(1):72–86

Kominsky JF, Phillips J, Gerstenberg T, Lagnado D, Knobe J (2015) Causal superseding. Cognition 137:196–209

Kraus MW, Piff PK, Mendoza-Denton R, Rheinschmidt ML, Keltner D (2012) Social class, solipsism, and contextualism: how the rich are different from the poor. Psychol Rev 119(3):546

Kvaale EP, Gottdiener WH, Haslam N (2013) Biogenetic explanations and stigma: a meta-analytic review of associations among laypeople. Soc Sci Med 96(Suppl C):95–103

Lebowitz MS, Ahn W-k (2014) Effects of biological explanations for mental disorders on clinicians' empathy. Proc Natl Acad Sci 111(50):17786–17790

Linquist S, Machery E, Griffiths PE, Stotz K (2011) Exploring the folkbiological conception of human nature. Philos Trans R Soc B 366:444–453

Lynch KE (2017) Heritability and causal reasoning. Biol Philos 32(1):25–49

Lynch K, Bourrat P (2017) Interpreting heritability causally. Philos Sci 84(1):14–34

Martin CL, Parker S (1995) Folk theories about sex and race differences. Personal Soc Psychol Bull 21(1):45–57

Medin D, Ortony A (1989) Psychological essentialism. In: Vosniadou S, Ortony A (eds) Similarity and anological reasoning. Cambridge University Press, Cambridge, pp 175–195

Menzies P (2004) Difference making in context. In: Causation and counterfactuals. MIT Press, Cambridge, pp 139–180

Mezulis AH, Abramson LY, Hyde JS, Hankin BL (2004) Is there a universal positivity bias in attributions? A meta-analytic review of individual, developmental, and cultural differences in the self-serving attributional bias. Psychol Bull 130(5):711

Mitchell SD (1997) Pragmatic laws. Philos Sci 64:S468–S479

Mitchell SD (2000) Dimensions of scientific law. Philos Sci 67(2):242–265

Monterosso J, Royzman EB, Schwartz B (2005) Explaining away responsibility: effects of scientific explanation on perceived culpability. Ethics Behav 15:139–158

Morandini JS, Blaszczynski A, Ross MW, Costa DSJ, Dar-Nimrod I (2015) Essentialist beliefs, sexual identity uncertainty, internalized homonegativity and psychological wellbeing in gay men. J Couns Psychol 62(3):413–424

Morandini JS, Blaszcynski A, Costa DSJ, Godwin A, Dar-Nimrod I (2017) Born this way: sexual orientation beliefs and their correlates in lesbian and bisexual women. J Couns Psychol 64(5):560–573

Moss L (1992) A kernel of truth? On the reality of the genetic program. Philos Sci Assoc 1992:335–348

Nelkin D, Lindee MS (1995) The DNA mystique: the gene as a cultural icon. Freeman, New York

No S, Hong Y-y, Liao H-Y, Lee K, Wood D, Chao MM (2008) Lay theory of race affects and moderates Asian Americans' responses toward American culture. J Personal Soc Psychol 95(4):991–1004

Oldham J, Kasser T (1999) Attitude change in response to information that male homosexuality has a biological basis. J Sex Marital Ther 25(2):121–124

Oyama S (1985) The ontogeny of information: developmental systems and evolution. Cambridge University Press, Cambridge

Oyama S (2000a) Evolution's eye: a systems view of the biology-culture divide. Duke University Press, Durham

Oyama S (2000b) The ontogeny of information: developmental systems and evolution. Duke University Press

Parrott R, Smith RA (2014) Defining genes using "blueprint" versus "instruction" metaphors: effects for genetic determinism, response efficacy, and perceived control. Health Commun 29(2):137–146

Pettigrew TF (1979) The ultimate attribution error: extending Allport's cognitive analysis of prejudice. Personal Soc Psychol Bull 5(4):461–476

Philips J, Luguri JB, Knobe J (2015) Unifying morality's influence on non-moral judgments: the relevance of alternative possibilities. Cognition 14:530–542

Piskur J, Degelman D (1992) Effect of reading a summary of research about biological bases of homosexual orientation on attitudes toward homosexuals. Psychol Rep 71(3):1219–1225

Plaks JE, Levy SR, Dweck CS, Stroessner SJ (2004) In the eye of the beholder: Lay theories and the perception of group entitativity, variability, and essence. In: Yzerbyt V, Judd CM, Corneille O (eds) The psychology of group perception: perceived variability, entitativity, and essentialism. Psychology Press, New York, pp 127–146

Pocheville A, Griffiths PE, Stotz K (2017) Comparing causes—an information-theoretic approach to specificity, proportionality and stability. In: Leitgeb H, Niiniluoto I, Sober E, Seppälä P (eds). Proceedings of the 15th congress of logic, methodology and philosophy of science. College Publications, London, pp 261–286

Pratarelli ME, Donaldson JS (1997) Immediate effects of written material on attitudes toward homosexuality. Psychol Rep 81(3):1411–1415

Read J, Law A (1999) The relationship of causal beliefs and contact with users of mental health services to attitudes to the 'mentally ill'. Int J Soc Psychiatry 45(3):216–229

Rothbart M, Taylor M (1992) Category labels and social reality: do we view social categories as natural kinds? In: Semin GR, Fiedler K (eds) Language interaction and social cognition. Sage, London

Roxborough C, Cumby J (2009) Folk psychological concepts: causation. Philoso Psychol 22(2):205–213

Samland J, Waldmann MR (2016) How prescriptive norms influence causal inferences. Cognition 156(Suppl C):164–176

Schaffer J (2016) The metaphysics of causation. In: Zalta EN (ed) The stanford encyclopedia of philosophy. Metaphysics Research Lab, Stanford University

Schaffner KF (1998) Genes, behavior and developmental emergentism: one process. indivisible? Philos Sci 65(2):209–252

Schaffner KF (2016) Behaving: what's genetic, what's not, adn why should we care? Oxford University Press, New York

Sheldon JP, Pfeffer CA, Jayaratne TE, Feldbaum M, Petty EM (2007) Beliefs about the etiology of homosexuality and about the ramifications of discovering its possible genetic origin. J Homosex 52(3–4):111–150

Sloman SA, Fernbach PM, Ewing S (2009) Causal models: the representational infrastructure for moral judgement. Psychol Learn Motiv 50:1–26

Solan LM, Darley JM (2001) Causation, contribution, and legal liability: an empirical study. Law Contemp Probl 64(4):265–298

Sousa P, Atran S, Medin D (2002) Essentialism and folkbiology: evidence from Brazil. J Cogn Cult 2(3):195–223

Stotz K (2006) Molecular epigenesis: distributed specificity as a break in the central dogma. Hist Philos Life Sci 28(4):533–548

Suhay E, Jayaratne TE (2012) Does biology justify ideology? The politics of genetic attribution. Public Opin Q 77(2):497–521

Tozer EE, Hayes JA (2004) Why do individuals seek conversion therapy? The role of religiosity, internalized homonegativity, and identity development. Couns Psychol 32(5):716–740

Turkheimer E (2000) Three laws of behavior genetics and what they mean. Curr Dir Psychol Sci 9(5):160–164

Turkheimer E (2011) Genetics and human agency: comment on Dar-Nimrod and Heine (2011). Psychol Bull 137(5):825–828

Turney J (2003) Public understanding of genetics: the deficit model. Nat Encycl Hum Genome 5:936–939

Walker I, Read J (2002) The differential effectiveness of psychosocial and biogenetic causal explanations in reducing negative attitudes toward "mental illness". Psychiatry Interpers Biol Process 65(4):313–325

Waters CK (2007) Causes that make a difference. J Philos 104(11):551–579

Waxman S, Medin DL, Ross N (2007) Folk-biological reasoning from a cross-cultural developmental perspective: early essentialist notions are shaped by cultural beliefs. Dev Psychol 43(2):294–308

Weber M (2006) The central dogma as a thesis of causal specificity. Hist Philos Life Sci 28(4):595–609

Weiner B, Perry RP, Magnusson J (1988) An attributional analysis of reactions to stigmas. J Personal Soc Psychol 55(5):738–748

Williams MJ, Eberhardt JL (2008) Biological conceptions of race and the motivation to cross racial boundaries. J Pers Soc Psychol 94(6):1033

Woodward J (2001) Law and explanation in biology: invariance is the kind of stability that matters. Philos Sci 68(1):1–20

Woodward J (2006) Sensitive and insensitive causation. Philos Rev 115(1):1–50

Woodward J (2010) Causation in biology: stability, specificity, and the choice of levels of explanation. Biol Philos 25:287–318

Woodward J (2011) Causes, conditions, and the pragmatics of causal explanation. In: Morgan (ed) Philosophy of science matters. Oxford University Press, Oxford, pp 247–257

Ziman J (1991) Public understanding of science. Sci Technol Hum Values 16(1):99–105
Funding
This study was funded by the Sir John Templeton Foundation (Genetics and Human Agency Project).
Ethics declarations
Conflict of interest
Kate E. Lynch, James S. Morandini, Ilan Dar-Nimrod and Paul E. Griffiths declare that they have no conflict of interest.
Ethical approval
This article does not contain any studies with human participants or animals performed by any of the authors.
About this article
Cite this article
Lynch, K.E., Morandini, J.S., Dar-Nimrod, I. et al. Causal Reasoning About Human Behavior Genetics: Synthesis and Future Directions. Behav Genet 49, 221–234 (2019). https://doi.org/10.1007/s10519-018-9909-z
Received:

Accepted:

Published:

Issue Date:
Keywords
Causation

Genetic essentialism

Psychological essentialism

Bias

Normativity

Science communication