Abstract
Understanding the factors that contribute to behavioral traits is a complex task, and partitioning variance into latent genetic and environmental components is a useful beginning, but it should not also be the end. Many constructs are influenced by their contextual milieu, and accounting for background effects (such as gene–environment correlation) is necessary to avoid bias. This study introduces a method for examining the interplay between traits, in a longitudinal design using differential items in sibling pairs. The model is validated via simulation and power analysis, and we conclude with an application to paternal praise and ADHD symptoms in a twin sample. The model can help identify what type of genetic and environmental interplay may contribute to the dynamic relationship between traits using a cross-lagged panel framework. Overall, it presents a way to estimate and explicate the developmental interplay between a set of traits, free from many common sources of bias.
Access options
Buy single article
Instant access to the full article PDF.
USD 39.95
Price includes VAT (USA)
Tax calculation will be finalised during checkout.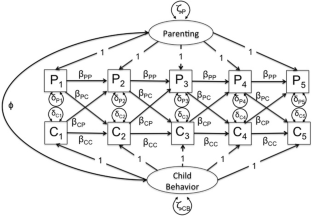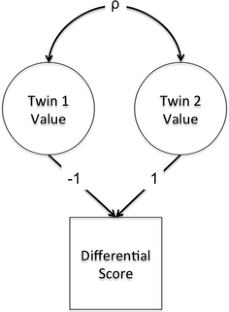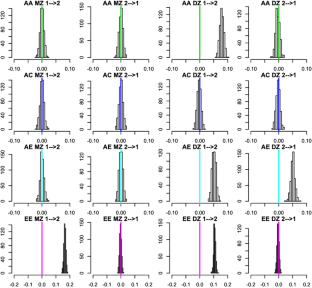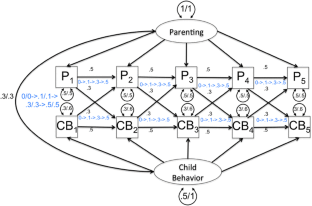 References
Beam CR, Turkheimer E (2013) Phenotype–environment correlations in longitudinal twin models. Dev Psychopathol 25(1):7–16. doi: https://doi.org/10.1017/S0954579412000867

Berry D, Willoughby MT (2016) On the practical interpretability of cross-lagged panel models: rethinking a developmental workhorse. Child Dev 88(4):1186–1206. doi: https://doi.org/10.1111/cdev.12660

Carbonneau R, Eaves LJ, Silberg JL, Simonoff E, Rutter M (2002) Assessment of the within-family environment in twins: absolute versus differential ratings, and relationship with conduct problems. J Child Psychol Psychiatry 43(8):1064–1074

Carey G (1986) Sibling imitation and contrast effects. Behav Genet 16(3):319–341

Cohen J (1988) Statistical power analysis for the behavioral sciences, 2nd edn. Lawrence Earlbaum Associaties, Hillsdale

Curran PJ, Howard AL, Bainter SA, Lane ST, McGinley JS (2014) The separation of between-person and within-person components of individual change over time: a latent curve model with structured residuals. J Consult Clin Psychol 82(5):879–894. doi: https://doi.org/10.1037/a0035297

Daniels D, Plomin R (1985) Differential experience of siblings in the same family. Dev Psychol 21(5):747–760

de Kort MJ, Dolan VC, Kan K-J, van Beijsterveldt EC, Bartels M, Boomsma ID (2014) Can GE-covariance originating in phenotype to environment transmission account for the Flynn effect? J Intell 2(3):82–105. doi: https://doi.org/10.3390/jintelligence2030082

Dolan CV, de Kort JM, van Beijsterveldt TC, Bartels M, Boomsma DI (2014) GE covariance through phenotype to environment transmission: an assessment in longitudinal twin data and application to childhood anxiety. Behav Genet 44(3):240–253. doi: https://doi.org/10.1007/s10519-014-9659-5

Hamaker EL, Kuiper RM, Grasman RP (2015) A critique of the cross-lagged panel model. Psychol Methods 20(1):102–116. doi: https://doi.org/10.1037/a0038889

Hewitt JK, Silberg JL, Rutter M, Simonoff E, Meyer JM, Maes H, Pickles A, Neale MC, Loeber R, Erickson MT, Kendler KS, Heath AC, Truett KR, Reynolds CA, Eaves LJ (1997) Genetics and developmental psychopathology: 1. Phenotypic assessment in the virginia twin study of adolescent behavioral development. J Child Psychol Psychiat 38(8):943–963

Hutchison L, Feder M, Abar B, Winsler A (2016) Relations between parenting stress, parenting style, and child executive functioning for children with ADHD or autism. J Child Fam Stud 25(12):3644–3656. doi: https://doi.org/10.1007/s10826-016-0518-2

Keller MC, Medland SE, Duncan LE, Hatemi PK, Neale MC, Maes HH, Eaves LJ (2009) Modeling extended twin family data I: description of the Cascade model. Twin Res Hum Genet 12(1):8–18. doi: https://doi.org/10.1375/twin.12.1.8.

Kenny DA (1975) Cross-lagged panel correlation: a test for spuriousness. Psychol Bull 82(6):887–903

McArdle JJ, Nesselroade JR (2014) Longitudinal data analysis using structural equation models. American Psychological Association, Washington, DC

Phillips K, Fulker DW (1989) Quantitative genetic analysis of longitudinal trends in adoption designs with application to IQ in the Colorado Adoption Project. Behav Genet 19(5):621–658. doi: https://doi.org/10.1007/BF01066028

Plomin R, DeFries JC, Loehlin JC (1977) Genotype-environment interaction and correlation in the analysis of human behavior. Psychol Bull 84(2):309–322

Purcell S (2002) Variance components models for gene-environment interaction in twin analysis. Twin Res 5(6):554–571. doi: https://doi.org/10.1375/136905202762342026

Rutter M, Silberg J (2002) Gene-environment interplay in relation to emotional and behavioral disturbance. Annu Rev Psychol. 53:463–590. doi: https://doi.org/10.1146/annurev.psych.53.100901.135223

Stormont-Spurgin M, Zentall SS (1995) Contributing factors in the manifestation of aggression in preschoolers with hyperactivity. J Child Psychol Psychiatry 36(3):491–509

Vance T, Maes HH, Kendler KS (2010) Genetic and environmental influences on multiple dimensions of religiosity: a twin study. J Nerv Ment Dis 198(10):755–761. doi: https://doi.org/10.1097/NMD.0b013e3181f4a07c
Funding
Funding was provided by Institute of Mental Health (Grant No. T32 MH20030).
Ethics declarations
Conflict of interest
A. Moscati, B. Verhulst, K. L. McKee, J. L. Silberg and L. J. Eaves declare that they have no conflict of interest.
Ethical approval
No data was collected for this project. However, data collection in VTSABD, which involved human participants, was in accordance with appropriate ethical standards, including that of the Committee for the Conduct of Human Research at Virginia Commonwealth University and the 1964 Helsinki declaration and its later amendments.
Informed consent
The Committee for the Conduct of Human Research at Virginia Commonwealth University approved the project. Informed consent or assent was obtained from all participants.
Research involving human and animal rights
This article does not contain any studies performed on animals.
Additional information
Edited by Chandra Reynolds.
Electronic supplementary material
Below is the link to the electronic supplementary material.
About this article
Cite this article
Moscati, A., Verhulst, B., McKee, K. et al. Cross-Lagged Analysis of Interplay Between Differential Traits in Sibling Pairs: Validation and Application to Parenting Behavior and ADHD Symptomatology. Behav Genet 48, 22–33 (2018). https://doi.org/10.1007/s10519-017-9882-y
Received:

Accepted:

Published:

Issue Date:
Keywords
Gene–environment interplay

Gene-environment correlation

Structural equation modeling

Parenting behavior

ADHD

Methods