Abstract
Neurexins and neuroligins are neuronal membrane adhesion molecules that have been involved in neuropsychiatric and neurodevelopmental disorders. The nrx-1 and nlg-1 genes of Caenorhabditis elegans encode NRX-1 and NLG-1, orthologue proteins of human neurexins and neuroligins, respectively. Dopaminergic and serotoninergic signalling control the locomotory rate of the nematode. When well-fed animals are transferred to a plate with food (bacterial lawn), they reduce the locomotory rate. This behavior, which depends on dopamine, is known as basal slowing response (BSR). Alternatively, when food-deprived animals are moved to a plate with a bacterial lawn, further decrease their locomotory rate. This behavior, known as enhanced slowing response (ESR), is serotonin dependent. C. elegans nlg-1-deficient mutants are impaired in BSR and ESR. Here we report that nrx-1-deficient mutants were defective in ESR, but not in BSR. The nrx-1;nlg-1 double mutant was impaired in both behaviors. Interestingly, the nlg-1 mutants upregulate the expression of comt-4 which encodes an enzyme with putative catechol-O-methyltransferase activity involved in dopamine degradation. Our study also shows that comt-4(RNAi) in nlg-1-deficient mutants rescues the wild type phenotypes of BSR and ESR. On the other hand, comt-4(RNAi) in nlg-1-deficient mutants also recovers, at least partially, the gentle touch response and the pharyngeal pumping rate that were impaired in these mutants. These latter behaviors are dopamine and serotonin dependent, respectively. Based on these results we propose a model for the neuroligin function in modulating the dopamine-dependent locomotory behavior in the nematode.
Access options
Buy single article
Instant access to the full article PDF.
US$ 39.95
Tax calculation will be finalised during checkout.
Subscribe to journal
Immediate online access to all issues from 2019. Subscription will auto renew annually.
US$ 119
Tax calculation will be finalised during checkout.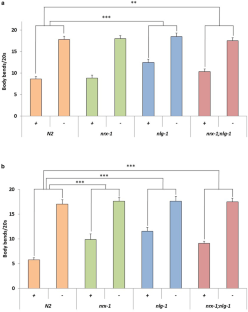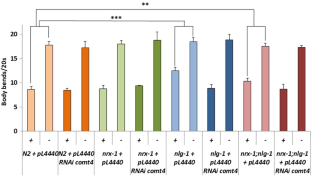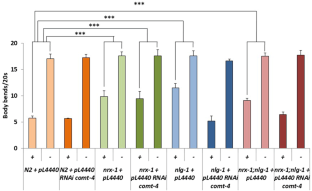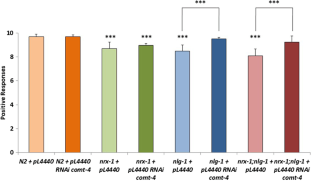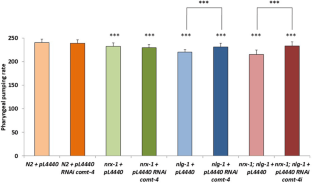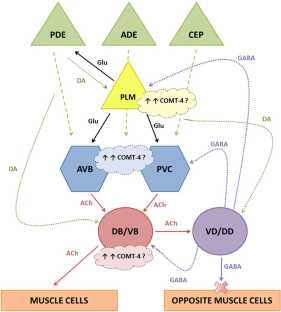 References
Augustine GJ, Fivaz M (2016) Editorial: imaging synapse structure and function. Front Synaptic Neurosci 8:36

Avery L, Horvitz HR (1989) Pharyngeal pumping continues after laser killing of the pharyngeal nervous system of C. elegans. Neuron 3(4):473–485

Axelrod J, Tomchick R (1958) Enzymatic O-methylation of epinephrine and other catechols. J Biol Chem 233(3):702–705

Bang ML, Owczarek S (2013) A matter of balance: role of neurexin and neuroligin at the synapse. Neurochem Res 38(6):1174–1189

Barros AG, Bridi JC, de Souza BR, de Castro Junior C, de Lima Torres KC, Malard L, Jorio A, de Miranda DM, Ashrafi K, Romano-Silva MA (2014) Dopamine signaling regulates fat content through beta-oxidation in Caenorhabditis elegans. PloS ONE 9(1):e85874

Bemben MA, Shipman SL, Nicoll RA, Roche KW (2015) The cellular and molecular landscape of neuroligins. Trends Neurosci 38(8):496–505

Benard H, Hobert O (2009) Looking beyond development: maintaining nervous system architecture. Curr Top Dev Biol 87:175–194

Brenner S (1974) The genetics of Caenorhabditis elegans. Genetics 77(1):71–94

Calahorro F, Ruiz-Rubio M (2011) Caenorhabditis elegans as an experimental tool for the study of complex neurological diseases: Parkinson's disease, Alzheimer's disease and autism spectrum disorder. Invert Neurosci 11(2):73–83

Calahorro F, Ruiz-Rubio M (2012) Functional phenotypic rescue of Caenorhabditis elegans neuroligin-deficient mutants by the human and rat NLGN1 genes. PloS ONE 7(6):e39277

Calahorro F, Ruiz-Rubio M (2013) Human alpha- and beta-NRXN1 isoforms rescue behavioral impairments of Caenorhabditis elegans neurexin-deficient mutants. Genes Brain Behav 12(4):453–464

Calahorro F, Alejandre E, Ruiz-Rubio M (2009) Osmotic avoidance in Caenorhabditis elegans: synaptic function of two genes, orthologues of human NRXN1 and NLGN1, as candidates for autism. J Vis Exp. doi:10.3791/1616

Calahorro F, Holden-Dye L, O'Connor V (2015) Analysis of splice variants for the C. elegans orthologue of human neuroligin reveals a developmentally regulated transcript. Gene Expr Patterns 17(2):69–78

Cao X, Tabuchi K (2016) Functions of synapse adhesion molecules neurexin/neuroligins and neurodevelopmental disorders. Neurosci Res 116:3–9

Chalfie M, Au M (1989) Genetic control of differentiation of the Caenorhabditis elegans touch receptor neurons. Science 243(4894 Pt 1):1027–1033

Chalfie M, Sulston JE, White JG, Southgate E, Thomson JN, Brenner S (1985) The neural circuit for touch sensitivity in Caenorhabditis elegans. J Neurosci 5(4):956–964

Chase DL, Pepper JS, Koelle MR (2004) Mechanism of extrasynaptic dopamine signaling in Caenorhabditis elegans. Nat Neurosci 7(10):1096–1103

Chen ML, Chen CH (2007) Chronic antipsychotics treatment regulates MAOA, MAOB and COMT gene expression in rat frontal cortex. J Psychiatr Res 41:57–62

Chen H, Li H, Wang D (2017) Graphene oxide dysregulates neuroligin/NLG-1-mediated molecular signaling in interneurons in Caenorhabditis elegans. Sci Rep 7:41655

Felton CM, Johnson CM (2014) Dopamine signaling in C. elegans is mediated in part by HLH-17-dependent regulation of extracellular dopamine levels. G3 (Bethesda) 4(6):1081–1089

Flames N, Hobert O (2011) Transcriptional control of the terminal fate of monoaminergic neurons. Annu Rev Neurosci 34:153–184

Gendrel M, Atlas EG, Hobert O (2016) A cellular and regulatory map of the GABAergic nervous system of C. elegans. eLife 5:e17686

Gjorgjieva J, Biron D, Haspel G (2014) Neurobiology of Caenorhabditis elegans locomotion: where do we stand? Bioscience 64(6):476–486

Gordon JA, Dzirasa K (2016) Animal models of psychiatric disorders. Neuroscience 321:1–2

Graf ER, Zhang X, Jin SX, Linhoff MW, Craig AM (2004) Neurexins induce differentiation of GABA and glutamate postsynaptic specializations via neuroligins. Cell 119:1013–1026

Haklai-Topper L, Soutschek J, Sabanay H, Scheel J, Hobert O, Peles E (2011) The neurexin superfamily of Caenorhabditis elegans. Gene Expr Patterns 11(1–2):144–150

Harris-Warrick RM, Sparks DL (1995) Neural control. Curr Opin Neurobiol 5:721–726

Hills T, Brockie PJ, Maricq AV (2004) Dopamine and glutamate control area-restricted search behavior in Caenorhabditis elegans. J Neurosci 24(5):1217–1225

Hobert O (2010) Neurogenesis in the nematode Caenorhabditis elegans. Wormbook. doi:10.1895/wormbook.1.12.2

Horvitz HR, Chalfie M, Trent C, Sulston JE, Evans PD (1982) Serotonin and octopamine in the nematode Caenorhabditis elegans. Science 216(4549):1012–1014

Hosák L (2007) Role of the COMT gene Val158Met polymorphism in mental disorders: a review. Eur Psychiatry 22:276–281

Howell LL, Negus SS (2014) Monoamine transporter inhibitors and substrates as treatments for stimulant abuse. Adv Pharmacol 69:129–176

Hu X, Luo JH, Xu J (2015) The interplay between synaptic activity and neuroligin function in the CNS. Biomed Res Int 2015:498957

Hunter JW, Mullen GP, McManus JR, Heatherly JM, Duke A, Rand JB (2010) Neuroligin-deficient mutants of C. elegans have sensory processing deficits and are hypersensitive to oxidative stress and mercury toxicity. Dis Mod Mech 3(5–6):366–376

Izquierdo PG, Calahorro F, Ruiz-Rubio M (2013) Neuroligin modulates the locomotory dopaminergic and serotonergic neuronal pathways of C. elegans. Neurogenetics 14:233–242

Jorgensen EM (2005) Gaba. doi:10.1895/wormbook.1.14.1

Kamath RS, Fraser AG, Dong Y, Poulin G, Durbin R, Gotta M, Kanapin A, Le Bot N, Moreno S, Sohrmann M, Welchman DP, Zipperlen P, Ahringer J (2003) Systematic functional analysis of the Caenorhabditis elegans genome using RNAi. Nature 421(6920):231–237

Kenny EM, Cormican P, Furlong S, Heron E, Kenny G, Fahey C, Kelleher E, Ennis S, Tropea D, Anney R, Corvin AP, Donohoe G, Gallagher L, Gill M, Morris DW (2013) Excess of rare novel loss-of-function variants in synaptic genes in schizophrenia and autism spectrum disorders. Mol Psychiatry 19(8):872–879

Koelle MR (2016) Neurotransmitter signaling through heterotrimeric G proteins: insights from studies in C. elegans. Wormbook. doi:10.1895/wormbook.1.75.2

Lai CH, Chou CY, Ch'ang LY, Liu CS, Lin W (2000) Identification of novel human genes evolutionarily conserved in Caenorhabditis elegans by comparative proteomics. Genome Res 10(5):703–713

Maro GS, Gao S, Olechwier AM, Hung WL, Liu M, Özkan E, Zhen M, Shen K (2015) MADD-4Punctin and neurexin organize C. elegans GABAergic postsynapses through neuroligin. Neuron 86:1–13

Naoi M, Riederer P, Maruyama W (2016) Modulation of monoamine oxidase (MAO) expression in neuropsychiatric disorders: genetic and environmental factors involved in type A MAO expression. J Neural Transm 123:91–106

Porta de la Riva M, Fontrodona L, Villanueva A, Cerón J (2012) Basic Caenorhabditis elegans methods: synchronization and observation. J Vis Exp 64:e4019

Rand JB, Nonet ML (1997) Neurotransmitter assignments for specific neurons. Cold Spring Harbor Laboratory Press, New York

Rex E, Molitor SC, Hapiak V, Xiao H, Henderson M, Komuniecki R (2004) Tyramine receptor (SER-2) isoforms are involved in the regulation of pharyngeal pumping and foraging behavior in Caenorhabditis elegans. J Neurochem 91(5):1104–1115

Roubertoux PL (2015) Organisms models of autism spectrum disorders. Springer, New York

Rual JF, Ceron J, Koreth J, Hao T, Nicot AS, Hirozane-Kishikawa T, Vandenhaute J, Orkin SH, Hill DE, van den Heuvel S, Vidal M (2004) Toward improving Caenorhabditis elegans phenome mapping with an ORFeome-based RNAi library. Genome Res 14(10B):2162–2168

Ruiz-Rubio M, Calahorro F, Gámez-del-Estal MM (2015) Invertebrate models of synaptic transmission in autism spectrum disorders. In: Roubertoux PL (ed) Neuromethods vol, 100 Organism Models of Autism Spectrum Disorders Springer Science, Humana Press, pp 157–182

Sakurai T (2017) The role of cell adhesion molecules in brain wiring and neuropsychiatric disorders. Mol Cell Neurosci 81:4–11

Sanyal S, Wintle RF, Kindt KS, Nuttley WM, Arvan R, Fitzmaurice P, Bigras E, Merz DC, Hebert TE, van der Kooy D, Schafer WR, Culotti JG, Van Tol HH (2004) Dopamine modulates the plasticity of mechanosensory responses in Caenorhabditis elegans. EMBO J 23(2):473–482

Sawin ER, Ranganathan R, Horvitz HR (2000) C. elegans locomotory rate is modulated by the environment through a dopaminergic pathway and by experience through a serotonergic pathway. Neuron 26:619–631

Schumacher F, Chakraborty S, Kleuser B, Gulbins E, Schwerdtle T, Aschner M, Bornhorst J (2015) Highly sensitive isotope-dilution liquid-chromatography-electrospray ionization-tandem-mass spectrometry approach to study the drug-mediated modulation of dopamine and serotonin levels in Caenorhabditis elegans. Talanta 144:71–79

Suh J, Hutter H (2012) A survey of putative secreted and transmembrane proteins encoded in the C. elegans genome. BMC Genom 13:333

Trapnell C, Roberts A, Goff L, Pertea G, Kim D, Kelley DR, Pimentel H, Salzberg SL, Rinn JL, Pachter L (2012) Differential gene and transcript expression analysis of RNA-seq experiments with TopHat and Cufflinks. Nat Protoc 7(3):562–578

Tsao D, Wieskopf JS, Rashid N, Sorge RE, Redler RL, Segall SK, Mogil JS, Maixner W, Dokholyan NV, Diatchenko L (2012) Serotonin-induced hypersensitivity via inhibition of catechol O-methyltransferase activity. Mol Pain 8:25

Tu H, Pinan-Lucarré P, Ji T, Jospin M, Bessereau JL (2015) C. elegans Punctin Clusters GABAA Receptors via Neuroligin Binding and UNC-40/DCC Recruitment. Neuron 86:1407–1419

Vidal-Gadea A, Topper S, Young L, Crisp A, Kressin L, Elbel E, Maples T, Brauner M, Erbguth K, Axelrod A, Gottschalk A, Siegel D, Pierce-Shimomura JT (2011) Caenorhabditis elegans selects distinct crawling and swimming gaits via dopamine and serotonin. Proc Natl Acad Sci USA 108(42):17504–17509

Zhang P, Craig AM (2015) Inhibitory synapses Get Madd for Neuroligin. Neuron 86(6):1321–1324

Zhen M, Samuel AD (2015) C. elegans locomotion: small circuits, complex functions. Curr Opin Neurobiol 33:117–126
Acknowledgements
We thank Caenorhabditis Genetic Center (University of Minnesota, USA) and the Japanese National Bioresource Project, for worm strains. We also thank María Vargas Soria for her help in the pharyngeal pumping rate experiments, Mónica Pérez Alegre y Eloísa Andújar Pulido from the Genomic Unit of CABIMER (Sevilla, Spain) for technical and bioinformatic analysis support, Peter Askjaer (CABD, Sevilla, Spain) for providing us with HT115 E. coli strain (DE3) with plasmid pL4440 carrying unc-22 gene fragment, and José Manuel Moreno Ventura for critical reading of the manuscript.
Funding
The research work was supported by grants ITC-20111029 (Centro para el Desarrollo Tecnológico e Industrial, Spain) and "Plan Propio de Investigación de la Universidad de Córdoba", Spain.
Ethics declarations
Conflict of interest
Ángel Rodríguez-Ramos, M. Mar Gámez-del-Estal, Montserrat Porta-de-la-Riva, Julián Cerón and Manuel Ruiz-Rubio declare that they have no conflict of interest.
Ethical approval
All experiments were performed with Caenorhabditis elegans and the nematode is free of ethical concern.
Statement of Human and Animal Rights
This article only contains experiments using the Caenorhabditis elegans. All international, national, and/or institutional guidelines consider that this nematode is free of ethical concern.
Informed Consent
No human data or sample were used in this study and informed consent is not required.
Additional information
Edited by Charalambos Kyriacou.
Electronic supplementary material
Below is the link to the electronic supplementary material.
About this article
Cite this article
Rodríguez-Ramos, Á., Gámez-del-Estal, M.M., Porta-de-la-Riva, M. et al. Impaired Dopamine-Dependent Locomotory Behavior of C. elegans Neuroligin Mutants Depends on the Catechol-O-Methyltransferase COMT-4. Behav Genet 47, 596–608 (2017). https://doi.org/10.1007/s10519-017-9868-9
Received:

Accepted:

Published:

Issue Date:
Keywords
Locomotor behavior

Neuroligin

Neurexin

Dopamine

Serotonin

Catechol-O-methyltransferase

RNAi

Caenorhabditis elegans