Abstract
The present study examined the adequacy of a three-item parent questionnaire in determining the zygosity of young Chinese twins and whether there was any association between parent response accuracy and some demographic variables. The sample consisted of 334 pairs of same-sex Chinese twins aged from 3 to 11 years. Three scoring methods, namely the summed score, logistic regression, and decision tree, were employed to evaluate parent response accuracy of twin zygosity based on single nucleotide polymorphism (SNP) information. The results showed that all three methods achieved high level of accuracy ranging from 91 to 93 % which was comparable to the accuracy rates in previous Chinese twin studies. Correlation results also showed that the higher the parents' education level or the family income was, the more likely parents were able to tell correctly that their twins are identical or fraternal. The present findings confirmed the validity of using a three-item parent questionnaire to determine twin zygosity in a Chinese school-aged twin sample.
Access options
Buy single article
Instant access to the full article PDF.
USD 39.95
Price includes VAT (USA)
Tax calculation will be finalised during checkout.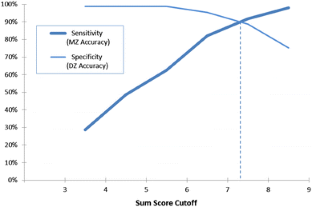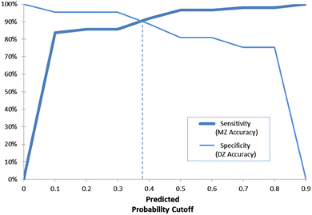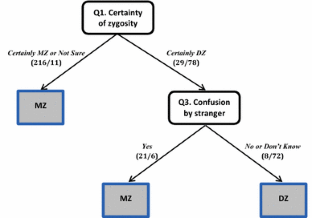 References
Bakalar N (2012, March 6) Childbirth: identical or fraternal? Not always clear. New York Times, p. D6

Bønnelykke B, Hauge M, Holm N, Kristoffersen K, Gurtler H (1989) Evaluation of zygosity diagnosis in twin pairs below age seven by means of a mailed questionnaire. Acta Genet Med Gemellol 38(3–4):305–313

Breiman L, Friedman J, Stone CJ, Olshen RA (1984) Classification and regression trees. Wadsworth, Belmont

Cederlöf R, Friberg L, Jonsson E, Kaij L (1961) Studies on similarity diagnosis in twins with the aid of mailed questionnaires. Hum Hered 11(4):338–362

Chen WJ, Chang HW, Wu MZ, Lin CC, Chang C, Chiu YN, Soong WT (1999) Diagnosis of zygosity by questionnaire and polymarker polymerase chain reaction in young twins. Behav Genet 29(2):115–123

Chen J, Li X, Chen Z, Yang X, Zhang J, Duan Q, Ge X (2010) Optimization of zygosity determination by questionnaire and DNA genotyping in Chinese adolescent twins. Twin Res Hum Genet 13(2):194–200

Chow BWY, Ho CSH, Wong SWL, Waye MMY, Bishop DVM (2011) Twin study on Chinese language and reading development. PLoS ONE 6(2):e16640. doi:10.1371/journal.pone.0016640

Chow BWY, Ho CSH, Wong SWL, Waye MMY, Bishop DVM (2013) Generalist genes and cognitive abilities in Chinese twins. Dev Sci 16(2):260–268. doi:10.1111/desc.12022

Cleary-Goldman J, Morgan MA, Robinson JN, D'Alton ME, Schulkin J (2004) Multiple pregnancy: knowledge and practice patterns of obstetricians and gynecologists. Obstet Gynecol 104(2):232–237

Cohen DJ, Dibble E, Grawe JM, Pollin W (1973) Separating identical from fraternal twins. Arch Gen Psychiatry 29(4):465

Cutler TL, Murphy K, Hopper JL, Keogh LA, Dai Y, Craig JM (2015) Why accurate knowledge of zygosity is important to twins. Twin Res Hum Genet 18(3):298–305

Forget-Dubois N, Pérusse D, Turecki G, Girard A, Billette J-M, Rouleau G, Tremblay RE (2003) Diagnosing zygosity in infant twins: physical similarity, genotyping, and chorionicity. Twin Res 6(6):479–485

Gan J-P, Wu Z-H, Tu Z-M, Zheng J (2007) The comparison of twinning rates between urban and rural areas in China. Twin Res Hum Genet 10(4):633–637

Gao W, Li L, Cao W, Zhan S, Lv J, Qin Y, Chen R (2006) Determination of zygosity by questionnaire and physical features comparison in Chinese adult twins. Twin Res Hum Genet 9(2):266–271

Goldsmith HH (1991) A zygosity questionnaire for young twins: a research note. Behav Genet 21(3):257–269

Ho CSH, Chow BWY, Wong SWL, Waye MMY, Bishop DVM (2012) The Genetic and Environmental Foundation of the Simple View of Reading in Chinese. PLoS ONE 7(10):e47872. doi:10.1371/journal.pone.0047872

Hosmer DW Jr., Lemeshow S (2000) Applied Logistic Regression, 2nd edn. Wiley, Hoboken

Imaizumi Y (2003) A comparative study of zygotic twinning and triplet rates in eight countries, 1972–1999. J Biosoc Sci 35(2):287–302

Jackson RW, Snieder H, Davis H, Treiber FA (2001) Determination of twin zygosity: a comparison of DNA with various questionnaire indices. Twin Res 4(1):12–18

Lim CK, Yeung VS, Yeung TL, Tam AC, Ho CS, Wong SW, Wong CF (2011) Genotype analyses using SNP (using MALDI-TOF mass spectrometry) and STR (microsatellite) markers in the determination of zygosity status of Chinese twins. J Biochem Mol Biol Post Genomic Era 1(1):51–63

McArdle JJ (2013) Exploratory data mining using decision trees in the behavioral sciences. In: McArdle JJ, Ritschard G (eds) Contemporary issues in exploratory data mining in the behavioral sciences. Taylor & Francis, New York, pp 1–47

Ooki S, Asaka A (2004) Zygosity diagnosis in young twins by questionnaire for twins' mothers and twins' self-reports. Twin Res 7(1):5–12

Ooki S, Yamada K, Asaka A (1993) Zygosity diagnosis of twins by questionnaire for twins' mothers. Acta Genet Med Gemellol 42:17

Prescott CA (2013) Clinical versus statistical prediction of zygosity in adult twin pairs: an application of classification trees. In: McArdle JJ, Ritschard G (eds) Contemporary issues in exploratory data mining in the behavioral sciences. Taylor & Francis, New York, pp 257–281

Rasmussen F, Johansson-Kark M (2002) The Swedish young male twins register: a resource for studying risk factors for cardiovascular disease and insulin resistance. Twin Res 5(5):433–435

Rietveld M, van Der Valk J, Bongers I, Stroet T, Slagboom P, Boomsma D (2000) Zygosity diagnosis in young twins by parental report. Twin Res 3(3):134–141

Song YM, Lee DH, Lee MK, Lee K, Lee HJ, Hong EJ, Sung J (2010) Validity of the zygosity questionnaire and characteristics of zygosity-misdiagnosed twin pairs in the healthy twin study of Korea. Twin Res Hum Genet 13(3):223–230

Therneau T, Atkinson B, Ripley B (2015) An introduction to recursive partitioning using the RPART routines. R package version 4.1-10

Torgersen S (1979) The determination of twin zygosity by means of a mailed questionnaire. Acta Geneticae Medicae et Gemellologiae 28(3):225–236

Wong SWL, Chow BW-Y, Ho CS-H, Waye MMY, Bishop DVM (2014) Genetic and environmental overlap between chinese and english reading-related skills in Chinese children. Dev Psychol 50(11):2539–2548. doi:10.1037/a0037836
Funding
This study was funded by the Research Grants Council of the Hong Kong Special Administration Region (HKU743907H & CUHK8/CRF/13G) and the Wellcome Trust of the United Kingdom (082498/z/07).
Ethics declarations
Conflict of Interest
Connie Suk-Han Ho, Mo Zheng, Bonnie Wing-Yin Chow, Simpson W. L. Wong, Cadmon K. P. Lim, and Mary M. Y. Waye declare that they have no conflict of interest.
Statement of human and animal rights
All procedures performed in studies involving human participants were in accordance with the ethical standards of the institutional and/or national research committee and with the 1964 Helsinki declaration and its later amendments or comparable ethical standards.
Informed consent
Informed consent was obtained from parents of all individual child participants included in the study.
Appendix
Appendix
The Chinese Version of the Zygosity Questionnaire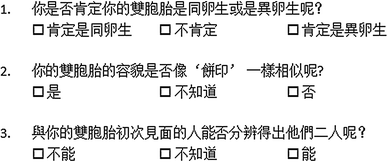 About this article
Cite this article
Ho, C.SH., Zheng, M., Chow, B.WY. et al. Adequacy of Using a Three-Item Questionnaire to Determine Zygosity in Chinese Young Twins. Behav Genet 47, 244–254 (2017). https://doi.org/10.1007/s10519-016-9826-y
Received:

Accepted:

Published:

Issue Date:
Keywords
Parent questionnaire

Zygosity

Chinese

Young twins