Abstract
Classically derived estimates of heritability from twin models have been plagued by the possibility of genetic-environmental covariance. Survey questions that attempt to measure directly the extent to which more genetically similar kin (such as monozygotic twins) also share more similar environmental conditions represent poor attempts to gauge a complex underlying phenomenon of GE-covariance. The present study exploits a natural experiment to address this issue: Self-misperception of twin zygosity in the National Longitudinal Survey of Adolescent Health (Add Health). Such twins were reared under one "environmental regime of similarity" while genetically belonging to another group, reversing the typical GE-covariance and allowing bounded estimates of heritability for a range of outcomes. In addition, we examine twins who were initially misclassified by survey assignment—a stricter standard—in three datasets: Add Health, the Minnesota Twin Family Study and the Child and Adolescent Twin Study in Sweden. Results are similar across approaches and datasets and largely support the validity of the equal environments assumption.
Access options
Buy single article
Instant access to the full article PDF.
US$ 39.95
Tax calculation will be finalised during checkout.
Subscribe to journal
Immediate online access to all issues from 2019. Subscription will auto renew annually.
US$ 119
Tax calculation will be finalised during checkout.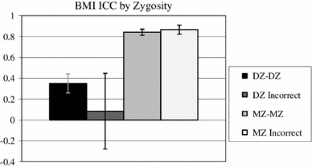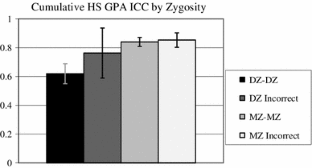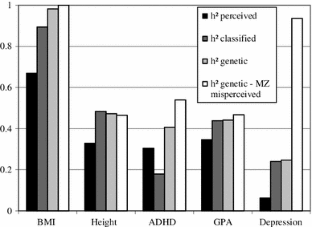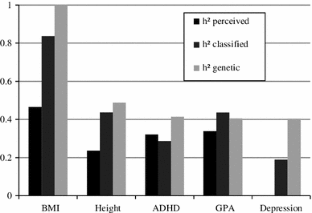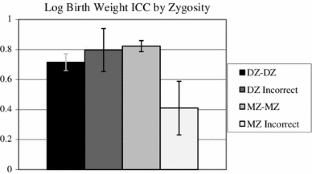 Notes
1.

Assortative mating is the non-random selection of mates in a population. For example, brunettes may be more likely to pair with other brunettes (positive assortative mating) or non-brunettes (negative assortative mating).

2.

Technically, if their genetic similarity in appearance, for instance, is causing the twins to be confused and/or treated more similarly, then that is an effect of genes and thus should unproblematically be part of the overall "genetic" effect (Jencks 1980). However, this logic flies in the face of common sense understandings of what we mean by genetic effects and makes the estimates less externally valid to the rest of the non-twin population. Moreover, bias is introduced by any increased cross-sibling interaction that leads to increased similarity in phenotypes.

3.

Ideally we would instrument misclassification. Birth weight differences temporally precede self-perception of zygosity and strongly predict it, thus fulfilling the first condition necessary for an instrument. However, birth weight differences are likely to have direct effects on the similarity in phenotypes we consider, net of misclassification status. Birth weight has been shown to affect a range of anthropometric measures (see, e.g., Conley et al. 2003 for a review), and recent work has shown that differences themselves, in fact, have predictive power for the differences between siblings (including twins) (see Conley and Rauscher 2013). Thus, birth weight differences violate the exclusion restriction and would thus fail as an instrument. Indeed, it is likely that any factor that would affect the probability of misclassification would also affect the phenotypes, thus we abandoned the hope for an instrumentation strategy and rely instead on simple comparisons between correctly and incorrectly classified groups.

4.

Intra-class correlation is the proportion of the variance between pairs, measured as the variance between twin pairs divided by the sum of the variance within pairs and the variance between pairs. ICC = σB/(σB+σW).
References
Allison DB, Kaprio J, Korkeila M, Koshenvuo M, Neale MC, Hayakawa K (1996) The heritability of body mass index among an international sample of monozygotic twins reared apart. Int J Obes 20:501–506

Breen FM, Plomin R, Wardle J (2006) Heritability of food preferences in young children. Physiol Behav 88:443–447

Christakis NA, Fowler JH (2007) The spread of obesity in a large social network over 32 years. N Engl J Med 357(4):370–379

Christiansen L, Frederiksen H, Schousboe K, Skytthe A, von Wurmb-Schwark N, Christensen K, Kyvik K (2003) Age- and sex-differences in the validity of questionnaire-based zygosity in twins. Twin Res 6:275–278

Conley D, Rauscher E (2013) Genetic interactions with prenatal social environment: effects on academic and behavioral outcomes. J Health Soc Behav 54(1):109–127

Conley D, Strully KW, Bennett NG (2003) The starting gate: birth weight and life chances. University of California Press, Berkeley

Davies G, Tenesa A, Payton T, Yang J, Harris SE (2011) Genome-wide association studies establish that human intelligence is highly heritable and polygenic. Mol Psychiatry 16:996–1005

Goodman R, Stevenson J (1989) A twin study of hyperactivity—II. The aetiological role of genes, family relationships and perinatal adversity. J Child Psychol Psychiatry 30:691–709

Guo G, Stearns E (2002) The social influences on the realization of genetic potential for intellectual development. Soc Forces 80(3):881–910

Harris KM, Halpern CT, Smolen A, Haberstick BC (2006) The national longitudinal study of adolescent health (Add Health) twin data. Twin Res Human Genet 9(6):988–997

Hedrick PW (1999) Balancing selection and MHC. Genetica 104:207–214

Iacono WG, McGue M (2002) Minnesota twin family study. Twin Res 5(05):482–487

Iacono WG, McGue M, Krueger RF (2006) Minnesota center for twin and family research. Twin Res Human Genet 9(6):978–984

Jencks C (1980) Heredity, environment, and public policy reconsidered. Am Sociol Rev 45:723–736

Kendler KS, Neale MC, Kessler RC, Heath AC, Eaves LJ (1993) A test of the equal-environment assumption in twin studies of psychiatric illness. Behav Genet 23(1):21–27

Lazzeroni LC, Ray A (2013) A generalized Defries-Fulker regression framework for the analysis of twin data. Behav Genet 43:85–96

Lichtenstein P, Pedersen NL, McClearn GE (1992) The origins of individual differences in occupational status and educational level: a study of twins reared apart and together. Acta Sociol 35:13–31

Liu K, Zerubavel N, Bearman P (2010) Social demographic change and autism. Demography 47(2):327–343

Magnus P, Berg K, Nance WE (1983) Predicting zygosity in Norwegian twin pairs born 1915–1960. Clin Genet 24:103–112

Magnusson PKE, Almqvist C, Rahman I, Ganna A, Viktorin A, Walum H, Halldner L, Lundström S, Ullén F, Långström N, Larsson H, Nyman A, Gumpert CH, Råstam M, Anckarsäter H, Cnattingius S, Johannesson M, Ingelsson E, Klareskog L, de Faire U, Pedersen NL, Lichtenstein P (2012) The Swedish twin registry: establishment of a biobank and other recent developments. Twin Res Human Genet. doi:10.1017/thg.2012.104

Mare RD (1991) Five decades of educational assortative mating. Am Sociol Rev 56(1):15–32

Ooki S, Yokoyama Y, Asaka A (2004) Zygosity misclassification of twins at birth in Japan. Twin Res 7:228–232

Plomin R, DeFries JC, McClearn GE, McGuffin P (2001) Behavioral genetics, 4th edn. Worth Publishers, New York

Purcell S (2002) Variance components models for gene-environment interaction in twin analysis. Twin Res 5:554–571

Purcell S, Sham P (2002) Variance components models for gene–environment interaction in quantitative trait locus linkage analysis. Twin Res 5:572–576

Rist RC (1977) On understanding the process of schooling: contributions of labeling theory. In: Karabel J, Halsey AH (eds) Power and ideology in education. Oxford University Press, New York, pp 292–305

Rodgers JL, Rowe DC, Buster M (1999) Nature, nurture, and first sexual intercourse in the USA: fitting behavioral genetic models to NLSY kinship data. J Biosoc Sci 31:29–41

Rowe DC, Jacobson KC (1998) National longitudinal study of adolescent health: pairs code book. Chapel Hill, NC, Carolina Population Center

Rowe D, Teachman J (2001) Behavioral genetic research designs and social policy studies. In: Thornton A (ed) America's families and children: research needed in the coming millennium. University of Michigan Press, Ann Arbor, pp 157–187

Scarr S, Carter-Saltzman L (1979) Twin method: defense of a critical assumption. Behav Genet 9(6):527–542

Timimi S, Taylor E (2004) ADHD is best understood as a cultural construct. Br J Psychiatry 184:8–9

Van den Oord E, Boomsma DI, Verhulst FC (2000) A study of genetic and environmental effects on the co-occurrence of problem behaviors in three-year-old twins. J Abnorm Psychol 109:360–372

Visscher PM, Medland SE, Ferreira MAR, Morley KI, Zhu G, Cornes BK, Montgomery GW, Martin. NG (2006) Assumption-free estimation of heritability from genome-wide identity-by-descent sharing between full siblings. PLoS Genet 2:e41. doi:10.1371/journal.pgen.0020041

Visscher PM, Hill WG, Wray NR (2008) Heritability in the genomics era—concepts and misconceptions. Nat Rev Genet 9:255–266

Walton KA, Murray LJ, Gallagher AM, Cran GW, Savage MJ, Boreham C (2000) Parental recall of birthweight: a good proxy for recorded birthweight? Eur J Epidemiol 16(9):793–796

Winship C, Radbill L (1994) Sampling weights and regression analysis. Sociol Methods Res 23(2):230–257

Xian H, Scherrer JF, Eisen SA, True WR, Heath AC, Goldberg J, Lyons MJ, Tsuang MT (2000) Self-reported zygosity and the equal-environments assumption for psychiatric disorders in Vietnam-era twin registry. Behav Genet 30(4):303–310

Yang J et al (2010) Common SNPs explain a large proportion of the heritability for human height. Nat Genet 42(7):565–569
Acknowledgments
This research uses data from Add Health, a Program Project directed by Kathleen Mullan Harris and designed by J. Richard Udry, Peter S. Bearman, and Kathleen Mullan Harris at the University of North Carolina at Chapel Hill, and funded by Grant P01-HD31921 from the Eunice Kennedy Shriver National Institute of Child Health and Human Development, with cooperative funding from 23 other federal agencies and foundations. Special acknowledgment is due Ronald R. Rindfuss and Barbara Entwisle for assistance in the original design. Information on how to obtain the Add Health data files is available on the Add Health website (http://www.cpc.unc.edu/addhealth). No direct support was received from Grant P01-HD31921 for this analysis. This research was funded by the National Science Foundation's Alan T. Waterman Award, SES-0540543.
Additional information
Edited by Chandra Reynolds.
Electronic supplementary material
Below is the link to the electronic supplementary material.
About this article
Cite this article
Conley, D., Rauscher, E., Dawes, C. et al. Heritability and the Equal Environments Assumption: Evidence from Multiple Samples of Misclassified Twins. Behav Genet 43, 415–426 (2013). https://doi.org/10.1007/s10519-013-9602-1
Received:

Accepted:

Published:

Issue Date:
Keywords
Equal environments

Twin misclassification

Heritability

ACE model