Abstract
Psychopathology theories, clinical observations, and research all point to multiple sources of liability to depression. This article uses a longitudinal twin-study design to characterize the contribution of two genetically-influenced sources of depression risk: the first corresponding to stress sensitivity and the second representing risk that is independent of stress sensitivity. The sample consisted of 606 pairs of same-sex adolescent twins recruited from Beijing, China. Mean (SD) age at intake (Wave1) and follow-up (Wave2) was 13.2 (2.6) and 15.1 (2.6) years, respectively. A Reaction Level index was developed to reflect individual differences in stress sensitivity. Biometric models were fit to examine the genetic influence on the variance of and covariance between stress sensitivity and depressive symptoms. Results showed that both Reaction Level and depressive symptoms were moderately heritable. The genetic correlation between depressive symptoms and Reaction Level was estimated to be .884. Genetic contributions to Reaction Level accounted for 37.5% of the total variance of depressive symptoms. Another set of genetic factors, which did not contribute to Reaction Level, accounted for 10.5% of the total variance of depressive symptoms. We interpret our results within the context of a multifactorial polygenic model, whereby depression risk is due to the combined contribution of multiple genetic and environmental factors.
Access options
Buy single article
Instant access to the full article PDF.
US$ 39.95
Tax calculation will be finalised during checkout.
Subscribe to journal
Immediate online access to all issues from 2019. Subscription will auto renew annually.
US$ 119
Tax calculation will be finalised during checkout.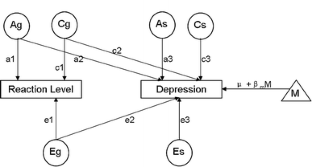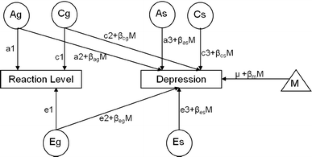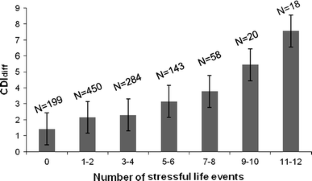 References
Angold A, Weissman MM, John K, Merikangas KR, Prusoff BA, Wickramaratne P et al (1987) Parent and child reports of depressive symptoms in children at low and high risk of depression. J Child Psychol Psychiatry 28(6):901–915

Bale TL (2006) Stress sensitivity and the development of affective disorders. Horm Behav 50(4):529–533

Bartolomucci A, Carola V, Pascucci T, Puglisi-Allegra S, Cabib S, Lesch KP et al (2010) Increased vulnerability to psychosocial stress in heterozygous serotonin transporter knockout mice. Dis Model Mech 3(7–8):459–470

Becker JB, Monteggia LM, Perrot-Sinal TS, Romeo RD, Taylor JR, Yehuda R et al (2007) Stress and disease: is being female a predisposing factor? J Neurosci 27(44):11851–11855

Burcusa SL, Iacono WG (2007) Risk for recurrence in depression. Clin Psychol Rev 27(8):959–985

Caspi A, Sugden K, Moffitt TE, Taylor A, Craig IW, Harrington H et al (2003) Influence of life stress on depression: moderation by a polymorphism in the 5-HTT gene. Science 301(5631):386–389

Chan RC, Gottesman II (2008) Neurological soft signs as candidate endophenotypes for schizophrenia: a shooting star or a Northern star? Neurosci Biobehav Rev 32(5):957–971

Chen Z, Guo F, Yang X, Li X, Duan Q, Zhang J et al (2009) Emotional and behavioral effects of romantic relationships in Chinese adolescents. J Youth Adolesc 38(10):1282–1293

Chen J, Li X, Chen Z, Yang X, Zhang J, Duan Q et al (2010) Optimization of zygosity determination by questionnaire and DNA genotyping in Chinese adolescent twins. Twin Res Hum Genet 13(2):194–200

Eaves LJ (2006) Genotype × environment interaction in psychopathology: fact or artifact? Twin Res Hum Genet 9(1):1–8

Farmer A (2004) Bad luck and bad genes in depression. In: DiLalla LF (ed) Behavior genetics principles—perspectives in development, personality, and psychopathology. American Psychological Association, Washington, pp 107–121

Fowles DC (1992) Schizophrenia: diathesis-stress revisited. Annu Rev Psychol 43:303–336

Ge X, Conger RD, Elder GH Jr (2001) Pubertal transition, stressful life events, and the emergence of gender differences in adolescent depressive symptoms. Dev Psychol 37(3):404–417

Ge X, Natsuaki MN, Neiderhiser JM, Reiss D (2009) The longitudinal effects of stressful life events on adolescent depression are buffered by parent-child closeness. Dev Psychopathol 21(2):621–635

Gottesman II (1974) Developmental genetics and ontogenetic psychology: overdue detente and propositions from a matchmaker. In: Pick AD (ed) Minnesota symposia on child psychology, vol 8. University of Minnesota Press, Minneapolis, pp 55–80

Gottesman II, Gould TD (2003) The endophenotype concept in psychiatry: etymology and strategic intentions. Am J Psychiatry 160(4):636–645

Gottesman II, Shields J (1967) A polygenic theory of schizophrenia. Proc Natl Acad Sci USA 58(1):199–205

Gottesman II, Shields J (1972) Schizophrenia and genetics; a twin study vantage point. Academic Press, New York

Gottesman II, Shields J (1973) Genetic theorizing and schizophrenia. Br J Psychiatry 122:15–30

Gottesman II, Shields J (1982) Schizophrenia: the epigenetic puzzle. Cambridge University Press, New York

Haque FN, Gottesman I, Wong AH (2009) Not really identical: epigenetic differences in monozygotic twins and implications for twin studies in psychiatry. Am J Med Genet C 151C(2):136–141

Hasler G, Drevets WC, Manji HK, Charney DS (2004) Discovering endophenotypes for major depression. Neuropsychopharmacology 29(10):1765–1781

Johnson JH, McCutcheon SM (1980) Assessing life stress in older children and adolescents: preliminary findings with the life events checklist. In: Sarason IG, Spielberger CC (eds) Stress and anxiety, vol 7. Hemisphere, Washington, pp 111–125

Kendler KS, Kessler RC, Walters EE, MacLean C, Neale MC, Heath AC et al (1995) Stressful life events, genetic liability, and onset of an episode of major depression in women. Am J Psychiatry 152(6):833–842

Kendler KS, Karkowski LM, Prescott CA (1999) Causal relationship between stressful life events and the onset of major depression. Am J Psychiatry 156(6):837–841

Kendler KS, Thornton LM, Gardner CO (2001) Genetic risk, number of previous depressive episodes, and stressful life events in predicting onset of major depression. Am J Psychiatry 158(4):582–586

Kendler KS, Gardner CO, Lichtenstein P (2008) A developmental twin study of symptoms of anxiety and depression: evidence for genetic innovation and attenuation. Psychol Med 38(11):1567–1575

Kessler RC (1997) The effects of stressful life events on depression. Annu Rev Psychol 48:191–214

Kovacs M (1992) Children's depression inventory manual. Nulti-Health Systems, North Tonawanda

Lee S, Tsang A, Huang YQ, He YL, Liu ZR, Zhang MY et al (2009) The epidemiology of depression in metropolitan China. Psychol Med 39(5):735–747

Markon KE, Krueger RF, Watson D (2005) Delineating the structure of normal and abnormal personality: an integrative hierarchical approach. J Pers Soc Psychol 88(1):139–157

McGue M, Christensen K (1997) Genetic and environmental contributions to depression symptomatology: evidence from Danish twins 75 years of age and older. J Abnorm Psychol 106(3):439–448

McGue M, Christensen K (2003) The heritability of depression symptoms in elderly Danish twins: occasion-specific versus general effects. Behav Genet 33(2):83–93

McGuffin P, Katz R, Bebbington P (1988) The Camberwell collaborative depression study. III. Depression and adversity in the relatives of depressed probands. Br J Psychiatry 152:775–782

Neale MC (1997) Mx: statistical modelling, 4th edn. Department of Psychiatry, Richmond

Neale MC, Maes HH (1996) Methodology for genetics studies of twins and families, 6th edn. Kluwer, Dordrecht

Neale MC, Boker SM, Xie G, Maes HH (1999) Mx: statistical modeling, 5th edn. Department of Psychiatry, Richmond

O'Connor BP, Dyce JA (2001) Rigid and extreme: a geometric representation of personality disorders in five-factor model space. J Pers Soc Psychol 81(6):1119–1130

Purcell S (2002) Variance components models for gene-environment interaction in twin analysis. Twin Res Hum Genet 5(6):554–571

Silberg J, Pickles A, Rutter M, Hewitt J, Simonoff E, Maes H et al (1999) The influence of genetic factors and life stress on depression among adolescent girls. Arch Gen Psychiatry 56(3):225–232

Smucker MR, Craighead WE, Craighead LW, Green BJ (1986) Normative and reliability data for the children's depression inventory. J Abnorm Child Psychol 14(1):25–39

Sun Y, Tao F, Hao J, Wan Y (2010) The mediating effects of stress and coping on depression among adolescents in China. J Child Adolesc Psychiatr Nurs 23(3):173–180

Tellegen A, Ben-Porath YS, McNulty JL, Arbisi PA, Graham JR, Kaemmer B (2003) The MMPI-2 restructured clinical (RC) scales: development, validation and interpretation. University of Minnesota Press, Minneapolis

Thapar A, McGuffin P (1994) A twin study of depressive symptoms in childhood. Br J Psychiatry 165(2):259–265

Timbremont B, Braet C, Dreessen L (2004) Assessing depression in youth: relation between the children's depression inventory and a structured interview. J Clin Child Adolesc Psychol 33(1):149–157

Turkheimer E, Goldsmith HH, Gottesman II (1995) Some conceptual deficiencies in "developmental" behavior genetics: comment. Hum Dev 38:143–153

Wichers M, Barge-Schaapveld D, Nicolson N, Peeters F, de Vries M, Mengelers R et al (2009) Reduced stress-sensitivity or increased reward experience: the psychological mechanism of response to antidepressant medication. Neuropsychopharmacology 34:923–931

Woolf CM (1997) Does the genotype for schizophrenia often remain unexpressed because of canalization and stochastic events during development? Psychol Med 27(3):659–668
Acknowledgments
This study was funded by the Knowledge Innovation Program of the Chinese Academy of Sciences (KSCX2-EW-J-8) and the National Natural Science Foundation of China (31170993). The first author was a postdoctoral guest worker in the Department of Psychology and the Institute of Child Development at the University of Minnesota while working on this project. We thank all the personnel involved in the sample recruitment and data collection. We dedicate this article to the memory of our late and beloved colleague Dr. Xiaojia Ge for his great contribution in founding the Beijing Adolescent Twin Project.
Conflict of interest
The authors do not have any financial relationship with the organization that sponsored the research. We have full control of all primary data and we agree to allow the journal to review our data if requested.
Additional information
Edited by Deborah Finkel.
About this article
Cite this article
Li, X., McGue, M. & Gottesman, I.I. Two Sources of Genetic Liability to Depression: Interpreting the Relationship Between Stress Sensitivity and Depression Under a Multifactorial Polygenic Model. Behav Genet 42, 268–277 (2012). https://doi.org/10.1007/s10519-011-9506-x
Received:

Accepted:

Published:

Issue Date:
Keywords
China

Twins

Stress sensitivity

Endophenotype

Depressive symptoms

Adolescence