Abstract
Research addressing genetic and environmental determinants to antisocial behaviour suggests substantial variability across studies. Likewise, evidence for etiologic gender differences is mixed, and estimates might be biased due to assortative mating. We used longitudinal Swedish total population registers to estimate the heritability of objectively measured violent offending (convictions) in classic twin (N = 36,877 pairs), adoptee-parent (N = 5,068 pairs), adoptee-sibling (N = 10,610 pairs), and sibling designs (N = 1,521,066 pairs). Type and degree of assortative mating were calculated from comparisons between spouses of siblings and half-siblings, and across consecutive spouses. Heritability estimates for the liability of violent offending agreed with previously reported heritability for self-reported antisocial behaviour. While the sibling model yielded estimates similar to the twin model (A ≈ 55%, C ≈ 13%), adoptee-models appeared to underestimate familial effects (A ≈ 20–30%, C ≈ 0%). Assortative mating was moderate to strong (r spouse = 0.4), appeared to result from both phenotypic assortment and social homogamy, but had only minor effect on variance components. Finally, we found significant gender differences in the etiology of violent crime.
Access options
Buy single article
Instant access to the full article PDF.
USD 39.95
Price excludes VAT (USA)
Tax calculation will be finalised during checkout.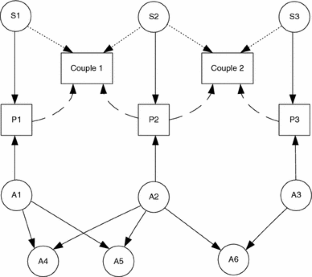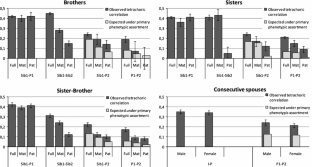 References
Baker LA, Mack W et al (1989) Sex-differences in property crime in a Danish adoption cohort. Behav Genet 19(3):355–370

Baker LA, Raine A et al (2008) Differential genetic and environmental influences on reactive and proactive aggression in children. J Abnorm Child Psych 36(8):1265–1278

Bellis MA, Hughes K et al (2005) Measuring paternal discrepancy and its public health consequences. J Epidemiol Commun H 59(9):749–754

Bohman M (1978) Some genetic aspects of alcoholism and criminality. A population of adoptees. Arch Gen Psychiatry 35(3):269–276

Burt SA (2009) Are there meaningful etiological differences within antisocial behavior? Results of a meta-analysis. Clin Psychol Rev 29(2):163–178

Burt SA, Klump KL (2009) The etiological moderation of aggressive and nonaggressive antisocial behavior by age. Twin Res Hum Genet 12(4):343–350

Burt SA, Neiderhiser JM (2009) Aggressive versus nonaggressive antisocial behavior: distinctive etiological moderation by age. Dev Psychol 45(4):1164–1176

Burt SA, McGue M et al (2005) Sources of covariation among the child-externalizing disorders: informant effects and the shared environment. Psychol Med 35(8):1133–1144

Carey G (1992) Twin imitation for antisocial behavior: implications for genetic and family environment research. J Abnorm Psychol 101(1):18–25

Centerwall BS, Robinette CD (1989) Twin concordance for dishonorable discharge from the military—with a review of the genetics of antisocial-behavior. Compr Psychiatry 30(5):442–446

Coid B, Lewis SW et al (1993) A twin study of psychosis and criminality. Br J Psychiatry 162:87–92

Falconer DS, Mackay TFC (1996) Introduction to quantitative genetics. Pearson Education Limited, England

Frisell T, Lichtenstein P et al (2011) Violent crime runs in families: a total population study of 12.5 million individuals. Psychol Med 41:97–105

Hicks BM, Krueger RF et al (2004) Family transmission and heritability of externalizing disorders—a twin-family study. Arch Gen Psychiatry 61(9):922–928

Krueger RF, Moffitt TE et al (1998) Assortative mating for antisocial behavior: developmental and methodological implications. Behav Genet 28(3):173–186

Krueger RF, Hicks BM et al (2002) Etiologic connections among substance dependence, antisocial behavior, and personality: modeling the externalizing spectrum. J Abnorm Psychol 111(3):411–424

Krug EG, Mercy JA et al (eds) (2002) World report on violence and health. World Health Organization, Geneva

Lichtenstein P, De Faire U et al (2002) The Swedish Twin Registry: a unique resource for clinical, epidemiological and genetic studies. J Intern Med 252(3):184–205

Lichtenstein P, Sullivan PF et al (2006) The Swedish twin registry in the third millennium: an update. Twin Res Hum Genet 9(6):875–882

Lichtenstein P, Yip BH et al (2009) Common genetic determinants of schizophrenia and bipolar disorder in Swedish families: a population-based study. Lancet 373(9659):234–239

Maes HHM, Neale MC et al (1998) Assortative mating for major psychiatric diagnoses in two population-based samples. Psychol Med 28(6):1389–1401

McAllister CM, Speidel SE et al (2011) Genetic parameters for intramuscular fat percentage, marbling score, scrotal circumference, and heifer pregnancy in Red Angus cattle. J Anim Sci E-pub. doi:10.2527/jas.2010-3538

Nagoshi CT, Johnson RC et al (1987) Phenotypic assortative mating Vs social homogamy among Japanese and Chinese parents in the Hawaii family study of cognition. Behav Genet 17(5):477–485

Neale MC, Cardon LR (1992) Methodology for genetic studies of twins and families. Kluwer Academic Press, Dordrecht

Pawitan Y, Reilly M et al (2004) Estimation of genetic and environmental factors for binary traits using family data. Stat Med 23(3):449–465

Reynolds CA, Baker LA et al (1996) Models of spouse similarity: applications to fluid ability measured in twins and their spouses. Behav Genet 26(2):73–88

Reynolds CA, Baker LA et al (2000) Multivariate models of mixed assortment: phenotypic assortment and social homogamy for education and fluid ability. Behav Genet 30(6):455–476

Reynolds CA, Barlow T et al (2006) Alcohol, tobacco and caffeine use: spouse similarity processes. Behav Genet 36(2):201–215

Rhee SH, Waldman ID (2002) Genetic and environmental influences on antisocial behavior: a meta-analysis of twin and adoption studies. Psychol Bull 128(3):490–529

Rhule-Louie DM, McMahon RJ (2007) Problem behavior and romantic relationships: assortative mating, behavior contagion, and desistance. Clin Child Fam Psychol 10(1):53–100

Sethi D, Hughes K, et al (2010) European report on preventing violence and knife crime among young people. The Regional Office for Europe of the World Health Organization

Svensson AC, Sandin S et al (2009) Maternal effects for preterm birth: a genetic epidemiologic study of 630,000 families. Am J Epidemiol 170(11):1365–1372

Taylor J, McGue M et al (2000) Sex differences, assortative mating, and cultural transmission effects on adolescent delinquency: a twin family study. J Child Psychol Psychiatry 41(4):433–440

Tuvblad C, Raine A et al (2009) Genetic and environmental stability differs in reactive and proactive aggression. Aggress Behav 35(6):437–452

van Grootheest DS, van den Berg SM et al (2008) Marital resemblance for obsessive-compulsive, anxious and depressive symptoms in a population-based sample. Psychol Med 38(12):1731–1740
Additional information
Edited by Kristen Jacobson.
About this article
Cite this article
Frisell, T., Pawitan, Y., Långström, N. et al. Heritability, Assortative Mating and Gender Differences in Violent Crime: Results from a Total Population Sample Using Twin, Adoption, and Sibling Models. Behav Genet 42, 3–18 (2012). https://doi.org/10.1007/s10519-011-9483-0
Received:

Accepted:

Published:

Issue Date:

DOI: https://doi.org/10.1007/s10519-011-9483-0
Keywords
Antisocial behavior

Violent crime

Heritability

GLMM

Probit link

Assortative mating

Twin

Adoption

Sibling