Abstract
Tuberous sclerosis (TSC) is a single-gene disorder caused by heterozygous mutations in the TSC1 or TSC2 gene. TSC is often associated with neurological (e.g., epilepsy), cognitive (intellectual disabilities, specific neuropsychological impairments) and behavioral pathologies (e.g., autism, attention deficit hyperactivity disorder). In addition, there is a high prevalence of psychiatric problems in TSC populations, including anxiety and mood disorders. To date, little is known about the pathogenetic bases of these associated psychiatric symptoms; for instance, it is unclear whether they are rooted in TSC-associated neurobiological alterations or whether they are secondary psychological phenomena (e.g., because individuals have to cope with the burden of the disease). Here, we report elevated levels of anxiety-related behaviors and mild deficits in two hippocampal-dependent learning tasks in a Tsc2 dominant negative transgenic mouse model of TSC. These findings establish a mouse model for TSC-related anxiety phenotypes and suggest that anxiety disorders in TSC have a biological foundation.
This is a preview of subscription content, log in to check access.
Access options
Buy single article
Instant access to the full article PDF.
US$ 39.95
Price includes VAT for USA
Subscribe to journal
Immediate online access to all issues from 2019. Subscription will auto renew annually.
US$ 199
This is the net price. Taxes to be calculated in checkout.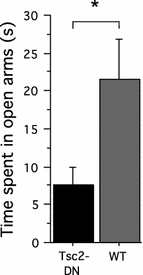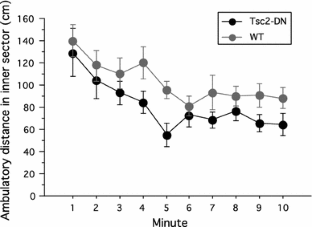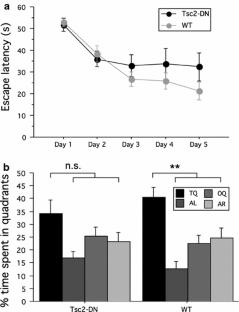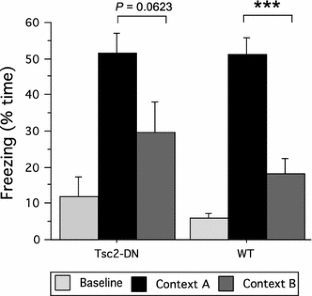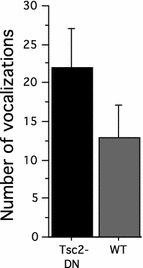 References
Bolton PF, Park RJ, Higgins JN, Griffiths PD, Pickles A (2002) Neuro-epileptic determinants of autism spectrum disorders in tuberous sclerosis complex. Brain 125:1247–1255

Crino PB, Nathanson KL, Henske EP (2006) The tuberous sclerosis complex. N Engl J Med 355:1345–1356

Curatolo P, Bombardieri R, Jozwiak S (2008) Tuberous sclerosis. Lancet 372:657–668

Dabora SL, Roberts P, Nieto A, Perez R, Jozwiak S, Franz D, Bissler J, Thiele EA, Sims K, Kwiatkowski DJ (2002) Association between a high-expressing interferon-gamma allele and a lower frequency of kidney angiomyolipomas in TSC2 patients. Am J Hum Genet 71:750–758

de Vries PJ, Howe CJ (2007) The tuberous sclerosis complex proteins—a GRIPP on cognition and neurodevelopment. Trends Mol Med 13:319–326

de Vries PJ, Prather PA (2007) The tuberous sclerosis complex. N Engl J Med 356:92 author reply 93-94

de Vries P, Humphrey A, McCartney D, Prather P, Bolton P, Hunt A (2005) Consensus clinical guidelines for the assessment of cognitive and behavioural problems in tuberous sclerosis. Eur Child Adolesc Psychiatry 14:183–190

de Vries PJ, Hunt A, Bolton PF (2007) The psychopathologies of children and adolescents with tuberous sclerosis complex (TSC): a postal survey of UK families. Eur Child Adolesc Psychiatry 16:16–24

de Vries PJ, Gardiner J, Bolton PF (2009) Neuropsychological attention deficits in tuberous sclerosis complex (TSC). Am J Med Genet A 149A:387–395

Ehninger D, Han S, Shilyansky C, Zhou Y, Li W, Kwiatkowski DJ, Ramesh V, Silva AJ (2008) Reversal of learning deficits in a Tsc2+/− mouse model of tuberous sclerosis. Nat Med 14:843–848

Goorden SM, van Woerden GM, van der Weerd L, Cheadle JP, Elgersma Y (2007) Cognitive deficits in Tsc1+/− mice in the absence of cerebral lesions and seizures. Ann Neurol 62:648–655

Govindarajan B, Brat DJ, Csete M, Martin WD, Murad E, Litani K, Cohen C, Cerimele F, Nunnelley M, Lefkove B et al (2005) Transgenic expression of dominant negative tuberin through a strong constitutive promoter results in a tissue-specific tuberous sclerosis phenotype in the skin and brain. J Biol Chem 280:5870–5874

Harrison JE, O'Callaghan FJ, Hancock E, Osborne JP, Bolton PF (1999) Cognitive deficits in normally intelligent patients with tuberous sclerosis. Am J Med Genet 88:642–646

Hogg S (1996) A review of the validity and variability of the elevated plus-maze as an animal model of anxiety. Pharmacol Biochem Behav 54:21–30

Joinson C, O'Callaghan FJ, Osborne JP, Martyn C, Harris T, Bolton PF (2003) Learning disability and epilepsy in an epidemiological sample of individuals with tuberous sclerosis complex. Psychol Med 33:335–344

Kikuchi Y, Sudo A, Mitani H, Hino O (2004) Presence of a modifier gene(s) affecting early renal carcinogenesis in the Tsc2 mutant (Eker) rat model. Int J Oncol 24:75–80

Lewis JC, Thomas HV, Murphy KC, Sampson JR (2004) Genotype and psychological phenotype in tuberous sclerosis. J Med Genet 41:203–207

Meikle L, Talos DM, Onda H, Pollizzi K, Rotenberg A, Sahin M, Jensen FE, Kwiatkowski DJ (2007) A mouse model of tuberous sclerosis: neuronal loss of Tsc1 causes dysplastic and ectopic neurons, reduced myelination, seizure activity, and limited survival. J Neurosci 27:5546–5558

Muzykewicz DA, Newberry P, Danforth N, Halpern EF, Thiele EA (2007) Psychiatric comorbid conditions in a clinic population of 241 patients with tuberous sclerosis complex. Epilepsy Behav 11:506–513

Onda H, Lueck A, Marks PW, Warren HB, Kwiatkowski DJ (1999) Tsc2(+/−) mice develop tumors in multiple sites that express gelsolin and are influenced by genetic background. J Clin Invest 104:687–695

Pasumarthi KB, Nakajima H, Nakajima HO, Jing S, Field LJ (2000) Enhanced cardiomyocyte DNA synthesis during myocardial hypertrophy in mice expressing a modified TSC2 transgene. Circ Res 86:1069–1077

Prather P, de Vries PJ (2004) Behavioral and cognitive aspects of tuberous sclerosis complex. J Child Neurol 19:666–674

Pulsifer MB, Winterkorn EB, Thiele EA (2007) Psychological profile of adults with tuberous sclerosis complex. Epilepsy Behav 10:402–406

Raznahan A, Joinson C, O'Callaghan F, Osborne JP, Bolton PF (2006) Psychopathology in tuberous sclerosis: an overview and findings in a population-based sample of adults with tuberous sclerosis. J Intellect Disabil Res 50:561–569

Ridler K, Suckling J, Higgins NJ, de Vries PJ, Stephenson CM, Bolton PF, Bullmore ET (2007) Neuroanatomical correlates of memory deficits in tuberous sclerosis complex. Cereb Cortex 17:261–271

Smalley SL (1998) Autism and tuberous sclerosis. J Autism Dev Disord 28:407–414

Uhlmann EJ, Wong M, Baldwin RL, Bajenaru ML, Onda H, Kwiatkowski DJ, Yamada K, Gutmann DH (2002) Astrocyte-specific TSC1 conditional knockout mice exhibit abnormal neuronal organization and seizures. Ann Neurol 52:285–296

Walf AA, Frye CA (2007) The use of the elevated plus maze as an assay of anxiety-related behavior in rodents. Nat Protoc 2:322–328

Waltereit R, Welzl H, Dichgans J, Lipp HP, Schmidt WJ, Weller M (2006) Enhanced episodic-like memory and kindling epilepsy in a rat model of tuberous sclerosis. J Neurochem 96:407–413

Way SW, McKenna J 3rd, Mietzsch U, Reith RM, Wu HC, Gambello MJ (2009) Loss of Tsc2 in radial glia models the brain pathology of tuberous sclerosis complex in the mouse. Hum Mol Genet 18:1252–1265

Webb DW, Fryer AE, Osborne JP (1996) Morbidity associated with tuberous sclerosis: a population study. Dev Med Child Neurol 38:146–155

Winterkorn EB, Pulsifer MB, Thiele EA (2007) Cognitive prognosis of patients with tuberous sclerosis complex. Neurology 68:62–64

Yeung RS, Gu H, Lee M, Dundon TA (2001) Genetic identification of a locus, Mot1, that affects renal tumor size in the rat. Genomics 78:108–112
Acknowledgments
Tsc2-DN mice were kindly provided by Jack L. Arbiser. This work was supported by DFG grant EH223/2-1 and funds of the German Centre for Neurodegenerative Diseases (DZNE) to D.E. and NIH R01 MH084315 to A.J.S.
Additional information
Edited by Pierre Roubertoux and Petrus de Vries.
About this article
Cite this article
Ehninger, D., Silva, A.J. Increased Levels of Anxiety-related Behaviors in a Tsc2 Dominant Negative Transgenic Mouse Model of Tuberous Sclerosis. Behav Genet 41, 357–363 (2011). https://doi.org/10.1007/s10519-010-9398-1
Received:

Accepted:

Published:

Issue Date:
Keywords
Tuberous sclerosis

mTOR

Anxiety

Learning and memory

Behavior

Mouse