Abstract
Studies have demonstrated little to no heritability for adolescent religiosity but moderate genetic, shared environmental, and nonshared environmental influences on adult religiosity. Only one longitudinal study of religiosity in female twins has been conducted (Koenig et al., Dev Psychol 44:532–543, 2008), and reported that persistence from mid to late adolescence is due to shared environmental factors, but persistence from late adolescence to early adulthood was due to genetic and shared environmental factors. We examined the etiology of stability and change in religious values and religious attendance in males and females during adolescence and early adulthood. The heritability of both religious values and religious attendance increased from adolescence to early adulthood, although the increase was greater for religious attendance. Both genetic and shared environmental influences contributed to the stability of religious values and religious attendance across adolescence and young adulthood. Change in religious values was due to both genetic and nonshared environmental influences specific to early adulthood, whereas change in religious attendance was due in similar proportions to genetic, shared environmental, and non-shared environmental influences.
Access options
Buy single article
Instant access to the full article PDF.
USD 39.95
Price excludes VAT (USA)
Tax calculation will be finalised during checkout.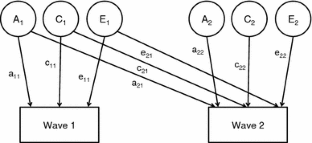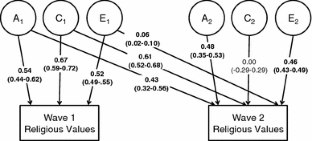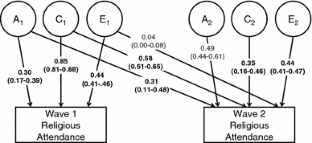 References
Argue A, Johnson DR, White LK (1999) Age and religiosity: evidence from a three-wave panel analysis. J Sci Study Relig 38:423–435

Bergen SE, Gardner CO, Kendler KS (2007) Age-related changes in heritability of behavioral phenotypes over adolescence and young adulthood: a meta-analysis. Twin Res Hum Genet 10:423–433

Boomsma DI, de Geus EJ, van Baal GC, Koopmans JR (1999) A religious upbringing reduces the influence of genetic factors on disinhibition: evidence for interaction between genotype and environment on personality. Twin Res 2:115–125

Bouchard T J Jr, McGue M, Lykken D, Tellegen A (1999) Intrinsic and extrinsic religiousness: genetic and environmental influences and personality correlates. Twin Res 2:88–98

D'Onofrio BM, Eaves LJ, Murrelle L, Maes HH, Spilka B (1999a) Understanding biological and social influences on religious affiliation, attitudes, and behaviors: a behavior genetic perspective. J Pers 67:953–984

D'Onofrio BM, Murrelle L, Eaves LJ, McCullough ME, Landis JL, Maes HH (1999b) Adolescent religiousness and its influence on substance use: preliminary findings from the Mid-Atlantic School Age Twin Study. Twin Res 2:156–168

Eaves LJ, Heath A, Martin N, Maes HH, Neale M, Kendler K et al (1999) Comparing the biological and cultural inheritance of personality and social attitudes in the Virginia 30,000 study of twins and their relatives. Twin Res 2:62–80

Emmons RA, Barrett JL, Schnitker SA (2008) Personality and the capacity for religious and spiritual experience. In: John OP, Robins RW, Pervin LA (eds) Handbook of personality psychology: theory and research. Guilford Press, New York, pp 634–653

Gillum RF, King DE, Obisesan TO, Koenig HG (2008) Frequency of attendance at religious services and mortality in a U.S. national cohort. Ann Epidemiol 18:124–129

Heath AC, Madden PA, Grant JD, McLaughlin TL, Todorov AA, Bucholz KK (1999) Resiliency factors protecting against teenage alcohol use and smoking: influences of religion, religious involvement and values, and ethnicity in the Missouri Adolescent Female Twin Study. Twin Res 2:145–155

Herrenkohl TI, Tajima EA, Whitney SD, Huang B (2005) Protection against antisocial behavior in children exposed to physically abusive discipline. J Adolesc Health 36:457–465

Jessor R, Jessor SL (1977) Problem behavior and psychological development: a longitudinal study of youth. Academic Press, New York

Kendler KS, Liu XQ, Gardner CO, McCullough ME, Larson D, Prescott CA (2003) Dimensions of religiosity and their relationship to lifetime psychiatric and substance use disorders. Am J Psychiatry 160:496–503

Kirk KM, Maes HH, Neale MC, Heath AC, Martin NG, Eaves LJ (1999) Frequency of church attendance in Australia and the United States: models of family resemblance. Twin Res 2:99–107

Koenig LB, McGue M, Krueger RF, Bouchard T J Jr (2005) Genetic and environmental influences on religiousness: findings for retrospective and current religiousness ratings. J Pers 73:471–488

Koenig LB, McGue M, Krueger RF, Bouchard T J Jr (2007) Religiousness, antisocial behavior, and altruism: genetic and environmental mediation. J Pers 75:265–290

Koenig LB, McGue M, Iacono WG (2008) Stability and change in religiousness during emerging adulthood. Dev Psychol 44:532–543

Maes HH, Neale MC, Martin NG, Heath AC, Eaves LJ (1999) Religious attendance and frequency of alcohol use: same genes or same environments: a bivariate extended twin kinship model. Twin Res 2:169–179

Maselko J, Kubzansky LD (2006) Gender differences in religious practices, spiritual experiences and health: results from the US General Social Survey. Soc Sci Med 62:2848–2860

McCullough ME, Hoyt WT, Larson DB, Koenig HG, Thoresen C (2000) Religious involvement and mortality: a meta-analytic review. Health Psychol 19:211–222

Moreira-Almeida A, Neto FL, Koenig HG (2006) Religiousness and mental health: a review. Rev Bras Psiquiatr 28:242–250

Musick MA, House JS, Williams DR (2004) Attendance at religious services and mortality in a national sample. J Health Soc Behav 45:198–213

Neale MC (2004) Mx: statistical modeling, 6th edn. MCV, Richmond (Computer software)

Nichols RC, Bilbro W C Jr (1966) The diagnosis of twin zygosity. Acta Genet Stat Med 16:265–275

Norenzayan A, Shariff AF (2008) The origin and evolution of religious prosociality. Science 322:58–62

Rhea SA, Gross AA, Haberstick BC, Corley RP (2006) Colorado twin registry. Twin Res Hum Genet 9:941–949

Sherkat DE (1998) Counterculture of continuity? Competing influences on baby boomers' religious orientations and participation. Soc Forces 76:1087–1115

Stolzenberg RM, Blair-Loy M, Waite LJ (1995) Religious participation in early adulthood: age and family life cycle effects on church membership. Am Sociol Rev 60:84–103

Truett KR, Eaves LJ, Meyer JM, Heath AC, Martin NG (1992) Religion and education as mediators of attitudes: a multivariate analysis. Behav Genet 22:43–62

Truett KR, Eaves LJ, Walters EE, Heath AC, Hewitt JK, Meyer JM et al (1994) A model system for analysis of family resemblance in extended kinships of twins. Behav Genet 24:35–49

Ueker JE, Regnerus MD, Vaaler ML (2007) Losing my religion: the social sources of religious decline in early adulthood. Soc Forces 85:1667–1692

Wink P, Ciciolla L, Dillon M, Tracy A (2007) Religiousness, spiritual seeking, and personality: findings from a longitudinal study. J Pers 75:1051–1070

Winter T, Kaprio J, Viken RJ, Karvonen S, Rose RJ (1999) Individual differences in adolescent religiosity in Finland: familial effects are modified by sex and region of residence. Twin Res 2:108–114
Acknowledgments
This work was funded by NIDA grant DA-011015 and NICHD HD-010333. T.M.M. Button was supported by NIAAA grant 2 T32 AA007464-31.
Additional information
Edited by Deborah Finkel.
About this article
Cite this article
Button, T.M.M., Stallings, M.C., Rhee, S.H. et al. The Etiology of Stability and Change in Religious Values and Religious Attendance. Behav Genet 41, 201–210 (2011). https://doi.org/10.1007/s10519-010-9388-3
Received:

Accepted:

Published:

Issue Date:

DOI: https://doi.org/10.1007/s10519-010-9388-3
Keywords
Religious values

Religious attendance

Heritability

Longitudinal

Twins