Abstract
Biometric studies have shown that happiness is strongly affected by genes. The findings are mainly based on twin data, however, and the full validity of the results has been debated. To overcome some limitations in classical twin research, we examined aetiological sources of subjective well-being (SWB), using two independent population-based samples, one including nuclear families (N = 54,540) and one including twins (N = 6,620). Biometric modelling using R was conducted to test for a data structure implying either non-additive genetic effects or higher environmental co-twin correlation in MZ than DZ pairs (violation of the EEA). We also estimated non-random mating, cultural transmission and shared environments specific for regular siblings and twins. Two sets of nested models were fitted and compared. The best explanatory model shows that family matters for happiness predominantly due to quantitative sex-specific genetic effects, a moderate spousal correlation and a shared twin environment. Upper limits for broad-sense heritability were estimated to be 0.33 (females) and 0.36 (males). Our study constitutes the most elaborate biometric study of SWB to date and illustrates the utility of including responses from multiple types of relatives in quantitative genetic analyses.
Access options
Buy single article
Instant access to the full article PDF.
USD 39.95
Price excludes VAT (USA)
Tax calculation will be finalised during checkout.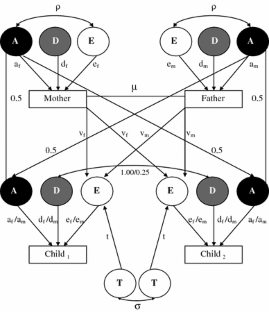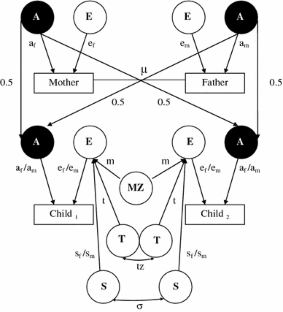 References
Aisworth MDS (1991) Attachments and other affectional bonds across the life cycle. In: Parkes CM, Stevenson-Hinde J, Marris P (eds) Attachment across the lifecycle. Routledge, New York, pp 33–51

Akaike H (1987) Factor analysis and AIC. Psychometrika 52:317–332

Andrews FM, Withey SB (1976) Social indicators of well-being. Plenum, New York

Argyle M (1999) Causes and correlates of happiness. In: Kahneman D, Diener E, Schwarz N (eds) Well-being: the foundations of hedonic psychology. Russell Sage Foundation, New York

Baker LA, Cesa IL, Gatz M, Mellins C (1992) Genetic and environmental influences on positive and negative affect: support for a two-factor theory. Psychol Aging 7:158–163

Bartels M, Boomsma D (2009) Born to be happy? The etiology of subjective well-being. Behav Genet. Published online 03 September 2009

Burt SA (2009) Rethinking environmental contributions to child and adolescent psychopathology: a meta-analysis of shared environmental influences. Psychol Bull 135:608–637

Caprara GV, Steca P (2005) Affective and social self-regulatory efficacy beliefs as determinants of positive thinking and happiness. Eur Psychol 4:275–286

Caprara GV, Steca P (2006) The contribution of self-regulatory efficacy beliefs in managing affect and family relationships to positive thinking and hedonic balance. J Soc Clin Psychol 25:601–625

Caprara GV, Fagnani C, Alessandri G, Steca P, Gigantesco A, Cavalli-Sforza L, Stazi MA (2009) Human optimal functioning. The genetics of positive orientation towards self, life, and the future. Behav Genet 39:277–284

Cloninger CR (1980) Interpretation of intrinsic and extrinsic structural relations by path analysis: theory and applications to assortative mating. Genet Res 36:135–145

Davidson RJ (2004) Well-being and affective style: neural substrates and bio-behavioural correlates. Philos Trans R Soc Lond B 359:1395–1411

Depue RA (1995) Neurobiological factors in personality and depression. Eur J Pers 9:413–439

Diener E, Lucas R (1999) Personality and subjective well-being. In: Kahneman D, Diener E, Schwarz N (eds) Well-being: the foundations of hedonic psychology. Russell Sage Foundation, New York

Eaves LJ (1972) Computer simulation of sample size and experimental design in human psychogenetics. Psychol Bull 77:144–152

Eaves LJ, Eysenck HJ, Martin NG (1989) Genes, culture and personality: an empirical approach. Academic Press, London

Eaves LJ, Heath AC, Neale MC, Hewitt JK, Martin NG (1998) Sex differences and non-additivity in the effects of genes on personality. Twin Res 1:131–137

Eid M, Diener E (2004) Global judgments of subjective well-being: situational variability and long-term stability. Soc Indic Res 65:245–277

Eid M, Riemann R, Angleitner A, Borkenau P (2003) Sociability and positive emotionality: genetic and environmental contributions to the covariation between different facets of extraversion. J Pers 71:319–346

Fanous A, Gardner CO, Prescott CA, Cancro R, Kendler KS (2002) Neuroticism, major depression and gender: a population-based twin study. Psychol Med 32:719–728

Figueredo AJ, Rushton JP (2009) Evidence for shared genetic dominance between the general factor of personality, mental and physical health, and life history traits. Twin Res Hum Genet 12:555–563

Gatz M, Pedersen NL, Plomin R, Nesselroade JR, McClearn GE (1992) The importance of shared genes and shared environments for symptoms of depression in older adults. J Abnorm Psychol 101:701–708

Hettema JM, Prescott CA, Kendler KS (2004) Genetic and environmental sources of covariation between generalized anxiety disorder and neuroticism. Am J Psychiatry 161:1581–1587

Hettema JM, Neale MC, Myers JM, Prescott CA, Kendler KS (2006) A population-based twin study of the relationship between neuroticism and internalizing disorders. Am J Psychiatry 163:857–864

Holmen J, Midthjell K, Kruger O, Langhammer A, Holmen TL, Bratberg GH, Vatten L, Lund-Larsen PG (2003) The Nord-Trøndelag Health Study 1995–97 (HUNT 2): objectives, contents, methods and participation. Norsk Epidemiol 13:19–22

Jardine R, Martin NG, Henderson AS, Rao DC (1984) Genetic covariation between neuroticism and the symptoms of anxiety and depression. Genet Epidemiol 1:89–107

Johnson W, Krueger RF, Bouchard TJ, McGue M (2002) The personalities of twins: just ordinary folks. Twin Res 5:125–131

Kahneman D (1994) New challenges to the rationality assumption. J Inst Theor Econ 150:18–36

Keller MC, Coventry WL, Heath AC, Martin NG (2005) Widespread evidence for non-additive genetic variation in the Cloninger and Eysenck personality dimensions using a twin plus sibling design. Behav Genet 35:707–721

Kendler KS, Eaves LJ (2005) Psychiatric genetics. American Psychiatric Publishing, Inc, Washington, DC

Lucas RE, Diener E (2008) Personality and subjective well-being. In: John OP, Robins R, Pervin LA (eds) Handbook of personality, 2nd edn. Guilford, New York

Lucas RE, Diener E, Suh EM (1996) Discriminant validity of well-being measures. J Pers Soc Psychol 71:616–628

Lykken D, Tellegen A (1996) Happiness is a stochastic phenomenon. Psychol Sci 7:186–189

Lyubomirsky S, King LA, Diener E (2005) The benefits of frequent positive affect: does happiness lead to success. Psychol Bull 131:803–855

Magnus P, Berg K, Nance WE (1983) Predicting zygosity in Norwegian twin pairs born 1915–1960. Clin Genet 24:103–112

McGue M, Wette R, Rao DC (1984) Evaluation of path analysis through computer simulation of incorrectly assuming independent distribution of familial correlations. Genet Epidemiol 1:255–270

McGue M, Bacon S, Lykken DT (1993) Personality stability and change in early adulthood: a behavioral genetic analysis. Dev Psychol 29:96–109

Moum T, Næss S, Sørensen T, Tambs K, Holmen J (1990) Hypertension labelling, life events, and psychological well-being. Psychol Med 20:635–646

Myers DG (2004) Human connections and the good life: balancing individuality and community in public policy. In: Linley PA, Josephs S (eds) Positive psychology in practice. Wiley, Hoboken, pp 641–657

Nes RB, Røysamb E, Tambs K, Harris JR, Reichborn-Kjennerud T (2006) Subjective well-being: genetic and environmental contributions to stability and change. Psychol Med 36:1033–1042

Pomiankowski A, Møller AP (1995) A resolution of the lek paradox. Proc R Soc Lond B 260:21–29

R Development Core Team (2005) R: a language and environment for statistical computing. R Foundation for Statistical Computing, Vienna. ISBN 3-900051-07-0. http://www.R-project.org

Reis HT, Gable SL (2003) Toward a positive psychology of relationships. In: Keyes CLM, Haidt J (eds) Flourishing: positive psychology and the life well-lived. American Psychological Association, Washington, DC, pp 129–159

Rettew DC, Rebollo-Mesa I, Hudziak JJ, Willemsen G, Boomsma DI (2008) Non-additive and additive genetic effects on extraversion in 3314 Dutch adolescent twins and their parents. Behav Genet 38:223–233

Riemann R, Angleitner A, Sterelau J (1997) Genetic and environmental influences on personality: a study of twins reared together using the self- and peer-report NEO-FFI scales. J Pers 65:449–475

Rijsdijk FV, Schnieder H, Ormel J, Sham P, Goldberg DP, Spector TD (2003) Genetic and environmental influences on psychological distress in the population: general health questionnaire analyses in UK twins. Psychol Med 33:793–801

Rose R, Kaprio J (1988) Frequency of social contact and intrapair resemblance of adult monozygotic co-twins—or does shared experience influence personality after all. Behav Genet 18:309–328

Rose RJ, Koskenvuo M, Kaprio J, Sarna S, Langinvainio H (1988) Shared genes, shared experiences, and similarity of personality: data from 14,288 adult Finnish co-twins. J Pers Soc Psychol 54:161–171

Røysamb E, Harris JR, Magnus P, Vittersø J, Tambs K (2002) Subjective well-being. Sex-specific effects of genetic and environmental factors. Pers Individ Differ 32:211–223

Røysamb E, Neale MC, Tambs K, Reichborn-Kjennerud T, Harris JR (2003) Happiness and health: environmental and genetic contributions to the relationship between subjective well-being, perceived health, and somatic illness. J Pers Soc Psychol 85:1136–1146

Ryan RM, Deci EL (2001) On happiness and human potentials: a review of research on hedonic and eudaimonic well-being. In: Fiske S (ed) Annual review of psychology. Annual Reviews, Inc, Palo Alto, pp 141–166

Schimmack U, Lucas RE (2007) Environmental influences on well-being: a dyadic latent panel analysis of spousal similarity. http://www.erin.utoronto.ca/~w3psyuli/PReprints/ms%20Environmental%20Effects%20on%20SWB%20070723%20Proofread.pdf

Schnittker J (2008) Happiness and success: genes, families, and the psychological effects of socioeconomic position and social support. Am J Sociol 114:233–259

Stubbe JH, Posthuma D, Boomsma DI, De Geus EJ (2005) Heritability of life satisfaction in adults: a twin-family study. Psychol Med 35:581–1588

Tambs K, Moum T (1992) No large convergence during marriage for health, lifestyle, and personality in a large sample of Norwegian spouses. J Marriage Fam 54:957–971

Tambs K, Harris JR, Magnus P (1995) Sex-specific causal factors and effects of common environment for symptoms of anxiety and depression in twins. Behav Genet 25:33–44

Tellegen A, Lykken DT, Bouchard TJ, Wilcox KJ, Segal NL, Rich S (1988) Personality similarity in twins reared apart and together. J Pers Soc Psychol 54:1031–1039

Truett KR, Eaves LJ, Walters EE, Heath AC, Hewitt JK, Meyer JM, Silberg J, Neale MC, Martin NG, Kendler KS (1994) A model system for analysis of family resemblance in extended kinships of twins. Behav Genet 24:35–49

Watson D, Clark LA (1997) Extraversion and its positive emotional core. In: Hogan R, Johnson J, Briggs S (eds) Handbook of personality psychology. Academic Press, New York, pp 767–793

Weiss A, Bates TC, Luciano M (2008) Happiness is a personal(ity) thing: the genetics of personality and well-being in a representative sample. Psychol Sci 19:205–209

Weiss A, King JE, Enns RM (2002) Subjective well-being is heritable and genetically correlated with dominance in Chimpanzees (Pan troglodytes). J Pers Soc Psychol 83:1141–1149
Acknowledgments
Nord-Trøndelag Health Study (The HUNT Study) is a collaboration between HUNT Research Centre (Faculty of Medicine, Norwegian University of Science and Technology NTNU), Nord-Trøndelag County Council and The Norwegian Institute of Public Health. The twin program of research at the Norwegian Institute of Public Health is supported by grants from The Norwegian Research Council, The Norwegian Foundation for Health and Rehabilitation, and by the European Commission under the programme "Quality of Life and Management of the Living Resources" of 5th Framework Programme (no. QLG2-CT-2002-01254). We are very thankful to the twins for their participation.
Additional information
Edited by Chandra A. Reynolds.
About this article
Cite this article
Nes, R.B., Czajkowski, N. & Tambs, K. Family Matters: Happiness in Nuclear Families and Twins. Behav Genet 40, 577–590 (2010). https://doi.org/10.1007/s10519-010-9365-x
Received:

Accepted:

Published:

Issue Date:

DOI: https://doi.org/10.1007/s10519-010-9365-x
Keywords
Subjective well-being

Happiness

Life satisfaction

Behaviour genetics

Twin research