Abstract
A low-expressing polymorphic variant of the serotonin transporter (5-HTT) gene has been associated with emotional disorders in humans and non-human primates following exposure to early life trauma. 5-HTT gene knockout (KO) mice exhibit increased anxiety- and depression-related behaviors, and provide a model to study interactions between 5-HTT gene variation and early life stress. The present study assessed the effects of postnatal footshock stress on the development of emotion-related behaviors in 5-HTT KO mice. Results showed that 5-HTT KO mice displayed a profile of suppressed exploratory behavior and increased anxiety-like behavior in the light/dark, elevated plus-maze and open field tests, as well as increased depression-related behavior in the forced swim test following repeated exposure to the test. Postnatal exposure to footshock stress did not affect emotion-related behaviors in non-mutant C57BL/6J mice or modify phenotypic abnormalities in 5-HTT KO. Data provide further evidence of emotional abnormalities following genetic disruption of the 5-HTT.
This is a preview of subscription content, log in to check access.
Access options
Buy single article
Instant access to the full article PDF.
US$ 39.95
Price includes VAT for USA
Subscribe to journal
Immediate online access to all issues from 2019. Subscription will auto renew annually.
US$ 199
This is the net price. Taxes to be calculated in checkout.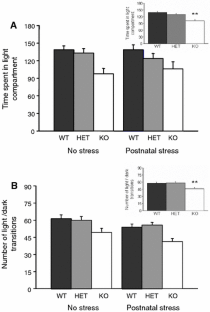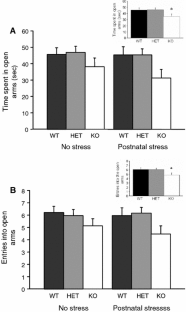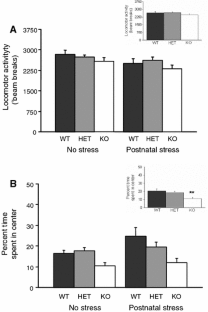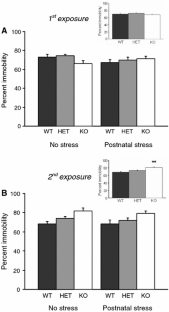 References
Adamec R, Burton P, Blundell J, Murphy DL, Holmes A (2006) Vulnerability to mild predator stress in serotonin transporter knockout mice. Behav Brain Res 170:126–140

Amat J, Baratta MV, Paul E, Bland ST, Watkins LR, Maier SF (2005) Medial prefrontal cortex determines how stressor controllability affects behavior and dorsal raphe nucleus. Nat Neurosci 8:365–371

Ansorge MS, Zhou M, Lira A, Hen R, Gingrich JA (2004) Early-life blockade of the 5-HT transporter alters emotional behavior in adult mice. Science 306:879–881

Barr CS, Newman TK, Schwandt M, Shannon C, Dvoskin RL, Lindell SG, Taubman J, Thompson B, Champoux M, Lesch KP, Goldman D, Suomi SJ, Higley JD (2004) Sexual dichotomy of an interaction between early adversity and the serotonin transporter gene promoter variant in rhesus macaques. Proc Natl Acad Sci USA 101:12358–12363

Bengel D, Murphy DL, Andrews AM, Wichems CH, Feltner D, Heils A, Mossner R, Westphal H, Lesch KP (1998) Altered brain serotonin homeostasis and locomotor insensitivity to 3, 4-methylenedioxymethamphetamine ("Ecstasy") in serotonin transporter-deficient mice. Mol Pharmacol 53:649–655

Blakely RD, Berson HE, Fremeau RT Jr., Caron MG, Peek MM, Prince HK, Bradley CC (1991) Cloning and expression of a functional serotonin transporter from rat brain. Nature 354:66–70

Boyce-Rustay JM, Holmes A (2006) Genetic inactivation of the NMDA receptor NR2A subunit has anxiolytic- and antidepressant-like effects in mice. Neuropsychopharmacology 31:2405–2414

Boyce WT, Chesterman E (1990) Life events, social support, and cardiovascular reactivity in adolescence. J Dev Behav Pediatr 11:105–111

Caspi A, McClay J, Moffitt TE, Mill J, Martin J, Craig IW, Taylor A, Poulton R (2002) Role of genotype in the cycle of violence in maltreated children. Science 297:851–854

Caspi A, Sugden K, Moffitt TE, Taylor A, Craig IW, Harrington H, McClay J, Mill J, Martin J, Braithwaite A, Poulton R (2003) Influence of life stress on depression: moderation by a polymorphism in the 5-HTT gene. Science 301:386–389

Champoux M, Bennett A, Shannon C, Higley JD, Lesch KP, Suomi SJ (2002) Serotonin transporter gene polymorphism, differential early rearing, and behavior in rhesus monkey neonates. Mol Psychiatry 7:1058–1063

Charney DS (2004) Psychobiological mechanisms of resilience and vulnerability: implications for successful adaptation to extreme stress. Am J Psychiatry 161:195–216

Crabbe JC (2001) Use of genetic analyses to refine phenotypes related to alcohol tolerance and dependence. Alcohol Clin Exp Res 25:288–292

Crawley JN (1981) Neuropharmacologic specificity of a simple animal model for the behavioral actions of benzodiazepines. Pharmacol Biochem Behav 15:695–699

Cryan JF, Holmes A (2005) The ascent of mouse: advances in modelling human depression and anxiety. Nat Rev Drug Discov 4:775–790

Cryan JF, Dalvi A, Jin SH, Hirsch BR, Lucki I, Thomas SA (2001) Use of dopamine-beta-hydroxylase-deficient mice to determine the role of norepinephrine in the mechanism of action of antidepressant drugs. J Pharmacol Exp Ther 298:651–657

de Kloet ER, Sibug RM, Helmerhorst FM, Schmidt M (2005) Stress, genes and the mechanism of programming the brain for later life. Neurosci Biobehav Rev 29:271–281

de Wilde EJ, Kienhorst IC, Diekstra RF, Wolters WH (1992) The relationship between adolescent suicidal behavior and life events in childhood and adolescence. Am J Psychiatry 149:45–51

Grahn RE, Will MJ, Hammack SE, Maswood S, McQueen MB, Watkins LR, Maier SF (1999) Activation of serotonin-immunoreactive cells in the dorsal raphe nucleus in rats exposed to an uncontrollable stressor. Brain Res 826:35–43

Gross C, Hen R (2004) The developmental origins of anxiety. Nat Rev Neurosci 5:545–552

Gross C, Zhuang X, Stark K, Ramboz S, Oosting R, Kirby L, Santarelli L, Beck S, Hen R (2002) Serotonin1A receptor acts during development to establish normal anxiety-like behaviour in the adult. Nature 416:396–400

Handley SL, Mithani S (1984) Effects of alpha-adrenoceptor agonists and antagonists in a maze-exploration model of 'fear'-motivated behaviour. Naunyn Schmiedebergs Arch Pharmacol 327:1–5

Hariri AR, Holmes A (2006) Genetics of emotional regulation: the role of the serotonin transporter in neural function. Trends Cogn Sci 10:182–191

Heim C, Nemeroff CB (2002) Neurobiology of early life stress: clinical studies. Semin Clin Neuropsychiatry 7:147–159

Holmes A (2001) Targeted gene mutation approaches to the study of anxiety-like behavior in mice. Neurosci Biobehav Rev 25:261–273

Holmes A, Murphy DL, Crawley JN (2002a) Reduced aggression in mice lacking the serotonin transporter. Psychopharmacology (Berl) 161:160–167

Holmes A, Yang RJ, Murphy DL, Crawley JN (2002b) Evaluation of antidepressant-related behavioral responses in mice lacking the serotonin transporter. Neuropsychopharmacology 27:914–923

Holmes A, le Guisquet AM, Vogel E, Millstein RA, Leman S, Belzung C (2005) Early life genetic, epigenetic and environmental factors shaping emotionality in rodents. Neurosci Biobehav Rev 29:1335–1346

Holmes A, Kinney JW, Wrenn CC, Li Q, Yang RJ, Ma L, Vishwanath J, Saavedra MC, Innerfield CE, Jacoby AS, Shine J, Iismaa TP, Crawley JN (2003) Galanin GAL-R1 receptor null mutant mice display increased anxiety-like behavior specific to the elevated plus-maze. Neuropsychopharmacology 28:1031–1044

Kendler KS, Walters EE, Neale MC, Kessler RC, Heath AC, Eaves LJ (1995a) The structure of the genetic and environmental risk factors for six major psychiatric disorders in women. Phobia, generalized anxiety disorder, panic disorder, bulimia, major depression, and alcoholism. Arch Gen Psychiatry 52:374–383

Kendler KS, Kessler RC, Walters EE, MacLean C, Neale MC, Heath AC, Eaves LJ (1995b) Stressful life events, genetic liability, and onset of an episode of major depression in women. Am J Psychiatry 152:833–842

Lehmann J, Feldon J (2000) Long-term biobehavioral effects of maternal separation in the rat: consistent or confusing? Rev Neurosci 11:383–408

Lesch KP, Bengel D, Heils A, Sabol SZ, Greenberg BD, Petri S, Benjamin J, Muller CR, Hamer DH, Murphy DL (1996) Association of anxiety-related traits with a polymorphism in the serotonin transporter gene regulatory region. Science 274:1527–1531

Li Q, Holmes A, Ma L, Van de Kar LD, Garcia F, Murphy DL (2004) Medial hypothalamic 5-hydroxytryptamine (5-HT)1A receptors regulate neuroendocrine responses to stress and exploratory locomotor activity: application of recombinant adenovirus containing 5-HT1A sequences. J Neurosci 24:10868–10877

Lira A, Zhou M, Castanon N, Ansorge MS, Gordon JA, Francis JH, Bradley-Moore M, Lira J, Underwood MD, Arango V, Kung HF, Hofer MA, Hen R, Gingrich JA (2003) Altered depression-related behaviors and functional changes in the dorsal raphe nucleus of serotonin transporter-deficient mice. Biol Psychiatry 54:960–971

Little KY, McLaughlin DP, Zhang L, Livermore CS, Dalack GW, McFinton PR, DelProposto ZS, Hill E, Cassin BJ, Watson SJ, Cook EH (1998) Cocaine, ethanol, and genotype effects on human midbrain serotonin transporter binding sites and mRNA levels. Am J Psychiatry 155:207–213

Nadeau JH (2001) Modifier genes in mice and humans. Nat Rev Genet 2:165–174

Parker KJ, Buckmaster CL, Schatzberg AF, Lyons DM (2004) Prospective investigation of stress inoculation in young monkeys. Arch Gen Psychiatry 61:933–941

Pernar L, Curtis AL, Vale WW, Rivier JE, Valentino RJ (2004) Selective activation of corticotropin-releasing factor-2 receptors on neurochemically identified neurons in the rat dorsal raphe nucleus reveals dual actions. J Neurosci 24:1305–1311

Porsolt RD (2000) Animal models of depression: utility for transgenic research. Rev Neurosci 11:53–58

Porsolt RD, Bertin A, Jalfre M (1977) Behavioral despair in mice: a primary screening test for antidepressants. Arch Int Pharmacodyn Ther 229:327–336

Rutter M (1985) Resilience in the face of adversity. Protective factors and resistance to psychiatric disorder. Br J Psychiatry 147:598–611

Solomon GF, Levine S, Kraft JK (1968) Early experience and immunity. Nature 220:821–822

Tjurmina OA, Armando I, Saavedra JM, Goldstein DS, Murphy DL (2002) Exaggerated adrenomedullary response to immobilization in mice with targeted disruption of the serotonin transporter gene. Endocrinology 143:4520–4526

Zhao S, Edwards J, Carroll J, Wiedholz L, Millstein RA, Jaing C, Murphy DL, Lanthorn TH, Holmes A (2006) Insertion mutation at the C-terminus of the serotonin transporter disrupts brain serotonin function and emotion-related behaviors in mice. Neuroscience 140:321–334
Acknowledgments
We are grateful to Dr. Lyn C. Daws for mouse genotyping and for critical comments. Research supported by the National Institute on Alcohol Abuse and Alcoholism and National Institute of Mental Health Intramural Research Programs.
About this article
Cite this article
Carroll, J.C., Boyce-Rustay, J.M., Millstein, R. et al. Effects of Mild Early Life Stress on Abnormal Emotion-related Behaviors in 5-HTT Knockout Mice. Behav Genet 37, 214–222 (2007). https://doi.org/10.1007/s10519-006-9129-9
Keywords
5-HT

Serotonin transporter

Anxiety

Depression

Gene

Mouse