Abstract
Reliable and valid phenotyping is crucial for our study of genetic factors underlying aggression in Golden Retriever dogs. A mail questionnaire based on the Canine Behavioral Assessment and Research Questionnaire (CBARQ; Hsu and Serpell, 2003, JAVMA 223(9):1293–1300) was used to assess behavioral phenotypes. Owners of 228 Golden Retrievers completed the questionnaire. These dogs had been referred to our clinic for aggression problems several years earlier or they were related to aggressive dogs. In this paper, three sets of results are presented, which indicate that behavior scores from the CBARQ can be applied to genetic studies. First, factor analysis demonstrated that CBARQ items can be grouped into 10 behavioral traits, including three types of aggression: stranger-directed aggression, owner-directed aggression, and dog-directed aggression. The results were remarkably similar to those reported by Hsu and Serpell. The aggression scores showed considerable variation in our dog families, which is a prerequisite for genetic studies. Second, retrospective questions enabled us to study changes in the aggressive behavior of the dogs in the course of time. After an average time interval of 4.3 years, over 50% of the dogs had become less aggressive. Third, we analyzed data obtained with an aggression test of 83 dogs. Two out of the three CBARQ aggression factors were also found in the aggression test data.
Access options
Buy single article
Instant access to the full article PDF.
US$ 39.95
Tax calculation will be finalised during checkout.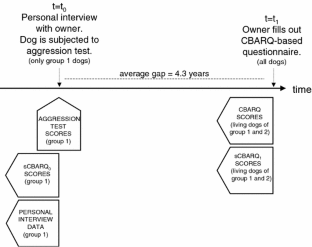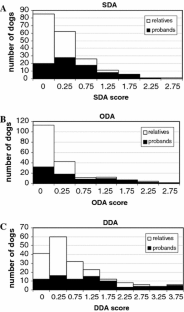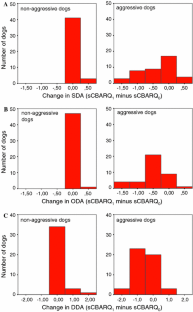 References
Bartels M, Hudziak JJ, van den Oord EJ, van Beijsterveldt CE, Rietveld MJ, Boomsma DI (2003) Co-occurence of aggressive behavior and rule-breaking behavior at age 12: multi-rater analyses. Behav Genet 33:607–621

Beaver BV (1993) Profiles of dogs presented for aggression. J Am Anim Hosp Assoc 29:564–569

Borchelt PL (1983) Aggressive behavior of dogs kept as companion animals: classification and influence of sex, reproductive status and breed. Appl Anim Ethol 10:45–61

Borchelt PL, Voith VL (1996) Aggressive behavior in dogs and cats. In: Voith VL, Borchelt PL (eds) Readings in companion animal behavior. Veterinary learning systems, Trenton, New Jersey, pp 217–229

Clutton-Brock J (1995) Origins of the dog: domestication and early history. In: Serpell J (ed) The domestic dog-its evolution, behaviour and interactions with people. Cambridge University Press, Cambridge, pp 8–20

Edwards RA (1991) Agression in Golden Retrievers. Vet Rec 27:410

Galac S, Knol BW (1997) Fear-motivated aggression in dogs: patient characteristics, diagnosis and therapy. Anim Welfare 6:9–15

Goodloe LP, Borchelt PL (1998) Companion dog temperament traits. J Appl Anim Welfare Sci 1:303–338

Gosling SD, Kwan VS, John OP (2003) A dog's got personality: a cross-species comparative approach to personality judgments in dogs and humans. J Pers Soc Psychol 85:1161–1169

Hochberg Y (1988) A sharper Bonferonni procedure for multiple tests of significance. Biometrika 75:800–802

Heath S (1991) Aggression in Golden Retrievers. Vet Rec 11:459

Hsu Y, Serpell JA (2003) Development and validation of a questionnaire for measuring behavior and temperament traits in pet dogs. J Am Vet Med Assoc 223:1293–1300

Knol BW, Groenewoud-Jelsma HJC, Ubbink GJ (1997) Fear-motivated aggression in Golden Retrievers: no correlation with inbreeding. In: Proceedings of the first international conference on veterinary behavioural medicine, Birmingham, UK, p 112

Knol BW, Schilder MBH (1999) Onvoorspelbare agressie bij Golden Retrievers: een erfelijk probleem? Tijdschr Diergeneeskd 124:577–578

Landsberg G, Hunthausen W, Ackerman L (2004) Canine aggression. In: Landsberg G, Hunthausen W, Ackerman L (eds) Handbook of behavior problems of the dog and cat. Saunders, Edinburgh etc., pp 385–426

Lindblad-Toh K, Wade CM, Mikkelsen TS, Karlsson EK, Jaffe DB, Kamal M, Clamp M, Chang JL, Kulbokas III EJ, Zody MC, et al (2005) Genome sequence, comparative analysis and haplotype structure of the domestic dog. Nature 438:803–819

Mathiowetz NA (2000) The effect of length of recall on the quality of survey data. In: Proceedings of the fourth conference on methodological issues in official statistics. Stockholm, Sweden, pp 1–8

Moon-Fanelli AA, Dodman NH (1998) Description and development of compulsive tail chasing in terriers and response to clomipramine treatment. J Am Vet Med Assoc 212:1252–1257

Moon-Fanelli AA (2002) Compulsive tail chasing in Bull Terriers. In: Proceedings of Advances in canine and feline genomics, St. Louis, USA

Mugford RA (1984) Behaviour problems in the dog. In: Anderson RS (ed) Nutrition and behaviour in dogs and cats. Pergamon Press, Oxford, pp 207–215

Overall KL (1997) Canine aggression. In: Overall KL (eds) Clinical behavioral medicine for small animals, Mosby, St. Louis, pp 88–129

Overall KL (2000) Natural animal models of human psychiatric conditions: assessment of mechanism and validity. Prog. Neuropsychopharmacol. Biol Psychiatry 24:727–776

Parker HG, Kim LV, Sutter NB, Carlson S, Lorentzen TD, Malek TB, Johnson GS, DeFrance HB, Ostrander EA, Kruglyak L (2004) Genetic structure of the purebred domestic dog. Science 304:1160–1164

Podberscek AL, Serpell JA (1996) The English Cocker Spaniel: preliminary findings on aggressive behaviour. Appl Anim Behav Sci 47:75–89

Reisner IR (1997) Assessment, management, and prognosis of canine dominance-related aggression. Vet Clin North Am Small Anim Pract 27:479–495

Reisner IR (2003) Differential diagnosis and management of human-directed aggression in dogs. Vet Clin North Am Small Anim Pract 33:303–320

Reisner IR, Houpt KA, Shofer FS (2005) National survey of owner-directed aggression in English Springer Spaniels. J Am Vet Med Assoc 227:1594–1603

Serpell JA, Hsu Y (2001) Development and validation of a novel method for evaluating behavior and temperament in guide dogs. Appl Anim Beh Sci 72:347–364

Svartberg K (2005) A comparison of behaviour in test and in everyday life: evidence of three consistent boldness-related personality traits in dogs. Appl Anim Beh Sci 91:103–128

Tabachnick BG, Fidell LS (2001) Using multivariate statistics. Allyn and Bacon, Boston

Tate RL, Wongbundhit Y (1983) Random versus nonrandom coefficient models for multilevel analysis. J Educat Statist 8:103–120

van den Berg L, Schilder MBH, Knol BW (2003a) Behavior genetics of canine aggression: behavioral phenotyping of golden retrievers by means of an aggression test. Behav Genet 33:469–483

van den Berg L, Versteeg SA, van Oost BA (2003b) Isolation and characterization of the canine serotonin receptor 1A gene (htr1A). J Hered 94:49–56

van den Berg L, Imholz S, Versteeg SA, Leegwater PAJ, Zijlstra C, Bosma AA, van Oost BA (2004) Isolation and characterization of the canine serotonin receptor 1B gene (htr1B). Gene 326:131–139

van den Berg L, Kwant L, Hestand MS, van Oost BA, Leegwater PAJ (2005) Structure and variation of three canine genes involved in serotonin binding and transport: the serotonin receptor 1A gene (htr1A), serotonin receptor 2A gene (htr2A), and serotonin transporter gene (slc6A4). J. Hered 96: 786–796

Winkler WG (1977) Human deaths induced by dog bites, United States, 1974–75. Public Health Rep 92:425–429

Wright JC (1985) Severe attacks by dogs: characteristics of the dogs, the victims, and the attack settings. Public Health Rep 100:55–61
Acknowledgments
The "Jubileumfonds Hoogleraren Diergeneeskunde" and Eukanuba supported this work. We would like to thank dr. James Serpell for putting the CBARQ at our disposal and for his comments during the design of the questionnaire and the analysis of the results. We are grateful to Matt Bruce for correcting the manuscript. Edith de Leeuw, Joop Hox, and Nienke Endenburg are thanked for advice on questionnaire design. AnneMarie Droogleever, Kim Boerkamp, Lonneke Corten, Ad van Deelen, Rutger van Deelen, Wilma van Deelen, Hendrike Valkenburg, Mieke Holtslag, Jan Jansen, Carrie Kamerbeek-van Lexmond, Bart Knol, Laura Lancee, Polona Stabej, Anne Thaysen, Monique van Wolferen, and one anonymous Golden Retriever owner volunteered to be a test person for the draft version of the questionnaire, which is highly appreciated. Master students Irene van Andel, Laura Kwant, and Jesse Willemse are thanked for technical assistance; and the Golden Retriever owners and breeders for their willingness to cooperate with our project.
Electronic supplementary material
Appendix
Appendix
Appendix table: The canine behavioral assessment and research questionnaire (CBARQ)
Category
 
CBARQ item
Training and obedience
Dog
1
returns immediately when called when off leash
2
obeys the "sit" command immediately
3
obeys the "stay" command immediately
4
seems to attend / listen closely to everything you say or do

\(5^{a}\)

is slow to respond to correction or punishment ("thick-skinned")

\(6^{a}\)

is slow to learn new tricks or tasks

\(7^{a}\)

is easily distracted by interesting sights, sounds, or smells
8
will retrieve (or attempt to retrieve) sticks, balls, or objects
Aggression
Dog acts aggressively
9
when verbally corrected or punished (scolded, shouted at, etc) by you or a household member
10b
when approached directly by an unfamiliar adult while being walked / exercised on a leash
11
when approached directly by an unfamiliar child while being walked / exercised on a leash
12
toward unfamiliar persons approaching the dog while s/he is in your car (at a parking lot for example)
13
when toys, bones or other objects are taken away by a household member
14
when bathed or groomed by a household member
15
when an unfamiliar person approaches you or another member of your family at home
16
when unfamiliar persons approach you or another member of your family away from your home
17
when approached directly by a household member while s/he is eating
18
when mailmen or other delivery workers approach your home
19
when his/her food is taken away by a household member
20
when strangers walk past your home while your dog is in the yard
21c
when an unfamiliar person tries to touch or pet the dog
22
when joggers or cyclists pass your home while your dog is in the yard
23
when approached directly by an unfamiliar male dog while being walked or exercised on a leash
24
when approached directly by an unfamiliar female dog while being walked or exercised on a leash
25
when stared at directly by a member of the household
26
toward unfamiliar dogs visiting your home
27
toward cats or other animals entering your yard
28
toward unfamiliar persons visiting your home
29c
when barked, growled or lunged at by another (unfamiliar) dog
30
when stepped over by a member of the household
31
when you or a household member retrieves food or objects stolen by the dog
32c
towards another (familiar) dog in your household
33c
when approached at a favorite resting / sleeping place by another (familiar) household dog
34c
when approached while eating by another (familiar) household dog
35c
when approached while playing with / chewing a favorite toy, bone, object, etc., by another (familiar) household dog
Fear and anxiety
Dog acts anxious or fearful
36b
when approached directly by an unfamiliar adult while away from your home
37
when approached directly by an unfamiliar child while away from your home
38
in response to sudden or loud noises (e.g. vacuum cleaner, car backfire, road drills, objects being dropped, etc.)
39
when unfamiliar persons visit your home
40c
when an unfamiliar person tries to touch or pet the dog
41
in heavy traffic
42
in response to strange or unfamiliar objects on or near the sidewalk (e.g. plastic trash bags, leaves, litter, flags flapping, etc.)
43
when examined or treated by a veterinarian
44
during thunderstorms
45
when approached directly by an unfamiliar dog of the same or larger size
46
when approached directly by an unfamiliar dog of a smaller size
47
when first exposed to unfamiliar situations (e.g. first car trip, first time in elevator, first visit to veterinarian, etc.)
48
in response to wind or wind-blown objects
49
when having claws clipped by a household member
50
when groomed or bathed by a household member
51c
when having his/her feet toweled by a member of the household
52c
when unfamiliar dogs visit your home
53c
when barked, growled or lunged at by another unfamiliar dog
Separation-related behavior
When left or about to be left on its own, the dog displays
54
shaking, shivering or trembling
55
excessive salivation
56
restlessness/agitation/pacing
57
whining
58
barking
59
howling
60
chewing/scratching at doors, floor, windows, curtains, etc
61
loss of appetite
Excitability
Dog overreacts or is excitable
62
when you or other members of the household come home after a brief absence
63
when playing with you or other members of your household
64
when doorbell rings
65
just before being taken for a walk
66
just before being taken on a car trip
67
when visitors arrive at your home
Attachment and attention seeking
Dog
68
displays a strong attachment for one particular member of the household
69
tends to follow you (or other members of household) about the house, from room to room
70
tends to sit close to, or in contact with, you (or others) when you are sitting down
71
tends to nudge, nuzzle, or paw you (or others) for attention when you are sitting down
72
becomes agitated (whines, jumps up, tries to intervene) when you (or others) show affection for another person
73
becomes agitated (whines, jumps up, tries to intervene) when you (or others) show affection for another dog or animal
Miscellaneous
Dog chases
74
cats (given the chance)
75
birds (given the chance)
76
other animals (e.g. rabbits) (given the chance)
About this article
Cite this article
van den Berg, L., Schilder, M.B.H., Vries, H.d. et al. Phenotyping of Aggressive Behavior in Golden Retriever Dogs with a Questionnaire. Behav Genet 36, 882–902 (2006). https://doi.org/10.1007/s10519-006-9089-0
Received:

Accepted:

Published:

Issue Date:
Keywords
Dog

Aggression

Phenotyping

Questionnaire

Aggression test