Abstract
Throughout the world, millions of people are at risk because they live in unreinforced earthen dwellings, which have consistently shown extremely poor structural behaviour during earthquakes. Every single earthquake occurring in these areas has caused unacceptable loss of life, injuries, and property damage. Earthquakes are recurrent and construction damage is cumulative. It is urgent, therefore, to devise low-cost, easy-to-implement seismic reinforcement systems and to make them available to the actual dwellers. A group of researchers at the Pontificia Universidad Católica del Perú has been working towards that goal, especially on improving the seismic capacity of one-storey adobe dwellings. They have proposed construction methodologies for a seismic reinforcement system consisting of a mesh of nylon ropes that confines all earthen walls. This reinforcement system would control the wall displacements and prevent the overturning of wall portions that may occur due to seismic shaking. To validate the effectiveness of the nylon rope mesh reinforcement on two-storey adobe dwellings, shaking table tests were conducted on unreinforced and half-scale reinforced adobe models, simulating the actions of slight, moderate and strong seismic ground shaking. These models were designed to include the main construction features of typical adobe dwellings in the Peruvian Andes. The results of the experimental tests showed that the rope mesh reinforcement system was able to preserve the structural stability of the tested reduced-scale adobe models under strong motions, thus preventing collapse. It is expected that the proposed reinforced system would also improve the seismic performance of one and two-storey adobe dwellings, reducing in this way their inherent high seismic risk.
Access options
Buy single article
Instant access to the full article PDF.
USD 39.95
Price excludes VAT (USA)
Tax calculation will be finalised during checkout.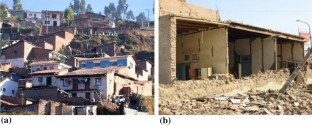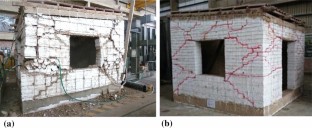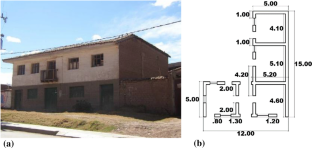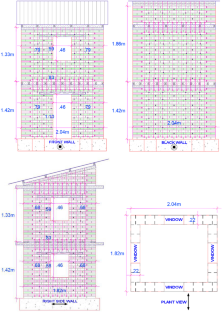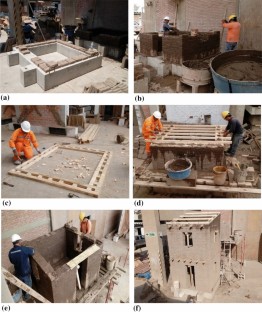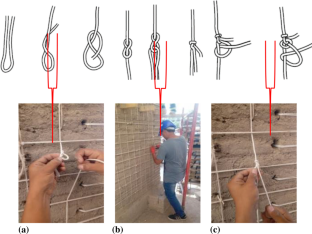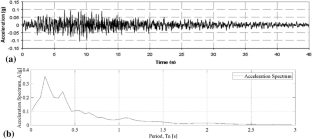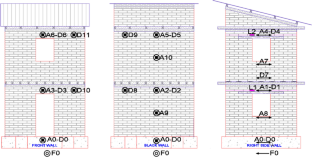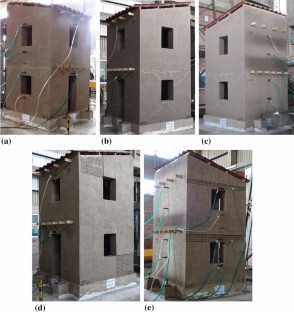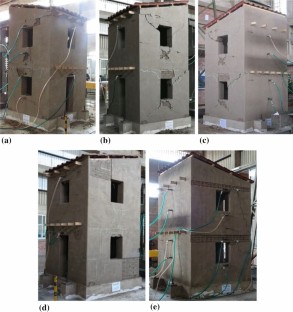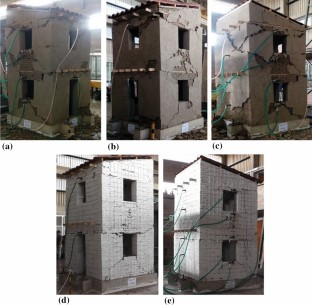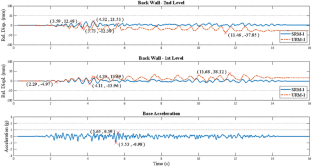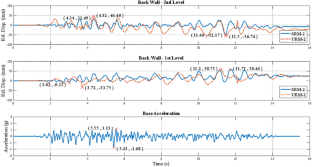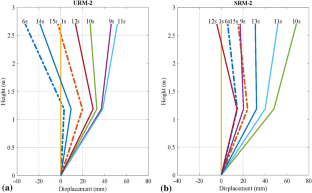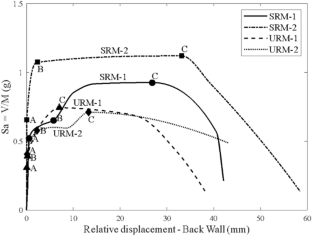 References
Adhikari R, D'Ayala D (2020) 2015 Nepal earthquake: seismic performance and post-earthquake reconstruction of stone in mud mortar masonry buildings. Bull Earthq Eng 18:3863–3896

Avrami E, Guillaud H, Hardy M (eds) (2008) Terra literature review: an overview of research in earthen architecture conservation. The Getty Conservation Institute, California

Berge B (2009) The ecology of building materials, 2nd edn. Architectural Press, New York

Blondet M, Vargas J, Tarque N, Iwaki C (2011) Construcción Sismorresistente en tierra: la gran experiencia contemporánea de la Pontificia Universidad Católica del Perú. J Informes De La Construcción 63(523):41–50 (in Spanish)

Blondet M, Torrealva D, Villa-García G, Ginocchio F, Madueño I (2005) Using industrial materials for the construction of safe Adobe houses in seismic areas. Proceedings of SismoAdobe 2005. Pontifical Catholic University of Peru, Lima, Peru

Blondet M, Vargas J, Sosa C A, Soto EJ (2013) Seismic simulation tests to validate a dual technique for repairing adobe historical buildings damaged by earthquakes. KERPIC2013: New Generation Earthen Architecture: Learning from Heritage, 11–14 September 2013. Istanbul Aydin University. Istanbul, Turkey

Blondet M, Vargas J, Tarque N, Soto J, Sosa C, Sarmiento J (2016) Seismic protection of earthen vernacular and historical constructions. Proceedings of the 10th International Conference on Structural Analysis of Historical Constructions, SAHC2016, (pp. 3–14) CRC Press, ISBN 9781138029514, Lovaina, Belgium

Blondet M, Tarque N, Vargas J, Vargas H (2019) Evaluation of a rope mesh reinforcement system for adobe dwellings in seismic areas. Proceedings of the 11th International Conference on Structural Analysis of Historical Constructions. September 10–13, Cusco, Peru

Bossio S, Blondet M, Rihal S (2013) Seismic behavior and shaking direction influence on adobe wall structures reinforced with geogrid. Earthq Spectra 29(1):59–84

Brando G, Cocco G, Mazzanti C, Peruch M, Spacone E, Alfaro C, Sovero K, Tarque N (2019) Structural survey and empirical seismic vulnerability assessment of dwellings in the historical center of Cusco, Peru. Int J Arch Herit 15:1395

Carazas W (2001) Vivienda urbana Popular de adobe en el Cusco, in Spanish. UNESCO, Grenoble, France

Chopra A (2017) Dynamics of structures, 5th edn. Pearson, London

Correia M (2016) Conservation in earthen heritage — Assessment and significance of failure, criteria, conservation theory, and strategies. Cambridge Scholars Publishing, UK

Costa A, Miranda J, Varum H (2014) Structural rehabilitation of old buildings, Ch: structural behaviour and retrofitting of adobe masonry buildings. Springer, Berlin

Dowling D (2004) Adobe housing in El Salvador: Earthquake performance and seismic improvement. In: Rose I, Bommer JJ, López DL, Carr MJ, Major JJ (Eds) Natual hazards in El Salvador. Geological Society of America Special Papers, pp. 281–300

Easton D (2007) The rammed earth house. In: J. Barstow (Ed), Chelsea Publishing Company, Vertmon, USA, p. 266

Esparza C (1986). Efectos de Interacción Estructura -Mesa vibradora- durante Ensayos de Simulación Sísmica. Master Thesis. Pontificia Universidad Católica del Perú. Lima, Peru.

Figueiredo A, Varum H, Costa A (2013) Oliveira C (2013) Seismic retrofitting solution of an adobe masonry wall. Mater Struct 46(1–2):203–219

Harris H, Sabnis G (1999) Structural modeling and experimental techniques, 1st edn. CRC Press, Boca Raton

Houben H, Guillaud H (1994) Earth construction: a comprehensive guide. Intermediate Technology Publication, London

Illampas R, Silva RA, Charmpis DC, Lourenço PB, Ioannou I (2017) Validation of the repair effectiveness of clay-based grout injections by lateral load testing of an adobe model building. Constr Build Mater 153:174–184

Ismail N, Khattak N (2016) Building typologies prevalent in Northern Pakistan and their performance during the 2015 Hindu Kush earthquake. Earthq Spectra 32(4):2473–2493

Khan F, Ahmad M, Ahmad N (2021) Shake table testing of confined adobe masonry structures. Earthq Struct 20(2):149–160

Lacouture LE, Phillips Bernal C, Ortiz R, Carlos J, Ruiz VD (2007) Estudios de vulnerabilidad sísmica, rehabilitación y refuerzo de casas en adobe y tapia pisada. Apuntes 20(2):286–303

Müller U, Miccoli L, Fontana F (2016) Development of a lime based grout for cracks repair in earthen constructions. Constr Build Mater 110(1):323–332

NTE E080 (2020) Norma Técnica de Edificación, Adobe Peruvian Code, Ministerio de Vivienda, Construcción y Saneamiento. Resolución Ministerial N121–2017 Vivienda.

Parisi F, Iovinella I, Balsamo A, Augenti N, Prota A (2013) In-plane behaviour of tuff masonry strengthened with inorganic matrix-grid composites. Comp Part B Eng. 45(1):1657–1666

Parisi F, Asprone D, Fenu L, Prota A (2015) Experimental characterization of Italian composite adobe bricks reinforced with straw fibers. Composite Struct 122:300–307

Parisi F, Blondet M, Charleson A, Varum H (2021) Seismic strengthening techniques for adobe construction. In: Varum H, Parisi F, Tarque N, Silveira D (eds) Structural characterization and seismic retrofitting of adobe constructions. Building pathology and rehabilitation. Springer, Cham

Reyes C, Smith-Pardo J, Yamin L, Galvis F, Angel C, Sandoval J, Gonzalez C (2019) Seismic experimental assessment of steel and synthetic meshes for retrofitting heritage earthen structures. Eng Struct. https://doi.org/10.1016/j.engstruct.2019.109477

San Bartolomé Á, Delgado E, Quiun, D (2009) Seismic behaviour of two story model of confined adobe masonry. Proceedings of the Eleventh Canadian Masonry Conference. Toronto, Canada

Silva RA, Schueremans L, Oliveira DV, Dekoning K, Gyssels T (2012) On the development of unmodified mud grouts for repairing earth constructions: rheology, strength and adhesion. Mater Struct 45:1497–1512

Silva RA, Schueremans L, Oliveira DV (2009) Grouting as a repair/strengthening solution for earth constructions. In: Proceedings of 1st WTA international PhD symposium, WTA publications, Leuven, Belgium, pp 517–535

Sumerente G, Lovon H, Tarque N, Chácara C (2020) Assessment of combined in-plane and out-of-plane fragility functions for adobe masonry buildings in the Peruvian Andes. Front Built Environ 6:52

Tarque N, Crowley H, Varum H, Pinho R (2012) Displacement-based fragility curves for seismic assessment of adobe buildings in Cusco, Peru. Earthq Spectr J 28(2):759–794

Tarque N, Camata G, Spacone E, Varum H, Blondet M (2014) Numerical simulation of an adobe wall under in-plane loading. Earthq Struct 6(6):627–646

Tarque N, Sayın E, Rafi M, Tolles E (2021) Behaviour of adobe construction in recent earthquakes. In: Varum H, Parisi F, Tarque N, Silveira D (eds) Structural characterization and seismic retrofitting of adobe constructions. Building pathology and rehabilitation. Springer, Cham

Tomazevic M (2007) Damage as a measure for earthquake-resistant design of masonry structure: slovenian experience. Can J Civ Eng 34:1403–1412

Torrealva D, Vargas J, Blondet M (2006) Earthquake Resistant Design Criteria and Testing of Adobe Buildings at Pontificia Universidad Católica del Perú. In: Proceedings of GSAP Colloquium. GGI-Getty. California, USA

Vargas J, Blondet M, Ginocchio F, Morales K, Iwaki C (2008) Uso de grouts de barro líquido para reparar fisuras estructurales en muros históricos de adobe. In: Proceedings of V Congresso de Tierra en Cuenca de Campos, Valladolid, Spain

Varum H, Dumaru R, Furtado A, Barbosa A, Gautam D, Rodrigues H (2018) Seismic performance of buildings in Nepal after the Gorkha earthquake. Impacts and insights of Gorkha earthquake. pp 47–63

Webster F, Tolles L (2000) Earthquake damage to historic and older adobe buildings during the 1994 Northridge, California Earthquake. Proceedings of 12th world conference on earthquake engineering, Auckland, New Zealand

Zegarra L, Quiun D, San Bartolomé A, Giesecke A (1997) Reinforcement of Existing Adobe Dwellings 2nd part: Seismic Test of Modules. In Spanish. XI National Congress of civil Engineer. Trujillo, Peru

Zegarra L, Quiun D, San Bartolome A, Giesecke A (2001) Behavior of Reinforced Adobe Houses in Moquegua, Tacna and Arica during the June 23, 2001 Earthquake (in Spanish). XIII National Congress on Civil Engineering. Puno, Peru
Acknowledgements
The authors would like to thank SENCICO, a Peruvian government institute devoted to building code development and construction training, for the funding provided to perform the experimental tests. The support of PUCP's Structures Laboratory technical staff is also gratefully acknowledged. Finally, our thanks are due to all the students and colleagues who participated in this research project.
Funding
The experimental tests were partially funded by SENCICO.
Ethics declarations
Conflict of interest
The authors have not disclosed any competing interests.
Additional information
Publisher's Note
Springer Nature remains neutral with regard to jurisdictional claims in published maps and institutional affiliations.
About this article
Cite this article
Tarque, N., Blondet, M., Vargas-Neumann, J. et al. Rope mesh as a seismic reinforcement for two-storey adobe buildings. Bull Earthquake Eng 20, 3863–3888 (2022). https://doi.org/10.1007/s10518-022-01346-7
Received:

Accepted:

Published:

Issue Date:

DOI: https://doi.org/10.1007/s10518-022-01346-7
Keywords
Adobe masonry

Strengthening

Shaking table

Seismic capacity

Experimental dynamic tests

Rope mesh reinforcement